Today, most people search Google to find information about local service area businesses, including checking websites for service information, Google listings for reviews, and calling or filling out a form to request a quote.
As a result, investing in local SEO for your service area business is important for generating new business, diversifying marketing channels, and staying competitive. Check out the local SEO tips for service area businesses below to get started.
What is Local SEO?
Local SEO (search engine optimization) is the practice of optimizing your website and visibility in local search results on Google for one or more locations.
An effective local SEO strategy can help your local service area business get found by local customers and prospects when they search Google for your business name, your type of business, or services in the nearby areas you service.
Related:
Local SEO for Service Area Businesses
Consider these 10 local SEO tips to improve your local search rankings, get more targeted website traffic, and generate more leads for your service area business.
1. Optimize Your Google My Business Listing
Google My Business (GMB) or Google Business Profile is a web tool to create a free business profile on Google to help manage and optimize your business's visibility on Google for local searches as well as Google Maps.
GMB allows you to share information about your business such as name, category, address, areas served, phone number, website, and more.
You can also publish Google posts to share announcements, offers, new or popular items in stock, or event details directly with your customers.
Complete Information
To optimize your Google listing, make sure your listing has accurate business categories out of the available options, a correct phone number, website link, images, posts, reviews, and all the locations you service as a service area business.
GMB Listing Benefits
Having an updated GMB listing is a top factor for ranking on Google Maps and in the local pack. The local pack is the group of local business listings that appear in search results for local searches, such as when looking for a service in a specific town or city.
Optimizing your Google Business Profile makes sure potential customers see updated information and reviews about your business when they Google your business name or your listing appears for a local search related to your products or services.
2.

Submit Accurate Business Citations
Making sure business citations like business name, address, phone, and website link are accurate and consistent across sites like online directories can help positively impact your local SEO rankings and help more people discover your business.
Local Business Listings
Alongside maintaining consistent and accurate citations, continue listing your business on reputable local listings and online directories where possible.
Being listed on more quality sites can help Google see your business as more authoritative and worth ranking well locally.
Local Citations
BrightLocal provides a local citation-building service, which is an affordable way to quickly have your local business citations and website listed across many quality sites with high domain authority and a network of data aggregators.
Additional services include cleaning up existing citation issues found online and removing duplicate listings. You also own your listings forever when using BrightLocal, unlike some other services that remove your listings if you decide to end the service.
3. Setup a Fast Mobile-Friendly Website
Today, Google prioritizes ranking websites using mobile-friendly themes/code and pages that load fast. Google uses mobile page load speed as a key metric when determining your site's search ranking.
Website Platform & Hosting
When it comes to SEO, be cautious when choosing a website platform and hosting provider if you want to increase your local keyword rankings and leads over time.
While many website builders and web hosts promote easy setup or cheap pricing, you might end up with a slow site with code that isn't optimized for speed and SEO.
If you want a fast website for your service area business (speed is a ranking signal), consider running a WordPress website on a fast WordPress hosting provider like Kinsta or SiteGround, to give your website the best chance at ranking on Google.
You can use tools like Google's PageSpeed Insights to test how fast your website pages load and get suggestions for fixing any issues to improve page speed.
4. Perform Local Keyword Research
Doing keyword research and tracking rankings can make or break the success of your local SEO efforts or how quickly you achieve results.
A service area business will usually see more and quicker success from a website with content structured around the keyword phrases people are searching locally compared to a website that creates content without prior keyword research.
Free Keyword Research
You can do free keyword research by simply checking Google results. For example, if you're a roofing company, try looking up keywords related to roofing companies and individual services.
Then, check out the "People also ask" and "Related searches" sections on the 1st page of search results for content ideas based on popular local searches.
Updating your website content to answer these questions and related searches is a great way to align your website with local search demand, potentially improve local rankings, and rank for more related local keywords over time.
In-Depth Keyword Research
Semrush or SE Ranking are top options for all-in-one SEO tools that can help you find profitable keywords to target. You're also able to determine competition levels, traffic estimates per keyword, check competitors, track your rankings, and more.
Here's a detailed Semrush review covering key features and pricing plans.
Or, check out SE Ranking for a reliable low-cost Semrush alternative.
Similarly, here's a full SE Ranking review exploring its features and pricing options.
Keyword Rank Tracking
For local service area businesses, using dedicated keyword rank tracking software is extremely useful for tracking keyword rankings across different locations.
I currently use SE Ranking to track around 1,000 keywords. Here's what it looks like: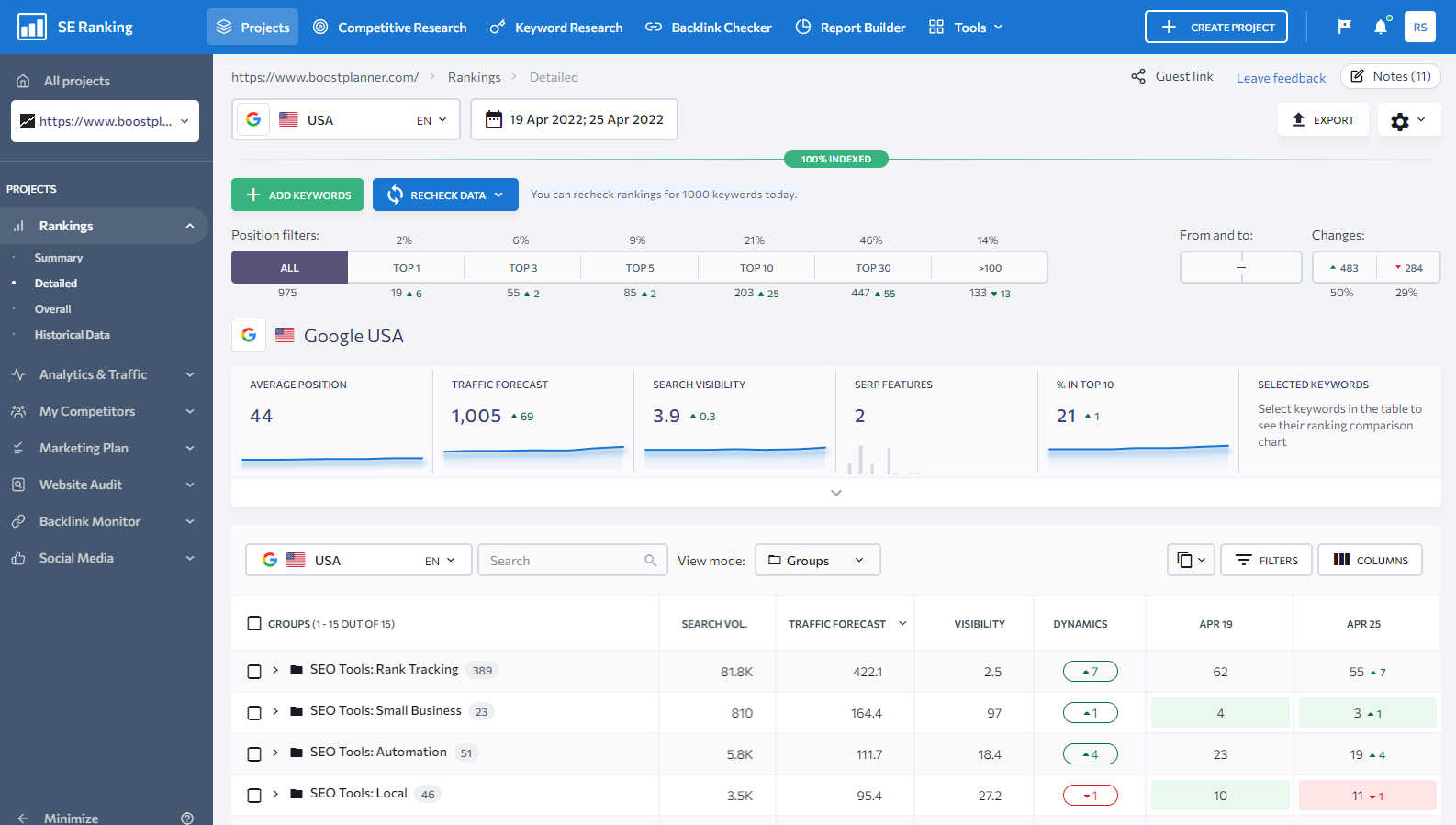 SE Ranking is perfect for service area businesses who want to affordably track keyword rankings across multiple locations down to the city, town, or zip code level.
You can easily organize keywords into folders, such as by type or location. Depending on the plan, the SEO tracker tool also provides daily rank tracking updates.
Check out my SE Ranking review for an in-depth look at this powerful SEO software.
5. Create Local Website Pages
It's easy to stop at a few pages like a homepage page, services page, about, and content pages and call it a day.
However, having a plan in place to create dedicated local pages for the areas you service will help you achieve much better results from local SEO.
Dedicated Local Pages
For example, in terms of therapy SEO, you could create a dedicated page for each location you service. This page could include information about the area, how your therapy or counseling services help people in that area, a couple of testimonials, and your business address if you have a practice location in that area.
Local Page Linking
When you add location pages to your website, you can link between these pages to provide navigation for website visitors and give Google more context for determining which pages should rank and for what keywords.
A larger, consistently updated website with optimized local pages and page linking often has a competitive edge in ranking compared to small sites with fewer pages, local content, and links.
6. Create Dedicated Service Pages
Similar to creating location landing pages, create dedicated service pages to maximize your local search visibility for local keywords related to your services.
An effective setup for local SEO is to have a services page summarizing each service with links to each individual service page. On each service page, you can provide more detail and answer common search questions about the service. Attempting to provide details about all your local services on one page can get unwieldy quickly.
Service Page Linking
Just like individual local pages, each service page provides an opportunity to create internal links between each service. Having dedicated service and local pages can result in a really optimized website structure for ranking across many services and service areas.
Dedicated service pages also give you the ability to promote and earn links for each service page separately which can help you create a stronger website "link profile" and gain better search engine rankings.
7. Optimize Website Content
Once you have your website in place with service and service area pages, you'll want to optimize your content for SEO, including the structure of each page, to improve your chance of earning top Google rankings in your targeted area/s.
Here's how to optimize a page of content for local SEO:
Optimize your page title tag, which is what people see in your page's search result listing on Google. Make sure the title is relevant to the page content and includes your target keyword and location.
Include the relevant keywords in the page URL.
Write a meta description about the page to entice clicks, which shows up in your page's Google search listing under the page search title. Google might decide to pull content from the page as the meta description, but it's a good idea to still provide a custom description that includes snippets like "free quotes".
Incorporate keywords naturally into your content.
Include one or several images that support the page topic and add an alt describing each image. Images can potentially show up in Google's image search results based on the keywords in the image alt tag.
Use subheadings with related keywords and break up long paragraphs so the content is easy to read and skim.
Include CTAs (call-to-actions) such as reaching out for a free quote or any current deals and supporting information.
Make it easy to find your business phone number and a link to your contact page near the top and bottom of your pages with snippets of content reminding visitors about the locations you service.
Aim to link to your other service and location pages in your content naturally. You can also include a list of links near the bottom of your pages pointing to your other service and location pages.
8. Improve Internal Linking
An internal link is a link from one of your website pages to another. No matter how high-quality and relevant your content is to a specific local search, content can't rank without search engines like Google being able to crawl the links and discover pages.
Better Site Navigation
Both site visitors and search engines use links to navigate and understand your site's page structure and content. Google uses internal links to determine the value of page content and how the content is related to other linked pages.
While earning backlinks to your site from other sites helps improve the authority and rankings of your website, internal links help as well and are quick to implement when you have dedicated location and service pages you can link together.
You can make use of SEO audit tools like Screaming Frog (crawl up to 500 page URLs free) to quickly assess internal and external links between your site pages.
Internal Link Anchor Text
The anchor text used in your internal links is also important to Google. Anchor text is the clickable text used as a link. An internal link that includes keywords like "roofing services in Chicago" will signal to Google that the page being linked to is about those words much more than a link with "click here" as the anchor text.
As you publish more pages and create more helpful internal links that include variations of keyword phrases, your site is bound to improve in local search rankings over time.
9. Create a Link Building Plan
Along with internal links, implementing a plan to acquire backlinks will help you increase local search visibility even more and secure top-ranking positions in Google.
Here are some ways to gain backlinks to your site:
Creating business listings on directory sites.
Publishing a piece of content on another site or blog.
Submitting a press release or news story to a local online news publication.
Sponsorships or partnerships with other local businesses.
Creating local resource pages that people might share and link to.
Check out more link building tips here.
10. Encourage Online Reviews
When it comes to ranking locally, online reviews are an important piece of the puzzle. While there are hundreds of factors involved in search rankings, Google reviews are a strong local ranking factor since they signal trust and expertise.
Here's a list of ways to get more reviews:
Set up an email campaign that asks customers for a review after a completed job.
Invite previous customers to take a survey that asks them to leave a review.
Ask previous customers for a review on social media.
Offer a reward or incentive for leaving a review.
Ask for a review on your website or in-app if you have an app.
Collect reviews at any offline events your customers attend.
Use local SEO tools to create review-generation campaigns.
Conclusion
I hope you enjoyed these local SEO tips for service area businesses. Apply these tips to your local SEO efforts and I'm sure you will see improvements in your local search presence for your services, locations, and relevant keywords.
You might also find this list of small business SEO tools useful for supporting your search engine optimization efforts, which includes a mix of reliable paid and free tools.
Looking for low-cost SEO services? Check out these affordable SEO packages.
SEO Software Guides: