Owning a business nowadays requires you to be as reachable online as you are offline, if not a lot more.
People are increasingly visiting search engines trying to find the best candidates to provide them with the products and services they need. If you want to see your business grow, you need to be ranking high in these search results.
One area of online marketing that can benefit your business is local SEO.
In this article, we discuss what local SEO is, why it may be useful to your business, and how you can optimize your business's online visibility to improve your rankings in local search results.
What is Local SEO?
SEO is short for search engine optimization. This term generally refers to creating and optimizing website content and earning links so that search engines like Google give said website more prominent listings in search results.
When a website's pages of content are optimized around a specific topic and keywords, Google may deem the content more useful to people searching for the specific topic and keywords than other websites.
Like SEO, local SEO requires quality content and links. However, to rank well in local results for local searches, Google considers local SEO factors like the geographical location of the business, localized content on the site, consistent information found across business listings, and online reviews.
Local SEO (local search engine optimization) is the practice of optimizing your business to get found in the local search results for a specific area such as a city, district, or town. Consequently, you can consider local SEO as a sub-domain of SEO.
Why is Local SEO Important?
But why does local SEO matter to your business? The answer is best explained by giving an example first.
Let's say you own an Italian restaurant in town X. When people currently in town X go online and search for "Italian restaurants", "restaurants with spaghetti", or some other related keyword, optimizing your restaurant's website and Google Business Profile will help your business show up more often near the top for these searches.
Ranking on the 1st page of the search engine results pages (SERPs) on Google often leads to attracting more customers to your restaurant and increasing revenue.
Of course, your restaurant could have visitors walking in "offline", but with more people depending on online search engines to give them "solutions" to their problems, improving your business's online presence is becoming vital to success.
Local SEO can even be the difference between your restaurant staying in business or going out of business.
If you only rely on customers passing by your restaurant and stopping in if they feel hungry, you'll likely realize how non-sustainable that is soon enough. To bring in more customers, you need to be visible and available online.
Local customers, especially, are a priority as they're easier and less expensive to reach, they're more likely to come back, and there's a bigger chance they'll recommend your business to other locals.
The same example can apply to just about any other type of local business. This includes hospitality (bars, hotels, coffee shops), local services (plumbers, electricians, dry cleaners, florists, hair salons), law firms, and medical establishments (clinics, dentists, doctors).
How Does Local SEO Work?
Now that you have a better idea of what local SEO is and how it can serve your business, you need to understand how and what makes it work. To learn this, we need to first establish the goal of local SEO.
In addition to trying to rank on the 1st-page of organic results, businesses invested in local SEO aim to appear in Google's Local Pack or local map pack, which is tied to Google Maps results.
You've probably seen this before; it's those 3 local businesses that appear at the top of the search results page inside a box with a map that pinpoints their exact locations.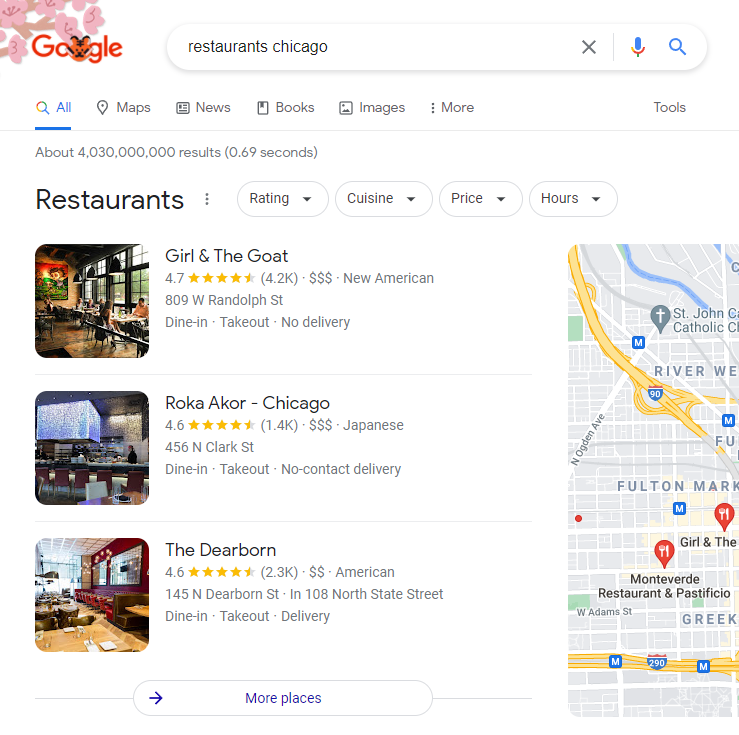 You shouldn't be surprised to know that people are more likely to contact or use these businesses compared to others ranking further down the page. It's kind of like people visiting the second page of the search results.
The question now is, what qualifies a business to feature in Google's Local Pack? The answer, according to Google, involves three primary local ranking factors:
Relevance: How well does the profile of the local business match what the potential customer is searching for?
Prominence: How reputable or well-known is the business based on information found offline, online, and in reviews?
Distance: How far is the business from the location that the customer searched for (or the location of the customer)?
Improving Your Local SEO
To help you improve your business's online presence via local SEO strategies, you should implement the following local SEO tips:
Google Business Profile (Google My Business)
Claim your free Google Business Profile (formerly Google My Business listing) account, then make sure you:
Select the correct categories. These need to be as accurate and as few as possible.
Provide updated NAP information such as name, address, and phone number. This needs to be the same across all your online platforms and directories.
Publish Google Posts and add high-quality photos of your business, products, and staff. You can add photos of customers in action if they agree to it.
On your business listing, make sure you provide all the information a customer may want to know such as contact information, physical address, business hours, payment methods accepted, a link to your website, and types of products or services offered.
Local Business Listings
In addition to Google, create a listing on other online directories like Bing Places for Business, Apple Maps, Yelp, and Yellow Pages. You use a listing submission service such as one offered by BrightLocal or Yext to submit across many sites at once.
Alongside local listings, set up accounts on social media platforms like Facebook, Instagram, Twitter, and LinkedIn for more brand exposure and links to your site.
Online Reviews
Encourage your customers to write a review for your business on Google or other sites like Yelp. Having a generally positive set of reviews will help your brand's visibility and local rankings. Aim to respond nicely to both positive and negative reviews.
Also, try to get your customers to mention relevant keywords in their online reviews, such as the type of service provided or local keywords. This tells Google's algorithm that your business is trusted locally.
Keyword Research & Local Content
Make sure to do keyword research to understand what local keywords are being searched by potential customers and the topics to create content around on your site.
There are also local SEO software tools that can help you save time conducting keyword research and include features to enhance your SEO efforts such as:
Optimizing for Local Search Results
Whether you manage a local business with one location or a service area business, implementing a local SEO strategy can be very beneficial to your marketing efforts.
By ranking prominently in more local search results, local SEO can help you reach more customers at a lower cost, create more repeat business, and generate more revenue.
Related SEO Resources: