In this Semrush review, we break down the software's key features, plans, and pricing.
Semrush is an all-in-one marketing platform with tools for search engine optimization (SEO), content marketing, competitor research, and social media marketing.
The cloud-based SEO software includes over 50 tools, features, and add-ons related to improving online visibility management and discovering marketing insights.
BoostPlanner is reader-supported. If you buy through a link on my site, I may earn an affiliate commission.
Semrush Overview
About Semrush
Semrush is a cloud-based SaaS (software-as-a-service) with tools for gaining insights into your online visibility, competing sites, and digital marketing. The company behind Semrush was founded in 2008 by Oleg Shchegolev and Dmitriy Melnikov.
The two Semrush co-founders first released a software tool called SEOquake in 2006. The SEO tool lead to the creation of the Semrush platform in 2008. As of 2020, the company has around 980 employees.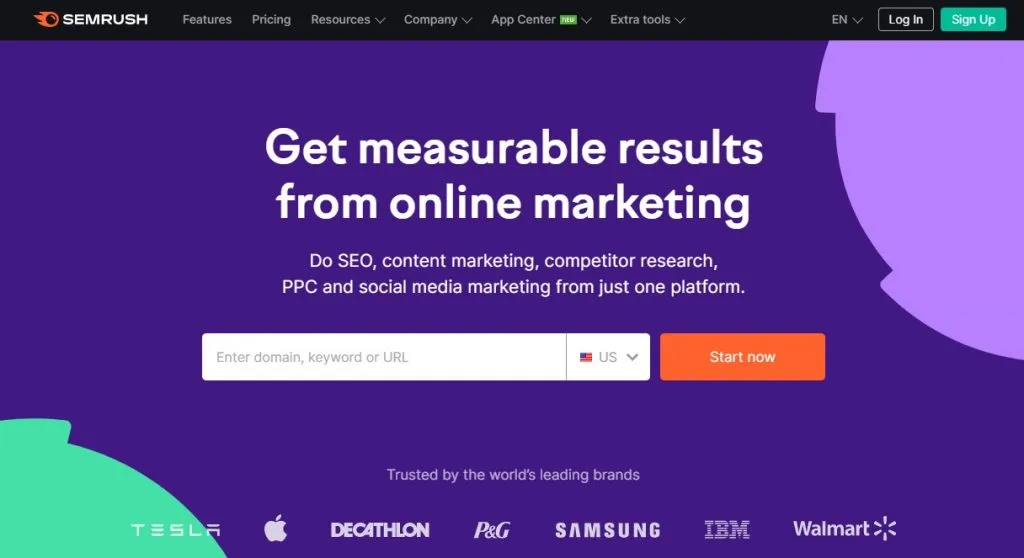 Semrush has been used by over 7 million people, making it one of the most popular SEO tools on the market. This includes digital marketers, SEO professionals, and copywriters to large enterprises, mid-sized businesses, and marketing agencies.
Currently, Semrush offers tools for SEO, SEM (search engine marketing), PPC (pay-per-click) advertising, content marketing, competitor research, rank tracking, reporting, and social media management.
Semrush Reviews
Semrush maintains a high rating in the SEO software category, earning positive reviews on the leading product review sites.
(Ratings last updated in January 2023)
Customer Feedback
Based on the Semrush reviews above, many reviewers consider Semrush to be one of the best SEO tools for access to all-in-one features and market-leading SEO research.
Semrush Pros & Cons
Pros
SEO and digital marketing platform for managing campaigns in one place.
Massive database of over 20 billion keywords and 43 trillion links for research.
Historical competitor data going back to 2012 (Guru or Business plan required).
Gain insight into competitor traffic, rankings, backlinks, and advertising data.
Perform detailed website audits based on 130+ checks and factors.
A ton of helpful resources for getting the most out of the software.
Semrush Academy offers free digital marketing courses and exams.
Friendly and knowledgeable chat, phone, and email support are available.
Keyword rank tracking with daily updates is included in all plans.
Cons
Expensive plans for small projects or operations.
The feature set and UI can be overwhelming.
There's a learning curve to understanding all features.
Semrush Pricing
Semrush offers three fixed plans and custom plans for high usage requirements.
This includes the Pro plan, Guru plan, and Business plan.
See how much Semrush costs in the table below.
Monthly and annual subscriptions are available. Annual billing offers up to 17% off.
| Semrush Plan | Pro | Guru | Business |
| --- | --- | --- | --- |
| Price | $119.95/month | $229.95/month | $449.95/month |
| Made For | Freelancers, Startups, and In-House Marketers | For SMBs and Growing Marketing Agencies | For Agencies, E-Commerce Projects, and Large Businesses |
| Projects | 5 | 15 | 40 |
| Trackable Keywords (with daily updates) | 500 | 1,500 | 5,000 |
| Mobile Rankings | Yes | Yes | Yes |
| Keyword, Domain, and Backlink Analysis | Yes | Yes | Yes |
| Historical Data | No | Yes | Yes |
| Content Marketing Platform | No | Yes | Yes |
| Reports Per Day | 3,000 | 5,000 | 10,000 |
| Results Per Report | 10,000 | 30,000 | 50,000 |
| Scheduled PDF Reports | 5 | 20 | 50 |
| Google Data Studio Integration | No | Yes | Yes |
| API Access | No | No | Yes |
| Annual Discount | Yes, up to 17% | Yes, up to 17% | Yes, up to 17% |
| Promotion | Free Trial & 7-Day Money-Back Guarantee | Free Trial & 7-Day Money-Back Guarantee | Free Trial & 7-Day Money-Back Guarantee |
Semrush Plans & Pricing
Get a free trial here to try the Pro or Guru plan with full access for 7 days.
You can also get more details on Semrush pricing here.
Semrush Features
Semrush includes features for market research, content planning, auditing, and optimizing websites and their content to improve online visibility and organic traffic.
Key Features:
Competitive Research: Gain insight into competitor traffic, rankings, and links.
Keyword Research: Find niche-relevant keywords and track positions in Google.
Link Building: Find link building opportunities with analysis and outreach tools.
On-Page & Technical SEO: Audit tools for 100's of on-page and off-page factors.
Content Marketing: Conduct topic research, optimize content, and track changes.
Other Features: Build detailed SEO reports and check SERP volatility.
Let's review Semrush's key features and tools in more detail:
1. Competitive Research
The first core feature of Semrush to review is competitive research.
Domain Overview
The domain analysis tool gives you a quick overview of a domain's online visibility. Clicking on many of the metrics will lead you to more specific reports for deep analysis.
Let's take a look at the key metrics and insights featured on the domain overview page.
Authority Score
Authority score is a proprietary metric developed by Semrush that is used to measure the overall quality of a particular domain and its SEO strength.
The score goes up to 100 and is based on the domain's number of backlinks, referring domains, organic search traffic, and other data.
Authority score is a useful metric to gain a sense of how authoritative and influential the analyzed website is in relation to other sites and their search presence.
Organic Traffic
This section gives insight into organic traffic and paid traffic to your analyzed website.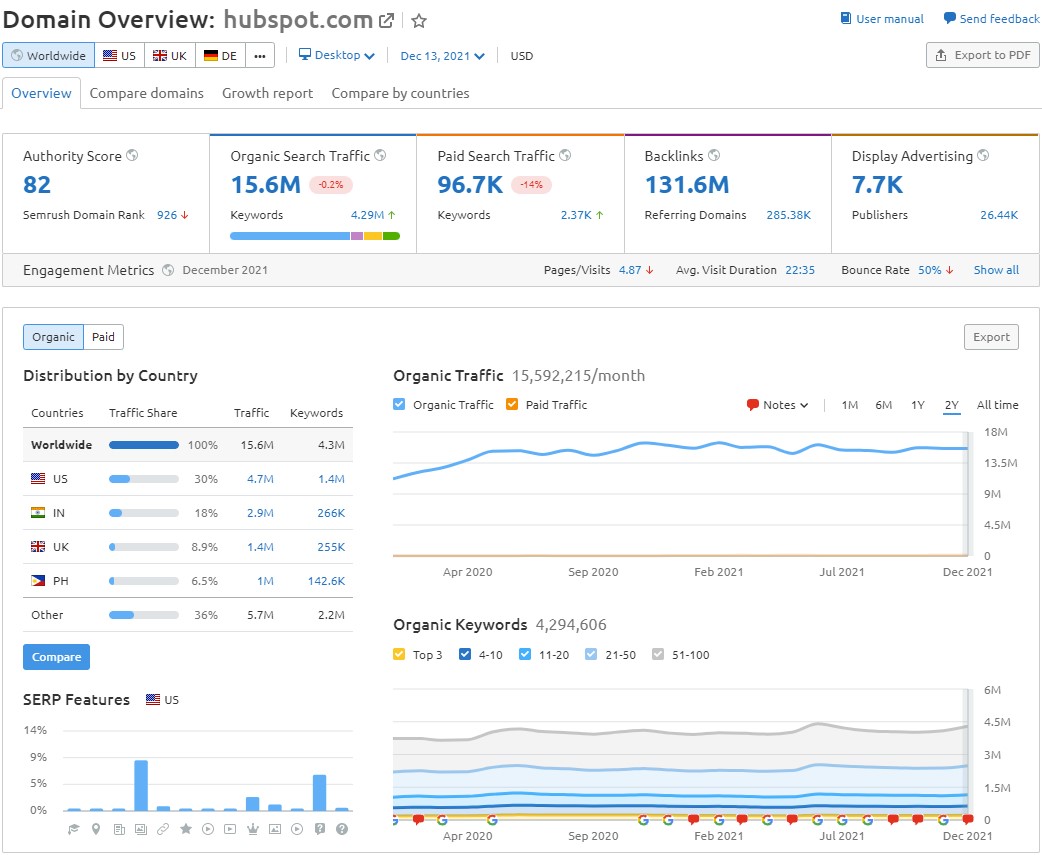 Organic traffic modules include:
Organic Traffic: Changes in estimated organic and paid traffic over time.
Organic Keywords: Changes in organic keyword positions over time.
Distribution by Country: Traffic share grouped by countries and keywords.
SERP Features: Features shown for any keywords such as featured snippets.
Traffic Analytics
Semrush's Traffic Analytics tool offers deeper insight into markets and competitors and requires the mid-tier Guru plan or higher to access it.
Traffic Analytics can help you assess a new market or niche, better understand where competitor traffic is coming from, and even develop a media buying strategy.
Some of the traffic-related modules in Semrush lead to these more in-depth traffic analytics reports as shown here:

Organic Research
The organic search section of the domain overview page gives you insight into a website's keyword rankings, search traffic, and competitor websites.
Organic research modules include:
Top Organic Keywords: The top organic-traffic generating keywords to a site.
Organic Position Distribution: Keywords grouped by rankings in Google.
Keywords by Intent: Keywords grouped by intent type in the Google top 100.
Branded Traffic Trend: The expected organic traffic from branded keywords.
Branded vs. Non-Branded: Traffic from branded and non-branded keywords.
Main Organic Competitors: Competitors with common keyword rankings.
Competitive Positioning Map: Competitor visual by search traffic and keywords.
Clicking on these modules will direct you to more detailed organic research reports as shown here:
Backlinks
The backlinks section of the domain overview page provides a glimpse of the type of backlinks pointing to the site being analyzed, the top anchor text used in links, referring domains, and links grouped by the pages indexed in Google.
Backlink modules include:
Backlinks: Backlinks organized by individual pages, anchor text, and link type.
Follow vs Nofollow: Backlinks grouped by either follow or nofollow links.
Backlink Type: Backlinks organized by text, frame, form, and image link types.
Top Anchors: The most popular anchor texts used in backlinks to the domain.
Referring Domains: The top domains that point to the analyzed domain.
Indexed Pages: The top pages of the analyzed domain sorted by backlink count.
Advertising Research
The advertising research section of the domain overview interface displays data related to any paid advertising efforts by the analyzed domain.
The advertising research modules display:
Top Paid Keywords: Keywords that generate the most paid traffic to the website.
Paid Position Distribution: Paid keywords grouped by position in Google Search.
Main Paid Competitors: Paid competitors including common paid keywords.
Competitive Position Map: Visual of top competitors by paid traffic and keywords.
Sample Text Ads: Examples of Google Ads copy used by the analyzed website.
Clicking on the modules for advertising research will direct you to more in-depth advertising research reports as shown here:
Display Advertising
The display advertising section of the domain overview page presents data related to any display advertising efforts by the analyzed domain:
Display advertising modules include:
Lastest Publishers: The latest display ad publishers identified by Semrush.
Landing Pages: The landing pages the domain's latest display ads pointed to.
Sample Ads: Examples of Google display ads used by the analyzed site.
Clicking on the modules for display advertising will direct you to more in-depth display advertising reports about these metrics as shown here:
Keyword Gap
Semrush's keyword gap feature provides you with a side-by-side comparison between keyword profiles of up to five competitor websites.
In my opinion, this is a powerful tool for strategically planning out content and keywords to focus on based on what's working for your competition while saving a ton of time compared to doing this sort of analysis manually.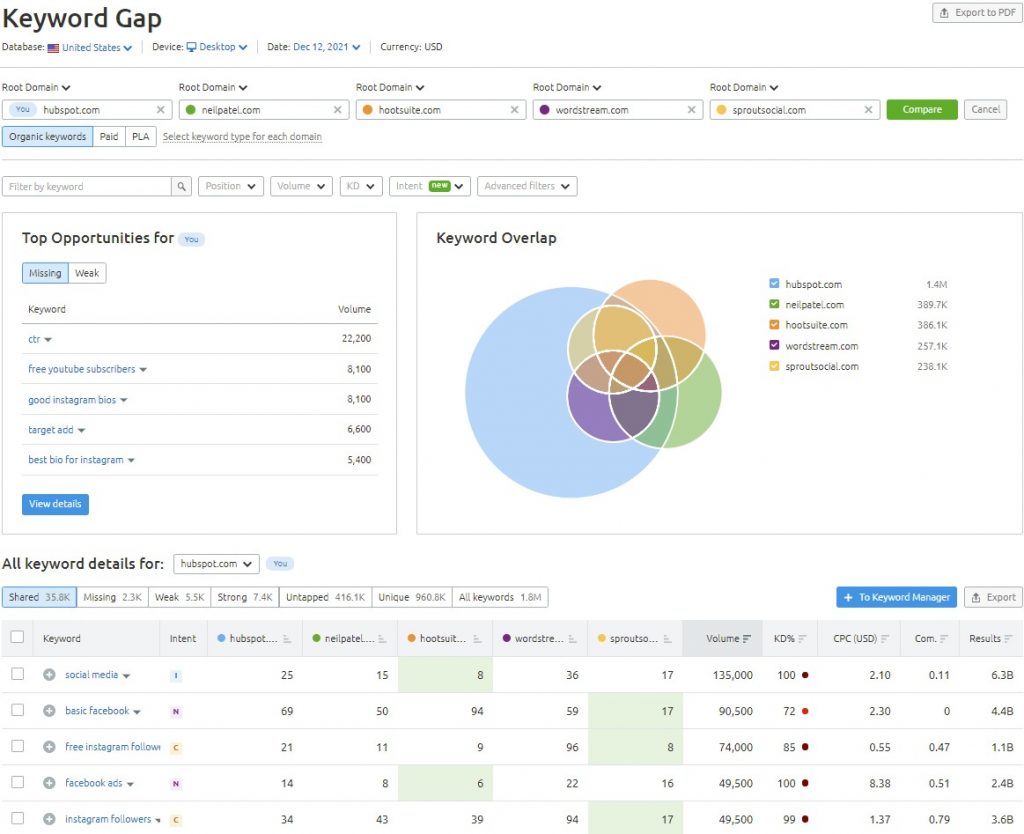 With the keyword gap tool you can view:
Top keyword opportunities based on search volume for keyword rankings your analyzed domain is either missing or weak on.
A visual of keyword rankings overlapping with competitor sites.
Shared, missing, weak, strong, untapped, and unique keywords.
Filtering by missing and untapped keywords are effective ways to find valuable keyword targeting opportunities that are potentially low competition.
In addition, sorting by strong keywords is a good way to see your analyzed domain's top-performing keywords alongside search volume data and other competitive metrics.
Based on this data, you might find that further optimizing for these keywords could result in quick search ranking and traffic wins.
Backlink Gap
Semrush's backlink gap feature gives you a side-by-side comparison between keyword profiles of up to five competitor websites.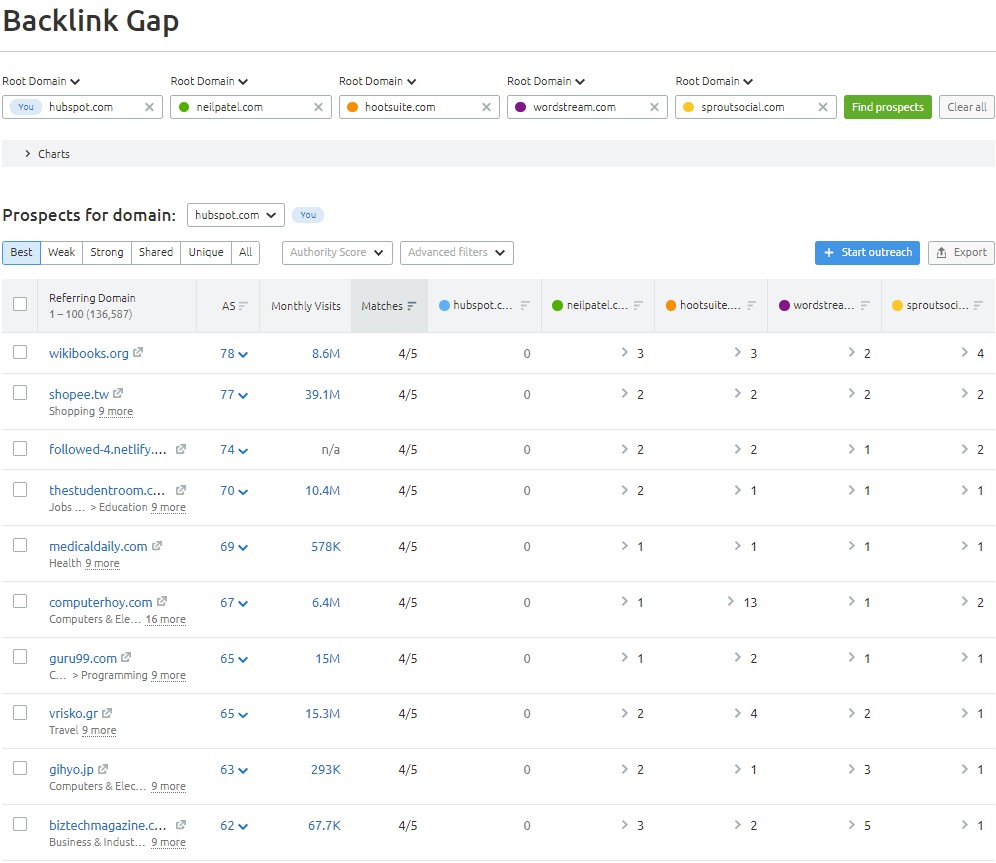 With the keyword gap tool you can view:
Referring domains sending links to each analyzed domain.
Authority score of each referring domain in the list.
Monthly visits to each referring domain over the last month.
Total number of analyzed domains the referring domain is linking to.
Weak, strong, shared, and unique referring domains.
The backlink gap tool is useful for quickly finding link-building opportunities based on a list of competing domains.
2. Keyword Research
Semrush provides one of the best keyword research tools on the market. Under the keyword research section of the platform, you get access to the keyword magic tool, keyword manager, position tracking with daily updates, and organic traffic insights.
Keyword Overview
The keyword overview tool includes an array of keyword suggestions and insights for the particular keyword being analyzed.
Here's an example of the overview page for the keyword is "SEO software":
Get keyword analytics related to the following:
Volume: National and global search volume for the analyzed keyword.
Keyword Difficulty: The level of difficulty to compete and rank for the keyword.
Intent: The search intent of the keyword, such as informational or commercial.
Trend: Change in number of searches for the keyword over the last 12 months.
Results: Number of URLs displayed in organic search results for the keyword.
SERP Features: Unique features showing in search results for the keyword.
CPC: Cost-per-click paid by advertisers running Google Ads for the keyword.
Competition: Level of competition between advertisers bidding on the keyword.
PLA: The top product listings ads that appear for the analyzed keyword if any.
Ads: The top ads that appear for the analyzed keyword if any.
Keyword Variations: Any found variations of the seed keyword entered.
Questions: A list of question-based keywords that contain the specific keyword.
Related Keywords: A list of keywords that are similar to the primary keyword.
SERP Analysis: The top 100 Google results for the analyzed keyword.
PLA Copies: The top PLA copies that appear for the analyzed keyword.
Ad Copies: The top ad copies that appear for the analyzed keyword.
Keyword Ad History: Ad bidding activity for the keyword over the last 12 months.
Clicking on one of the individual keywords displayed will refresh the overview page to provide data on the newly selected keyword. Clicking on one of the "view all keywords" buttons will take you to the keyword magic tool for more in-depth keyword research. Clicking on a URL in the SERP analysis will take you to the organic research report.
Keyword Magic Tool
The keyword magic tool is the primary keyword tool offered by Semrush. The database is constantly growing and provides data on over 20 billion keywords and up to 14 million ideas for a single keyword across 120 geographic databases.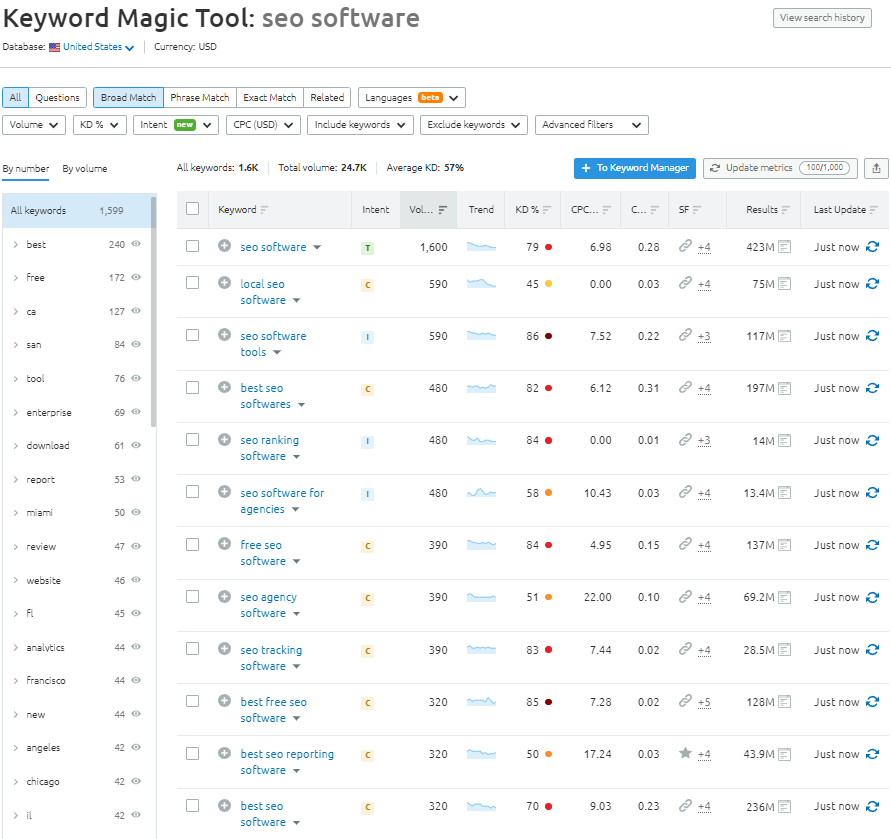 With the keyword magic tool you can check:
Filter keywords by match type, questions, and related terms.
Filter keywords by volume, difficulty, intent, CPC, and more.
Check out keyword intent, search volumes, and search trends.
View keyword difficulty score and competitive density metrics.
See which SERP features are showing for each keyword.
Save specific keywords to the keyword manager tool.
The options to enter broad match or phrase match keywords into the search bar helps a great deal to find both loose ideas and long-tail keywords.
The keyword magic tool is my favorite keyword research tool on the market for its amount of fresh data, a user interface design that's easy to navigate, and cross-over use with the Semrush position tracker and keyword manager tools.
Keyword Manager
The keyword manager provides a deep analysis of up to 1,000 keywords at a time. This is a useful tool for checking on and refreshing the metrics for the main keywords you're currently focused on.
The tool includes additional metrics not shown in the keyword magic tool:
Click Potential: An estimate of the probability of getting traffic to your web page if it ranks in the top search results for the given keyword.
Top Competitors: The top search engine results for the given keyword.
The keyword manager provides similar data to the keyword magic tool, but for a selected list of keywords. You can also use the tool to send keywords in the list over to the keyword tracking or PPC keyword tools with the click of a button.
Position Tracking
Semrush's position tracking tool is used to track your website search rankings and monitor your SEO performance over time.
Also known as rank or SERP tracking, the position tracker tool gives you the ability to track select keywords for specific geographic locations and any device type such as mobile or desktop.
Here's an example of the Position Tracker's landscape view, which shows high-level ranking trends for your website.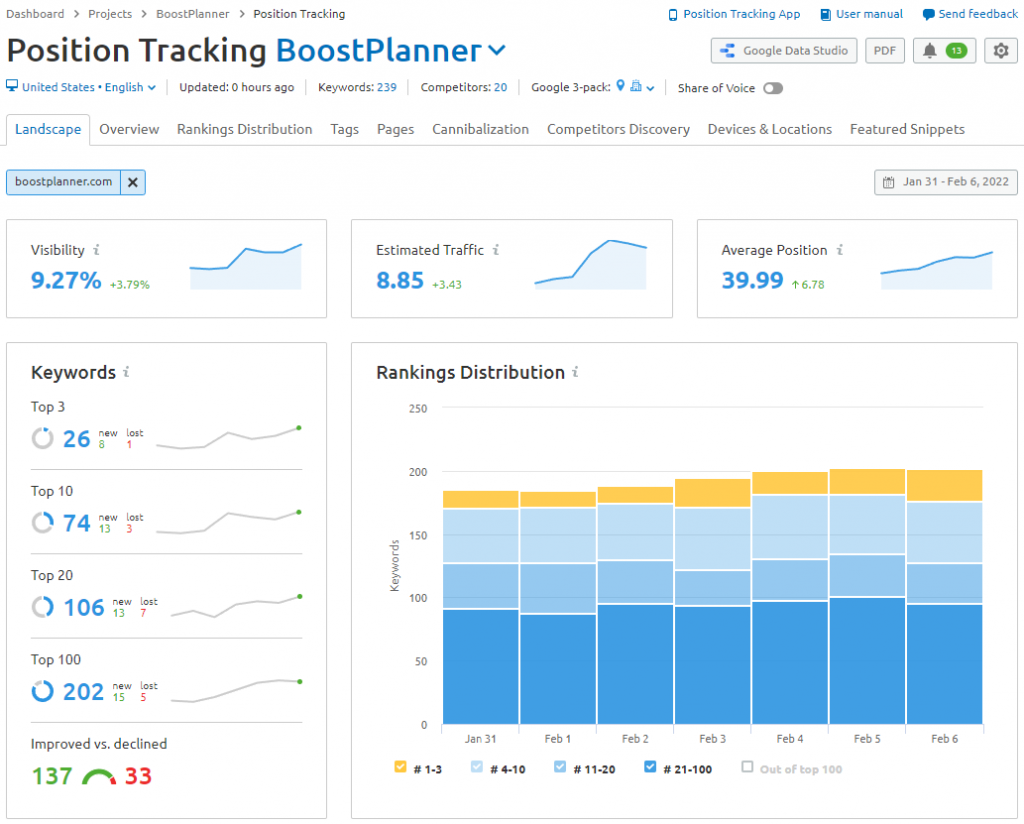 I really like Semrush's interface for tracking rankings. While the "Estimated Traffic" number is often way lower than what your site is actually generating and is based on the specific keywors added to the tracker, the keyword position data is pretty accurate.
The following metrics are displayed on the position tracking landscape page:
Visibility: A percentage score based on clickthrough rate (CTR) that shows the site's progress in Google's top 100 results for the currently tracked keywords.
Estimated Traffic: An estimate based on the average clickthrough rate of each position in Google's results multiplied by the volume of the keyword, and divided by 30 (number of days in a month).
Average Position: The average ranking for all tracked keywords in your rank tracking campaign.
Keywords: The number of tracked keywords ranking in Google's top 3, top 10, top 20, and top 100 search results.
Rankings Distribution: The distribution of the domain's organic rankings over time grouped by search rankings in Google's top 3, top 10, top 20, and top 100 organic search results.
Top Keywords: The best performing tracked keywords for your domain.
Positive Impact: Keywords that have increased in ranking during the selected time period.
Negative Impact: Keywords that have decreased in ranking during the selected time period.
Tags: Best performing keyword groups (tags) by visibility and average position.
Top Competitors: A visual map showing the average position and number of keywords for competitors you've added.
SERP Features: The unique features showing on search engine results pages for your tracked keywords.
Pages: Your website's best-performing landing pages.
Cannibalization Health: Percentage score based on the ratio of keywords that have cannibalization issues (identical or similar words competing with each other on more than one page) to the total number of keywords in your campaign.
Organic Traffic Insights
Semrush's Organic Traffic Insights combines data from Google Analytics, Google Search Console, and Semrush into a single dashboard.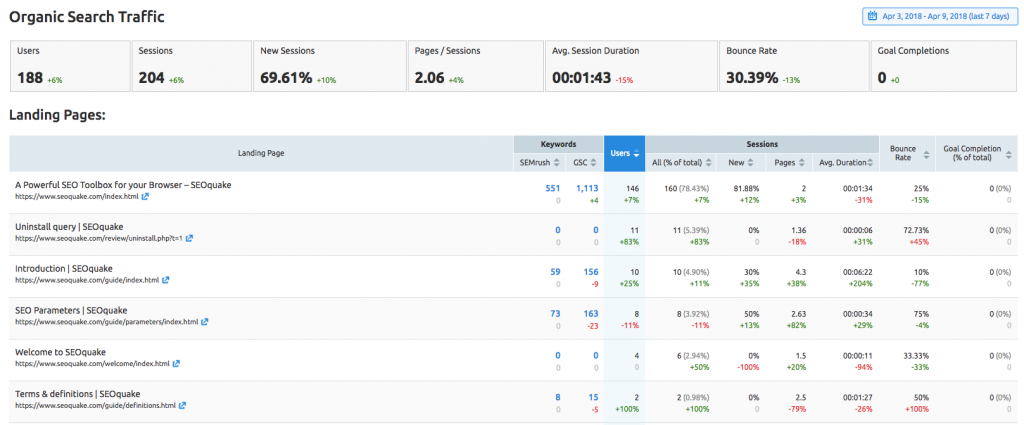 This tool is useful for reviewing the performance of your website and landing pages and uncovering opportunities for improving your SEO strategy.
You can quickly determine which pages on your site are gaining the most traction on Google by seeing which new keywords are identified by both Google Search Console and Semrush.
Analyze metrics related to clickthrough rate, sessions, search volume, and traffic by location for desktop, tablet, and mobile devices.
This integration is helpful for uncovering "not-provided" keywords from Google Analytics with the help of data from Semrush and Google Search Console.
You can also select keywords found within Organic Traffic Insights and quickly send them over to Semrush's Position Tracking tool to monitor ranking changes daily.
3. Link Building
Semrush considers its backlink analytics tool to be the largest and most up-to-date backlink checker on the market with over 43 trillion backlinks in the database.
Backlink Analytics
With Semrush's backlinks analytics tool you can:
Research and monitor backlinks for any domain.
Sort backlinks by authority scored and date detected.
Get notified when backlinks are removed.
Detect backlink types and their anchor text.
See which pages have the most backlinks.
Compare backlinks with your competitors.
Track competitor link building efforts.
Here's an example of the backlink analytics page:
Backlink analytics features:
Track any domain's referring domains and backlinks.
View estimated monthly visits to the analyzed domain.
See total referring domains, backlinks, and outbound domains.
Check the analyzed site for potentially toxic links.
Check the authority score of domains and backlinks.
View new and lost backlinks and referring domains.
Explore the categories of referring domains.
Analyze the top anchor text used in backlinks.
Examine backlink types and link attributes.
Explore domains with similar backlink profiles.
See the top 100 competitors for the analyzed site.
View top pages by referring domains at a glance.
Full reports are provided for most of the data on the backlink analytics dashboard.
Backlink Audit
Semrush's backlink audit tool is a unique tool designed to check a website's backlink profile for potentially harmful links that could cause issues with ranking on Google.
You can use the tool to assess the quality of backlinks based on 45+ toxicity markers, create a list of backlinks to remove, and send backlinks to the Google Disavow tool.
Backlink audit features:
Track your backlink profile health on a weekly basis.
Review backlinks grouped by toxic, potentially toxic, and non-toxic.
Create a list to send backlink removal requests to domain owners.
Generate a disavow file to upload to the Google Disavow tool.
Identity, new, broken, and lost referring domains and backlinks.
Analyze best-performing site pages by referring domains and backlinks.
Connect Google Search Console for additional backlink data.
Link Building Tool
Semrush's link building tool retrieves a list of link building opportunities for your domain based on competitor sites you provide and includes features for outreach campaigns.
This is one tool I haven't utilized yet beyond gathering domain prospects, however, here's the overview page to give you an idea of what the link building tool involves: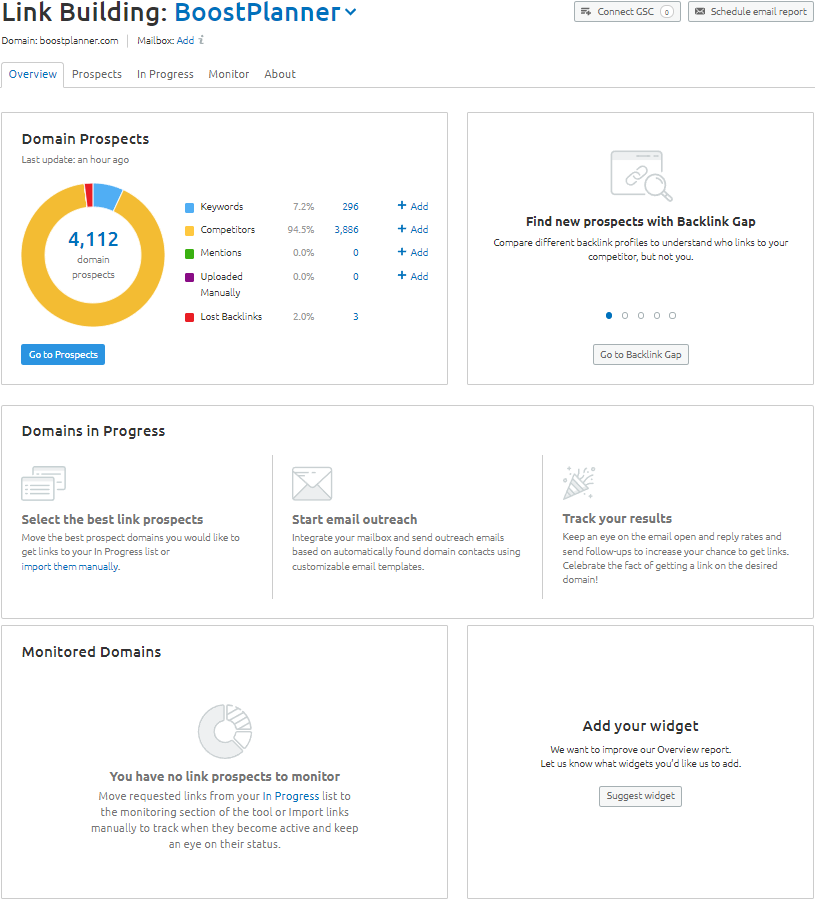 Link Building Tool Features:
Search for link building prospects based on a list of competitors.
Move the best prospects for acquiring links to an in-progress list.
Connect your mailbox to send outreach emails directly from Semrush.
Semrush provides customizable email templates for outreach.
Track your results based on email open and reply rates.
Monitor the status of acquired links with the monitor list.
Bulk Backlink Analysis
Semrush's bulk backlink analysis tool finds potential backlink sources based on up to 200 URLs or domains.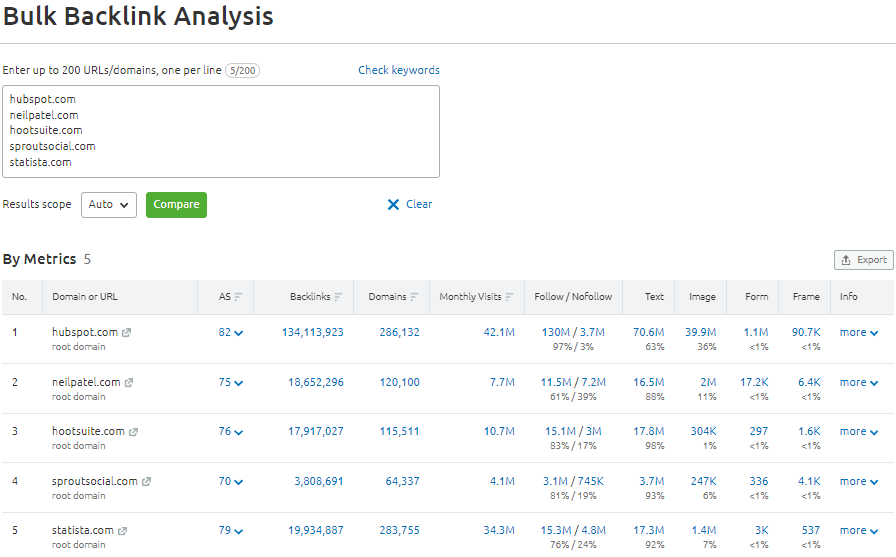 The bulk analysis tool is useful for getting a high-level view of competitor domain size and jumping to the more in-depth backlink reports in Semrush to look at link data in more detail.
4. On-Page & Technical SEO
Next up in this Semrush review are the site and on-page SEO audit features.
Site Audit
Semrush's side audit too scans websites for over 130 potential SEO issues. These include errors, warnings, and notices.
A site health score is provided based on the number of errors and warnings found on your site and their level of impact.
The technical SEO audit provides detailed reports of metrics related to:
Crawlability: Page indexability, HTTP status codes, crawl budget waste, incoming internal links, and sitemap vs. crawled pages.
Site Performance: Page load speed, amount of JavaScript and CSS code size, HTML page size, redirect chains and loops, uncompressed pages, uncached files, and unminified files.
Internal Linking: Page crawl depth, internal link distribution showing page strength, and link issues detected such as broken or malformed links,
HTTPS Implementation: Security certificates, server security and support, and website architecture checks related to using HTTPS.
Core Web Vitals: Breakdown of pages by their status for each of the core web vital metrics including largest contentful paint (LCP), total blocking time (TBT), and cumulative layout shift (CLS).
Markup: Assessment of structured data markup found on pages.
International SEO: Audit hreflang value issues such as conflicts with page source code, incorrect hreflang links, hreflang language mismatch, and pages with missing hreflang values.
The user interface for audits is very organized and includes convenient features for comparing crawls and monitoring progress over time.
What I like about Semrush's site audit is how comprehensive it is in terms of warnings and potential issues that aren't always shared or identified as issues in other site auditing tools.
Listing Management
Semrush's listing management tool is like an entire platform for local SEO inside the larger Semrush platform.
Listing management features:
Distribute your business information across 70+ local directories.
Update business name, address, and phone (NAP data) across all listings right inside Semrush.
Manage your Google Business Profile and Facebook listings
Track reviews across multiple platforms and user suggestions.
Analyze the tone of reviews across 70+ directory sites.
Premium feature: Google Maps local heatmap rankings.
Premium feature: Respond to reviews inside the tool.
Note: While you can check your local listings for free, listing management is an add-on solution inside Semrush. The features above (non-premium features) cost an additional $20/mo per business location. Or, $40/mo per location for access to the premium features.
The local listing management features are worthwhile for local businesses with one or more locations who would like to ensure their business data is consistent across most of the major directory sites online, which can help maintain or improve local rankings.
On-Page SEO Checker
The on-page SEO checker tool provides a vast range of actionable strategies and optimization insights to outrank your competitors.
Suggestions are based on analyzing and comparing your pages and blogs with competitor pages ranking higher than you in the Google top 10 search results.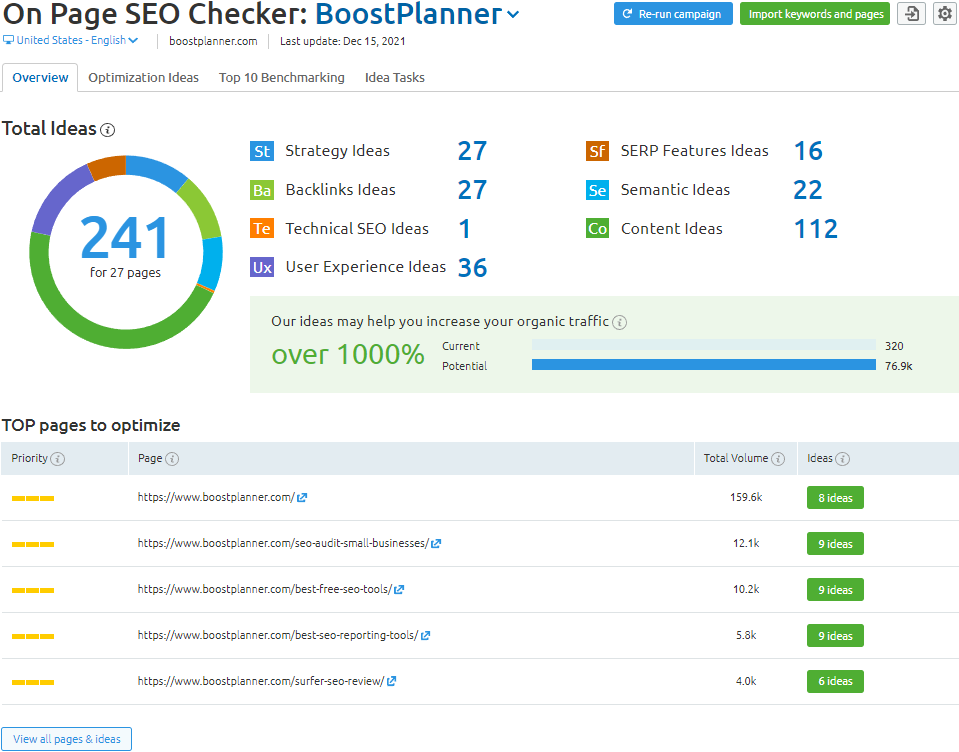 The on-page SEO checker provides SEO ideas and features such as:
Strategy: Recommendations for fixing any keyword cannibalization issues and optimizing keywords across landing pages.
Content: Suggestions for following content best practices related to content length, readability, keyword stuffing, video content, title tags, and meta descriptions.
Semantic: Related keyword ideas based on your rivals in the top 10 results.
Backlinks: Potential domain sources for acquiring backlinks based on rivals.
Technical SEO: Issues found related to pages being blocked from search engines, duplicate content and tags, internal links, and appropriate tags being used.
User Experience: Ideas for improving user experience on pages such as decreasing bounce rate, page loading speed, and user time spent on page.
SERP Features: Structured data markup recommendations to potentially improve page click-through rates and achieve rich snippets in Google's search results.
Idea Tasks: View ideas sorted in a convenient task list for taking quick action.
Custom Analysis: Import specific pages and keywords for on-page analysis.
In my opinion, the on-page SEO checker tool alone makes Semrush worth investing in to make sure your on-page SEO is in tip-top shape.
Log File Analyzer
Semrush's log file analyzer tool shows you how Google bots crawl and interact with your site. This includes crawl data for both Google's desktop and mobile crawlers.
Note: Uploading log files from your web server is required to use the tool.
This is a valuable tool for checking response status consistency and availability issues. Doing this type of analysis manually is extremely time-consuming and technical.
5. Content Marketing
The content marketing platform is the final major feature explored in this Semrush review.
Note: The Guru plan or higher is required for access to the content marketing tools.
The platform includes features for topic research, an SEO content template tool, an SEO writing assistant, brand monitoring, a content analyzer for reviewing on-page and off-page content performance, post tracking, and a marketing calendar.
The topic research and SEO content template suggestions are some of my favorite features provided by Semrush for crafting super optimized and SEO-friendly content.
Topic Research
The topic research feature of the content marketing toolkit is invaluable for really understanding a topic and what people are searching about online.
Discover what your audience is searching for with Semrush's topic research tool.
Topic research features:
Enter a topic to explore information about the topic.
Get a list of related topics and subtopics.
See headlines and related questions.
See subtopic search volume and difficulty.
Sort by trending subtopics.
Option to add topics to a favorite ideas list.
Unique cards, explorer, and mind map views.
View topic information in several unique ways including cards, explorer, overview, and mind map.
Using this content marketing tool is an effective way to research and plan out your SEO content strategy.
SEO Content Template
Semrush's SEO content template tool gives you ideas to write optimized content based on your target keywords and the top 10 ranking pages in Google.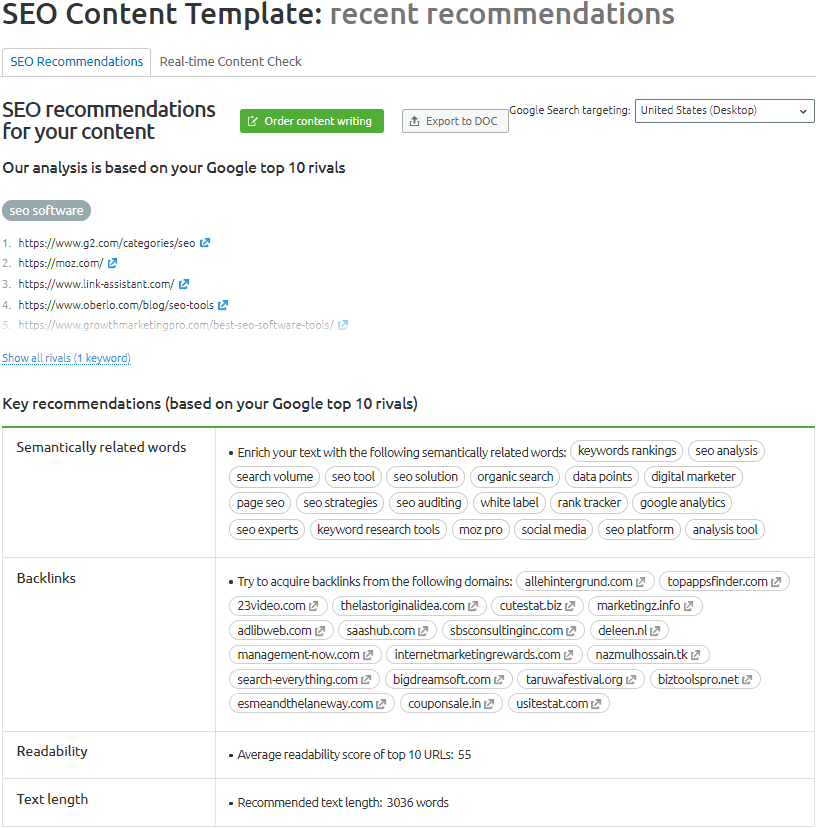 SEO content template features:
Key recommendations based on the top 10 ranking sites in Google.
Get semantically related keyword ideas to use in your content.
Backlink suggestions based on competitor domains.
A readability score to aim for based on the competition.
Recommended text length based on competitor sites.
Suggestions related to page titles, tags, and meta descriptions.
See how competitors are using your target keyword in their content.
Real-time content check tool for optimizing SEO and readability.
SEO Writing Assistant
Semrush's SEO writing assistant provides a document editor that checks your content for SEO factors, readability, originality, and tone of voice as you're writing.
SEO writing assistant features:
SEO: On-page factors related to keywords, links, and tags.
Readability: Review writing clarity and reading difficulty level.
Originality: Check content for plagiarism before publishing.
Tone of Voice: Check tone consistency and tone of voice style.
Rewriter: An AI writing tool for rewriting paragraphs.
GDoc Add-On: Integrate the SEO assistant in Google Docs.
Brand Monitoring
Track brand mentions for your brand and competitors with the Brand Monitoring Tool.
Here's a look at the brand monitoring overview and mentions pages:
This is a helpful tool for being aware of your online reputation, sentiment around your brand on the internet, discovering where competitor brand mentions are appearing, and uncovering potential partnership and link building opportunities.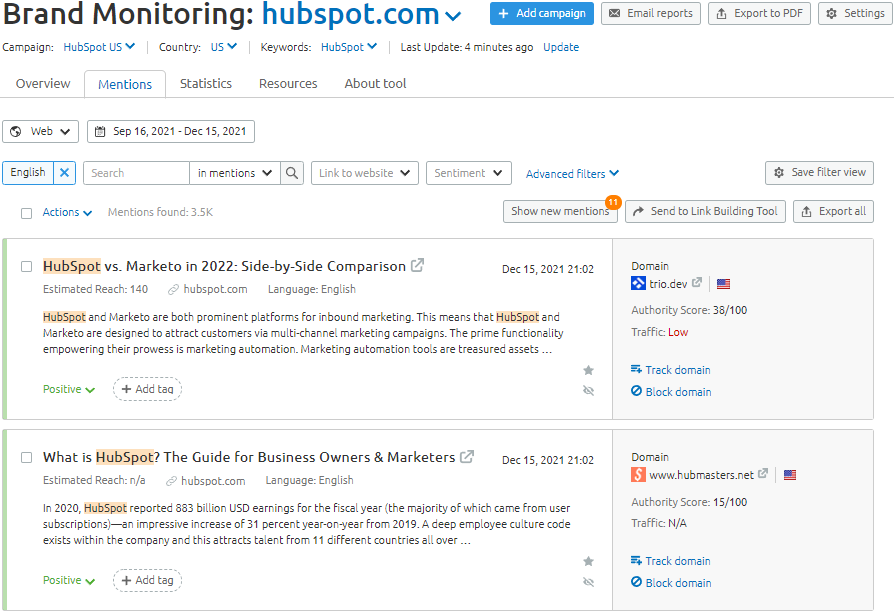 Brand monitoring features:
Create mention campaigns for keywords and countries.
Analyze brand mentions by sentiment and estimated reach.
View the top domains and backlinks by brand mention count.
Examine the traffic and authority of domains with mentions.
Save favorite mentions list and tag mentions by sentiment.
Track a list of domains for potential future mentions.
Check out statistics like volume trends of mentions.
Post Tracking
With Semrush's post tracking tool, you can track a page on your site or a competitor's page for changes in metrics like backlinks, rankings, and social shares over time.
Content Audit
Semrush's content audit analyzes content within the subfolders of a website and identifies pages that need improvement.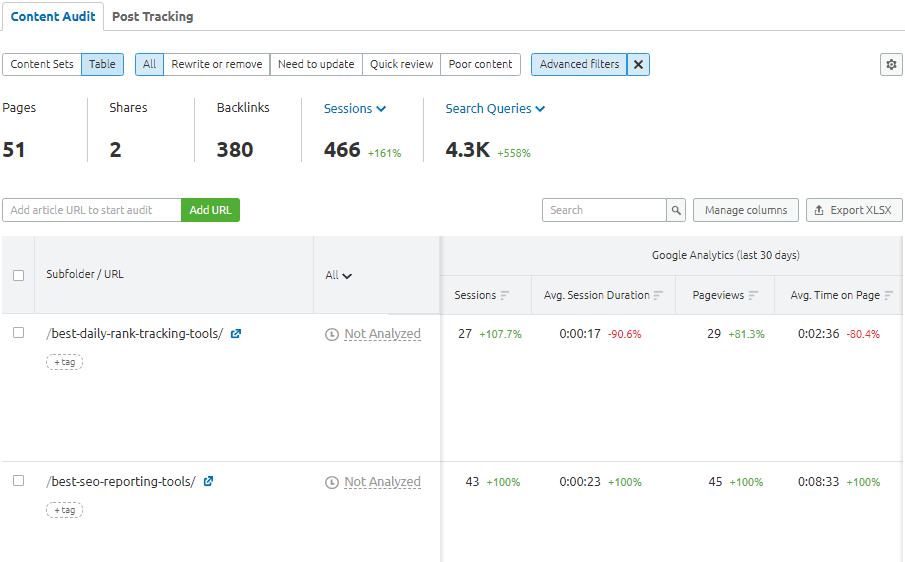 With the content audit tool, you can analyze an array of metrics in the columns to the right of each page URL.
Metrics include data from Google Analytics, Google Search Console, page status code, content update time, title, meta description, word count, shares, and backlinks.
If you click on a specific page URL, you are directed to another view for analyzing the page content. Here you can:
View a trend chart for sessions and pageviews over time.
Check word count, shares, backlinks, sessions, session duration, and bounce rate.
Analyze the performance of the page's top 20 search queries based on clicks, impressions, avg. CTR, and avg. position.
Marketing Calendar
Create and share content calendars to help plan marketing campaigns, activities, and team member tasks with Semrush's marketing calendar.
Here's an example of what the calendar view looks like:
When you click on an activity in a calendar, you'll get the pop-up view below:
Marketing calendar features:
Set weekly deadlines and goals
Add attachments to tasks from Google Drive.
Add comments to tasks.
Create recurring activities on a daily, weekly, or yearly basis.
Create a checklist of steps to complete for each task.
Attach documents and add tags to organize tasks.
Track the current status of tasks and activities.
Add tags to organize tasks.
Import plans from other calendars with iCalendar files.
History section to see all past changes made.
Set up email notifications on task updates.
Share your calendar with teams or clients.
Export activities to PDF for quick reporting.
Save campaigns as templates for easy use.
What's unique about this calendar tool is its native integration with marketing campaigns in Semrush and data from Google Analytics.
It's a nice calendar for managing website projects, especially if you run a digital marketing agency or have multiple people working on websites.
Might as well manage tasks within your all-in-one SEO software!
6. Other Features
Let's finish off this Semrush review by discussing a few remaining features.
My Reports Builder
Report on over 50 marketing metrics with Semrush's my reports builder.
Create reports from scratch or start with a template from the template gallery.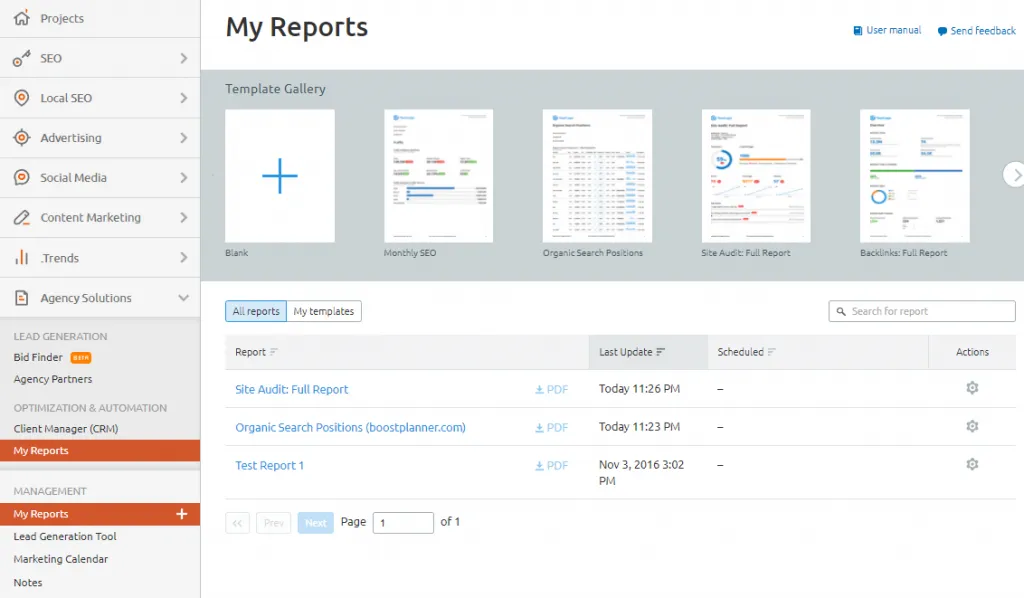 The builder includes convenient SEO reporting templates for:
Monthly SEO reports
Organic search positions
Site audits
Backlinks
Organic research
Advertising research
Competitor analysis
Google Ads
Domain Comparison
Google My Business Insights
There are a ton of widgets you can drag and drop into your reports. Widgets are organized under categories in the left-hand sidebar of the report builder.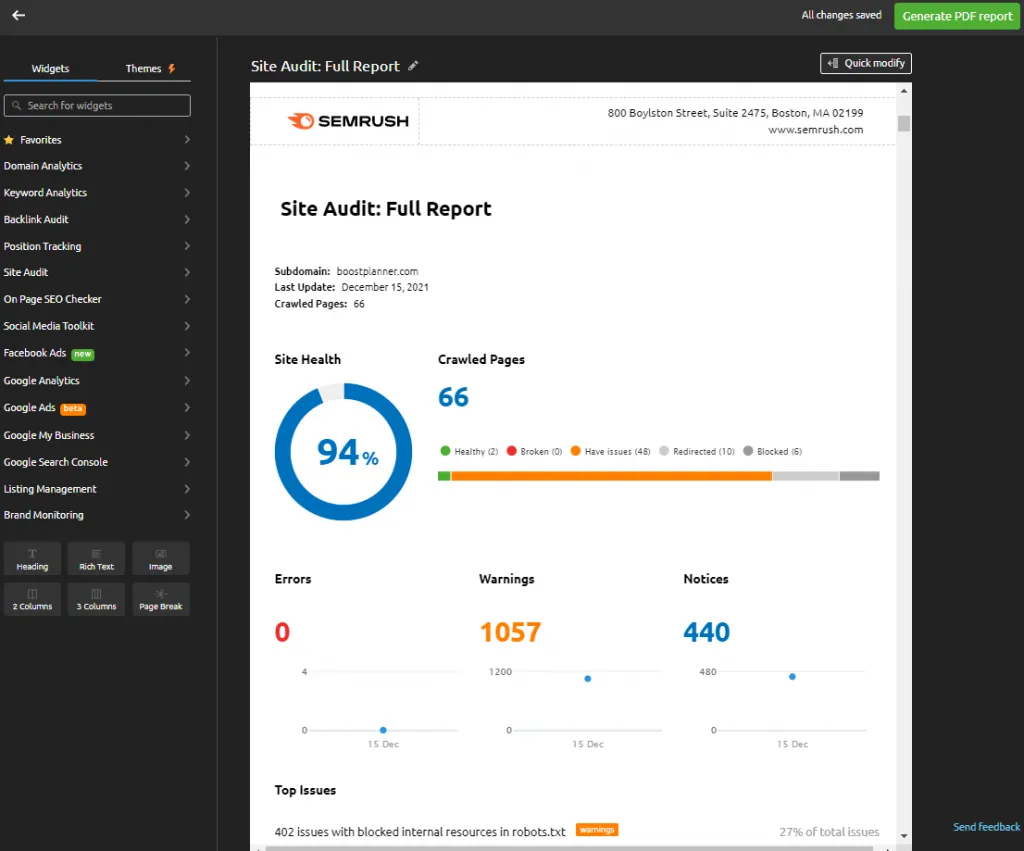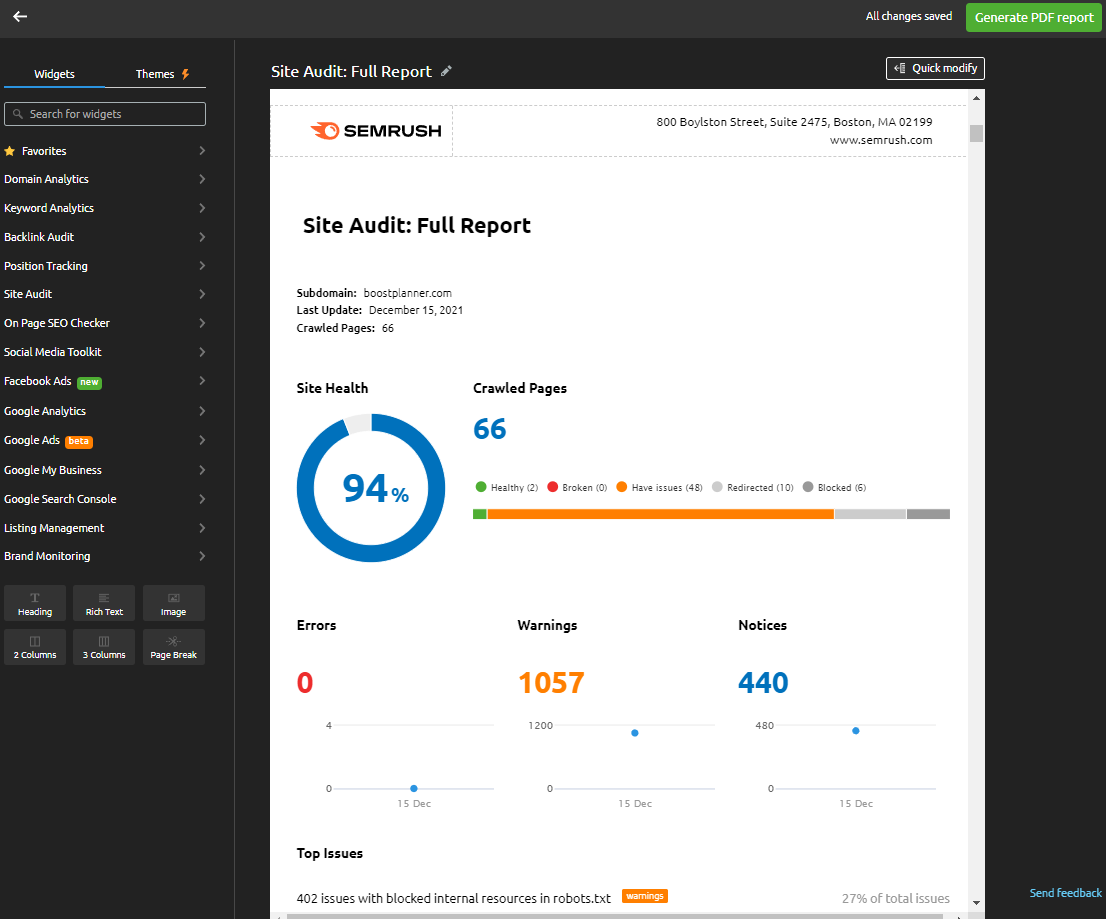 Semrush Sensor
Semrush Sensor is a free tool for checking Google SERP volatility for the last 30 days and seeing if there have been any recent Google algorithm updates.
Explore changes in search engine results by categories, SERP features occurrence, and HTTPS usage. See winning and losing sites based on position trends.
You can also connect your Semrush projects to get a personal volatility score for keywords in the position tracking tool.
Semrush Alternatives
In regards to all-in-one SEO software, here are 3 popular Semrush alternatives:
Ahrefs – SEO toolkit with in-depth backlink and keyword data for competior analysis.
SE Ranking – SEO software all-in-one features and flexible low-cost plan options.
Surfer SEO – On-page SEO software for optimizing content based on competitors.
I use Surfer for deep on-page optimization based on its data-driven analysis of over 500 factors and competing pages. After, I move over to Semrush for fine-tuning content.
Check out my Surfer review to learn more about the SEO tool and its key features.
SE Ranking is an affordable Semrush alternative for competitor analysis, site audit features, rank tracking, and reporting features for the price.
I've published an SE Ranking review as well covering features and pricing in detail. While the keyword research and backlink databases aren't as extensive as Semrush, it's pretty close.
Frequently Asked Questions
What is Semrush?
Semrush is a best-selling software platform with features and tools for search engine optimization (SEO), pay-per-click (PPC) ads, competitive research, content marketing, social media marketing, and campaign management.
Is Semrush Free?
Semrush requires a paid subscription for full access to certain features and tools.
However, Semrush offers a free trial to try a plan's full feature set.
After the trial, if you don't enroll in a paid plan, you still maintain a free account with limited access to some features.
What is Semrush Good For?
Semrush is good for managing digital marketing research and optimization activities. Examples include gaining insight into SEO and paid search competition on Google, researching topics and keywords, auditing technical SEO issues, optimizing content, tracking keyword rankings, and creating reports.
Is Semrush Reputable?
Yes, Semrush is one of the most reputable SEO software tools on the market, is now a public company, and is a solid choice for growing businesses and digital marketing agencies of all sizes.
Is Semrush the Best SEO Tool?
Considering Semrush to be the best SEO tool depends on your needs. If your goal is to manage SEO campaigns or content marketing activities in one place, then I would agree that Semrush is the best SEO tool for this.
For deep on-page SEO optimization, I would say Surfer wins out based on its advanced data-driven NLP (natural language processing) analysis of top-ranking content to provide on-page guidelines and suggestions.
I use both Semrush and Surfer for very extensive keyword optimization work. However, I recommend Semrush if you want more keyword, topic, and backlink data alongside on-page SEO tools that are almost comparable to what Surfer can do.
In terms of backlink research, Ahrefs has an edge in providing the largest amount of backlink data. While Semrush is continuing to improve its database freshness and size, I do notice some additional backlinks detected earlier in Ahrefs. For most purposes though, Semrush's backlink analytics tool is almost as in-depth and very fast.
What's the Difference Between Semrush & Google Analytics?
Google Analytics is used to track website visitor sessions and related data. Semrush shares similar data based on estimates and its own site crawling capabilities. However, Semrush provides an integration to pull Google Analytics data into the platform.
Final Thoughts on Semrush
I believe Semrush is the best platform for SEO professionals, growing businesses, and digital marketing agencies who are serious about their SEO performance.
Semrush gives you leading competitor and topic research data, high-quality site and visibility audit tools, a reliable daily rank tracker, flexible reporting, and more.
I hope this Semrush review helped you better understand the platform's key features and plans for 2023. To test the software out, get a free trial here:
The primary reason I didn't give Semrush 5 stars in this review is the price. It would be nice to be able to add or exclude some features to adjust pricing. However, the plan costs are understandable based on the number of helpful tools and features provided.
SEO Software Guides: