Which SEO tool is better, SE Ranking or SEO PowerSuite?
This post breaks down and compares the key features of SE Ranking and SEO PowerSuite to help you determine which SEO toolkit is right for your needs in 2023.
BoostPlanner is reader-supported. If you buy through a link on my site, I may earn an affiliate commission.
What are SE Ranking & SEO PowerSuite?
SE Ranking and SEO PowerSuite are reputable all-in-one SEO software platforms with a wide range of features for running search engine optimization campaigns.
Both tools have earned above-average ratings of 4.3+ stars and many positive reviews on reputable product review sites like Capterra and G2.
Launched in 2004, SEO PowerSuite is a toolkit made up of four desktop software tools. On the other hand, SE Ranking is a newer cloud-based SEO platform founded in 2013.
Comparing SE Ranking vs SEO PowerSuite
Both SE Ranking and SEO PowerSuite offer features that cover major aspects of SEO. Examples include keyword research, rank tracking, competitor insights, and site audits.
In comparing SE Ranking vs SEO PowerSuite, the key differences between the SEO tools come down to their feature sets, data sources, and pricing plans.
Feature Breakdown
Here is a breakdown of the core features included in SE Ranking vs SEO PowerSuite, how they compare, and the key differences to consider.
Keyword Research
Let's check out how the keyword research tools differ between SE Ranking and SEO PowerSuite.
Keyword research is a fundamental SEO process and a common feature of all-in-one SEO software.
While the UIs differ, each toolset includes keyword insights such as:
Monthly search volume estimates for each search term
Keyword difficulty scores (how difficult a term is to rank)
Cost-per-click (CPC) bidding estimates for Google Advertising
Pay-per-click (CPC) competition levels for Google Ads
Unique features found on the SERPs for each search query
Keyword grouper tools to save segments of relevant keywords
Find keyword ideas based on search engine autocomplete data
SEO PowerSuite's Rank Tracker software offers a free version. However, a paid license is required to save rankings history and reports and add more than one competitor.
SE Ranking vs SEO PowerSuite Keyword Research Differences
Both SEO toolkits offer extensive keyword research capabilities to find and analyze search terms used on Google.
Each tool includes metrics for both organic search and paid keywords related to Google Ads pay-per-click advertising.
SE Ranking's keyword research tool provides keyword insights based on proprietary algorithms and a combination of Google and clickstream data.
Keyword research features include:
Similar Keywords
Related Keywords
Database Expansion
Keyword Manager
Autocomplete Tools
Keyword Grouper
The keyword suggestion tool shares keyword results alongside a convenient view of the top organic SERP results for whichever keyword is selected in the table.
The SERP insights give you an idea of how much traffic a page could generate when ranking for the given keyword as well as related terms the page topic could rank for.
SEO PowerSuite's keyword research features are a part of its Rank Tracker application. Many of the keyword insights require connecting a Google Ads account in order to pull data from Google Ads Keyword Planner.
The Rank Tracker software contains many useful keyword tools including:
Google Ads Keyword Planner
Google Search Console
Keyword Gap
Search Engine Autocomplete
Related Searches
Related Questions
TF-IDF Explorer
Keyword Combinations
Keyword Sandbox
Automate Tasks
The Keyword Sandbox module is particularly helpful since it stores all the keyword ideas you've found through the different keyword research methods in Rank Tracker.
Then, you can archive and analyze all the keywords you've discovered in bulk, with convenient options to create keyword groups and send them over to the rank tracker.
Verdict on SE Ranking vs SEO PowerSuite for Keyword Research
While no SEO tool offers 100% accurate data, SE Ranking wins out on individual keyword insights due to providing more exact numbers for search volume, keyword difficulty, and estimated organic traffic based on both Google and clickstream data.
SEO PowerSuite gets its keyword data from Google's Keyword Planner, which only shows you broad search volume ranges if you're not running an active ad campaign.
Also, it might sound like SEO PowerSuite provides more keyword research tools than SE Ranking, but both offer pretty much the same functionality.
SE Ranking includes some similar features under different areas of the software. For example, keyword gap insights are under its competitor research tools, and TD-IDF analysis is a feature of its on-page SEO checker tool.
Overall, you really can't go wrong with either tool for finding new keyword ideas.
If you have a high-performing desktop or laptop and plan to perform keyword research for many sites and/or clients and want to automate tasks, check out SEO PowerSuite.
Or, you might prefer SE ranking for its added clickstream data as well as not needing to connect to a Google Ads account to get keyword insights.
Rank Tracking
Both SEO platforms provide first-class keyword rank tracker tools.
Each of the rank tracking tools includes these similar features:
Track mobile and desktop devices
View ranking changes side-by-side
Daily rank tracking options
Competitor rank tracking
Keyword SERP history
Tagging and filtering
Search volumes
Estimated traffic
SERP features
Depending on the selected plan, SE Ranking offers keyword rank updates daily, every 3 days, or weekly (the least expensive option).
SEO PowerSuite's free download version lets you add and track an unlimited number of keywords and websites. However, you'll need a paid account to save your data.
SE Ranking vs SEO PowerSuite Rank Tracking Differences
The primary difference between the two rank trackers is the supported search engines.
SE Ranking supports Google, Bing, Yahoo, and Yandex, while SEO PowerSuite apps are synced with over 597 local and global search engines.
SE Ranking's rank tracker interface is pretty easy to use, with flexible options for filtering and sorting keyword phases and adding keywords to custom folders.
The "dynamics" column and color highlighting makes it quick to evaluate up and down changes across your monitored keyword positions.
SEO PowerSuite's Rank Tracker interface is geared toward SEO professionals and aims to display more data and smaller font sizes in many of the views.
Once you're used to it though, the software offers some pretty advanced functionality, such as the ability to set up automated tasks and drag table columns around.
Both tools offer a variety of metric columns you can turn on and off, but only SEO PowerSuite lets you drag the columns around and automate a variety of tasks.
SEO PowerSuite also lets you track an unlimited number of keywords and sites.
Verdict on SE Ranking vs SEO PowerSuite for Tracking Rankings
Both rank trackers are a solid choice for accurately tracking both local and national keyword rankings and progress over time for one or many different projects.
If you prefer to track search engines beyond Google, Bing, Yahoo, or Yandex and don't mind a desktop SEO tool, give SEO PowerSuite a try.
SEO PowerSuite is also recommended if you plan to track hundreds of thousands of keywords, want to be able to browse offline, and have access to a fast computer.
The ability to save and browse your SEO data offline is a handy feature that web-based SEO tools don't offer (you have to export data to CSV, spreadsheets, or PDF reports). Although, you'll still need access to the internet to query for fresh data.
Rank Tracker is free to download and use, you just can't save without a paid license.
Otherwise, SE Ranking is a top-tier cloud-based rank tracker with solid organization capabilities, the ability to track thousands of keywords, and optional daily rank updates.
Competitor Research
SE Ranking and SEO PowerSuite provide competitor insights in their own unique ways.
Both SEO software tools include competitor insights related to:
Domain authority scores
Page trust scores
Competitor keyword rankings
Organic traffic estimates
Top-ranking keywords
Top-ranking pages
Backlink insights
Historical data
SE Ranking vs SEO PowerSuite Competitor Research Differences
SE Ranking does a good job of visually laying an array of valuable competitor insights and making it easy to analyze keyword, traffic, and backlink progress.
The tool displays many useful data sets including the analyzed website's top pages in organic search by traffic share and its main competitors, including how competitor keyword rankings overlap or are unique to the analyzed site's rankings.
The trend charts are awesome for quickly getting a sense of a website's growth in relation to the total traffic, the number of keyword rankings, estimated traffic cost (value), and the number of backlinks acquired or lost over time.
SEO PowerSuite's competitor research data found in the Rank Tracker tool also reveals top pages and competitors, including the total number of keywords that intersect or are unique to one of the given sites.
You can also run a SERP analysis to see top-ranking pages for a given search query including metrics like domain traffic, page strength, and referring domains.
Verdict on SE Ranking vs SEO PowerSuite for Competitor Research
Both SEO tools offer a sense of how important a domain or page is with the use of authority-based metrics and estimated traffic generated by keyword rankings.
However, SE Ranking provides more overall competitive data than SEO PowerSuite in terms of domain and keyword organic traffic insights and historical website traffic data.
Backlink Analysis
While backlink analysis is a key aspect of competitor research, SE Ranking and SEO PowerSuite offer multiple tools for analyzing, monitoring, and managing backlinks.
Both SEO tools provide the following backlink insights:
Domain authority scores
Page authority scores
Individual backlinks
Referring domains
Referring IP addresses
Link anchor text
Dofollow and nofollow links
Link filtering options
New and lost domains
New and lost backlinks
SE Ranking vs SEO PowerSuite Backlink Analysis Differences
SEO PowerSuite includes a larger backlink database with 3.6 trillion external backlinks, while SE Ranking currently includes 2.7 billion backlinks processed.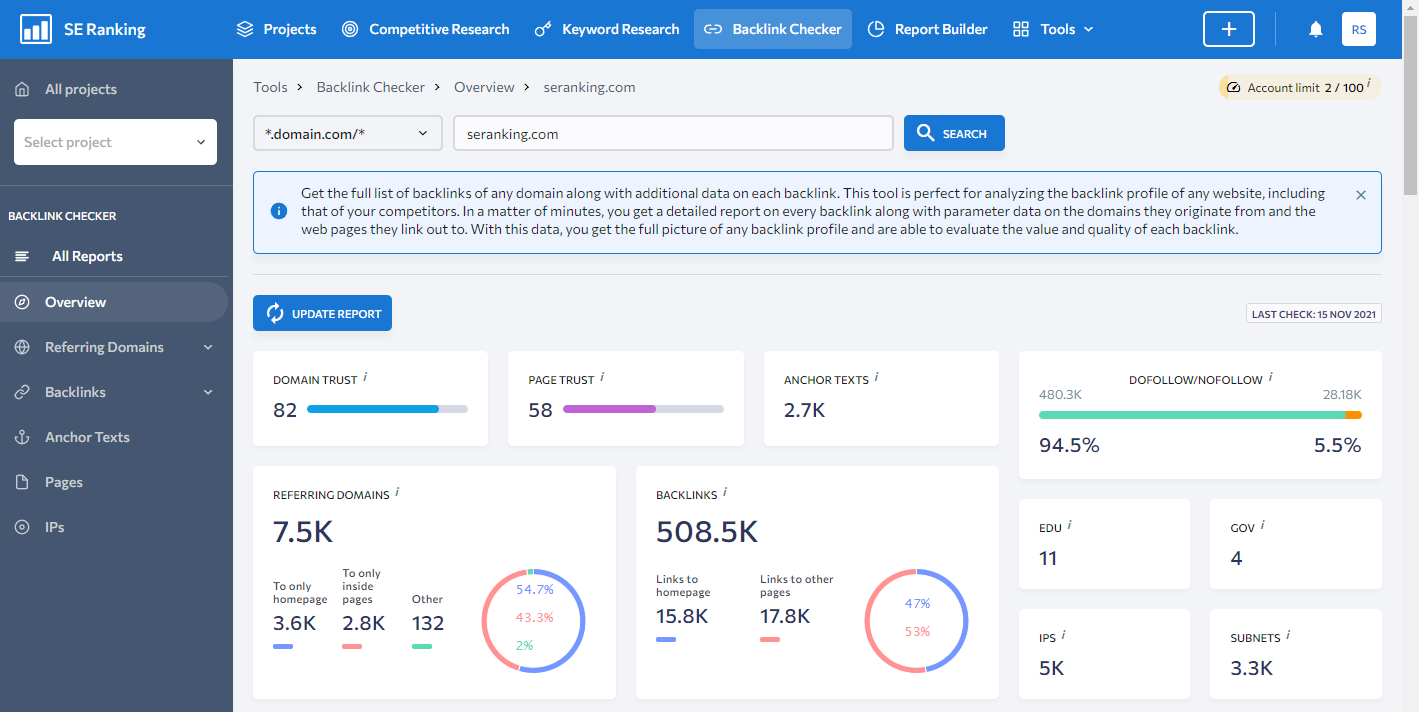 SE Ranking offers a variety of ways to analyze a domain's backlink profile, including individual links, anchor text, monitoring links for changes, and comparing sites.
SEO PowerSuite's backlink research tool SEO SpyGlass offers similar features for auditing competitor backlink profiles, monitoring backlinks, checking anchor texts, and comparing the link profiles of multiple websites.
In addition, the SEO PowerSuite bundle includes another software program called LinkAssistant for finding link prospects and outreach management right from the tool.
Verdict on SE Ranking vs SEO PowerSuite for Backlink Analysis
SEO PowerSuite wins out over SE Ranking in terms of the number of links stored in its database along with a software app for managing link outreach.
However, you can't go wrong with either tool for analyzing and finding high-quality backlinks and link-building opportunities.
SEO PowerSuite's backlink tool is free to use for up to 10,000 lines of backlink data with limited features.
Site Auditing
When looking at SE Ranking vs SEO PowerSuite, each toolkit offers an SEO audit tool with checklists of potential problems to resolve sorted by severity.
You can evaluate site health for factors and signals related to site architecture, security, crawling, loading speed, usability, and localization.
Both SEO site audit tools include the following scans and features:
Overall site health
Duplicate and thin content
Index status of crawled pages
Technical SEO issues like broken links
Internal and external link considerations
Use of anchor text within internal links
Missing metatags, alt tags, descriptions, etc.
On-site issues categorized by type and severity
Page structure and HTML element usage
Analyze XML sitemaps and robots.txt files
Examine code scripts, CSS, and JavaScript
Descriptions of issues and how to fix them
Custom settings to adjust audit crawls
Scheduled and automated audits
Compare site audits and share reports
SE Ranking vs SEO PowerSuite Site Audit Differences
Both SEO platforms give you the ability to audit the critical site-wide technical SEO errors and page-level issues.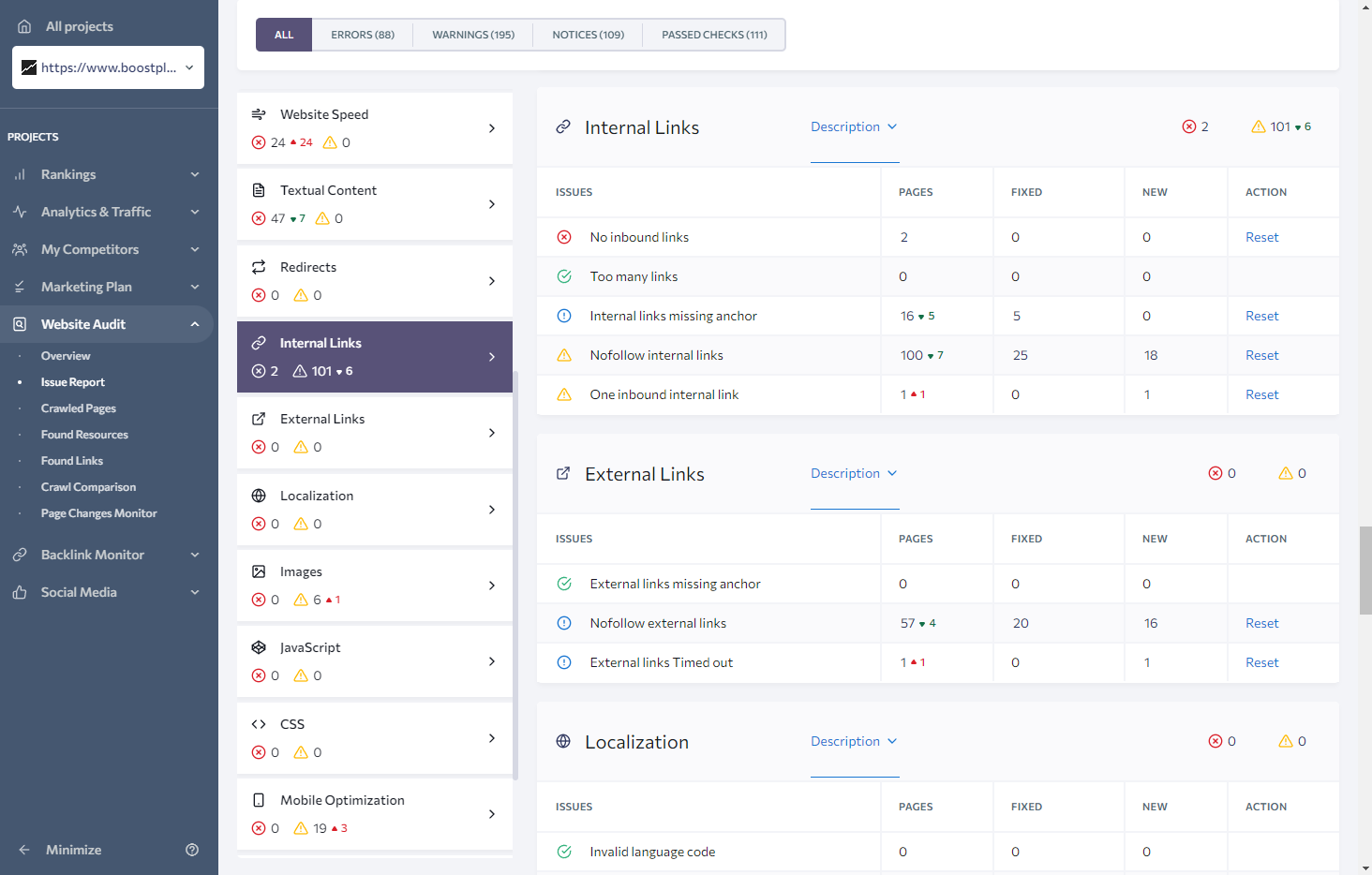 SE Ranking offers a bit more insight across the platform in regards to the elements checked for auditing on-page and competitor metrics.
There's also an innovative page change monitoring tool (Pro plan required) that enables you to track any changes that occur to important elements of specific web pages.
However, SEO PowerSuite's WebSite Auditor tool offers similar audit checks along with the ability to automate some of the website audit tasks.
Verdict on SE Ranking vs SEO PowerSuite for Site Auditing
In comparing SE Ranking vs SEO PowerSuite, both SEO tools feature convenient site audit overview interfaces and detailed displays of identified site issues.
Both tools check for similar site-wide issues and are excellent for site-wide audits. Although, SE Ranking offers an additional tool for monitoring changes in web pages. (feature requires the mid-tier Pro plan or higher).
On-Page SEO
SE Ranking and SEO PowerSuite include on-page SEO checkers with features to ensure your content is optimized to rank higher on search engines.
For SEO PowerSuite, on-page audits are part of the Website Auditor software.
SE Ranking vs SEO PowerSuite On-Page SEO Differences
SE Ranking's on-page SEO checker is packed with useful features to check for critical technical issues and evaluate the overall SEO health of a website and its pages.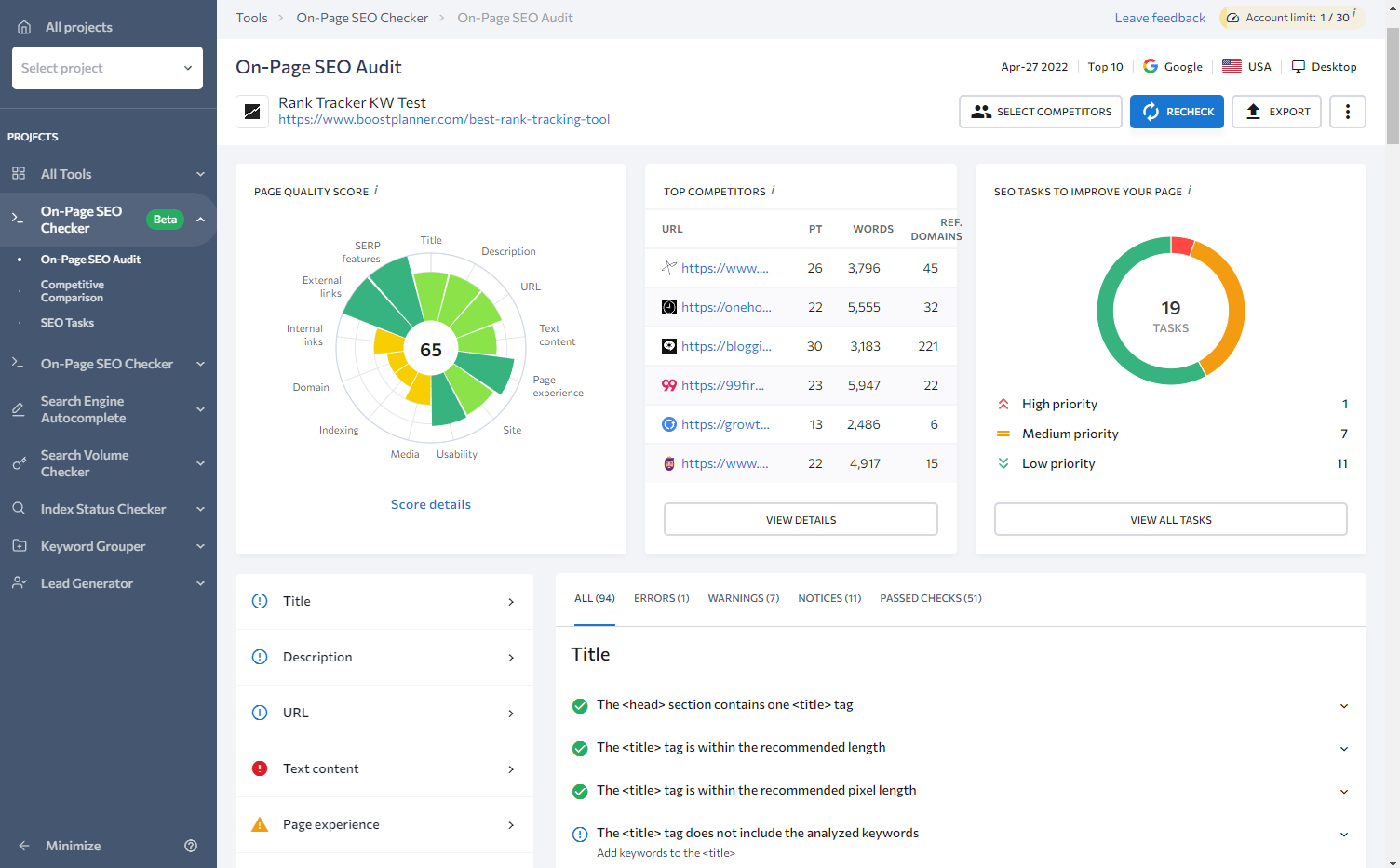 The on-page checker uses a custom page analysis algorithm where audit results change based on rival site metrics pulled from the Google SERPs.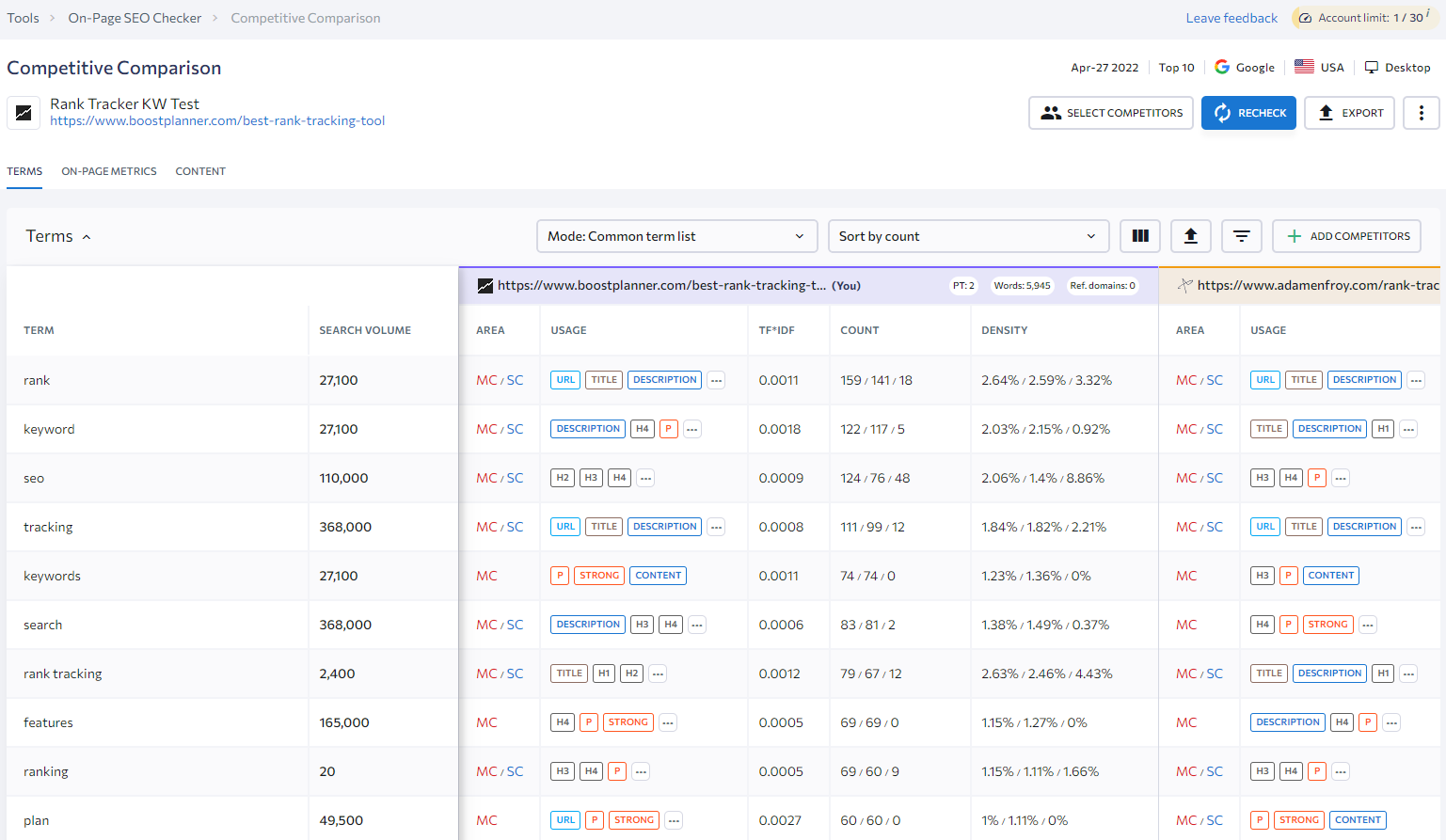 Another powerful feature is the competitive comparison tool, which gives you the ability to check keyword usage and compare on-page parameters against multiple competitor pages side-by-side.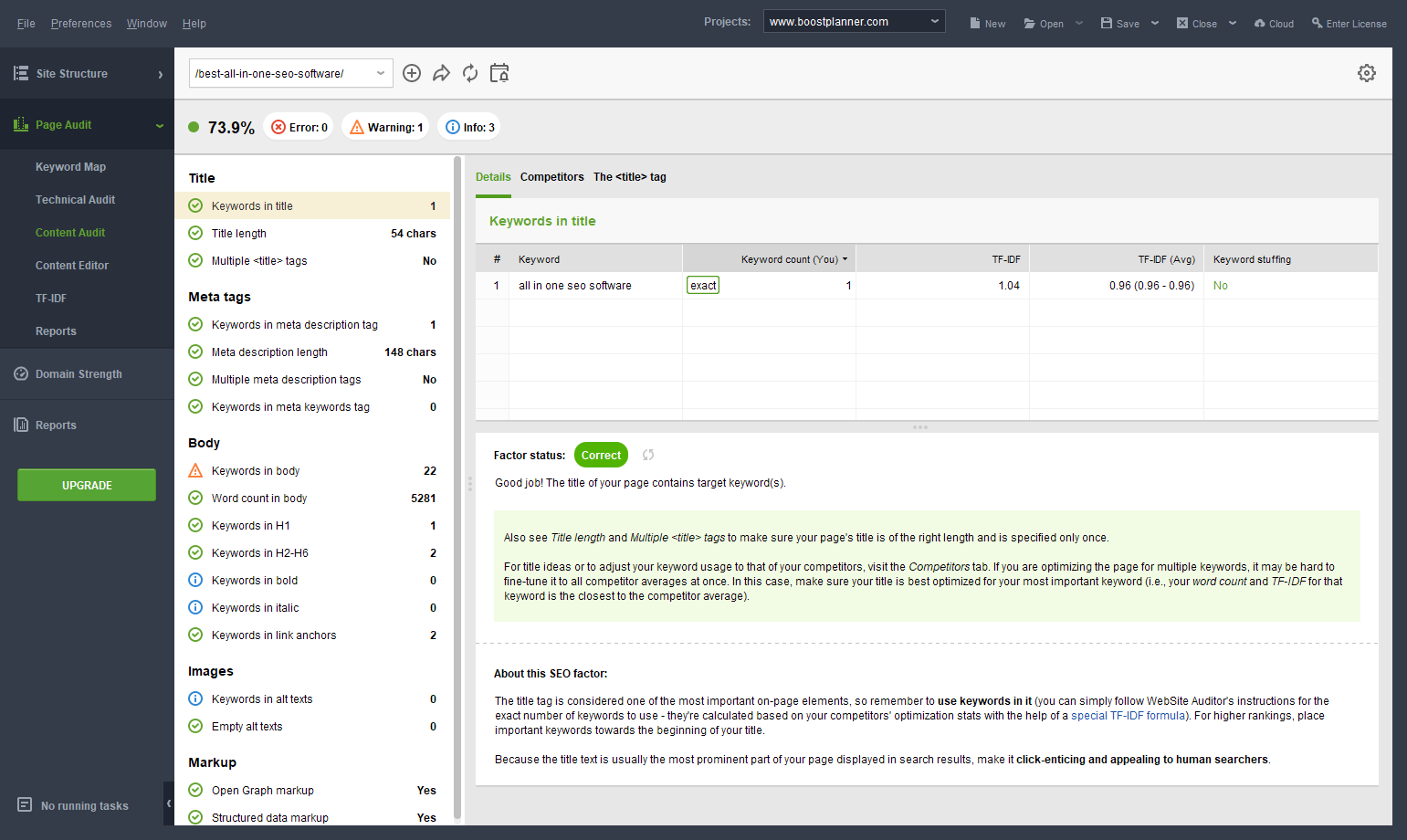 SEO PowerSuite's content audit tool is helpful for making sure your web pages include all the important on-page elements that can help your page rank on the SERPs.
It's not the mode advanced auditing tool in any one area, but it's well-rounded, helps avoid missing elements and tags, and detects the most critical technical SEO issues.
Alongside the content audit, there's a TD-IDF tool for fine-tuning your keyword usage, such as how often you should aim to use different words and phrases on the page.
Verdict on SE Ranking vs SEO PowerSuite for On-Page SEO
While SEO PowerSuite offers stable and reliable desktop audit features, SE Ranking is the winner here with more overall audit checks and competitor comparison data. The team has also been improving and adding new features in recent months.
Reporting
Both SEO PowerSuite tool and SE Ranking include sets of customizable report templates and the ability to create reports from scratch based on the provided widgets.
While SEO PowerSuite offers a free version, a paid license is required for access to most of the reporting functionality, including the ability to create PDF or HTML reports and print, save, and email reports.
Verdict on SE Ranking vs SEO PowerSuite for Reporting
Both tools provide impressive-looking reports that capture SEO campaign KPIs with the ability to schedule and deliver automated reports to your team or clients.
Most of the metrics you see in each tool can be shared inside the reports you send.
Support
SE Ranking and SEO PowerSuite both offer friendly, knowledgeable support, including free demos and onboarding assistance.
SE Ranking offers three support channels including chat, email, and phone. SEO PowerSuite provides email and the ability to submit a ticket to their support dashboard.
The contact info for each tool is pretty easy to find on their respective websites.
Both SEO platforms also share helpful guides and documentation online that are helpful for beginner-level digital marketers and SEOs.
Pricing & Value
While subject to change, next we look at the pricing of SE Ranking vs SEO PowerSuite.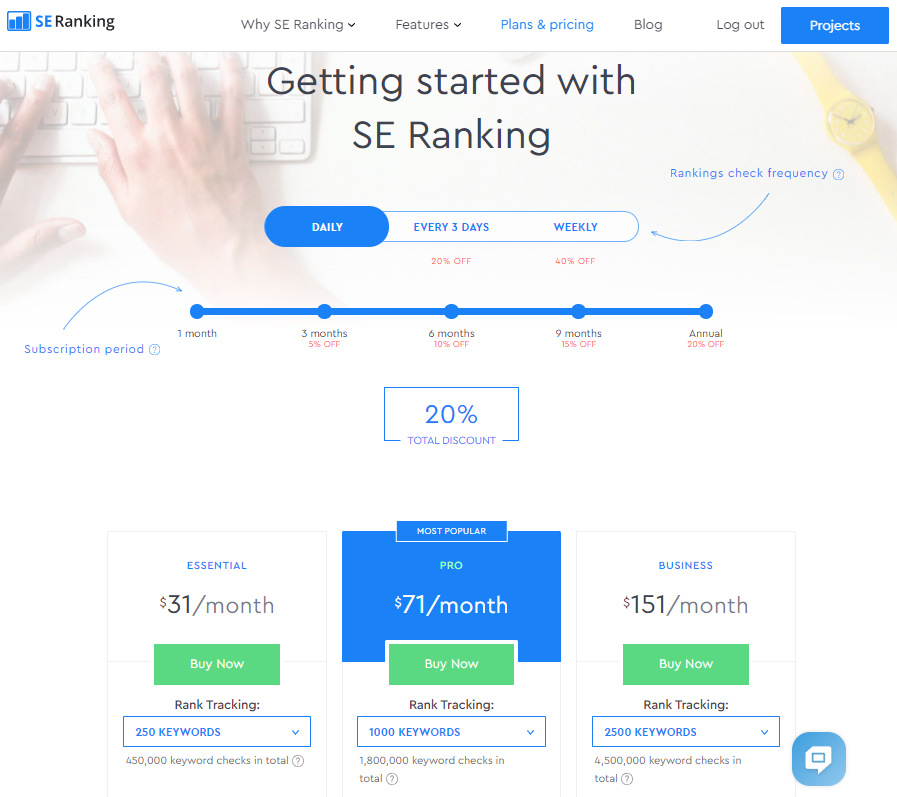 SE Ranking also offers 3 primary plans, but with extra feature adjustment options:
Essential: Starts at $49 per month
Pro: Starts at $109 per month
Business: Starts at $239 per month
Custom enterprise quotes are available as well.
Enrolling in an annual subscription period offers a 20% discount.
Understand the difference between SE Ranking pricing plans here.
SE Ranking offers a free 14-day trial of its Essential plan + white-labeling features.
SEO PowerSuite is currently $299 a year for full access to the all-in-one SEO toolkit.
The desktop software is free to download and try with limited features. If you don't need to run an all-around SEO campaign, you can also purchase the 4 tools separately.
Should You Choose SE Ranking or SEO PowerSuite?
While SEO PowerSuite provides many useful features for SEO tasks, SE Ranking gives you access to more advanced research data in regard to keywords, competitor sites, on-page content analysis, and organic traffic estimates.
Check out my full SE Ranking review covering features and pricing in more detail.
On the flip side, with SEO PowerSuite, you can browse offline and automate SEO tasks such as running a site audit or refreshing keyword ranking data while away.
Alternatives to SE Ranking & SEO PowerSuite
In the category of all-in-one SEO software, SE Ranking & SEO PowerSuite aren't the only options on the market. Alternatives include:
Semrush
Ahrefs
Moz
Mangools
GrowthBar
Serpstat
Majestic
SpyFu
I hope you found this comparison review of SE Ranking vs SEO PowerSuite informative and that you better understand the key differences between these leading SEO toolkits.
More SEO-Related Resources: