Kinsta is a cloud-based WordPress hosting provider known for high-end performance. Learn all about Kinsta's powerful features, plans, and more in this review for 2023.
BoostPlanner is reader-supported. If you buy through a link on my site, I may earn an affiliate commission.
What is Kinsta?
Kinsta is a web host dedicated to providing the fastest WordPress hosting plans on the market, powered by the Google Cloud Platform (GCP) premium tier network.
Founded in 2013, Kinsta has grown quickly to become a leading global WordPress hosting platform used by more than 25,000 companies for fast, reliable hosting.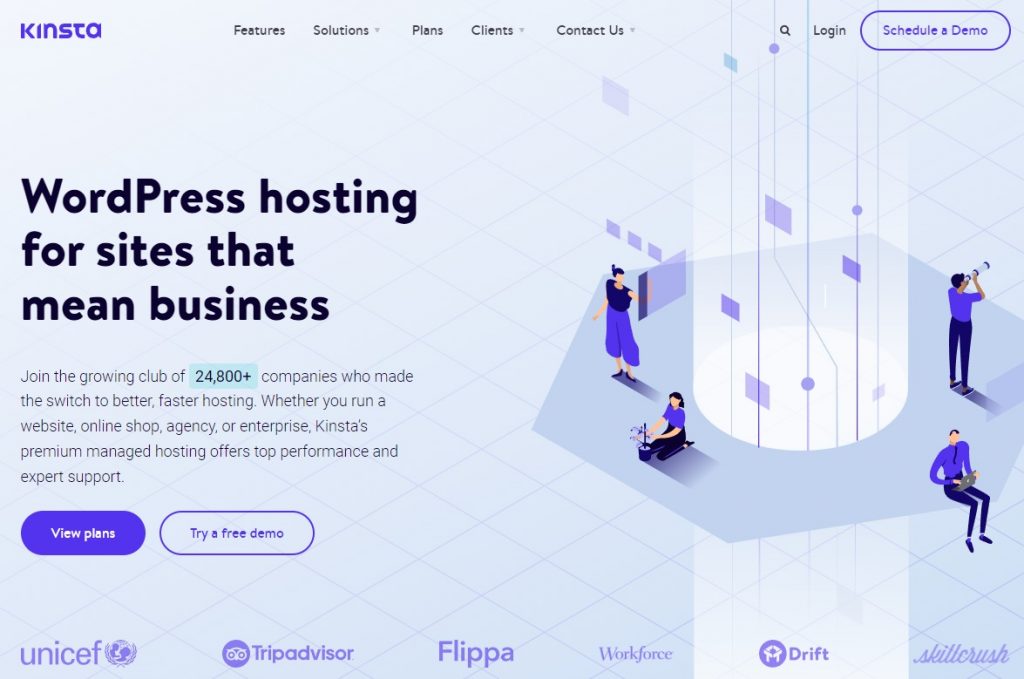 As a managed WordPress hosting company, Kinsta hosting plans are suitable for all types of businesses and websites large and small.
The plans have been designed to make it easy to scale server resources up or down as needed thanks to Kinsta's custom-designed hosting configuration and dashboard.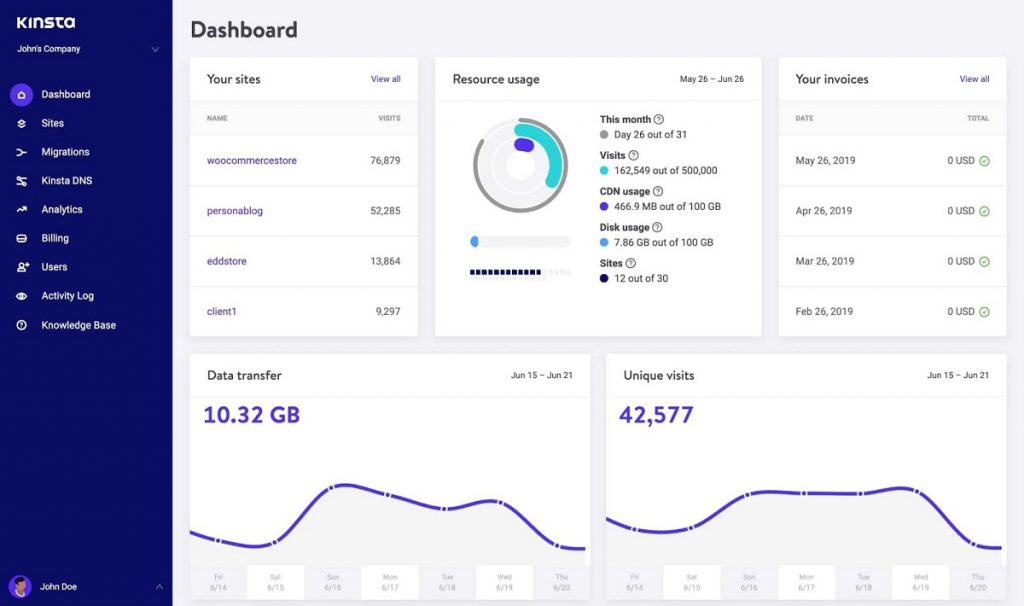 Kinsta Pros & Cons
Here are the major pros and cons of using Kinsta for WordPress hosting:
Pros
Fast Speed: Kinsta is powered by Google's fastest compute-optimized C2 VMs, Google Cloud Platform's premium tier network, and tech fine-tuned for WordPress.
High Uptime: 99.9% uptime guarantee backed by a service-level agreement (SLA).
Server Locations: Choose from 35 global data center locations for WordPress sites.
Custom Dashboard: The user-friendly MyKinsta dashboard is packed with helpful site management tools for WordPress site updates, user roles, white labeling, and more.
Kinsta CDN: Custom content delivery network (CDN) powered by Cloudflare can be enabled on all Kinsta plans at no additional cost to increase site performance.
Free SSL Certificates: Automatic, free SSL certificates through Kinsta's Cloudflare integration with support included for wildcard domains.
Database Optimization: Automatic database optimization weekly for all sites.
Backups: Daily automatic WordPress backups and manual on-demand backups.
Free Migrations: Unlimited free WordPress migrations are available for all plans.
Dedicated Security: Enterprise-level firewall, DDoS protection, HTTP/3 support, 24/7 website monitoring, hack & malware removal support, and more.
Staging Environment: Free staging environment per site with an optional paid add-on available to add more staging environments per WordPress website.
Development Tools: Free DevKinsta local development tool for creating single or multisite WordPress sites, plugins, and themes offline on your local machine.
24/7/365 Support: Kinsta's support team consists of veteran WordPress developers who are available around the clock through live chat and support tickets.
Cons
Price Point: The price is a bit steeper than other hosts, but you get what you pay for.
No Email Hosting: Kinsta doesn't offer email as part of their web hosting plans.
No Phone Support: Kinsta offers 24/7/365 chat support, but lacks phone support.
Kinsta Plans & Pricing
Kinsta offers a range of hosting plans including custom plans for unique needs.
While Kinsta pricing is subject to change, the Starter plan starts at $35 per month for the ability to host one WordPress install that can handle up to 25,000 monthly visits.
You can also choose an annual plan to get two months of free hosting.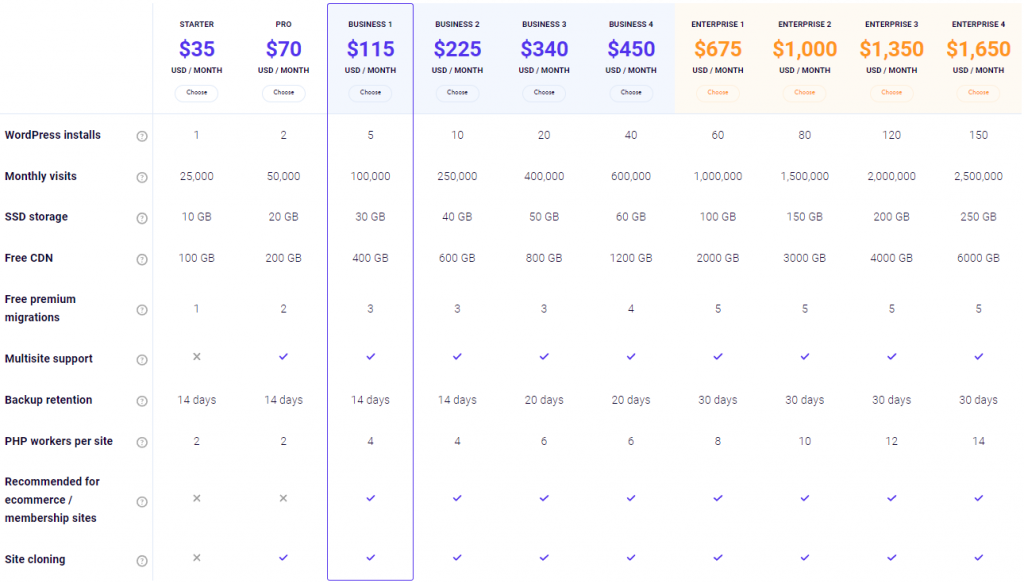 Kinsta's Starter plan is suitable for getting started with Kinsta to host 1 WordPress site.
However, the Pro plan or higher is required for multiple WordPress websites, more PHP workers per site (related to how many simultaneous uncached requests your site can handle), site cloning features, and the ability to handle more website visits each month.
Also, all Kinsta WordPress web hosting plans include the following perks:
30-day money-back guarantee
Instant prorated refunds
No fixed-term contracts
Easy plan upgrade or downgrade
2 months free with a yearly plan
Kinsta pricing is in the premium territory for WordPress hosting, but worth it to achieve blazing-fast load speeds for a better user experience and speed-related SEO benefits.
Related: Kinsta Pricing: Which Plan is Best For You?
Kinsta FAQs
Is Kinsta Worth the Price?
If you're set on hosting WordPress sites and want a platform optimized for useability, scalability, site speed, and server power, Kinsta is definitely worth the price.
Why is Kinsta So Expensive?
Let's face it, Kinsta is an expensive hosting service among the managed WordPress hosting companies on the market.
However, you are paying for a platform that is continually optimized for high performance, quality-of-life site management tools, and a team of WordPress experts available 24/7/365. There are also no long-term contracts or hidden fees.
Is Kinsta Good for WordPress?
If you don't mind the premium pricing, Kinsta is a top choice for a managed WordPress hosting service. The host has been growing quickly year over year and now hosts over 24,800 businesses.
Is Kinsta Fast?
Yes, Kinsta's loading speed is impressive compared to the competition. This is great for both user experience and search engine optimization (SEO).
Is Kinsta Cloud Hosting?
Yes, Kinsta's managed WordPress hosting platform is powered by the Google Cloud Platform's premium tier global network. This is the same infrastructure used by popular Google products like Google Search, YouTube, and Gmail.
This network consists of a massive global private fiber network (the largest network of its type) with more than 100 points of presence across the globe.
Is Kinsta Shared Hosting?
Kinsta does not offer shared hosting as part of its offerings. While shared hosting is cost-effective, it's not as secure or performant as Kinsta's cloud hosting infrastructure.
Is Kinsta a VPS?
Kinsta's hosting platform does not work like a traditional virtual private server (VPS).

Each WordPress website hosted on Kinsta runs in an isolated software container that is private and not shared between sites.
What Servers Does Kinsta Use?
Kinsta hosting is powered exclusively by Google Cloud Platform (GCP) and uses Google Cloud's Premium Tier global network.

As a result, Kinsta lets you choose from 35 data centers to serve your site and optionally use a different data center for each site.
Does Kinsta Use cPanel?
Kinsta does not use cPanel as its control panel for managing your hosting account. Instead, the host uses its custom-built MyKinsta dashboard to give WordPress users a more intuitive, easy-to-use experience for WordPress site management.

The Kinsta dashboard is like cPanel with added features for managing WordPress sites. Examples include a custom WordPress install wizard, multisite support, backup archives, access to phpMyAdmin, a site migration wizard, performance monitoring, CDN usage, staging site options, file access, and more.
Is Kinsta Free?
Kinsta hosting services are not free. But, the hosting company offers free migrations for standard WordPress installs.
Does Kinsta Offer a Free Trial?
Kinsta does not offer a free trial. However, you can try Kinsta risk-free for 30 days. The host offers a full refund if you cancel within your first 30 days of service.
What Are Good Kinsta Alternatives?
If you're on a tight budget, SiteGround is a solid Kinsta alternative for hosting WordPress websites. The host also provides unlimited email accounts and databases.
SiteGround's managed WordPress hosting packages operate as a shared hosting service (multiple sites share the same physical server).
However, you can still achieve excellent speeds and the hosting plans include helpful site management tools, top-notch security, and industry-leading support.
Other Kinsta alternatives include Bluehost, Cloudways, LiquidWeb, and WP Engine.
Kinsta Review Conclusion
All in all, Kinsta is a reliable choice for high-performance WordPress hosting.
There aren't many managed WordPress hosting providers that offer the valuable combination of speed, useability, scalability, and support that Kinsta provides.
If you don't mind the premium pricing, you don't have to worry about performance or scalability issues and skilled WordPress support is available when you need it.
More Posts About Web Hosting: