In this SE Ranking review, we break down all of SE Ranking's key features, pricing, and plan options to help you determine if the all-in-one SEO software is right for your needs.
BoostPlanner is reader-supported. If you buy through a link on my site, I may earn an affiliate commission.
What is SE Ranking?
SE Ranking is a cloud platform with SEO tools for tracking rankings, finding keywords, researching competitors, monitoring backlinks, and improving your website for search.
The all-in-one SEO software offers essential tools for search engine optimization at an affordable price point compared to other competing platforms on the market.
SE Ranking was founded in 2013 by Valery Kurilov and Dmitri Lipnitsky. Based in Palo Alto, California, the company has around 95 employees and over 600,000 subscribers.
The software is used by many types of people to manage online marketing campaigns, from digital marketers and SEO professionals to SMBs and large enterprise agencies.
The team's mission is to make search engine optimization accessible to everyone, regardless of a user's experience. The team focuses on providing quality support, intuitive tools, and helpful guides for getting the most out of the SEO software.
Pros & Cons
Based on my experience regularly using SE Ranking for research and optimization, here are the main strengths and weaknesses of the SEO software:
Pros
Comprehensive SEO tools: SE Ranking provides a range of tools and features to help businesses and website owners optimize their websites for better search engine rankings. From keyword research to site audits, SE Ranking covers all aspects of SEO.
Rank tracking: The SEO software includes an accurate rank tracker with convenient organization options and daily ranking updates depending on the plan.
Competitor data: Find out how much monthly search traffic competing sites are generating, including top pages and keyword rankings based on traffic estimates.
User-friendly interface: The platform is designed with a user-friendly interface that makes it easy for users to navigate and access the data they need quickly and easily.
Affordable pricing: SE Ranking offers affordable pricing plans for managing one or more sites, making it accessible to businesses and website owners of all sizes.
Customizable reports: SE Ranking allows users to create customizable reports, giving them the flexibility to tailor the platform to their specific needs.
Feature updates: The SEO platform releases regular feature updates and brand-new tools (such as content marketing and local SEO tools) based on customer feedback.
Cons
Limited social media tracking: SE Ranking focuses mainly on SEO and does not provide extensive social media tracking features.
Limited integrations: The platform does not integrate with as many third-party tools and platforms as some of its competitors.
Limited customer support: While SE Ranking offers great customer support, it is not available 24/7, which could be an issue for businesses operating in different time zones.
SE Ranking Pricing
SE Ranking offers three main plan options or custom plans for larger enterprise needs. Check out the image below for pricing and feature details.
The software provides much more flexible plan options than competing tools. You can choose from one of five subscription periods, including 1, 3, 6, 9 months, and annual.
Choosing a longer period requires larger, but fewer payments at a discounted rate. For example, subscribing to a yearly plan offers a 20% discount and free migration service.
The prices shown below are based on selecting a monthly subscription.
Pricing information for SE Ranking is retrieved from the software provider's publicly accessible pricing materials. Final costs from the seller are subject to change.
Note: The limits for some of the features shown above change based on a few of the plan options, such as rank update frequency and the number of keywords to track.
For example, the number of pages you can audit and backlinks you can monitor increase if you choose to track a larger set of keywords and select daily rank updates.
If you prefer to jump in and try the software, sign up for the SE Ranking free trial here. You'll gain access for 14 days and no credit card is required to test it out.
Related: SE Ranking Pricing: Which Plan is Best For You?
Features
In this SE Ranking review, we explore the following key features of the SEO platform:
Keyword rank tracker: Check rankings on Google, Yahoo, Bing, and YouTube.
Competitor analysis tool: Analyze your rivals' sites for SEO & PPC insights.
Keyword research tool: Find keywords to target for SEO & PPC campaigns.
Website audit: Scan your site for potential issues and get how-to-fix guides.
On-page SEO checker: Check how optimized a web page is for a specific query.
Backlink analysis tools: Inspect backlink profiles and track links for changes.
Webpage monitor: Get alerted when a web page is modified in any way.
Social media management: Schedule social posts and monitor progress.
SEO reporting tools: Build customizable reports you can automate.
White-label options: Brand the SE Ranking platform and reports.
Lead generator: Embed a free audit widget on your site to attract leads.
First up is one of SE Ranking's most popular tools, the rank tracker.
1. Keyword Rank Tracker
SE Ranking offers one of the best rank tracking tools for monitoring keywords across major search engines in a way that is flexible, accurate, and organized.
While I focus on Google rankings, you can also monitor keyword positions for Google Maps, Bing, Yahoo, and YouTube for multiple locations and desktop or mobile devices.
Below is an example of how I use the rank tracking software to track relevant keywords in organized folders and compare position history over time:
The tracker's user interface is clean and understandable, with a convenient display of important metrics like keyword search volumes, traffic forecasts, and visibility changes.
Columns can be altered to show more than two dates for a detailed comparison as well as metrics like tags, SERP features, competition, and search results for each keyword.
Since I add and update content on this site almost daily, I find the daily ranking updates essential for getting a sense of how Google favors my recent changes.
If you choose a plan with daily rank updates, you can also click on the blue button shown in the image above to manually recheck your rankings once per day.
You can also add up to 5, 10, or 20 competitor sites per project (depending on the plan) to monitor the performance of your rivals for your tracked rankings, as shown here:

The image above shows how you trend against competitors for your target keywords. Scrolling down the page displays your tracked keywords and rank shifts between rivals.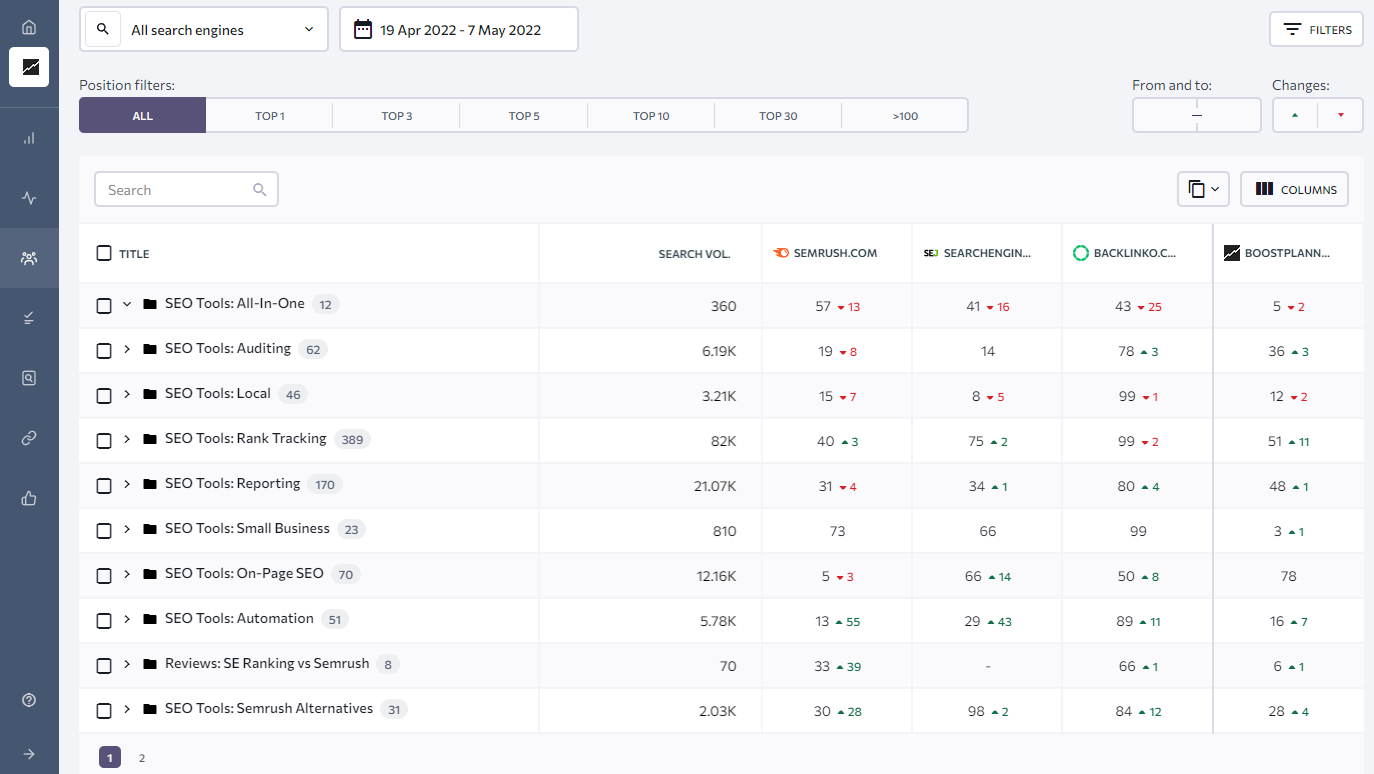 If you change the view to "Detailed" instead of "Overall" near the top of the interface, you'll get another in-depth view to further analyze your competition:

Clicking on any of your rivals' metrics such as keywords, backlinks, or referring domains will lead you to SE Ranking's competitor analysis tool for more SEO and PPC insights.
For the price, SE Ranking's competitive research features are impressive for the price.
2. Competitor Analysis Tool
SE Ranking's competitor analysis tool lets you explore your rivals' sites and uncover your competitors' marketing efforts, including both their search engine optimization and pay-per-click advertising strategies.
When you search for a website URL, you gain access to a ton of data about the site:
Right off the bat, you can see how much organic and paid traffic the site generates, including top keyword rankings on Google, their exact positions, backlinks, and more.
This tool is excellent for getting a complete view of a website's performance and uncovering:
The organic traffic the site generates from its keyword rankings on Google.
Keyword rankings that are driving the most traffic and to which pages.
How valuable the traffic is based on keyword bidding costs in Google Ads.
Top-performing pages, their traffic levels, and individual keyword positions.
Page backlinks and authority metrics like domain and page trust scores.
Google Ad competitors and the paid keywords they're targeting.
Historical changes in competitor rankings and traffic (Pro plan required).
You can also use this information to check for correlations across sites, such as if more than one site has potentially been impacted by a Google algorithm update.
3. Keyword Research Tool
SE Ranking provides a powerful keyword research tool for finding new keyword ideas, especially low-competition terms.
Here's an example of searching "biscuits" in the keyword suggestions interface and sorting the results from lowest to highest difficulty:
The tool provides you with all of the metrics common to keyword research tools and convenient filter capabilities for finding similar, related, and low search volume terms.
Notable keyword research insights include:
Difficulty score to get an idea of how difficult it would be to rank for a given keyword based on the top 10 ranking sites and their backlink authority.
Monthly search volume and Google Ads cost-per-click (CPC) estimates.
Organic SERP results and search result history for analyzing ranking shifts.
Google Ads history, the estimated number of ad clicks, and any ads being run.
I particularly like the ability to see the Organic SERP results alongside the keywords.
Also, if data doesn't exist for a keyword, you can use the expand database feature to submit the keyword for processing to eventually be added to SE Ranking's database.
Another tool related to keywords in SE Ranking is the keyword grouper.
The tool automatically buckets keywords into groups based on their SERP result similarity on Google for the top 10 results.
Keyword grouper is useful for allocating your keywords wisely across a site's pages to help improve your SEO and contextual advertising performance.
You can also use the tool to help you avoid crafting multiple pages of content that compete against each other for the same terms, known as keyword cannibalization.
4. Website Audit
The next major feature covered in this SE Ranking review is the website audit tool.
This tool lets you run an in-depth site audit that crawls your website pages and gives you a detailed analysis of SEO errors, issues, warnings, and notices, as well as a unique health score based on the audit results.
You can also compare your crawls as you run more audits over time, implement custom settings, generate XML sitemaps, and get full descriptions of how to fix problems.
It only takes a couple of minutes to crawl up to 1,000 pages. Then, you can filter the results by category to quickly understand the results and prioritize what to fix.
Category-wise, you can analyze for issues related to crawling, duplicate content, HTTP status codes, titles, descriptions, usability, textual content, links, images, JavaScript, CSS, mobile optimization, localization, speed, and performance considerations.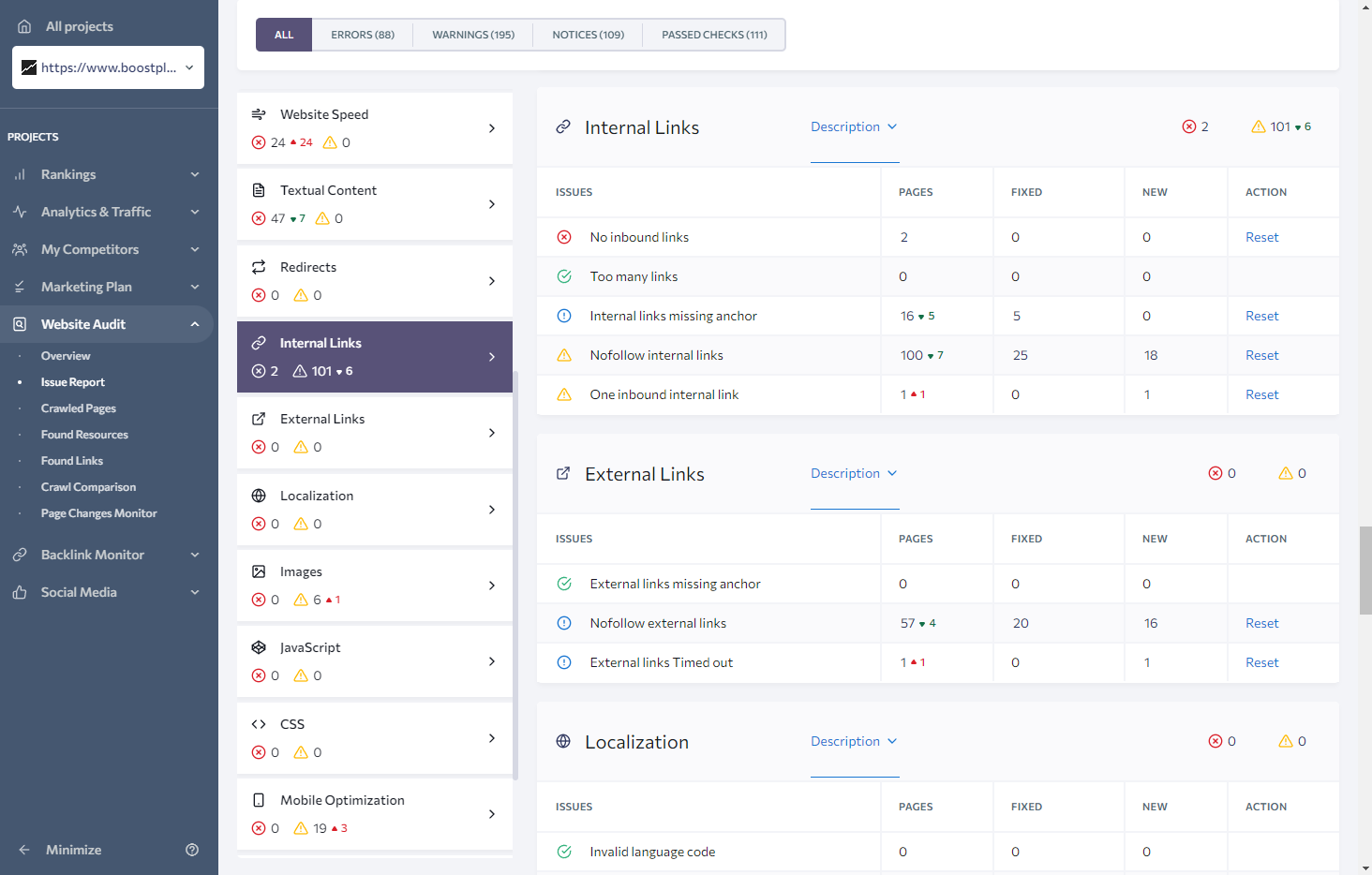 This is an effective site-wide auditing tool for most websites up to millions of pages (depending on the SE Ranking plan).
Here are some of the critical issues you check for:
Core web vitals related to user experience
Redirect chains, loops, and broken links
Internal links, missing anchor text
External link findings
Localization considerations
Image size, missing alt text
JavaScript compression, caching, file size
CSS checks similar to JavaScript
Mobile optimization findings
Minimum text-to-HTML ratio
Duplicate content and title tags
Low word count and missing tags
In addition, you can take your site analysis a step further using the on-page SEO checker, which is the next tool reviewed below.
5. On-Page Checker
SE Ranking's on-page checker tool helps you optimize your site at the page level.
In May 2022, the SE Ranking team released a new version of their on-page SEO checker that I believe is even more helpful to optimize pages for better rankings.
The on-page SEO tool gives you an in-depth analysis of how optimized a page is for a specific search query, including a list of fixes and recommendations.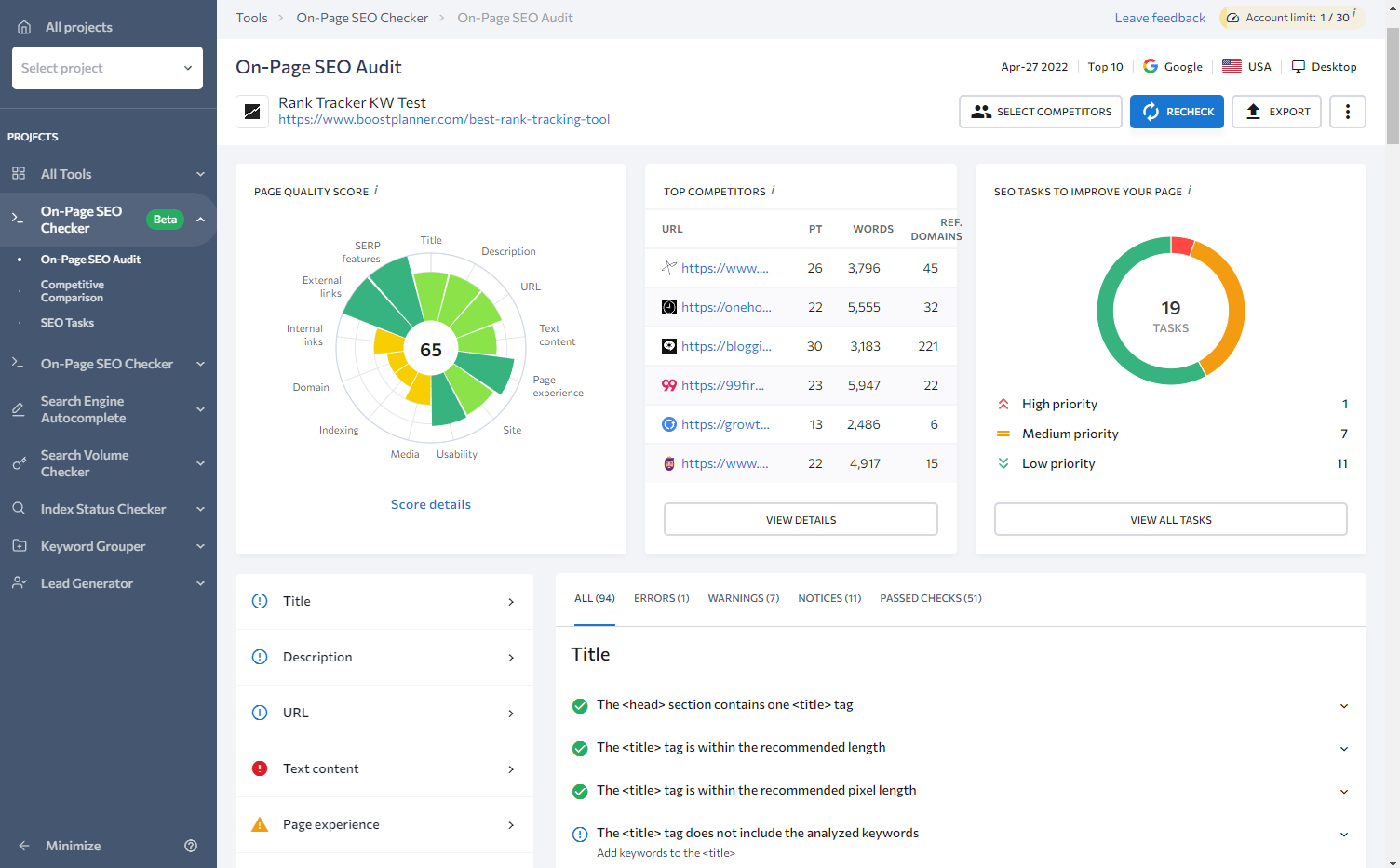 Use the on-page checker to uncover and improve on the following aspects:
Make sure your h1-h6 headers, title tags, and descriptions are optimized.
Ensure your page URL is optimized for your target search query.
Check content uniqueness, keyword density, readability, and more.
Review page experience related to HTML elements, layout stability, and more.
Check page speed, server response, and other potential loading issues.
Assess media file usage, image alt attributes, and recommended formats.
Site-level factors for the page such as loading via HTTPS protocol.
Confirm the page is indexable in Google and robots.txt works correctly.
View the number of backlinking domains to the pages and competitors.
Check domain and page trust scores compared to rivals.
Analyze internal, anchor texts, and external links used on the page.
Verify that there is schema.org and open graph markup on the page.
The new on-page checker also includes a powerful competitive comparison feature to examine relevant terms, parameters, and content side-by-side with competing pages.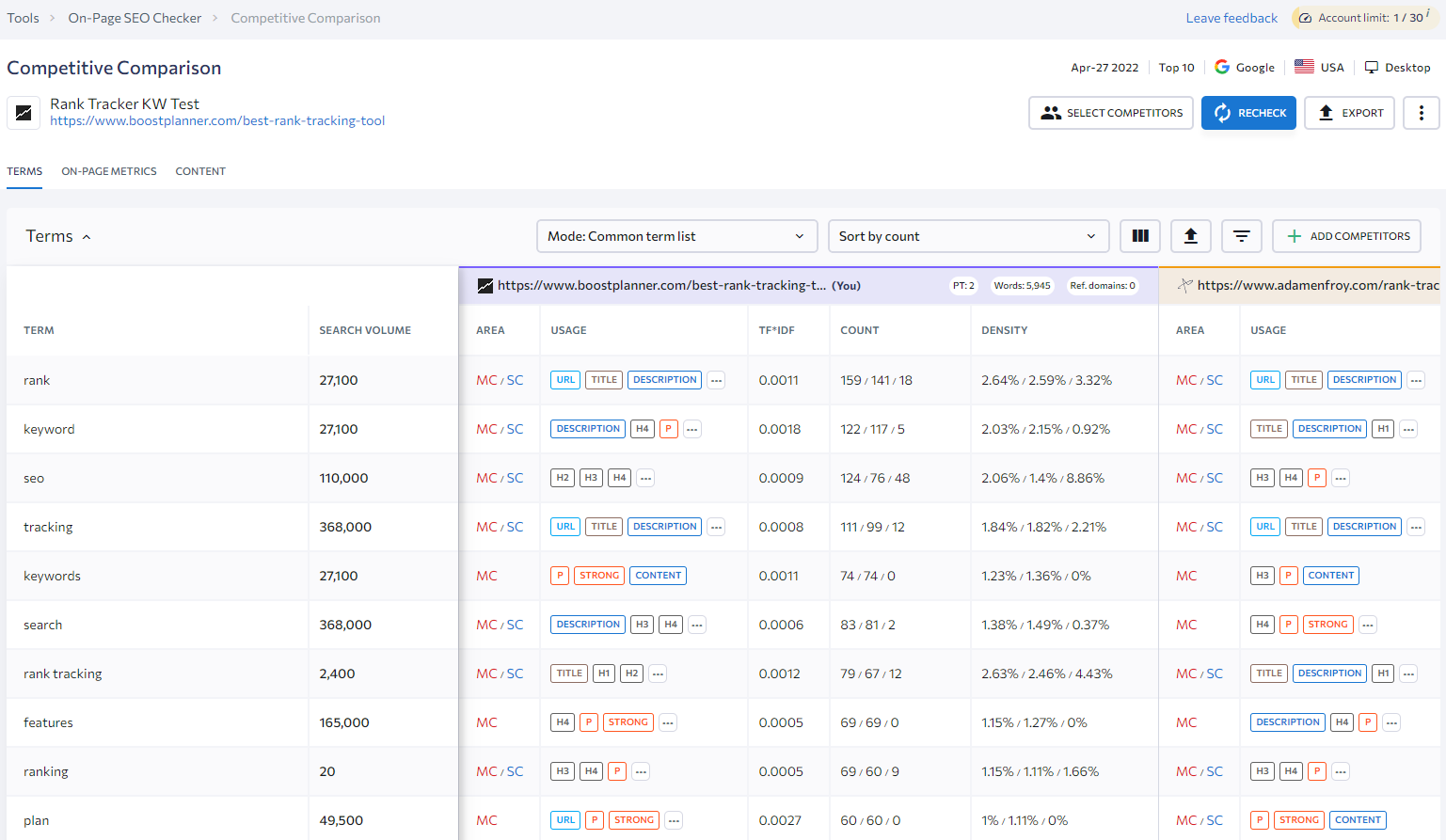 This advanced feature enables you to really fine-tune your page content for specific terms based on competing sites, where words are used, their counts, and their density.
It's challenging to display the feature in its entirety in the screenshot above, but you would scroll horizontally to view the other competing pages you have selected.
Also, clicking on "on-page metrics" or "content" in the interface shown above will display additional competitor comparison insights to help you improve your page content.
6. Backlink Analysis Tools
SE Ranking's backlink checker and tracking tools make it easy to examine the backlink profile of a website, review related off-page SEO metrics, and track links for changes.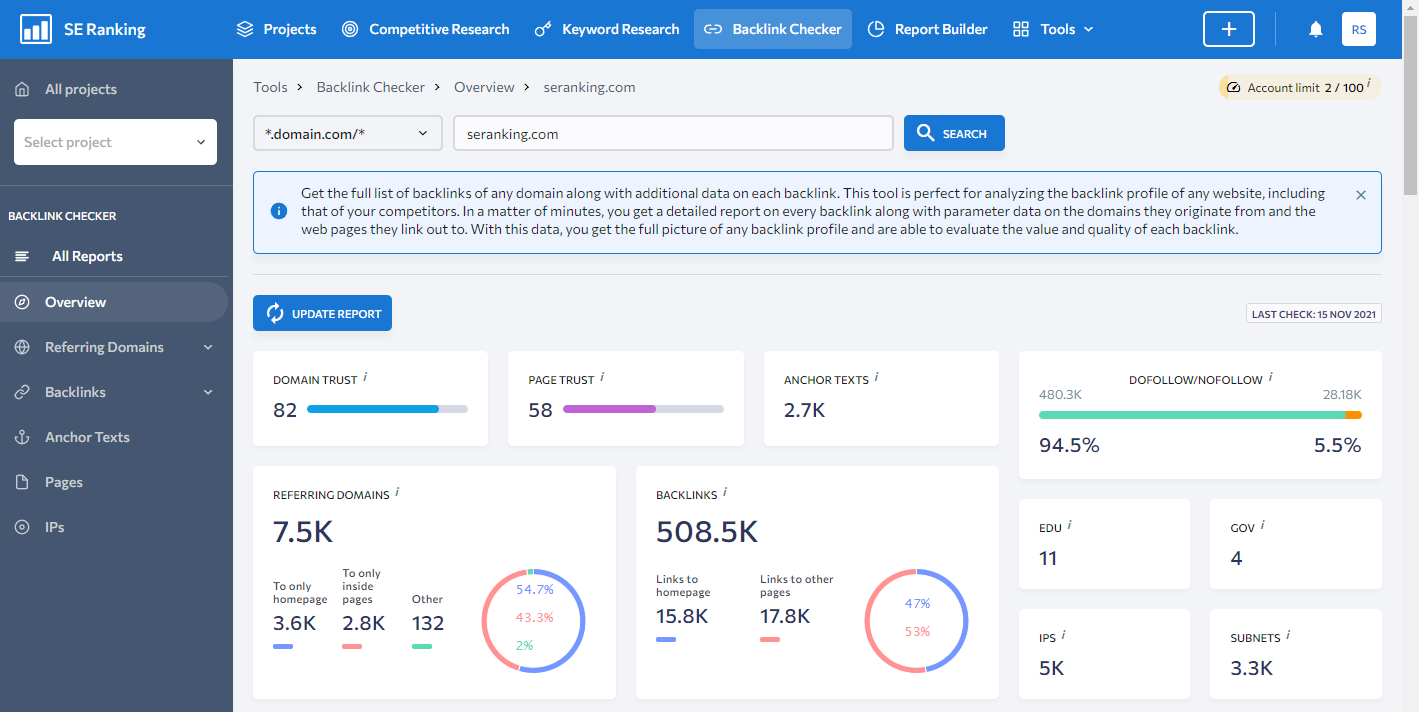 With the backlink checker tool, you can analyze nearly any website to uncover:
Trust scores are developed by SE Ranking based on the backlink profile.
The total number of referring domains pointing to the analyzed domain or URL.
The total number of backlinks pointing to the site or specific page URL.
Each backlink's anchor text and the word or phrase used in each link.
If each backlink is tagged with either "dofollow" or "nofollow" attributes.
Charts showing referring domains and backlinks acquired over time.
Charts showing new and lost referring links over a period of time.
The most occurring anchor texts by referring domains or backlinks.
View backlinks by country IP address, geographical location, and subnets.
Distribution of referring domains by country code top-level domains (ccTLDs).
Many of these presented metrics on the overview interface in the image shown above are clickable and lead to more detailed reports about the selected metric.
For example, clicking on the total anchor texts metric will direct you to a specific section of the Backlink Checker tool with additional data and options, such as filtering anchor text that contains 1, 2, 3, or 4-word terms, or those with specific words or phrases.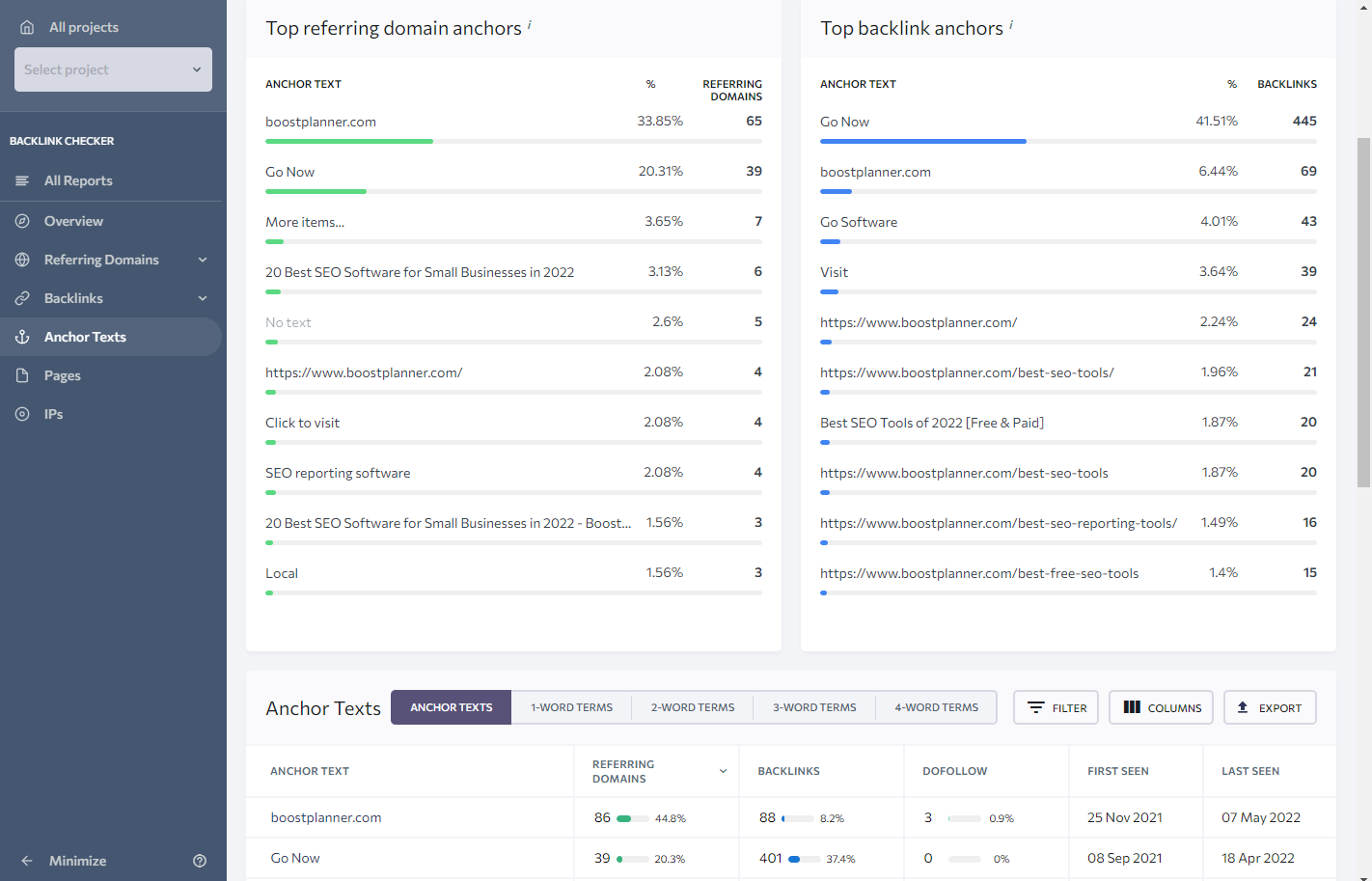 All this referring domain and backlink data can be exported to an Excel or CSV file, or added to a custom report using SE Ranking's report builder.
Another related tool is the backlink tracker, found in the SE Ranking project sidebar. This tool periodically monitors the status of your manually added backlinks for changes.
If a change is detected, the link tracker tool will notify you by email.
You can import links into the tracker through SE Ranking's backlink checker, import backlinks manually, or import links identified by Google Search Console.
The backlink monitoring software shows you:
If your backlink is still in the same location or no longer found.
If your backlink is linking to a page that dropped out of Google's index.
When your backlink was first detected and last checked by SE Ranking.
Link metrics that are similar to those in the backlink checker tool.
This is a helpful tool for keeping an eye on your most valuable, high-authority backlinks and being able to take quick action if needed when a specific link change is detected.
Overall, SE Ranking's backlink tools pleasantly surprised me.
Compared to leading competitor offerings, the software detected a similar number of backlink sources (and some unique) pointing to my site.
7. Page Changes Monitoring
SE Ranking's page changes monitoring tool alerts you when a web page is changed.
Being able to monitor and get alerts for specific page changes is a unique feature that isn't commonly provided by all-in-one SEO software.
You can monitor page changes not only for your site pages but for competitor pages as well if you add competing sites as separate SE Ranking projects.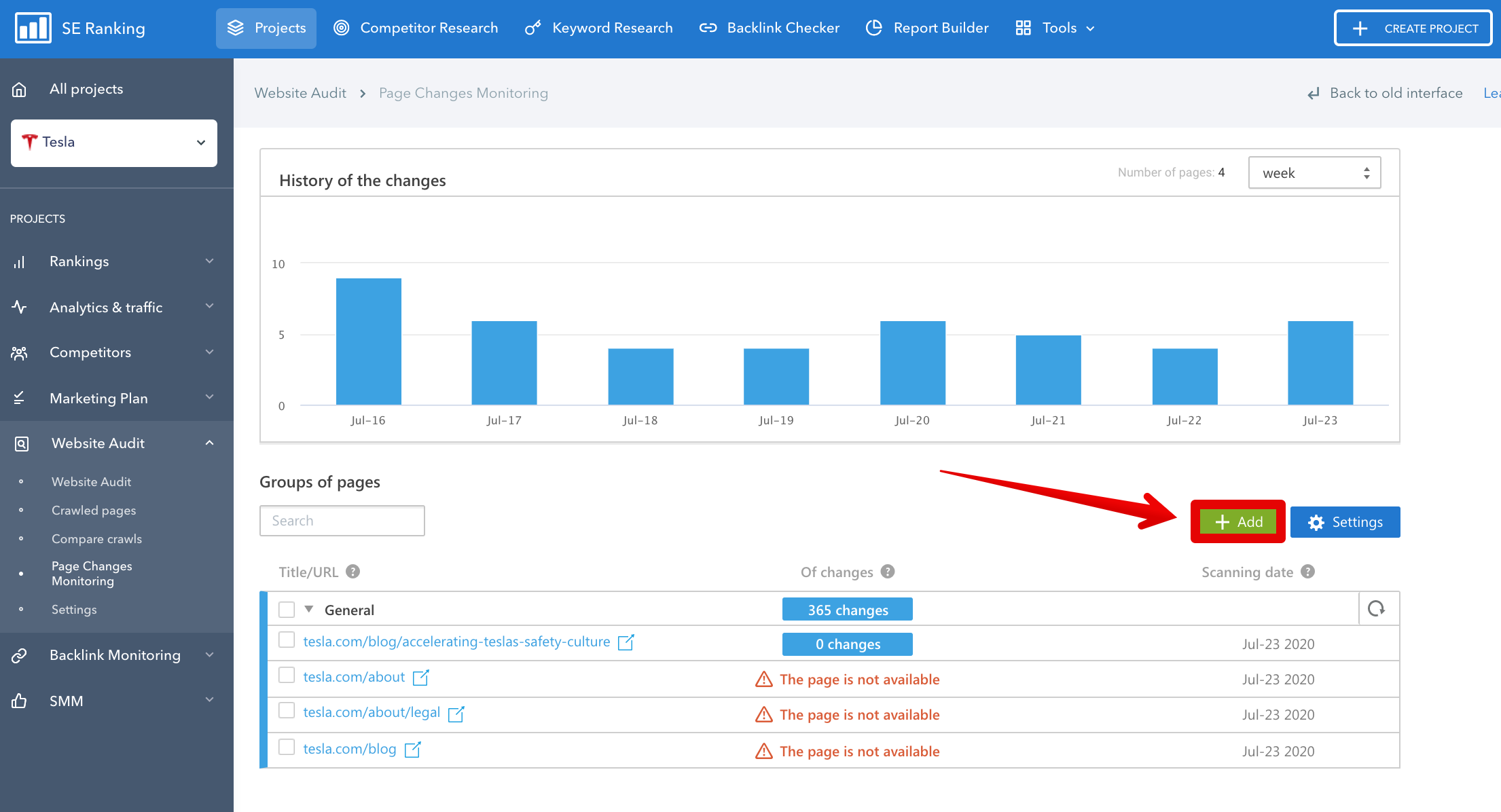 The page changes monitoring tool allows you to:
Monitor changes in content, meta tags, links, and page index status.
View page change history to find correlations to improve SEO strategy.
Track competitor page changes over time along with your own.
Monitor any page changes made by teammates or clients.
Get alerts for important changes on your monitored pages.
Create reports based on the site change information.
This is a super valuable tool to use when you're working to optimize a page to improve its ranking for a target keyword and you want to monitor competing pages for changes.
Note: The Pro or Business plan is required for access to page change monitoring.
8. Social Media Management
While primarily an SEO-focused platform, SE Ranking includes social media management software with convenient posting and monitoring features.
Features include the ability to schedule and auto-post to Facebook and Twitter accounts, manage multiple accounts and view detailed metrics for each platform.
SE Ranking's social media management tools are helpful in finding the best times to engage with your target audience and the best type of content to share.
Here is an example chart showing social shares and metrics for a Twitter account:

This is a useful tool for managing multiple social media accounts in one place, especially if you prefer not to have to switch from one social media site to another.
9. SEO Reporting Tool
SE Ranking includes a powerful report builder for creating custom SEO reports.
Key features of the SEO reporting tools include:
Ability to choose a specific ranking period to display in reports.
A variety of drag-and-drop widgets to display in reports.
Schedule the sending of automated reports to email addresses.
Show a custom logo in the header and footer of white-label reports.
Reports can be downloaded as PDF, CSV, XLS, or HTML files.
Add notes to any modules in your reports.
Here's the view of the report builder as soon as you select a site to create a report:
Note: White-label reporting options are offered in the Pro and Business plans.
You can create a report from scratch or start from one of these templates:
Or, you can create a report from scratch and save it as a custom template.
Here's an example of a couple ranking related widgets added to a report: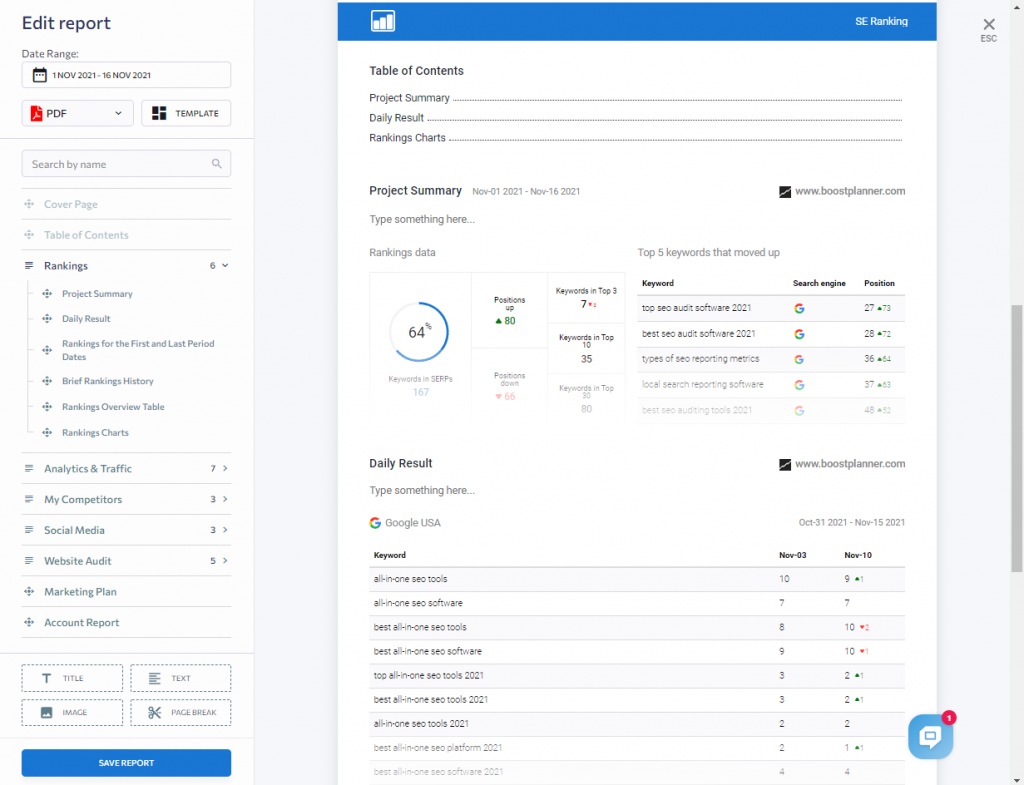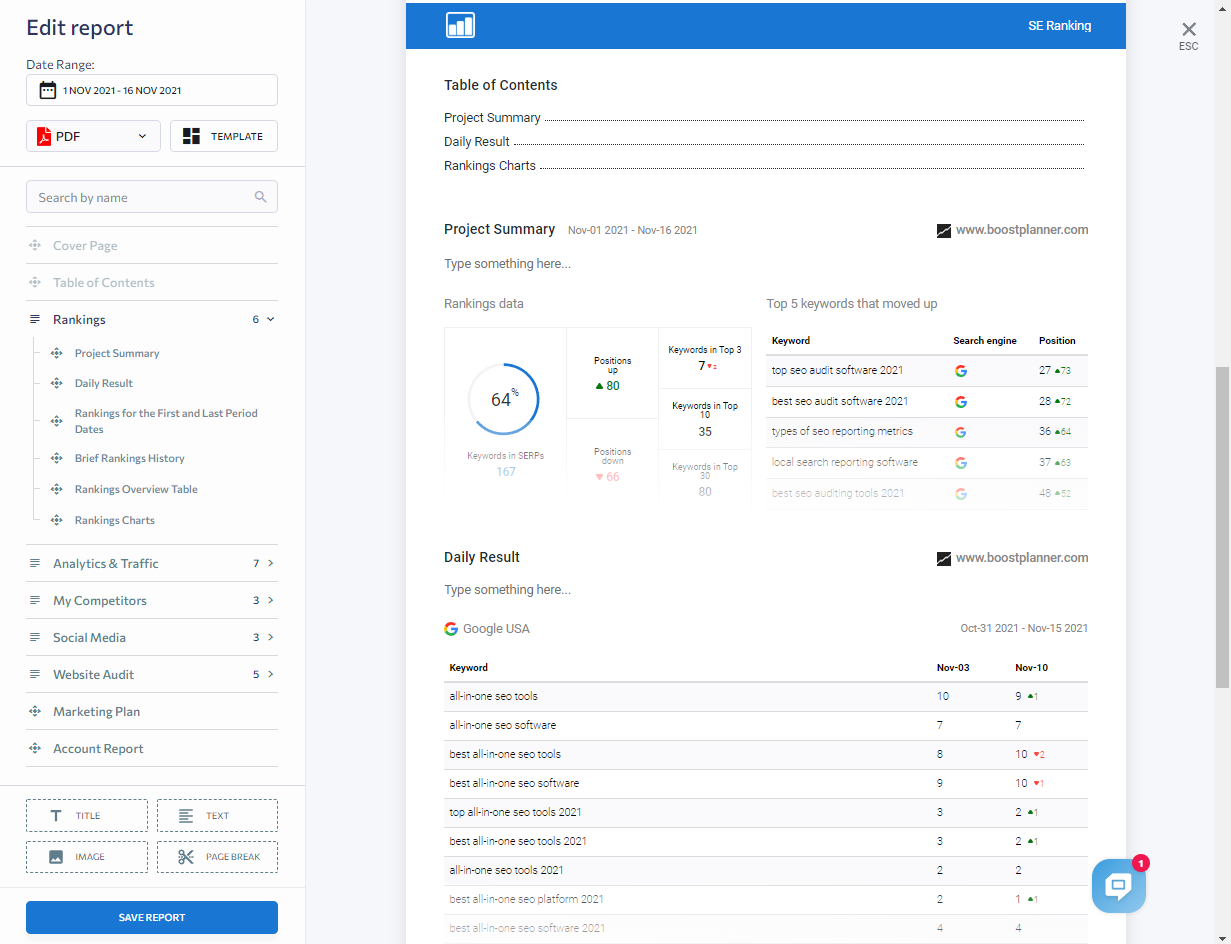 Each widget has its own settings you can edit within a report.
You can add sections to your reports related to the following topics:
Rankings
Analytics & Traffic
Competitors
Social Media
Website Audit
Marketing Plan
Account Report
10. White Label Options
SE Ranking's white-label features are perfect for providing branded marketing services.
The Pro and Business plans include the following white-label features:
Use your own domain or subdomain for white-label SEO without requiring clients to link to an SE Ranking link.
Add and manage users with custom access permissions to different tools in SE Ranking.
Send out manual or automated reports from your business email and use your own SMTP server if preferred.
No hosting is required. Your domain/s just needs to be in your domain registrar.
Choose a color scheme for your white label domain/s and upload your logo for reports.
You can also create accounts for your team or clients with custom access to:
Analytics and traffic data
SE Ranking tools
Website Audit
Competitors
Marketing Plan
Backlink Monitoring
Performance-Based Invoicing
White-Label Reports
Backlink Checker
11. Lead Generator
The final feature to share in this SE Ranking review is the lead generator tool. This is a customizable widget that SEO freelancers and agencies can use to generate leads.
When a visitor fills out the widget's form on your site, the prospective customer receives a detailed report on their on-page optimization and you receive their contact details.
You can choose between a button, webform, push notification, or pop-up widget.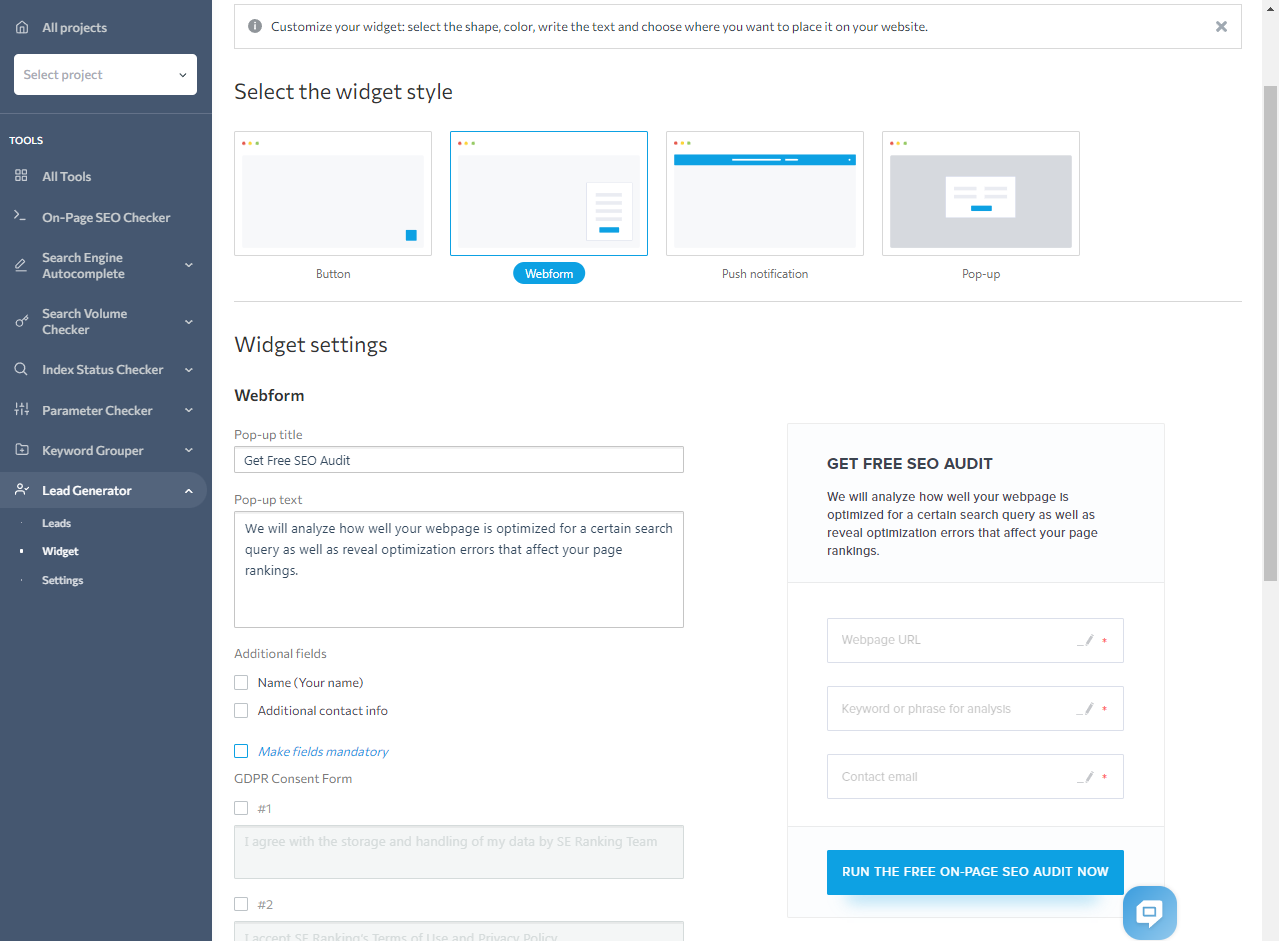 Additional features include the ability to customize each widget with your brand colors and logo, deliver personalized messages, and set email alerts.
You can even block certain domains or email addresses from running the on-page SEO audit, and add Google Analytics tracking code as another way to track incoming leads.
Alternatives to SE Ranking
In terms of all-in-one SEO tools, the main competitors to SE Ranking are Semrush, Ahrefs, Surfer, Serpstat, Moz Pro, Agency Analytics, and SEO PowerSuite.
Here is some additional information on three of the top SE Ranking alternatives:
Semrush
Semrush is a leading all-in-one SEO platform that includes tools for keyword research, competitor analysis, rank tracking, audits, content optimization, reporting, and more.
Semrush is the leader in the SEO tool space in terms of the sheer number of features and functionality. However, you pay a premium for the larger toolset.
If you don't mind paying more, you will find that Semrush offers a bit more Google-based keyword and competitor data compared to SE Ranking. This includes more refined tools and add-ons for social media, content marketing, and local listings.
However, I believe SE Ranking is closing the gap on the quality and amount of research data it provides while offering lower-cost plans to help smaller operations scale.
Ahrefs
Ahrefs is a popular all-in-one SEO toolkit that includes extensive tools for competitive analysis, keyword research, site audits, topic research, and rank tracking.
Many professional SEOs and agencies use Ahrefs for leading organic competitor research focused on Google. Although, the price is a bit higher to get started, and tracking keyword rankings daily requires an additional add-on charge.
Like Semrush, the keyword research tool in Ahrefs is one of the largest in terms of data, but SE Ranking isn't far behind. Personally, having used all of these platforms, I don't feel I require another tool outside of SE Ranking for keyword or backlink research.
Surfer SEO
Surfer is an on-page SEO software with content planning, keyword research, and data-driven content audits.
The on-page SEO tool compares your content against top-ranking competitors on Google SERPs for 500+ factors and provides suggestions to improve your rankings.
Based on my experience, Surfer currently offers stronger semantic word and phrase recommendations than SE Ranking's on-page SEO checker and audit tools. On the flip side, Surfer lacks rank tracking, in-depth keyword research, and backlink tools.
While I use Surfer for deep on-page optimization, SE Ranking is top-notch for rank tracking, site-wide audits, keyword research, competitor analysis, and creating reports. However, SE Ranking is currently working on some new content optimization tools.
SE Ranking Review Conclusion
To sum up, SE Ranking is an excellent SEO platform with all-in-one features at a low cost, making it a top choice for many growing businesses, freelancers, and agencies.
I recommend SE Ranking for managing multiple SEO campaigns, especially when you're just starting out or have to manage many client sites. This could be for scaling SEO for multiple websites such as niche sites or client sites as an agency.
The Essential plan is a low-cost way to try SE Ranking and is very affordable when you choose to get ranking data updated every 3 days or weekly.
Free Trial of SE Ranking
To test the software out for yourself, sign up for the SE Ranking free trial here.
The free trial includes access to the SE Ranking Essential 250 keywords plan.
I give SE Ranking a rating of 4.8 out of 5 stars. The software offers incredible value for the feature set compared to other multi-purpose SEO software tools on the market.
I hope this review helped you better understand SE Ranking's features and plans.
More SEO Software Reviews: