Learn about the best local SEO packages in 2023 to improve your local rankings and generate more local traffic to your site from search engines like Google.
This includes info on the types of services included in local SEO packages, local search engine optimization itself, and reputable local SEO package providers in 2023.
These are some of the best local SEO package providers on the market to improve your website's local keyword rankings and generate more local traffic to your business.
Local SEO packages are one-time or monthly plans that include strategic actions that are designed to improve a local business's search presence in the local search results on Google in order to get found by highly targeted local customers.
BoostPlanner is reader-supported. If you buy through a link on my site, I may earn an affiliate commission.
Local SEO Package Features
Below are the common deliverables included in local SEO packages.
Local Website Optimization
Optimizing a website to get found in the local search engine results pages (SERPs) involves a number of important on-site SEO activities such as:
Creating unique location-based landing pages to target areas served
Targeting relevant topics and keywords with local search demand
Creating an internal linking structure that improves user navigation
Ensuring web pages are mobile-friendly and load fast for all devices
Sharing business and contact information prominently across site pages
Conversion rate optimization (CRO) to increase traffic and lead rates
A business that publishes in-depth pages of content about their products or services, as well as helpful information related to their offerings or niche with strategic internal links, will have an easier time ranking high on Google and acquiring new local customers.
A reliable local SEO package can help a business optimize its site to rank for profitable local search terms that result in more leads and sales.
Local Content & Link Building
Publishing local pages and building links make it easier for major search engines like Google to understand a site's pages and list them in results for locally searched terms.
In terms of link building, this can refer to creating internal links between site pages or earning backlinks that point to the site's pages from other websites online.
The best local SEO packages include a combination of local content creation and link-building efforts to help a business improve its search presence in its target area.
Local Listings & Citations
A local citation is any online mention of the name, address, and phone number of a local business. Commonly referred to as NAP (name, address, phone number), this information found on business listings is important for ranking in local search results.
NAP consistency as well as the quantity and quality of citations across business listings online are local ranking factors that Google uses to help rank local businesses.
An effective local SEO package includes auditing, updating, and optimizing business listings to ensure citations are accurate and consistent across the web.
Local Reputation Management
Local reputation management, primarily the monitoring and managing of online reviews, is another crucial aspect of local SEO.
Reviews are one of the most important local search ranking factors for ranking a business in the local pack section of the Google search results as well as Google Maps.
Some local SEO packages and services include reputation management deliverables, such as efforts to generate, feature, and collect more positive reviews for a business.
Local SEO Reports
Monthly reports are a common feature of local SEO packages.
While reports vary from package to package depending on the cost, deliverables, and provider, local SEO reports generally provide a business owner with data-driven insights on the progress of local search rankings, organic traffic, and website conversions.
Local SEO providers often utilize local SEO software to perform keyword research, analyze competitors, audit sites, track rankings, and create reports for clients.
What Are the Best Local SEO Packages?
Here are 3 of the best local SEO packages and providers worth checking out.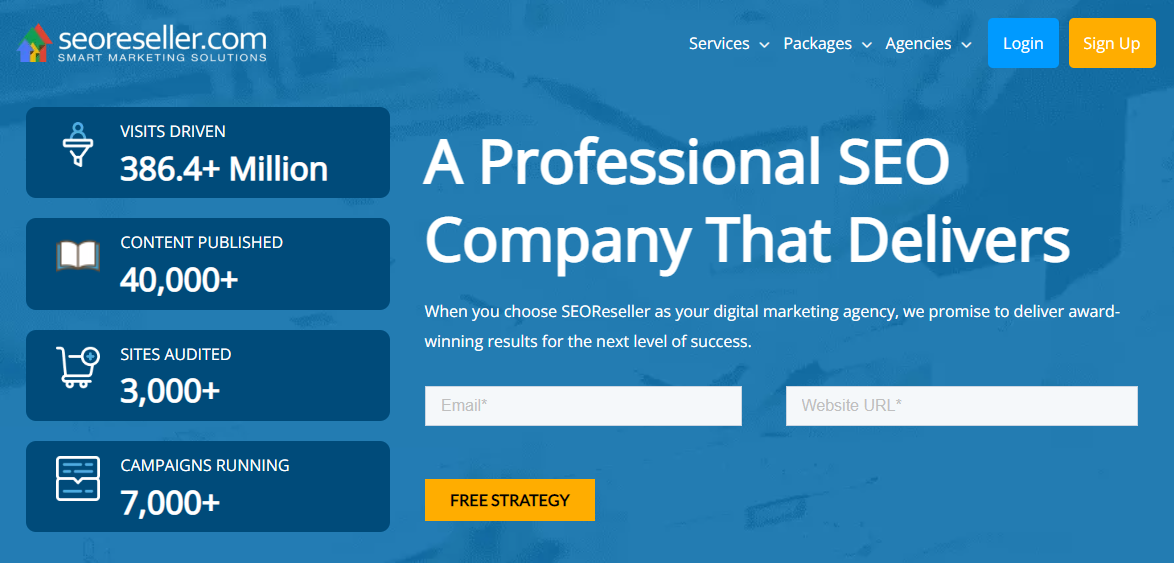 SEOReseller is a reputable SEO company that offers complete local SEO packages that include on-page and off-page strategies.
SEOReseller's local SEO packages include the following features:
Initial site audit
SEO roadmap
Keyword research
Webpage copywriting
Guest blog outreach
On-page and off-page strategies
Google Business Profile creation (previously Google My Business)
Yelp, Bing Local, and Yellow Pages listing creation
20+ additional business listings depending on package tier
Reputation management lite setup
Feedback monitoring, forwarding, and reporting
Monthly executive reporting
Conversion and ROI-focused efforts
100% money-back guarantee for the first 30 days
To learn more, visit SEOReseller's website here.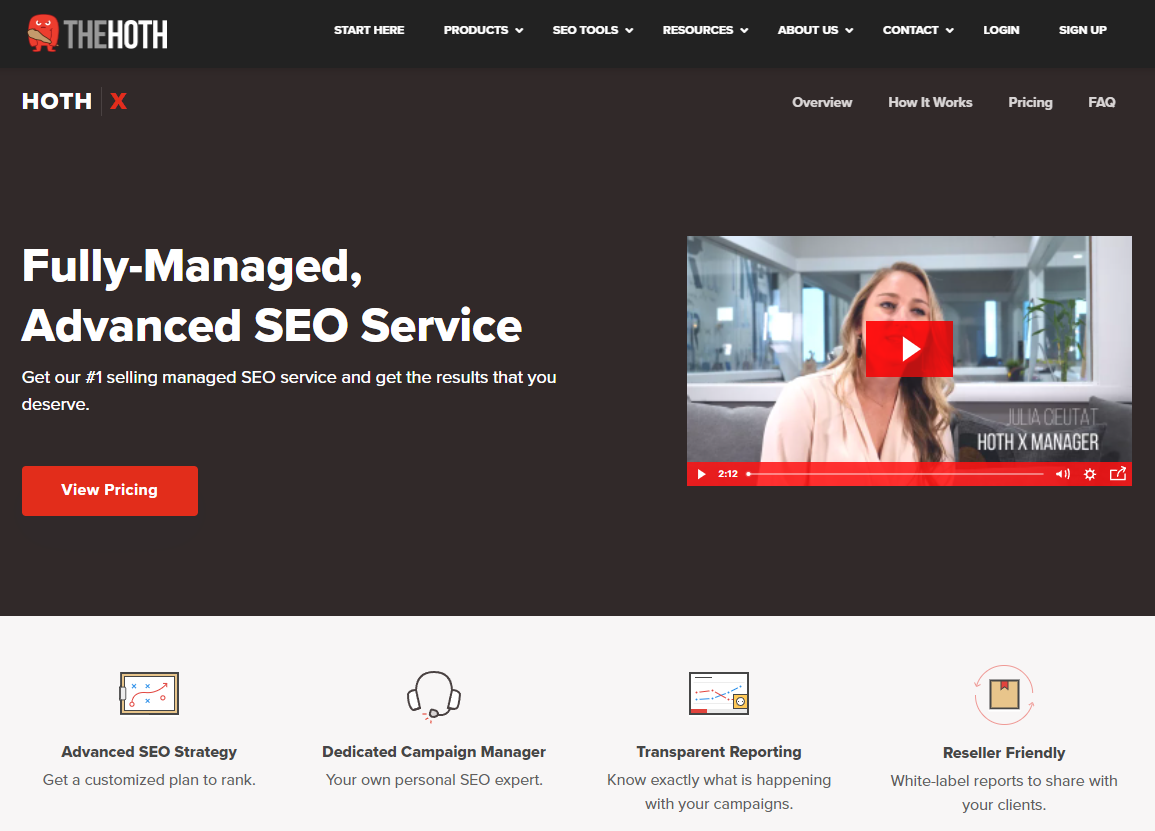 The Hoth is a popular SEO provider for managed packages and ala carte services. Their managed SEO service called Hoth X is an affordable option for local businesses.
With the Hoth X service, an SEO expert helps a business choose and combine individual SEO products offered by The Hoth to form a monthly local SEO package.
Examples of these individual services include webpage content or original blog posts, foundational in-content links, guest post link building, local citations, and more.
To learn more, visit The Hoth's website here.
Related Post: The Hoth vs SEO Reseller (2023)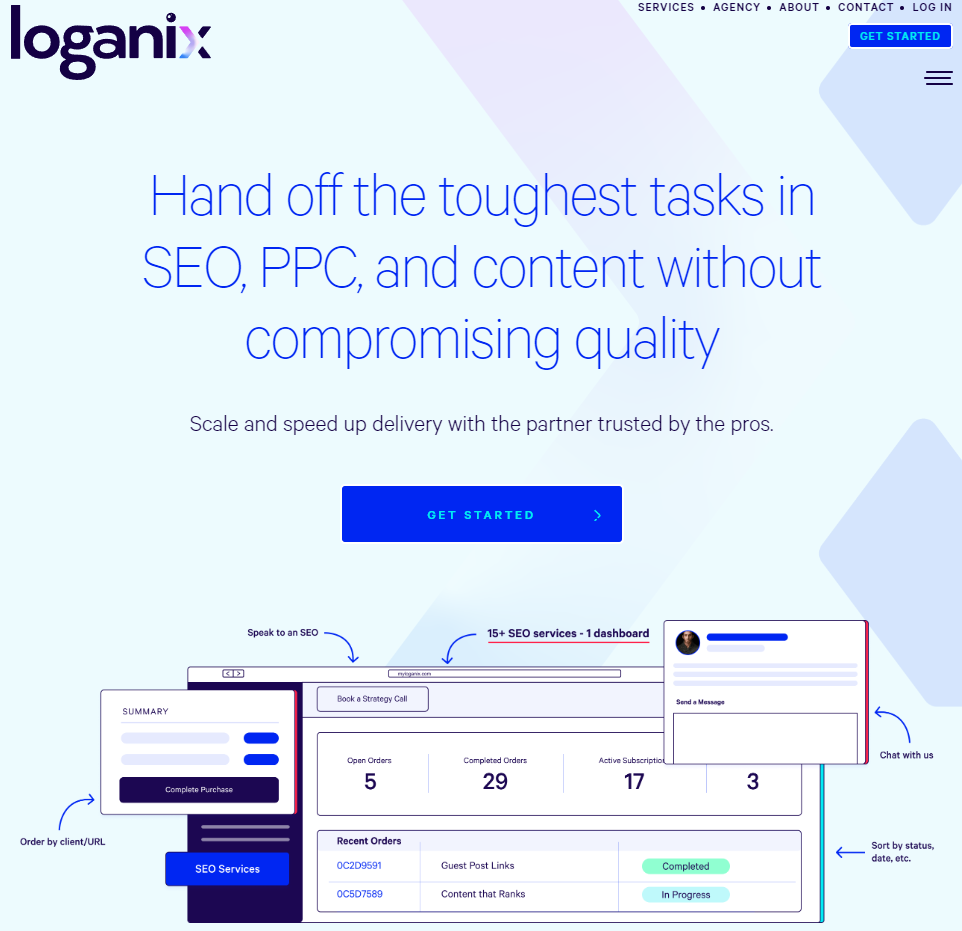 Loganix is a professional SEO agency that offers packages and one-off services like SEOReseller and The Hoth.
Loganix offers affordable SEO packages with the following deliverables:
Mini website audit
Content strategy
Blog content
Guest post links
Monthly reporting
Loganix also offers separate local SEO services including a citation audit, citation building, and citation cleanup, as well as audits, keyword research, and content writing.
To learn more, visit the Loganix website here.
FAQs About Local SEO Packages
What is Local SEO?
Local SEO is a search engine optimization strategy that focuses on ranking a business and its site for local searches relevant to products or services offered and related topics.
How Do You Rank a Business Locally?
Ranking a business for relevant local searches involves a number of tactics, such as setting up a Google Business Profile and other local listings, updating citations, earning reviews, creating location-optimized pages, and focusing on localized link building.
What Does a Local SEO Company Do?
A local SEO company specializes in the tasks involved in ranking a business locally based on the business's products/services, goals, and target keyword phrases.
What Types of Businesses Should Use Local SEO Packages?
Any local business that wants to acquire more customer leads, purchases, or foot traffic in the areas they serve can benefit from a local search engine optimization package.
Local SEO efforts can get your business's website and Google Business Profile to appear more prominently in the search results when people search terms related to your products and services. Higher rankings can lead to more clicks, leads, and sales.
How Long Does Local SEO Take to Rank?
How long local SEO takes to improve a business's rankings depends on many factors, including the keywords, competition, the business's current web presence (content, links, reviews, listings, site age, page speed, etc.), search engine algorithm updates, and the strategy and resources invested into local SEO efforts each month.
This means local SEO can take anywhere from 2-6 months to start seeing noticeable search ranking, organic traffic, and lead generation improvements.
However, results can happen in as little as 1-2 months with local content creation and optimization if a business has existing site authority, listings, and backlinks earned.
Conclusion
Local SEO packages are a popular choice for small to mid-sized local businesses with tighter budgets and/or less time to devote to search engine optimization efforts.
The best local SEO packages can help a local business get found by more potential customers on Google by creating and optimizing location-relevant website pages, building listings and links, and helping out with online reputation management.
More Posts About SEO: