Updated on May 16th, 2022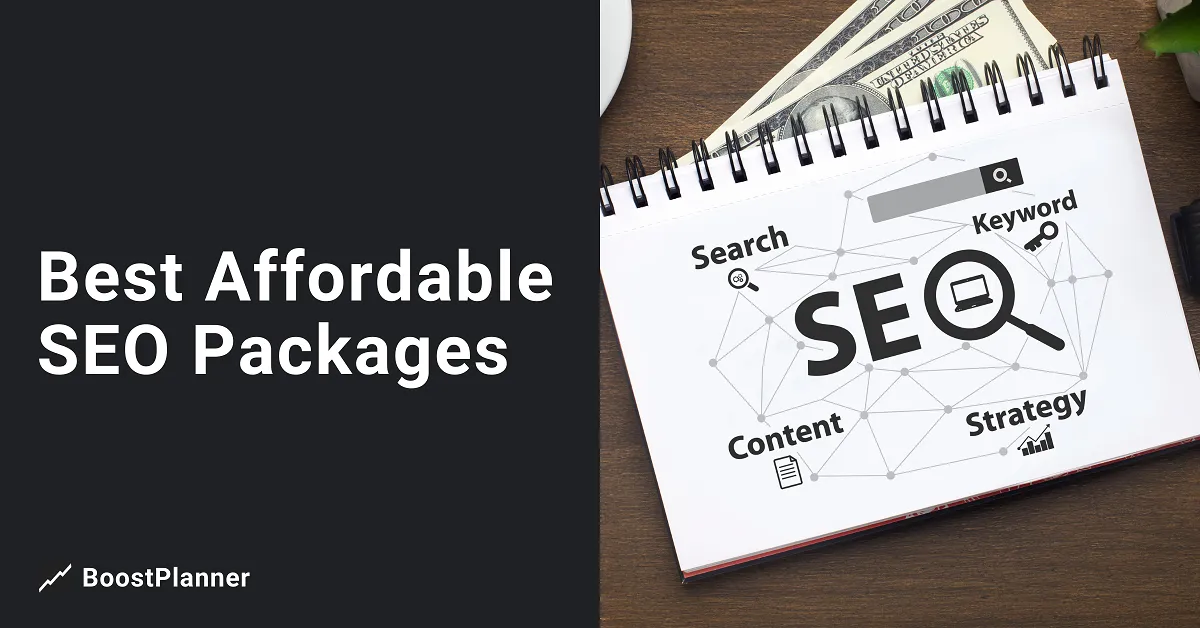 Here are three of the best affordable SEO packages on the market that can help improve your website's rankings to get more profitable traffic from search engines.
These SEO services have all helped thousands of businesses large and small improve their search engine presence to drive more leads and sales.
While there are many SEO companies that charge between $2k-15k per month that often provide a higher volume of custom deliverables, the companies featured below provide low-cost plans with a solid track record for driving results.
Criteria for Choosing Affordable SEO Packages
These SEO providers were chosen based on a number of factors including:
A high number of positive customer reviews and case studies show results.
The SEO package costs are affordable and start under $1,000 per month.
Offer free consultations with friendly and experienced customer service.
Affordable SEO Package Providers
Here's a quick overview of the best affordable SEO package providers:
The Hoth – Low-cost SEO packages with link-building and blog content services.
SEOReseller – Affordable SEO packages with more custom on-site optimization.
Loganix – Monthly SEO packages for citation building and high authority backlinks.
Find out more about these affordable packages for SEO and their features below.
Best Affordable SEO Packages
Best SEO packages to expand blog content and backlinks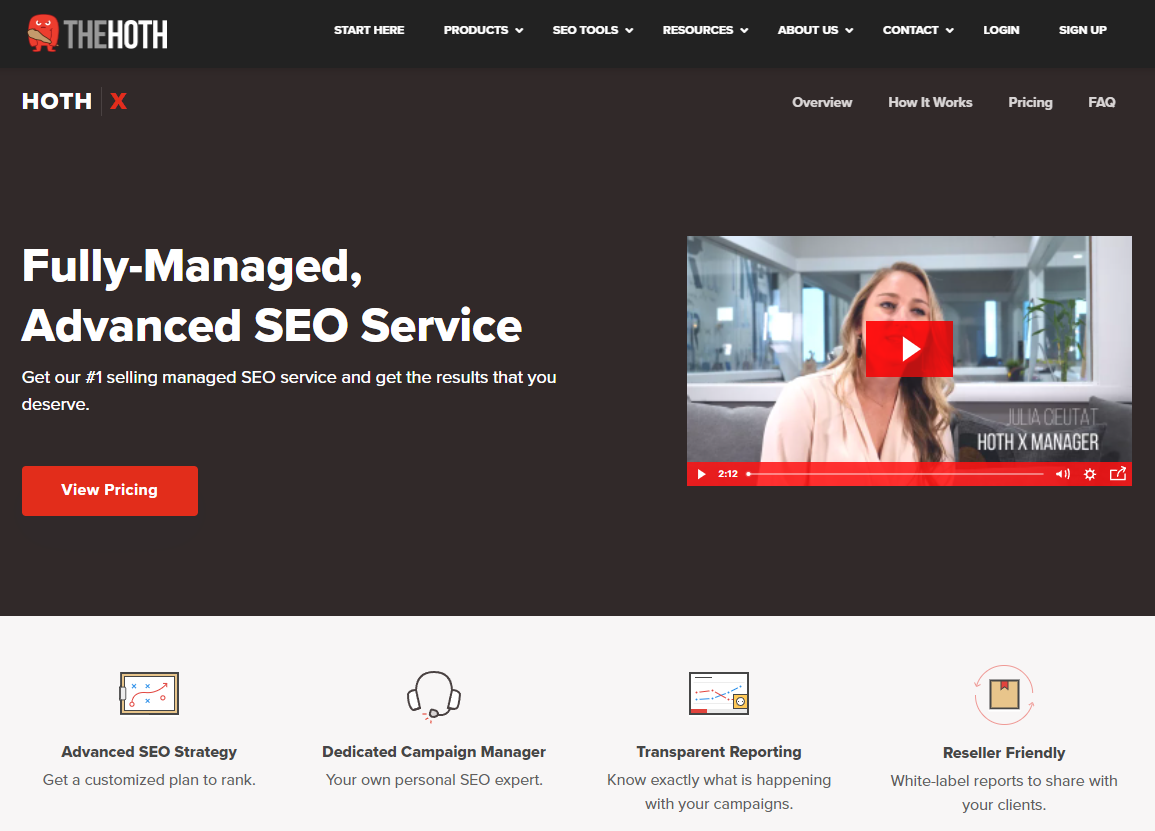 The Hoth is an SEO company that provides affordable SEO packages as well as individual services related to SEO, PPC, and content creation.
The company has earned thousands of reviews online that reflect the positive results they've been able to provide for businesses and the helpfulness of their support team.
SEO Package Features:
On-page and off-page SEO
Keyword research
Site content creation
Link-building services
Organic and local SEO packages
Dedicated SEO expert
Transparent results reporting
White-label branded reports
The Hoth offers an affordable SEO package called Hoth X which includes a dedicated campaign manager, a customized plan to increase rankings, and complete reports that show you content created, links built, and results related to your rankings and traffic.
The Hoth X package is created by a dedicated SEO expert and is based on your monthly budget and a strategic combination of individual Hoth SEO services.
Services in the package include writing content for your site, publishing blog posts, and optimizing this content based on your goals, the target keywords approved after onboarding, and research conducted by your campaign manager.
The Hoth's link-building tactics include the creation of mini authority sites to build contextual links back to your site, publishing guest posts on high authority sites, local citations, press releases, and more.
All SEO packages include transparent deliverables and results reporting so you're aware of the links built, content created, and campaign results over time.
Hoth X SEO Packages start at $500 per month and 1-time $250 setup fee.
The SEO agency also offers a 100% satisfaction guarantee.
If you are not satisfied with a recent order, you can contact support within 30 days of receiving your report and the company will work with you to make things right.
The Hoth's inexpensive SEO packages are a top choice for expanding your site with rankable content and links that build your site's authority on your target topics.
The company offers a free consultation to discuss strategy and see if one of their managed monthly packages is right for your business.
Learn more about Hoth X SEO packages here.
---
Best low-cost SEO packages for on-site optimization and support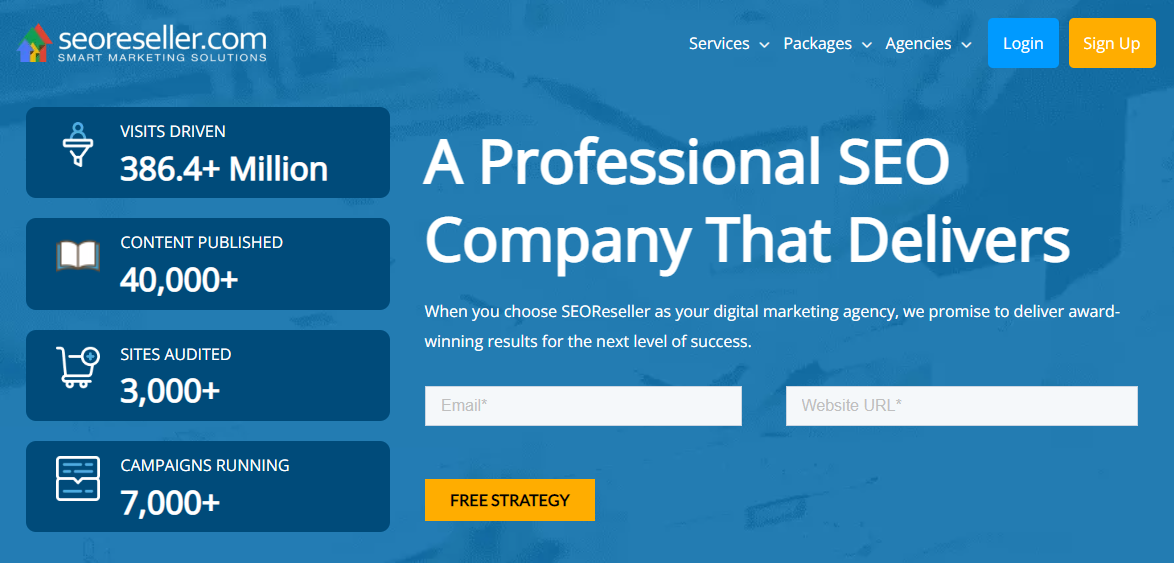 SEOReseller is an SEO services company that offers affordable SEO packages for small businesses, ecommerce stores, marketing agencies, and enterprise companies.
Whether you are a small business in need of SEO or a marketing agency looking for a solution to fulfill services for SEO clients, it's easy to order services, get support, and track campaign data with SEO Reseller's user-friendly portal and dashboard interface.
SEO Package Features:
Keyword research
On-page and off-page SEO
Technical SEO solutions
Organic and local SEO packages
Campaign manager
Detailed monthly SEO reports
White-label SEO solutions
No lock-in contracts
SEOReseller offers three different SEO package plans that include a variety of essential on-page and off-page deliverables focused on driving real results.
All projects are handled by a dedicated project manager and a team of experts including an SEO specialist, content creator, and web developers.
Each package includes a 30-minute intake call with an SEO consultant and a pre-intake site audit to ensure an effective campaign strategy for your business.
SEOReseller Plus Package (starting at $899/month):
Entry-level SEO package for new or small sites in low-competition niches with up to 20 hours of dedicated work performed each month by a team of SEO specialists, writers, editors, and webmasters.
30-minute intake call
Pre-intake site audit
Keyword research
On-page optimization
Content writing
Meta title & description optimization
Schema markup organization
Monthly reporting
SEOReseller Premium Package (starting at $1299/month):
Their most popular SEO package includes both on-page optimization and backlink building with up to 40 hours of dedicated work.
Plus package features plus:
4 monthly guaranteed backlinks
SEOReseller Prime Package (starting at $1499/month):
Most comprehensive SEO package with up to 61 hours of work provided.
Premium package features plus:
6 monthly guaranteed backlinks
Google Search Console setup
Site speed optimization for WordPress
301 & 404 optimizations and fixing
Monthly keyword content building
SEOReseller's starter plan (the Plus package) doesn't offer off-page SEO deliverables. The mid-tier Premium package is required, which guarantees that four quality backlinks are built during each month of a campaign.
Custom SEO packages are also available depending on a business's needs as well as local, national, and international search engine optimization services.
SEOReseller provides reputable and affordable SEO packages with results-driven deliverables. Their SEO experts invest a lot of time into campaigns for the price.
This is also a convenient choice if you're looking for other digital marketing services, as the company offers individual services related to SEO, PPC, website design, social media management, online reputation management, and blogger outreach.
SEOReseller offers free consultations.
To learn more about their package offerings, visit the SEOReseller website here.
---
Best monthly SEO packages for building high-quality backlinks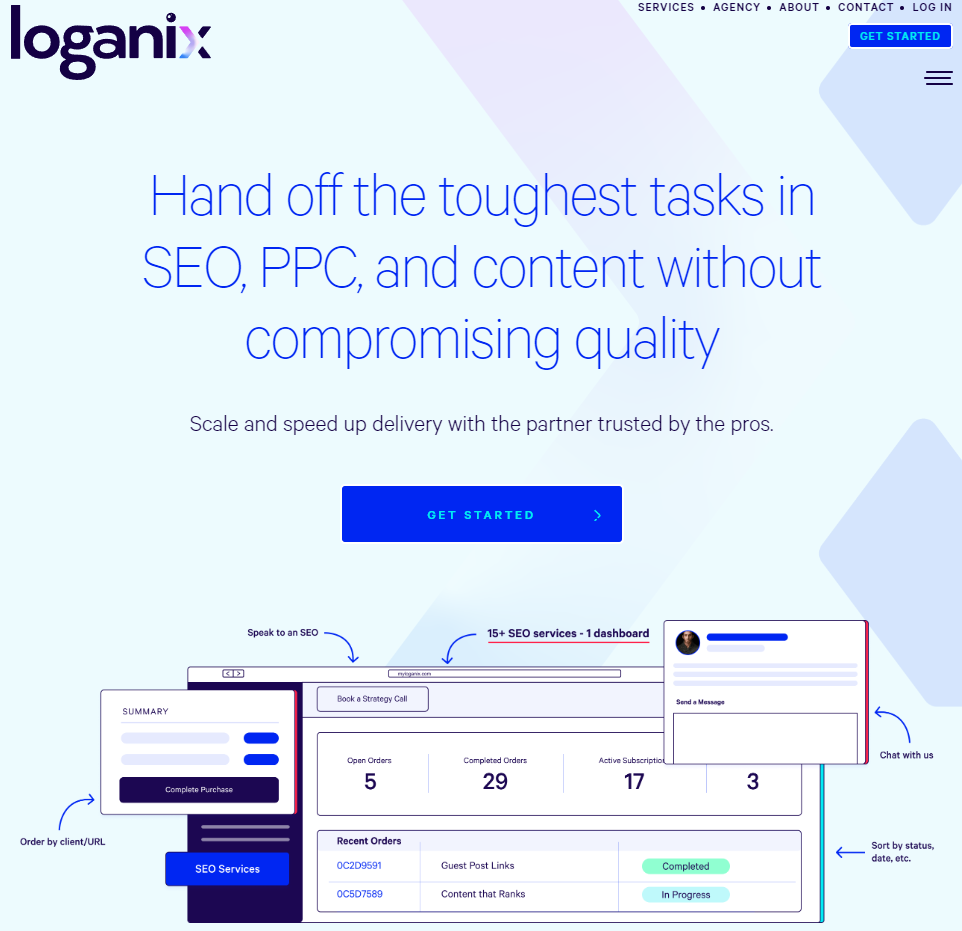 A trusted partner of 5,000+ agencies, business owners, and brands, Loganix is an SEO agency that offers affordable SEO packages and an array of digital marketing services.
Loganix provides the option to order self-serve services in their dashboard or recruit an expert to manage your SEO strategies, production, and deployment for you.
Their low-cost SEO services include link building, campaigns for local or traditional SEO, content writing, and Google Ads PPC management.
SEO Package Features:
Link outreach and placement
Page title and metatag updates
Content strategy and creation
Organic and local SEO packages
Dedicated SEO consultant
Dashboard reporting
White-label SEO services
Loganix offers two monthly SEO package plans that include a combination of tweaks to your site's page titles and meta descriptions and link building to your top priority pages.
Loganix Standard Package ($500 one-time setup, then $500/mo):
Ideal for getting consistent content-based backlinks on a tight budget each month.
A basic SEO review to ensure your site is following best practices
Up to 10 optimized page titles and meta description tweaks
2 guest post links from multi-topic sites including outreach
Article content is written in-house by US and Canadian writers
Guaranteed link placements or they're replaced at no cost
An easy-to-understand monthly report of guest posts and links built
Ongoing monthly link building management by an experienced SEO
Guest post links are sourced from established, growing sites with an average DR of 30. Domain Rating is the strength of a site's backlink profile used by SEO tools like Ahrefs.
Loganix Authority Link Package ($500 one-time setup, then $1,000/mo):
Ideal for securing high-authority backlinks from niche-relevant websites.
A basic review of your site's current SEO performance
10 optimized web page titles and meta description updates
2 authority links from DR40+ niche-relevant domains and articles each month
Content is written by an experienced in-house team of U.S. and Canadian writers
Guaranteed placements or links of equal or better value sourced at no cost
Ongoing link building management by an expert SEO
The main difference between these two packages is the type of backlinks acquired on a monthly basis. The authority links are sourced from stronger DR40+ domains. These links are also from sites that are relevant to your niche at the domain and article level.
Loganix Managed Agency Services
Loganix also provides managed agency services for fully tailored campaigns managed by their digital marketing team. These services implement a wider range of SEO services like content creation, keyword research, and pay-per-click (PPC) ads.
These customized campaigns are geared toward larger sites, businesses, or agencies and include:
One-on-one consulting and strategy calls with a dedicated strategist
Custom campaigns and complete services based on your situation and goals
Direct access (calls or Slack messaging) with a dedicated account manager
While not the cheapest, Loganix is worth checking out for acquiring consistent quality backlinks as part of affordable SEO packages and for larger custom campaigns.
They also provide a convenient customer portal that makes it easy to order individual services and manage complete SEO campaigns.
Loganix offers a free no-obligation consultation.
To learn more, check out the Loganix SEO packages here.
---
What is SEO?
SEO or search engine optimization is the practice of improving a business's visibility on search engine results pages (SERPs) to get in front of more potential customers.
This includes optimizing a website both on-page and off-page to signal to search engine algorithms that the site content should rank higher for relevant search terms like product or service offerings and other business information.
On-page SEO is the practice of optimizing individual web pages to rank higher up the search engine results for targeted keywords relevant to a business.
Off-page SEO refers to actions taken on other sites to affect rankings such as sharing content and guest posting to expand web presence and earn backlinks.
Cheap SEO vs. Affordable SEO
A cheap SEO service often takes a standard "cookie-cutter" approach to search engine optimization efforts that tend to result in slower results over time if any.
On the other hand, affordable SEO services commonly offer a balance of low-cost deliverables with customizable features and more work invested to achieve results.
The best affordable SEO packages include custom SEO strategies and tactics, including keyword research, copywriting, rank tracking, conversion rate optimization (CRO), and A/B testing.
Who Can Benefit from SEO Packages?
The right search engine optimization packages can help many types of people and companies to affordably scale their search marketing efforts and speed up results:
Solo webmasters
Freelance SEOs
Marketing consultants
Small business owners
Large enterprise companies
Digital marketing agencies
Conclusion & Recommendations
If you're looking for the best affordable SEO packages for your business, the reputable search engine optimization companies featured above are worth checking out.
The Hoth offers solid SEO packages to load your site up with topically relevant content and build foundational backlinks to increase your site's domain authority.
SEOReseller is recommended for websites that might require more on-site work such as resolving specific technical or structural issues.
Loganix is the way to go if you're just looking to build quality, niche-relevant backlinks. However, while they specialize in backlinks, they offer a range of marketing services.
All three companies offer free consultations, affordable SEO packages, and individual services you can order through their dashboards to achieve better rankings and traffic.
SEO Software Guides: