Is The Hoth or SEO Reseller right for your business? Explore the key differences between The Hoth vs SEO Reseller for SEO services in 2023.
The Hoth & SEO Reseller are 2 popular companies that offer white-label SEO services.
Both of these SEO reseller companies provide individual and managed SEO services.
These SEO companies make it convenient to order, implement, and manage a variety of SEO services for clients or your own projects based on your objectives and goals.
The Hoth vs SEO Reseller in 2023
Who can benefit from using The Hoth or SEO Reseller?
The Hoth and SEO Reseller include platforms that provide a wide range of SEO and content marketing services, including SEO reselling. Many types of businesses and individuals can benefit from using these services, such as:
Digital Marketing Agencies: These businesses often use white-label SEO services like those provided by The Hoth and SEO Reseller to extend their service offerings to clients. It's an efficient way to provide comprehensive digital marketing solutions without needing to hire in-house SEO experts.
Web Development Firms: Web development companies can use SEO reselling services to provide a more comprehensive package to their clients. By including SEO as part of their offerings, they can help their clients' websites perform better in search engine rankings.
Business Consultants and Coaches: Consultants and coaches can offer SEO services to their clients as a value-added service, thus broadening their offerings and potentially increasing revenue.
Freelancers and Independent Marketers: Freelancers who specialize in areas such as content creation, social media, or graphic design can add SEO to their portfolio of services. This can make them more attractive to potential clients and provide an additional source of income.
Small and Medium-Sized Businesses (SMBs): SMBs that do not have the resources or knowledge to perform SEO in-house can benefit from using these SEO services. This can help them improve their online presence and search engine rankings, which can lead to increased traffic and sales.
Startups: Startups, particularly those in the tech sector, can benefit from SEO reseller services to boost their online visibility while focusing their limited resources on core business functions.
A major advantage of using services like The Hoth or SEO Reseller is that these agencies and their platforms have a team of SEO experts who stay up-to-date with the latest SEO trends and Google algorithm changes. This allows clients or customers to benefit from expert SEO services without needing to develop this expertise in-house.
The Hoth vs SEO Reseller: Services
Managed Services
The Hoth
The Hoth offers a variety of managed SEO, advertising, and content creation services that include a dedicated campaign manager and a reporting dashboard for campaigns:
Hoth X – Managed SEO service with a customized plan to boost keyword rankings.
PPC Ads – Google Ads campaign managed by a Google-certified paid traffic expert.
Google Shopping – Managed Google Shopping campaign for advertising products.
Social Ads – Managed social media ad campaigns for Facebook & Instagram.
Content – Managed content services for websites including a full content calendar.
SEO Reseller
SEO Reseller provides a similar selection of managed services SEO, ads, and content. However, the company also offers website development and brand design services.
SEO – Managed SEO packages with on-page SEO, content, and link deliverables.
Local SEO – Monthly SEO packages for targeting local keywords and listing creation.
Paid Media – Managed ad campaigns for Google Ads and/or Facebook & Instagram.
Content – Content marketing packages for sites including articles and landing pages.
Web Dev – Managed packages for website development or landing page creation.
One-Off & Other Products
The Hoth
Blog Content – SEO-optimized blog articles with unlimited revisions and an auto-publish option for WordPress sites. A Blogger Pro package is available for more in-depth niche content written by a writer experienced in your specific niche or industry.
AI Content Plus – The Hoth writers utilize Open AI's ChatGPT to create and edit content for your site in packs of 10, 50, or 100. This is a new offering as of May 2023.
Web Copy – Website copy tailored for service pages, about us pages, home pages, e-commerce product pages, and more.
Link Outreach – The Hoth creates a post that links back to your site and performs outreach to have it published on a site with your chosen domain authority.
Foundational Links – Mini-authority properties are created on blogging platforms with in-content, contextual links pointing to your site to help build domain authority.
Backlink Booster – In-content 2nd tier backlinks are built to pages that already have backlinks to your site with the aim of strengthening your 1st tier backlinks.
Press Releases – A professionally written press release combined with content distribution to 300+ authority news outlets.
Content Syndication – Content distribution and placement on 300+ news sites for your chosen article to boost web presence and links on high-authority sites.
Business Listings – Manually created local business directory listings and citations to help support local SEO campaigns.
Local Citation Cleanup – A full citation audit for your business to discover inaccurate information including two rounds of manual outreach to fix citation issues.
Social Media Profiles – The Hoth will register and complete profiles for you across social, video, and blogging sites to help secure your brand and improve its visibility.
Rank Tracking Tool – The Hoth Rank Tracker lets you track specific keywords and provides daily updates so you can monitor how your campaigns are progressing.
Reputation Management – Hoth Stars includes a powerful review widget that helps to collect reviews & prevent negative reviews, along with features to automate asking for reviews with outbound email campaigns, review monitoring, and social sharing.
SEO Reseller
Link Outreach – Done-for-you link building and guest post creation with options to choose building links from sites with a certain domain authority score.
Website Setup – You can order a custom template one-page site or a high-quality WordPress site for local business niches.
Citation Building – Manually created local business and directory listings to help support local search presence.
GA4 Setup – The SEO Reseller team sets up and/or integrates Google Analytics 4 into a website. You can also get help migrating from Universal Analytics to GA4.
Link Cleanup – A service to help website owners audit historical backlinks including outreach to attempt to remove potentially toxic backlinks and domains.
GBP Optimization – A 3-month campaign that optimizes a Google Business Profile so more potential customers find your business on Google Search and Maps.
SEO Consultation – Standard and advanced SEO audits for providing extensive insight into a site's online presence including opportunities to increase performance.
Blog Content – Articles backed by keyword research and optimized for search.
Web Copy – Up to 500 words of on-page SEO content per order, including an optimized meta title and description and research-backed copy.
Landing Page Content – Custom content created specifically for landing pages and crafted to convert based on client goals for the page.
Brand Design – Packages for logo, business card, and email signature design.
The Hoth vs SEO Reseller: Pricing
While subject to change, here's some insight into each SEO service provider's pricing.
You can create a free account at The Hoth and SEO Reseller to explore the latest deals, services, and pricing plans.
Managed Service Pricing
The Hoth Managed SEO Service Pricing
The Hoth's managed SEO service is known as Hoth X.
Hoth X monthly SEO package pricing starts at:
$500 per month minimum deliverables budget
$100 monthly management fee
$250 1-time setup free
The total first-month cost is $850 and then $600 for the following months, plus any applicable fees and taxes. You can set up a contract to save $100 per month.
This managed SEO service gives you a dedicated campaign manager, month-to-month strategy planning, and reseller-friendly white-label reports to share with clients.
Hoth X SEO campaigns consist of a combination of individual Hoth products, such as web copy, blogging, and link outreach, based on your agreed-upon plan and budget.
SEO Reseller Managed SEO Service Pricing
SEO Reseller's lowest-priced managed SEO service called SEO Plus starts at $375 per month and offers up to 20 hours of dedicated work from their team of SEO specialists, writers, editors, and webmasters.
This package includes a 30 min intake call, site audit, keyword research, 15 hours of on-page optimization, meta title & description optimization, schema markup updates, and monthly white-label friendly reports.
Starting in month 2, the SEO Plus plan gives you 3 monthly guaranteed backlinks. The mid and top-tier plans provide more monthly links and content building.
SEO Reseller also provides a mid-tier plan called SEO Premium with up to 40 hours of work for $575 per month and an SEO Prime plan with 61 hours of work for $999/month.
Alongside the above monthly SEO packages, SEO Reseller provides separate monthly packages tailored to local SEO that start at $399 per month targeting 10 local keywords.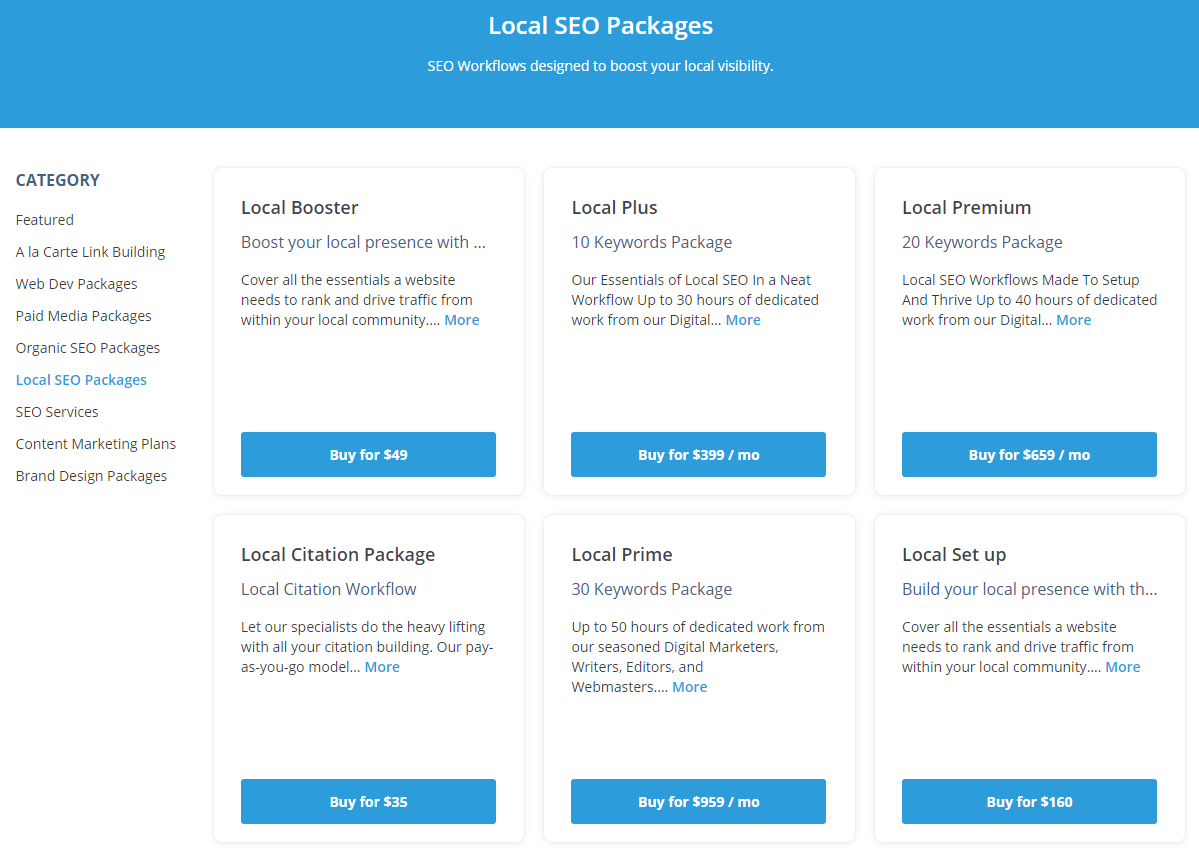 Other Product Pricing
Here is pricing info for The Hoth and SEO Reseller ala carte and complementary SEO services, including one-time set-ups, link building, and local listings.
The Hoth – Other SEO Services Pricing
Hoth Link Outreach – Starts at $150 per post and goes up to $600 for a longer 2,000-word post on a site with a guaranteed domain authority of 30 and 15k organic traffic.
Hoth Foundations – Starts at $60 and goes up to $500 for the largest package with 48 in-content links from 8 top-level blogs with 3 original articles in each one.
Hoth Local – Business listing and citation-building service starting at $149 per month up to $549 for the largest plan. A $79 per month plan is available after an initial order.
Citation Cleanup – $399 for complete local citation cleanup service with a full audit, two rounds of manual outreach to fix citation issues, and a comprehensive report.
Hoth Stars – Reputation management software costs $149 per month for a 1 location license or $399 per month for an agency license for up to 10 locations. Additional locations are $35 per month.
SEO Reseller – Other SEO Services Pricing
GA4 Setup – $125 for a new Google Analytics 4 setup or migration from the previous GA3 or Universal Analytics setup.
Advanced Google Business Profile Optimization – $250 for 3 months of Google business listing optimization with description updates and 4 profile posts per month.
Link Clean Up – $200 for detecting up to 2,000 historical backlinks and removing up to 400 links. The largest package costs $1,000 for checking up to 15,000 historical backlinks and the removal of up to 1,000 links.
Standard SEO Consultation – $499 for a backlink assessment, competitor analysis for up to 3 competitors, and assessments for keywords, rankings, indexed content, meta content, website useability and performance, traffic, and more.
Advanced SEO Consultation – $999 for a consultation suitable for competitive niches looking for more technical and in-depth analysis of all on-page and website elements.
Local SEO Setup – $160 business listing creation plan to help build a foundation for a business's local presence and complement existing search engine optimization plans.
Local Booster – A $49 add-on monthly citation service. Requires SEO Reseller's Local SEO Setup service.
Local Citation Package – Pay-as-you-go individual citations for $35 per citation.
The Hoth – Content Services Pricing
Here's pricing information on The Hoth's content creation products, including blogs, AI content, and web copy services.
Hoth Blogger is one of The Hoth's best-selling products alongside link outreach.
Hoth Blogger – Starts at $50 for one 500-word blog post or $90 for a 1,000-word post.
Hoth Blogger Pro – Starts at $80 for one 500-word blog post.
The cost per 500 words decreases the larger the word count you choose per post, so purchasing higher word-count articles can help you save some money.
The Hoth's blog writing service is an easy way to keep your site updated and growing by adding content to your blog. The Hoth can also post the articles to your blog for you.
Each blog order comes with unlimited topic and blog revisions, follows SEO best practices, has clean HTML formatting, and includes 1 stock image relevant to the topic.
The content is also run through a grammar and spelling checker tool and through Copyscape Premium to make sure the content is 100% original with no plagiarism.
The Hoth also provides a bulk buy option to order for multiple packages or clients.
Hoth AI Content Plus is a new offering promoted as blog content that combines the speed and efficiency of AI with the creativity and ingenuity of human writers.
Hoth AI Content Plus – Starts at $300 for 10 blog posts with 1,000 words each.
With this product, The Hoth writers work with OpenAI to create prompts, topics, and keywords. Then, their writers will take the draft and revise it for your website.
Similar to the Hoth Blogger service, each AI content piece includes an image.
Packs of 10, 50, and 100 are available. This is an effective way to receive a high volume of content for your site in 3 days or less.
As of now, 500 and 2,000-word-long articles are coming soon as ordering options.
It will be interesting to see how this content compares to the 100% human content provided through Hoth Blogger in terms of quality.
Hoth Web Copy offers content geared towards specific pages on your site. Examples include home pages, product or service pages, about pages, and landing pages.
SEO Reseller – Content Services Pricing
SEO Reseller offers the following options for content creation services:
2X Content Marketing – $685 for 2 1500-word articles per month for 3 months.
4X Content Marketing – $1,249 for 4 1,500-word articles per month for 3 months.
Landing Page Content Creation – $50 for 1 piece of conversion-focused content. Useful for landing pages or web pages with a specific conversion goal in mind.
On-Page Content & Meta Description – $50 for 500 words of on-page SEO content with an optimized meta title & description. Useful for service, product, and info pages.
Standard Article – $50 for 1 500-word article.
Each article's keywords and links are optimized and incorporate up to 5 stock images. Copy is also included for an optional social media post.
You can get 1 round of revisions per article if requested within 3 days from submission. Each article is checked with Copyscape to avoid plagiarism.
If you're interested in having the finished content added to your site for you, SEO Reseller offers on-page implementation as part of its web design services.
The Hoth vs SEO Reseller: Support
The Hoth
The Hoth provides several support channels, including live chat, a ticketing system to contact their team and receive email support, and scheduled calls for sales & strategy.
The SEO company also provides a dedicated campaign manager for larger packages. You can also find answers to common questions through The Hoth's knowledge base.
SEO Reseller
SEO Reseller offers similar customer service and support compared to The Hoth.
You can call during business hours to speak with a digital marketing expert, live chat, submit a form request, or check the knowledge base for answers to common questions.
Which SEO Company to Choose?
The choice between The Hoth and SEO Reseller for your SEO services largely depends on your specific business needs, resources, and goals.
Both SEO companies offer a comprehensive suite of services ranging from managed SEO and content creation, to other specialized offerings such as link outreach and local business listing creation.
For businesses with a strong emphasis on content creation and those interested in exploring AI-generated content, The Hoth stands out with its Hoth AI Content Plus service, enabling high-volume content production within a short period of time.
The Hoth also offers a more nuanced approach to content marketing, with specific services tailored for different pages on your site and more order flexibility with content quantity and word counts.
On the other hand, SEO Reseller offers a broader array of services extending beyond SEO and content creation, such as brand design and web development. Businesses looking to consolidate their digital needs under one roof may find SEO Reseller more suited to their needs.
In terms of pricing, both companies offer competitive rates for their services, with variations depending on the complexity and scope of the services rendered. It's advisable to carefully review the pricing and service details of each company to ensure it aligns with your budget and expected return on investment.
Regardless of your choice, both The Hoth and SEO Reseller provide reputable SEO services with customer-centric support systems. Whether you're a small business, a startup, a consultant, or a digital marketing agency, these SEO companies can enhance your current offerings, optimize your online presence, and boost your business growth.
To sum up, the choice between The Hoth and SEO Reseller should be guided by your business needs, available resources, and overall goals. Consult with your team, consider your options carefully, and choose the company that best aligns with your overall business strategy.