There are many GoDaddy alternatives for website hosting in 2023.
While GoDaddy is one of the largest domain web hosting companies and domain registrars, there are some strong GoDaddy competitors on the market that offer features like faster hosting performance, more flexibility, and added security.
BoostPlanner is reader-supported. If you buy through a link on my site, I may earn an affiliate commission.
What Are the Best GoDaddy Alternatives?
Based on extensive research and testing, here are the best GoDaddy alternatives including their features, pricing, and how they compare to GoDaddy for web hosting:
Best GoDaddy Alternative for Fast Cloud Hosting
Kinsta is the best GoDaddy alternative for lightning-fast WordPress hosting.
The web host continues to push the boundaries on performance with their cloud-based WordPress hosting platform that can handle the most demanding WordPress sites.
While the starting price of $35 per month is higher than other alternatives on this list, you get what you pay for with the fastest-managed WordPress hosting on the market.
Key Features
Kinsta uses Google's new compute-optimized VMs (C2) which are the best-performing virtual machines per core that the Google Cloud Platform (GCP) offers.
The web host provider uses these virtual machines as the backbone of its infrastructure and hosting plans to provide maximum speed and scalability for WordPress sites.
Kinsta's WordPress hosting platform is built differently than traditional shared, VPS, or dedicated infrastructure in that every site runs in a private isolated software container.
Another powerful feature is the Kinsta content delivery network (CDN). Powered by Cloudflare Enterprise, the Kinsta CDN is included in all plans at no additional cost.
Based on Kinsta benchmark tests, their CDN results in up to a 44% reduction in page load time depending on the location and distance to the origin server.
Kinsta also provides a built-in APM tool (application performance monitoring) to help you detect site performance bottlenecks and issues without the need for a developer.
Also, sites are checked every 2 minutes for potential issues. If a problem is detected, its immediately investigated by Kinsta's engineers.
In addition, Kinsta lets you choose a different data center for each WordPress site you host with them so you can further optimize individual website performance.
A key difference compared to GoDaddy is that Kinsta doesn't provide email hosting. However, Google Workspace (formerly G Suite) is a reliable option for email.
Also, Kinsta is focused on managed WordPress hosting and doesn't offer a standalone website builder. Instead, check out WP page builder plugins like Beaver Builder.
Kinsta Features
Google Cloud Platform (Fast C2 VMs)
Manual backup points
Automatic daily backups
Self-healing PHP technology
Hack and malware removal
SLA-backed 99.9% uptime guarantee
Kinsta MU (must use) WP plugin for caching and CDN integration
Enterprise-level Cloudflare integration
Free one-click SSL certificate
Wildcard SSL support
Import SSL certificates
SFTP and SSH access
PHP 8.0 support
HTTP/3 support
Automatic database optimization
Authenticator-based 2FA for extra security
Choose from 33 Google Cloud data centers
Custom dashboard
Multi-user environment
Transferable sites
White-labeled cache plugin
Staging areas
Performance monitoring tool
Local development tool
Support
Kinsta offers live chat support within its MyKinsta dashboard including knowledgeable multilingual support provided by experienced WordPress hosting developers.
Compared to GoDaddy, Kinsta's support is more responsive.
Multilingual support is offered in seven different languages including English, German, Dutch, Spanish, French, and Italian.
Currently, 24/7 support Monday-Friday is only available in English.
You can also contact the hosting company by webform or email and you'll receive a response within one business day.
Note: Support hours vary depending on the inquiry such as sales, site migrations, billing, account management, and malware or abuse issues.
The web host also provides an online help center filled with guides and tips, as well as a knowledge base with answers to FAQs, technical guides, and troubleshooting material.
Plans & Pricing
Kinster offers a range of plans for different levels of usage.
This includes a starter plan, a pro plan, several business and enterprise plans, and custom plans for agencies and enterprises with higher volume needs.
Starter Plan
$35 per month
1 WordPress Install
25,000 visits
10 GB disk space
Free SSL, CDN, Staging
Free Migrations
Pro Plan
$70 per month
2 WordPress Installs
50,000 visits
20 GB disk space
Free SSL, CDN, Staging
Free Migrations
Business Plans 1-4
$115-450 per month
5-40 WordPress Installs
100,000-600,000 visits
30-60 GB disk space
Free SSL, CDN, Staging
Free Migrations
Enterprise Plans 1-4
$675-1,650 per month
60-150 WP Installs
1-2.5 million visits
100-250 GB disk space
Free SSL, CDN, Staging
Free Migrations
Custom Plans
Kinsta provides custom plans and dedicated VMs for agencies or enterprises with larger needs.
Additional Info
No long-term contracts
Easy plan upgrades or downgrades
24/7 expert support
30-day money-back guarantee
Demos available
You can get 2 months of free hosting when you subscribe to an annual plan.
Why Kinsta?
Compared to GoDaddy, Kinsta is a much faster hosting solution if you're interested in spinning up WordPress sites.
If you don't mind paying a premium for industry-leading WordPress hosting in terms of speed and scalability, Kinsta is the GoDaddy alternative for you.
---
Best All-Around GoDaddy Alternative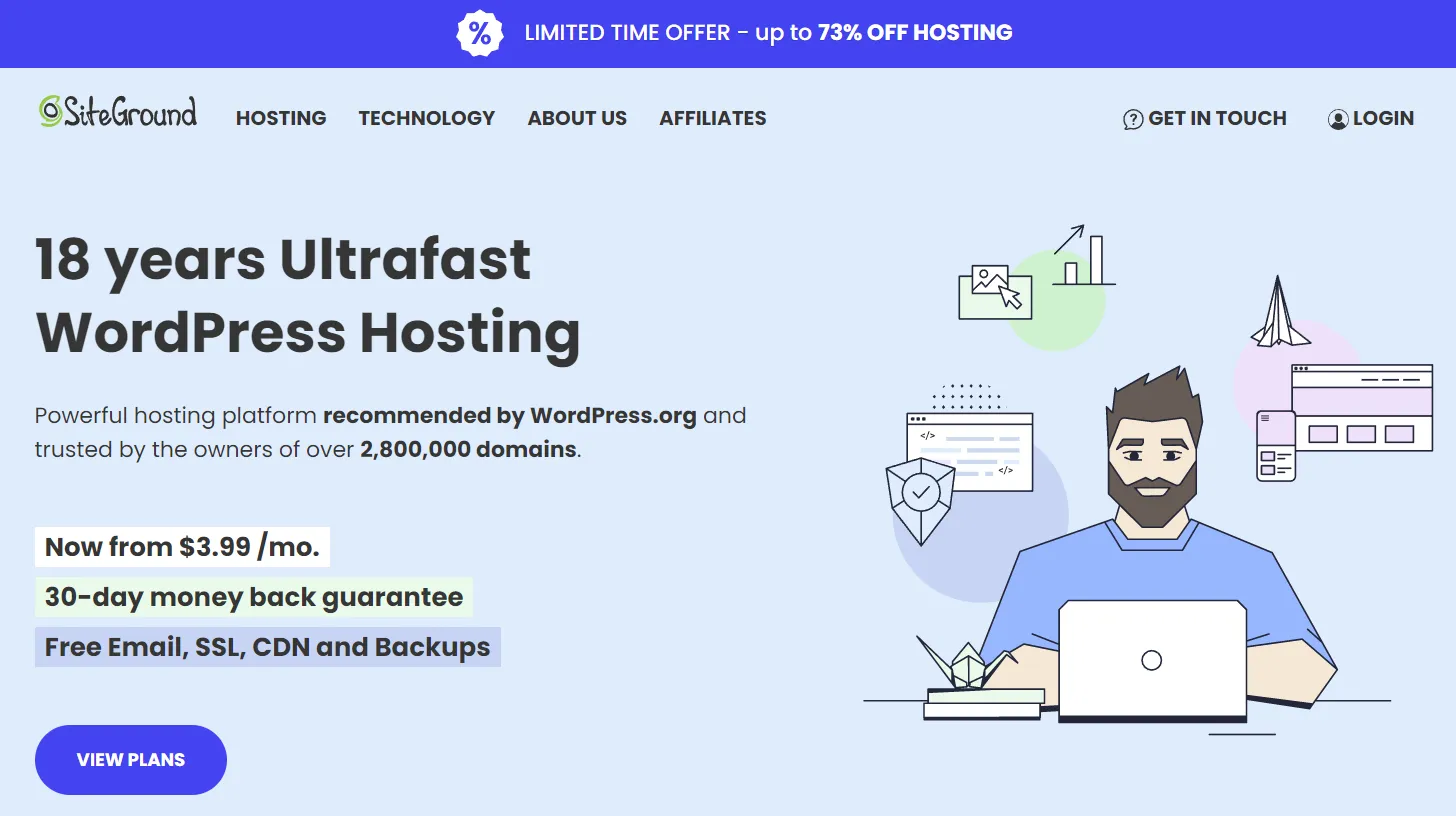 SiteGround is another top GoDaddy alternative that offers an impressive combination of reliable performance, features, and affordable plans for hosting WordPress sites.
Key Features
The web hosting company offers shared hosting, cloud hosting, enterprise solutions, email hosting, and domain registration.
Whereas Kinsta (shared above) focuses on providing the fastest WordPress hosting, SiteGround offers speed plus email hosting and domain name registration.
Like Kinsta, SiteGround uses modern Google Cloud infrastructure for high availability, fast connectivity, and low latency.
However, SiteGround uses less-performant N2 series machine types in its infrastructure in comparison to the faster compute-optimized C2 machines used by Kinsta.
You can learn more about the machine families (to create virtual machines) offered by Google's Compute Engine (infrastructure as a service) that these web hosts use here.
Still, SiteGround's infrastructure is faster than most web hosts out there, providing a top-tier combo of affordable plans, easy-to-use features, and high performance.
SiteGround also provides one of the most secure web hosting services on the market.
A dedicated security team at SiteGround uses a custom web application firewall (WAF) and in-house written rules to protect hosted sites from vulnerabilities and exploits.
SiteGround Features
Google Cloud Platform (N2 VMs)
6 Google Cloud data center locations
Unmetered traffic
WordPress starter site-building wizard for easy installations
Free access to the Weebly site builder
Free WP installation with migration plugin
Cloudflare CDN integration
Automatic daily backups
Free SSL certificate
Free email addresses and related tools
Out-of-the-box caching
Free WooCommerce plugin installation
Managed security and updates
Optional SiteGround CDN (beta feature)
SuperCacher WP plugin for performance adjustments
NGINX-based static and dynamic cache
Unlimited databases
Dedicated IPs (add-on)
Domain registration service (extra)
Expert site migration service (extra)
Support
With satisfaction rates close to 100%, SiteGround is known for high-quality customer support. The web host offers phone, email, and live chat.
Both live chat and support using the ticketing system are available 24/7.
SiteGround boasts 90% resolution at first contact and also maintains an extensive online knowledge base with how-to guides, and troubleshooting instructions.
Additionally, helpdesk tickets receive a first reply within 15 minutes on average.
Plans & Pricing
SiteGround offers 3 shared web hosting plans and 4 separate cloud hosting plans.
Here are SiteGround's shared hosting plans:
StartUp Plan
$14.99 per month
1 website
10 GB web space
10,000 visits/month
Free SSL
Free CDN
GrowBig Plan
$24.99 per month
StartUp features plus:
Unlimited websites
20 GB web space
100,000 visits/month
On-demand backup copies
30% faster PHP
1-click WordPress staging feature
GoGeek Plan
$39.99 per month
GrowBig features plus:
Unlimited websites
40 GB web space
400,000 visits/month
Git integration
White-label clients
Free private DNS
Priority support
SiteGround commonly offers special pricing deals on its shared web hosting plans where you can get around 70% off the 1st month's cost with an annual plan.
Suitable for high-traffic sites, SiteGround cloud hosting starts at $100 per month and includes 4 CPU cores, 8 GB memory, 40 GB SSD space, and 5 TB of data transfer.
The higher-tier cloud hosting plans provide additional CPU cores, memory, SSD space, and website data transfer capacity.
Also, SiteGround provides a 30-day money-back guarantee for shared hosting plans and a 14-day guarantee for cloud hosting plans.
Why SiteGround?
SiteGround offers all the essential features you would expect a web host to offer. It's also one of the fastest shared hosting options out there.
The web hosting company offers a first-class combination of affordability, security, and speed, making it the best all-around GoDaddy alternative.
---
Best GoDaddy Alternative for Easy Website Creation
Wix is a user-friendly website builder and hosting platform that offers drag-and-drop tools and 800+ site templates to help small and mid-sized businesses create websites.
While GoDaddy is a quicker solution for whipping up a simple website, Wix is easier to use and gives you more creative control, features, and customer support options.
Key Features
Wix is one of the most popular website builders in the world as a result of offering a super easy-to-use website editor that doesn't limit you as much as other builders.
The established site builder and hosting company also provides features for all types of businesses and websites, including small businesses, eCommerce, and enterprises.
There is a free version of the Wix website builder available that lets you create a simple site. It's a good way to try the site builder tool and templates out, but due to its limitations and the ads that are displayed, it's not a good option for professional users.
Another major feature is Wix's app store called Wix App Market, which offers more than 250 web apps, integrations, and add-ons to enhance and customize Wix websites.
These apps provide additional site functionality like online chat, popups, reviews, notifications, calendars, dropshipping solutions, and social media integrations.
What's more, Wix boasts over 800 site templates as well as various form types and templates to capture contact details, feedback, payments, and more.
Last but not least, Wix offers a suite of business tools called Ascend by Wix. For an additional monthly fee, you gain access to built-in tools for customer management, email marketing, social media, video ads, SEO tools, and other marketing integrations.
There is also a Wix SEO Wiz feature that shares a checklist of best-practice SEO tasks and considerations to keep in mind for improving your site's SEO.
You can also set custom meta tags like search titles and meta descriptions, customize page URL structure, and add structured data markup under Wix's SEO settings.
Features
Wix offers many different features depending on the plan including:
A free version that is useful for trying the site builder out
More than 800 website designs and form templates
Wix App Market for additional site functionality
A mobile app to update and manage sites on the go
Wix Logo Maker app to create a professional logo for free
Ecommerce selling features for online payments and products
Ascent by Wix business tool suite (additional subscription required)
See the majority of offered features under the following plans & pricing section.
Plans & Pricing
Wix offers a free plan, 4 premium plans, 3 business & eCommerce plans, and custom enterprise solutions.
Here are Wix's free, premium, and enterprise plans:
Free
Assigned site URL
Wix ads appear on every page and favicon
500 MB storage
500 MB bandwidth
Customer support
Combo
$16 per month
Custom domain
Free domain for 1 year
Remove Wix ads
Free SSL certificate
2 GB storage space
Stream 30 min of video
24/7 customer care
Unlimited
$22 per month
Combo features plus:
5 GB storage space
Stream 1 hour of video
$700 in ad vouchers
Site booster app (free for 1 year)
Visitor analytics app (free for 1 year)
Pro (Best Value)
$14.99 per month
Unlimited features plus:
50 GB storage space
2 video hours
Events calendar app (free for 1 year)
Professional logo
Social media logo files
VIP
$24.99 per month
StartUp features plus:
Unlimited websites
20 GB web space
100,000 visits/month
On-demand backup copies
30% faster PHP
1-click WordPress staging feature
Enterprise Plans
Starts at $500/month
Personalized plans
Dedicated support team
Enterprise-grade security
Custom roles and permissions
Professional 1-on-1 consultation services
Custom storage
Add custom code and 3rd-party APIs
Scalable billing solutions
Here are Wix's business and eCommerce plans with online payment features:
Business Basic
$27 per month
Secure online payments
Offer plans and recurring payments
Custom accounts
Custom domain
Free domain for 1 year
Remove Wix ads
50 GB storage space
5 video hours
Ad vouchers
Unlimited products
Abandoned cart recovery
24/7 customer care
Business Unlimited
$32 per month
Business Basic features plus:
100 GB storage space
10 video hours
Offer product subscriptions
Display product pricing in local currencies
Automated sales tax for 100 transactions/month
Advanced shipping and order fulfillment options
Sell on marketplaces
Source and sell up to 250 products with dropshipping by Modalyst
Collect and post up to 1,000 product reviews by KudoBuzz
Business VIP
$59 per month
Business Unlimited features plus:
Unlimited storage
Unlimited video hours
Automated sales tax for 500 transactions/month
Dropshipping for unlimited products
Collect and post up to 3,000 product reviews
Loyalty program by Smile.io
Customized analytics and reports
Priority customer care
Wix offers a 14-day money-back guarantee with all paid plans.
Support
Compared to GoDaddy, Wix offers more help and support features.
Support channels include email, live chat, and 24/7 phone support.
Wix also offers advanced specialist support which isn't offered by GoDaddy as well as a more understandable help center and video tutorials.
Another helpful feature is Wix's on-page help tool while editing a site. This allows you to find and view answers to your questions right inside the site editor.
Why Wix?
Wix is the recommended GoDaddy alternative for people and businesses who prefer a more codeless, drag-and-drop website building and hosting experience.
Note: Shopify and WooCommerce (eCommerce platform built on WordPress) are two reputable alternatives for eCommerce sites, hosting, and product & payment features.
Wix offers more creative freedom and control in terms of how your site looks compared to GoDaddy and is easy to use. However, you sacrifice some freedom and performance versus running a WordPress site with a fast web host like Kinsta or SiteGround.
---
Conclusion
The web hosting providers above are the best GoDaddy alternatives on the market and have been carefully selected based on either speed, reliability, or ease of use:
Kinsta – Maximum speed cloud-based WordPress hosting
SiteGround – Best all-around and secure WordPress hosting
Wix – Beginner-friendly site builder platform with hosting
While there are other viable GoDaddy alternatives for website hosting out there, the web hosts featured in this article are clear leaders in these three areas.
Posts About Web Hosting:
Posts About SEO Software Tools: