Modified date: January 12th, 2023
Looking for the best on-page SEO checker to optimize your content for Google?
Here's a list of the best on-page SEO checkers to optimize content for your target audience and improve your search engine rankings.
BoostPlanner is reader-supported. If you buy through a link on my site, I may earn an affiliate commission.
What to Look For in an On-Page SEO Checker
Consider these factors when choosing the best software for checking on-page SEO:
The type of on-page elements and factors that are checked by the software.
SEO analyzer suggestions go beyond basic on-page elements like meta tags.
If the on-page SEO checker provides competitor-based insights.
The on-page analysis provides accurate and reliable insights.
The user interface is relatively easy to use and learn.
Positive feedback is provided by real users in reviews.
What Are the Best On-Page SEO Checkers?
Based on testing and using these on-page SEO tools to optimize the content on this site, here are the best on-page SEO checkers for 2023:
My content never feels complete without using Surfer. This is a powerful on-page SEO checker tool I use daily for optimizing content as well as topic and keyword research.
In my opinion, Surfer is the best SEO analyzer for gaining on-page keyword and SERP insights based on your top-ranking competition on Google.
Surfer has also introduced a new major feature called Grow Flow which is described as an AI growth management platform to maximize your SEO efforts.
With Grow Flow, you can integrate your site's Google Search Console property with Surfer to get weekly AI-driven SEO tasks to help you increase your site's organic traffic.
Surfer On-Page SEO Features
Optimize your content based on 500+ factors and the top 50 competitors on Google.
An SEO score based on advanced NLP (natural language processing) algorithms.
Get suggestions for related terms, headers, word count, and images.
SEO audit tool to analyze page keyword usage, meta tags, page speed, and more.
A SERP analyzer for checking top-ranking pages for speed, words, links, and more.
Grow Flow feature for AI-powered content, keyword, and internal link suggestions.
Use Surfer to add related words, structure your content, and save hours per web page. Surfer is excellent for enhancing old and new content with its rank-boosting insights.
Check out this Surfer SEO review to explore its key features and pricing plans in detail.
Surfer Offer: 7-Day Money-Back Guarantee
---
While Surfer is the more advanced SEO tool for finding related words to use, Semrush offers tools for on-page SEO, site audits, rank tracking, competitor research, and more.
Semrush On-Page SEO Features
Get on-page optimization ideas based on the top 10 organic competitors on Google.
Get backlink ideas based on competitor anchor texts and relevant high-ranked sites.
Technical SEO ideas to improve your site's health based on Semrush's site audit tool.
Semantically related keyword suggestions based on the top 10 pages in Google.
Content and user experience ideas to position keywords and improve UX state.
Semrush's Guru plan includes an additional Content Audit tool to identify site pages to improve, an SEO content template tool with more competitor-based recommendations, and a writing editor to check readability and the use of basic SEO elements.
Learn more in this Semrush review and get details on Semrush pricing plans here.
Semrush Offer: 7-Day Free Trial
---
SE Ranking is an affordable all-in-one SEO software with an on-page SEO checker, site audits, keyword research, rank tracking, competitor analysis, and a report builder.
SE Ranking On-Page SEO Features
Detailed SEO analysis tool for specific pages based on your target keyword.
Website audit tool to detect critical SEO errors and analyze all pages against key search engine optimization parameters.
Scan meta tags, keyword density, external and internal links, page speed, and more.
Compare on-page parameters and term usage with competitors side-by-side.
View social signals such as shares detected for your web pages.
Page changes monitoring tool to get notified when a web page changes.
Here's a look at the new and improved on-page SEO checker released by SE Ranking in May 2022: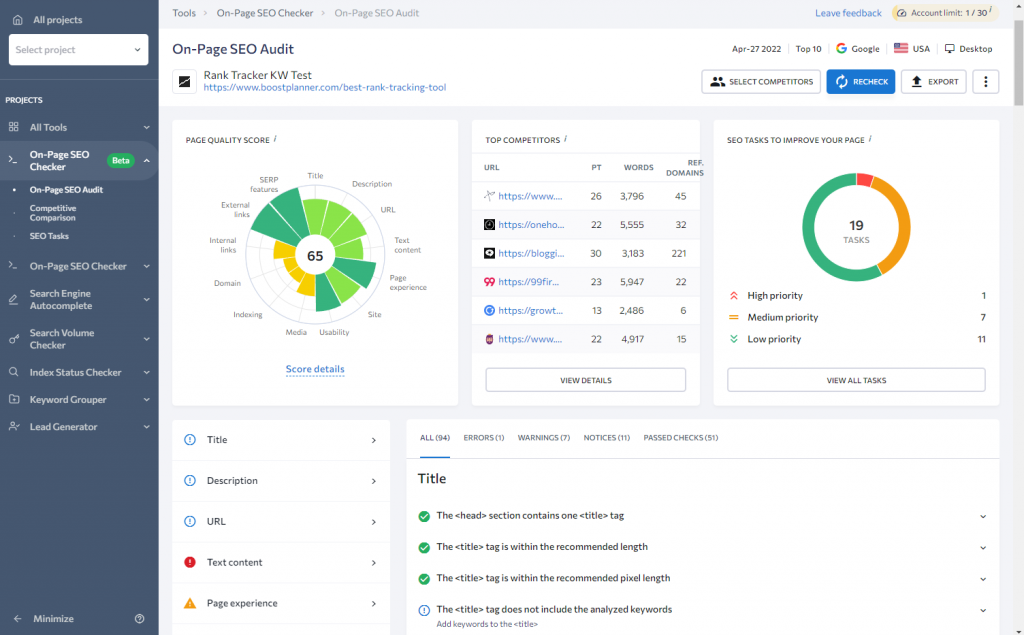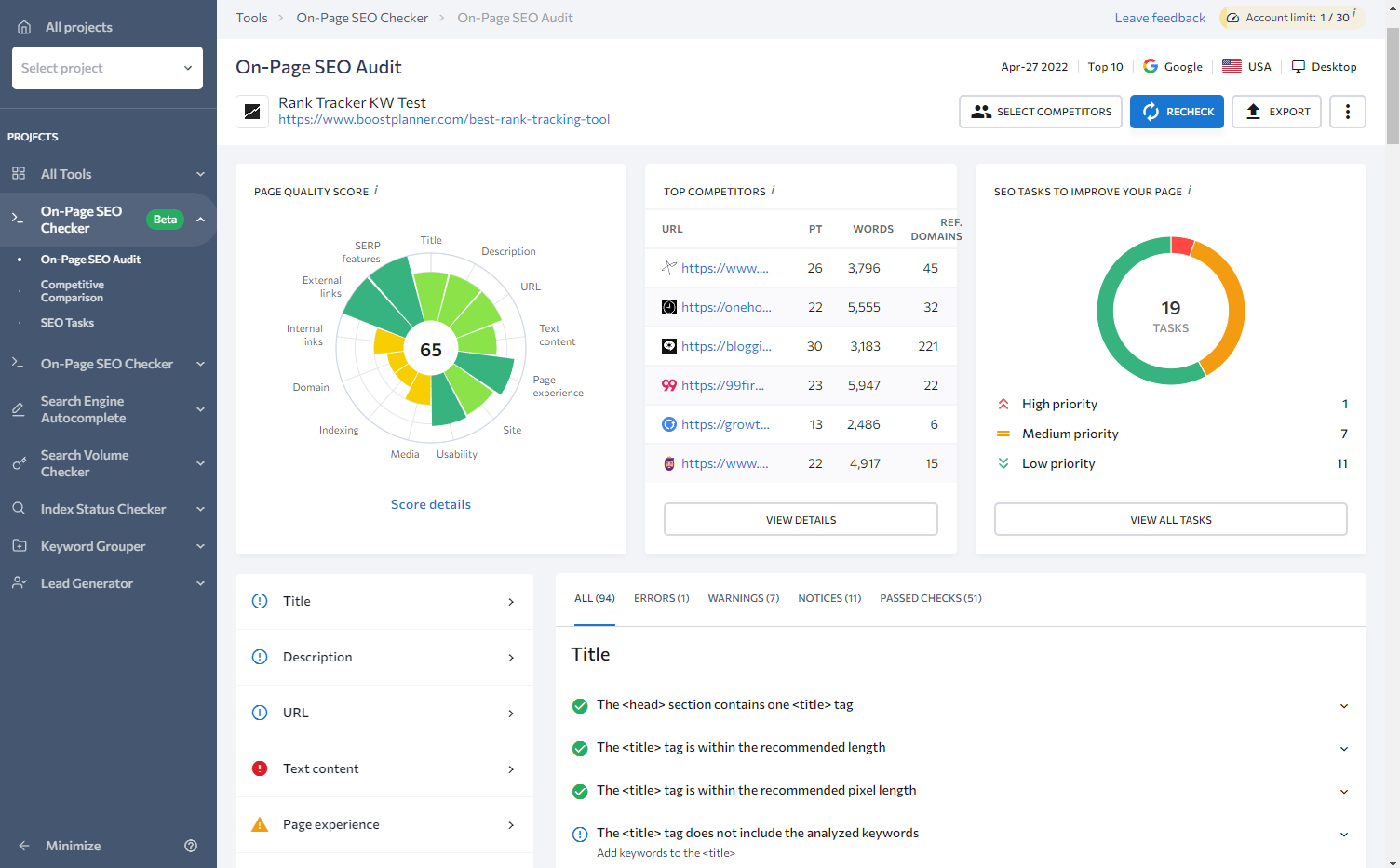 SE Ranking offers a solid set of on-page SEO tools that are continuing to improve in capability and usefulness for such a low monthly price.
Check out this SE Ranking review to explore key features and pricing plans.
SE Ranking Offer: 14-Day Free Trial
---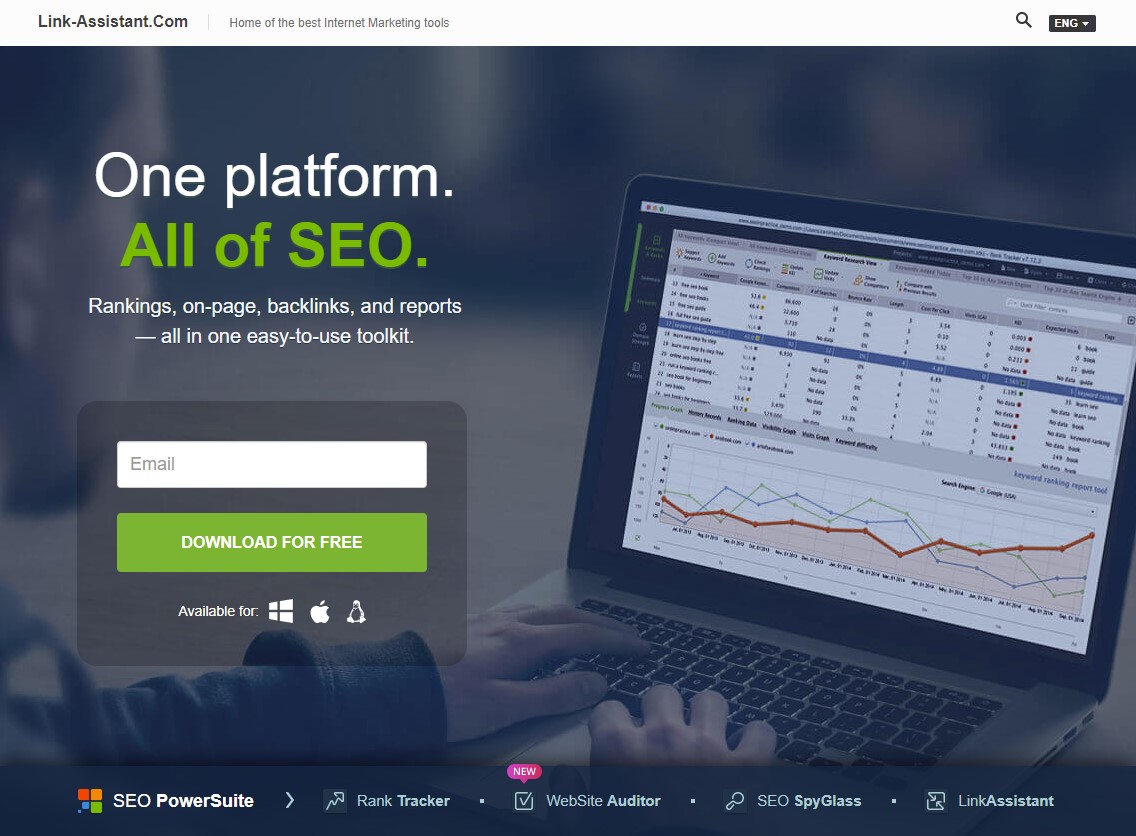 Another popular SEO software with reliable on-page SEO features is SEO PowerSuite. This is a bundle of 4 SEO tools. The WebSite Auditor is used for content optimization.
SEO PowerSuite On-Page SEO Features
Complete on-page SEO audits with helpful suggestions and how-to advice.
Includes a content editor with an on-page SEO checker similar to Rank Math.
Find ideal keywords to use based on TF-IDF analysis and top-10 ranking sites.
Site audit tools to analyze technical SEO and Core Web Vitals metrics.
Site structure visualizations to uncover potential problems with site architecture.
Connects with Google Analytics to analyze top pages and search traffic stats.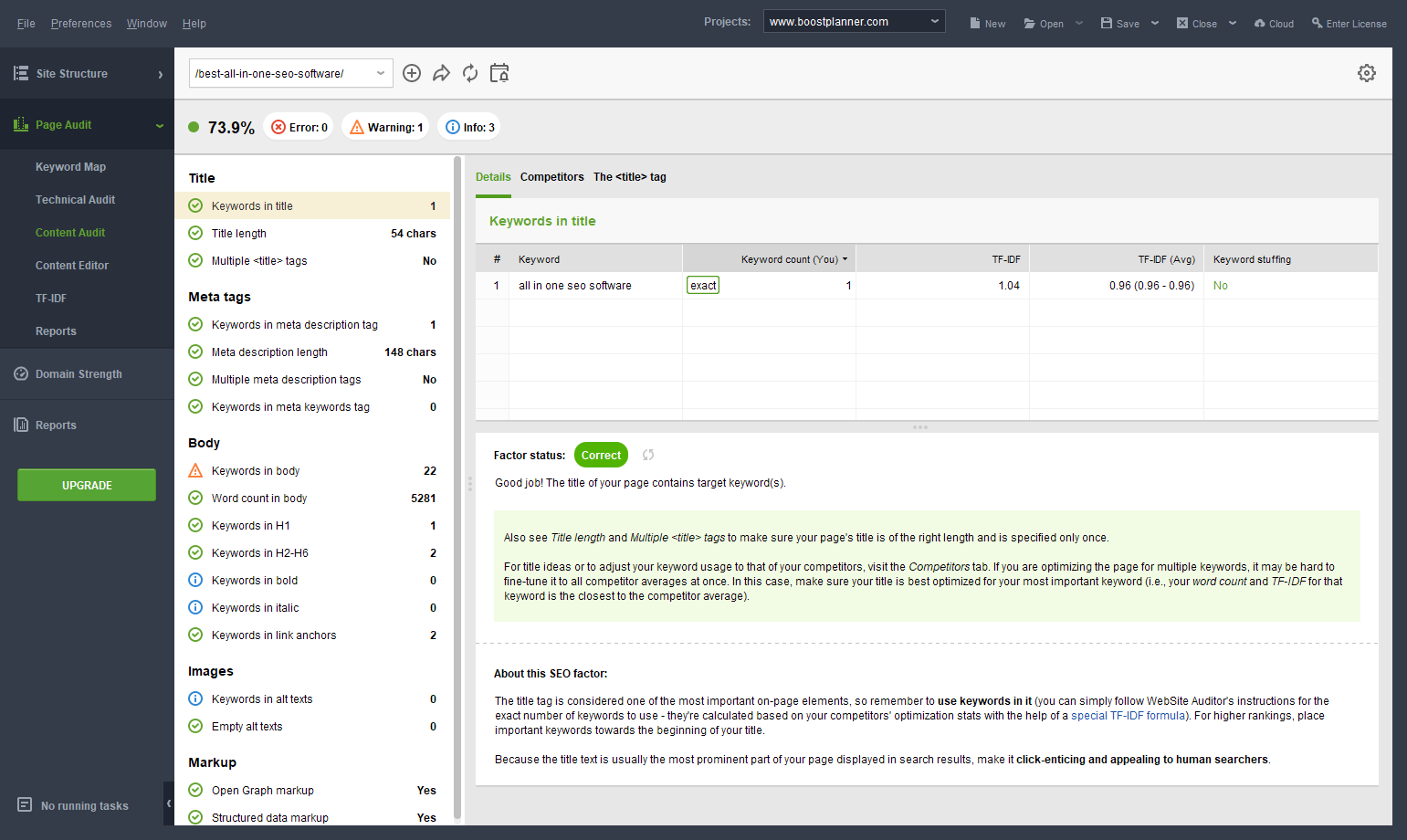 The on-page SEO checker and landing page optimization features are free to use. A paid license is required for crawling more than 500 URLs, saving, and reporting.
SEO PowerSuite Offer: Free Version with Limited Features
---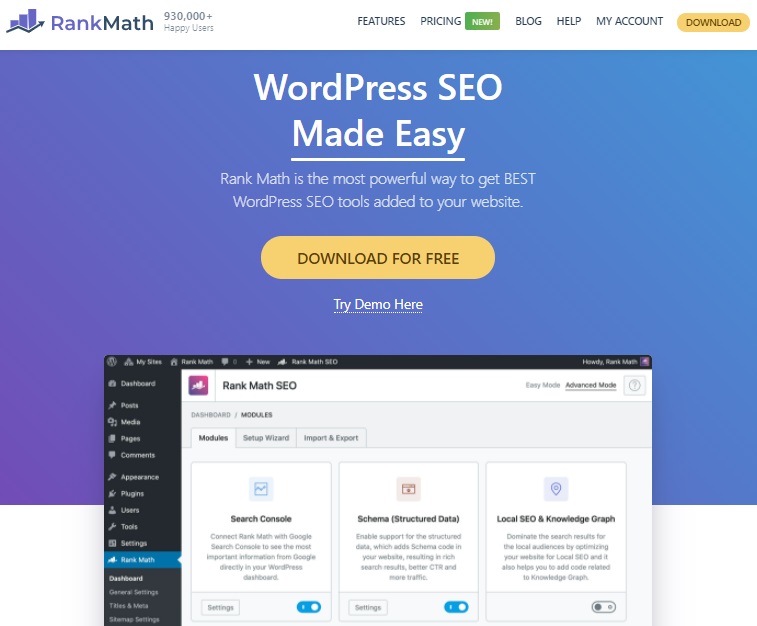 Rank Math is a WordPress plugin with an on-page SEO checker among other features. Additional features include AI content generation and a rank tracker inside WordPress.
Rank Math On-Page SEO Features
On-page SEO checker with a page score right inside the WordPress editor.
User-friendly setup wizard to tune your WordPress and SEO settings.
Control search title and meta description of posts, pages, or custom post types.
Preview how your post will appear in the search results including rich snippets.
Integrates with Google Search Console & Google Analytics for dashboard analytics.
The Pro plan includes a schema generator to add structured data to your pages.
Here's an example of the free SEO checker inside the WordPress page editor:
In my opinion, Rank Math is an essential SEO plugin for WordPress users.
Rank Math Offer: Free Version with Limited Features
---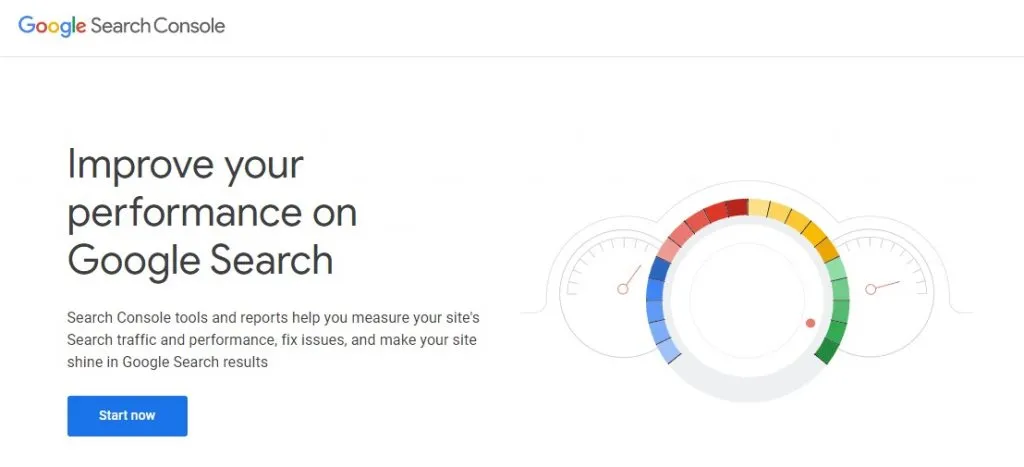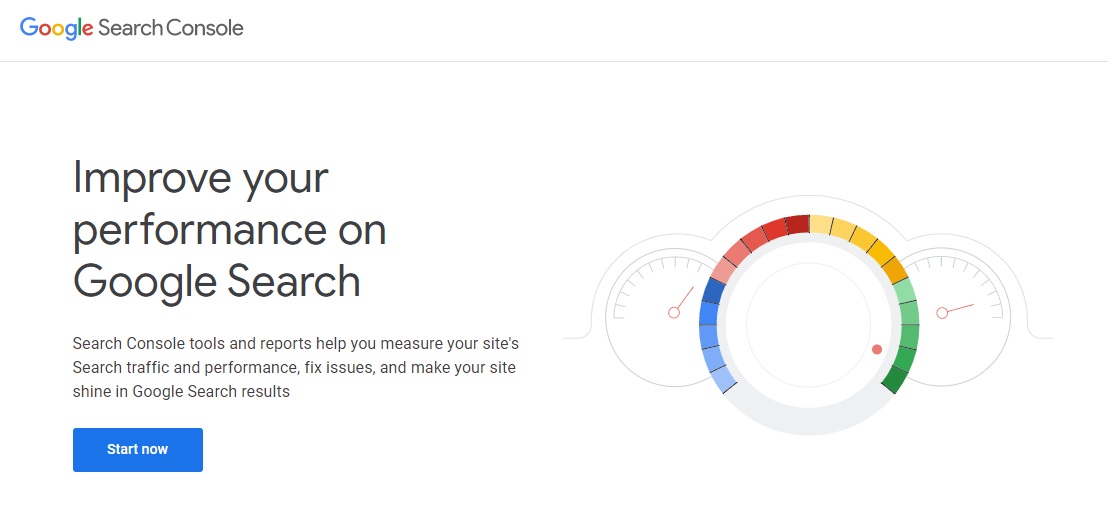 This list of top on-page SEO checkers isn't complete without Google Search Console. GSC is useful for getting insights into page experience and visibility on Google.
Google Search Console On-Page SEO Features
Identify web pages with mobile-friendly, user experience, and Google indexing issues.
Page search engine rankings found by Google including click and impression trends.
Inspect individual pages and get crawl, coverage, and mobile usability insights.
Submit sitemap files to aid Google with indexing your content into Google Search.
View page coverage status and if pages are indexed, excluded, or blocked in Google.
Google Search Console is free to use.
---
Conclusion & Recommendations
The on-page SEO checker tools featured above will help you optimize your web pages to help search engines like Google better understand your content.
Not only that but some of these software platforms like Surfer and Semrush are also super useful in writing content for SEO by helping to fix spelling and grammar errors and providing suggestions for topic-relevant terms to incorporate into your content.
As a result, these tools can help guide you towards improving your keyword rankings, content engagement with your target audience, and increasing organic traffic levels.
My Favorite Tools for On-Page SEO Insights:
Surfer SEO – Advanced on-page SEO analyzer tools to optimize your content with the most relevant words and phrases based on top-ranking pages on Google.
SE Ranking – Best budget-friendly all-in-one platform with reliable and continually improved tools for all aspects of SEO including on-page optimization and audits.
Semrush – Complete set of SEO analysis tools to help you optimize your content, run detailed on and off-site audits and gain valuable competitor insights.
I hope this post helped you find the best on-page SEO checker tool for your needs.
Interested in outsourcing your SEO? Check out these affordable SEO packages.
More Posts About SEO Software Tools: