Updated on May 16th, 2022
Looking for the best software to help your local SEO efforts? Here's a list of the best local SEO tools for managing and improving business and website search engine visibility in local search results pages (SERPs).
Which tools should you use? This post will help you understand your options. Learn more about the best local SEO software including key features and pricing below.
Based on experience, here are the best local search engine optimization tools:
Find out more about these top local SEO tools and their features below.
Best Local SEO Software Overview
Local SEO Software
Key Features
Starting Price

Get found on Google Search and Maps in your local area
List your products and services
Receive and respond to reviews
Post answers to frequently asked questions
Create posts, offers, and events

Free
Try Google Business Profile

Research competitor keyword rankings, traffic, and backlinks
Track local keyword rankings daily, every 3 days, or weekly
Find keywords, monitor backlinks, and detect page changes
Audit sites for technical SEO issues and on-page insights
Features to Facebook and Twitter social media accounts
Create automated SEO reports

$29.40 per month
(14-Day Free Trial)
Try SE Ranking

Audit local search visibility and business listings
Track local keyword rankings including competitors
Local citation building and data aggregator services
Reputation tools to collect, monitor, and showcase reviews
Simple automated local SEO reports

Varies by product/service
(14-Day Free Trial)
Try BrightLocal

Check competitor rankings, traffic, and backlinks
Track local rankings on Google with daily updates
Local listing management platform (add-on service)
Submit business info to 70+ directory sites (listing platform)
Collect, monitor, and respond to reviews (listing platform)
Create in-depth digital marketing and SEO reports

$119.95 per month
(7-Day Free Trial)
Try Semrush

Automatically sync and update listings in one place
Submit business data to directory sites and aggregators
Monitor and respond to customer reviews detected online
Manage Google and Facebook listings in the dashboard
Create reports on local search presence, listings, and reviews

$14/mo per location
(Moz Pro offers 30-Day Free Trial)
Try Moz Local

A range of local SEO software and services (free and paid)
Local business citation building and data aggregation service
Find listing opportunities and uncover local competitors
Track keyword rankings in organic and local search results
Tools to monitor, manage and respond to online reviews

Varies by product/service
(Free Account)
Try Whitespark

Dedicated rank checker to track many local keywords
Many ways to filter and segment keywords and data
Audit your site for technical issues and opportunities
Monitor changes in your website backlink profile
Created automated local search ranking reports

$39 per month
(14-Day Free Trial)
Try Nightwatch

Find low-difficulty local keyword ideas
Simple rank tracker tool with reports
Inspect various website authority metrics
Uncover competitor backlink opportunities
Analyze the SERPs to understand competitors

$49 per month
(10-Day Free Trial)
Try Mangools

Desktop website crawler tool for SEO auditing
Detect missing elements and on-page opportunities
Visualize site structure and internal linking
Save, schedule, and compare site audits
Crawl up to 500 URLs with the free version

£149.00 per year
(Free Version)
Try Screaming Frog

Get geographical visitor data such as city, region, and country
See if visitors come from search, social, or other sites
Understand visitor navigation across your website pages
Create custom segments and filter data for traffic insights
Create custom events to track campaign performance

Free
Try Google Analytics
Why is Local SEO Important?
Local SEO helps your business appear for relevant searches in the areas you serve.
Local optimization of your website content and listings can help your business appear in front of more prospective customers when they're searching online for the types of products or services you offer, which can result in more leads and sales.
Consider these local SEO statistics:
What to Look For in Local SEO Software
Here are some factors to consider for choosing the best local SEO tool for you:
Capabilities for tracking keywords based on the specific locations you serve.
Tools for auditing and analyzing competitor site rankings and backlink profiles.
Features for managing and updating local business listings and citations.
Features for monitoring online reputation and online reviews.
Ability to analyze website traffic and content performance.
Ability to create SEO reports to track local search progress.
Note: There are many popular SEO tools on the market; some are more specialized, niche tools, while others are more complete software platforms. The use of more than one tool may be required depending on your local search needs.
---
What Are the Best Local SEO Tools?
Based on 11+ years of experience using these SEO software tools for managing client campaigns and my own projects, here are 10 of the best local SEO tools for 2022:
Google My Business (GMB) offers a free business profile and set of local SEO tools for managing your local business presence in Google Search and Google Maps.
Google My Business Features
A Google My Business listing gives your local business the ability to collect and respond to Google reviews and messages from customers and prospects.
A GMB listing is necessary to rank high in Google local search results such as the map pack (location-based results), and Google Maps for nearby searches.
Edit your business information that appears on your Google listing, including address, phone number, website URL, business categories, and business description.
Share photos related to your business and post updates about events and special offers.
Get local insight on your business listing such as the number of visits, local keywords your business is appearing for, mobile calls, requests for directions, and more.
Having an up-to-date Google Business Profile that earns Google reviews can help your business get found in Google Search and Google Maps when people search for your business name and products or services you offer.
---
SE Ranking is an all-in-one SEO software that includes many helpful tools for small businesses to enterprise-level, local SEO, and SEO in general at an affordable price.
SE Ranking Features
Unique marketing plan features and suggestions to help guide your local SEO efforts.
In-depth website auditing and on-page SEO checker tools.
Keyword rank tracker tool to monitor your local ranking performance.
Monitor your off-site optimization factors including backlinks.
Competitor analysis tools for SEO and Google Ads keyword research.
Powerful report builder to create custom reports and track local SEO progress.
I personally believe SE Ranking is one of the best offerings on the market for the feature set and price point for new local businesses or those on a tight budget.
Check out this SE Ranking review covering features in more detail.
Pros
Most affordable all-in-one SEO software on the market.
Accurate local position tracker with solid tagging options.
Large database of local keyword and competitive data.
Option for daily keyword rank updates with plans.
Flexible plan options for adjusting pricing.
Cons
The user interface can feel somewhat disorganized.
Can take some time to learn all provided features.
Pricing
Monthly SE Ranking pricing starts as low as $23/mo. Save 20% with annual billing.
SE Ranking offers a 14-day free trial. No credit card is required.
---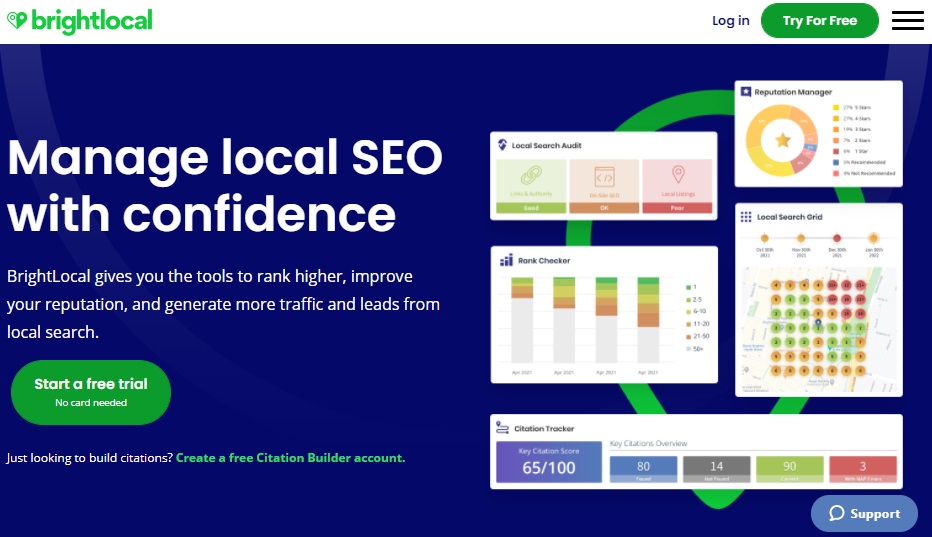 BrightLocal provides an affordable toolkit of local SEO tools that help local businesses manage and scale their local search efforts for one or multiple business locations.
BrightLocal Features
Local search audits covering on-site SEO, online listings, links, and reviews.
Audit GMB listings, monitor local ranking signals and gain more GMB insights.
Track keywords in Google & Bing with a simple rank tracker and local SEO reports.
Track local keyword rankings with a unique top-down grid view across your area.
Monitor, clean up and submit your local citations across relevant directories.
You own your listings and they are not removed if you decide to end services.
Hand-off manual submission of business info across top data aggregator networks.
Tools to create review campaigns, monitor online reviews, and showcase reviews.
BrightLocal's affordable tools and services can help you expand your listing presence, earn more online reviews, and improve local search engine rankings.
Pros
A low-cost way to create and update local listings and online citations.
Can select specific citations to have built by Brightlocal's team.
Useful tools for performing SEO audits and generating reviews.
Simple and convenient local search tracking for sites and clients.
Visually appealing and insightful review and reputation reports.
Cons
Done-for-you citation creation service can take several weeks.
Lacks backlink data and in-depth competitor research tools.
Pricing
BrightLocal monthly plans start at $29 per month. Annual billing includes 2 free months.
The Multi-Business plan for $49 per month is required for white-label reports.
The SEO Pro plan for $79 per month provides access to Google mobile rank tracking and competitor tracking.
Citation building starts at $2 per citation.
You can also pay just for the reputation manager features for $8/mo per location.
BrightLocal offers a 14-day free trial. No credit card is needed.
---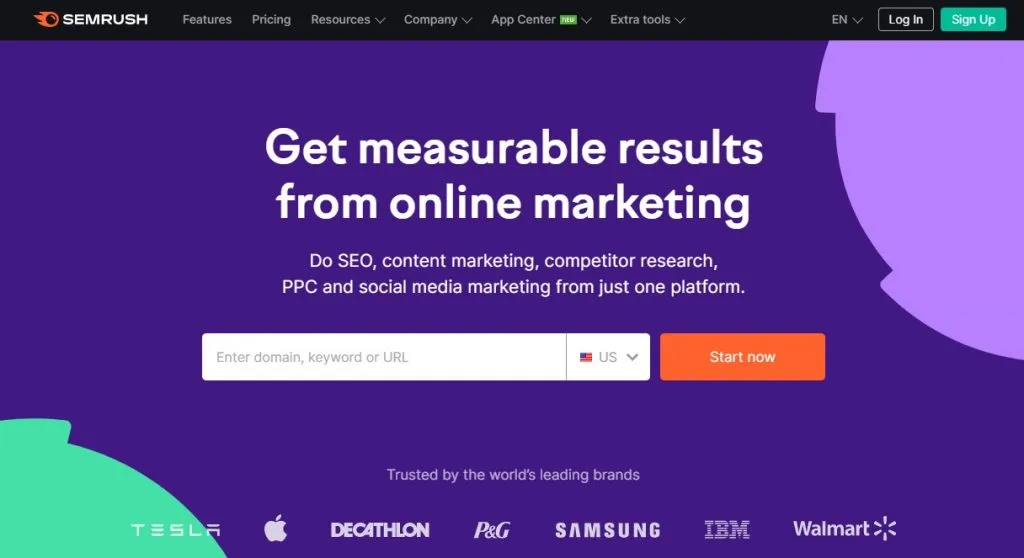 Semrush is a complete search engine optimization (SEO) toolkit that includes a variety of helpful local SEO services, local listing management tools, and other features for traditional SEO.
Semrush Features
Automatically distribute your business data to business directories (over 80 for the U.S. and over 40 for other countries), edit your information in one place to update all sites, and suppress duplicate listings with Semrush's local listing management tool.
The local listings management tool shows your local ranking trends, compares your position to other local businesses in Google Maps, lets you organize GMB & Facebook listings, and provides reports on how your listings perform.
Additional local listing tool features include the ability to collect and respond to reviews on your GMB & FB listings directly from Semrush, see ratings from various sources, and get notified when a user suggests changing the information on one of your online listings.
Monitor multiple business locations in one place and get recommendations for better local search results including a progress report.
As a complete SEO toolkit, Semrush also provides site audits, rank tracking, keyword research, backlink analysis, competitor analysis, content gap tools, and local SEO reporting features that are valuable additions to local marketing efforts.
Semrush is a top choice for growing local businesses. You get a complete SEO platform with first-class features for keyword research, rank tracking, backlink research, competitor analysis, listings management, and review monitoring all in one place.
Check out this Semrush review exploring features in more detail.
Semrush Local Listings Management Tool
Scan and check your listings for free with the local listings management tool here. This is a feature-rich tool in itself. You can use the citation finder tool to discover where to submit your business information and fix data inconsistencies across listings.
It allows you to update your business, name, address, phone number, and other listing data across 70+ local directories in the U.S. from one dashboard. You can also connect your Google business profile and sync your data with Facebook.
Example directory sites include Google Maps, Bing, Apple Maps, Amazon Alexa, Citysearch, Foursquare, Yelp, YP.com, Yahoo, Facebook, TripAdvisor, Factual, HotFrog, and a lot more.
The local listings tool also provides features to monitor reviews across major review sites including 70+ directories and analyze your star rating progress. Further, you can respond to Google and Facebook reviews directly from the tool.
Pros
An array of feature-rich tools that are helpful for managing local SEO efforts.
Update your business listings and citations for over 70 directories.
Track daily local keyword rankings and create detailed SEO reports.
Monitor local competitor rankings side-by-side with the position tracker.
One of the largest databases of local keyword research and link data.
Cons
The Guru plan is required for historical data and content marketing tools.
Can be expensive for multiple users and tracking many websites.
Pricing
Monthly Semrush pricing starts at $119.95/mo. Save up to 17% with annual billing. For local listings management, a basic location costs $20 per month, per individual location.
A premium location (includes local ranking heatmap and review management features) costs $40 per month, per individual location.
Semrush offers a 7-day free trial and free account with limited feature access.
---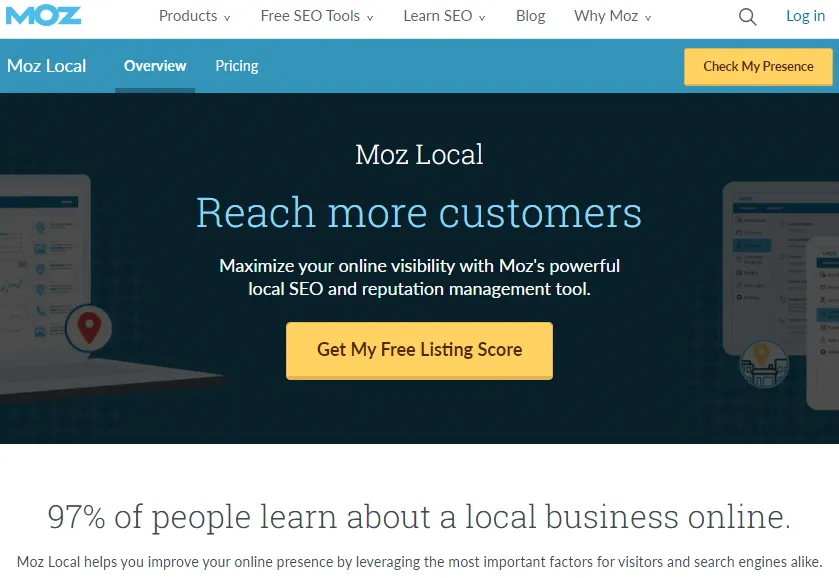 Moz Local is a popular SEO tool for automated listing management and managing business location data including online reputation and review management features.
Moz Local Features
Manage, sync, and optimize business listings from a single dashboard.
Automatically distribute business location data to key directory sites and data aggregators, including automated removal of duplicate listings.
Monitor, read, and respond to online reviews written on local review sites from one dashboard, get alerts of new customer reviews detected on major sites, and analyze review sentiment, keywords, and customer feedback over time.
Publish local listing information and related updates to your Google and Facebook listings directly from Moz Local with Google and Facebook integration options.
Reporting tools with insights into local search visibility such as an online presence score, profile completeness, listing scores, review reporting and sentiment analysis, and local search traffic data.
Pros
Manage local listings without having to visit each individually.
Easy to understand and intuitive user interface design.
Respond to reviews and analyze review sentiment.
A useful feature for removing duplicate listings.
Low cost for automatic citation building.
Cons
Some local citation sources can take weeks to update.
While more affordable, not as many listing sources as Yext.
Pricing
The separate Moz Pro software is required for rank tracking, keyword research, competitor analysis, and related reports. Moz Pro starts at $99/mo or $79/mo with yearly billing. Moz Pro offers a 30-day free trial.
Moz Local pricing plans start at $14/mo per location. This local SEO software provides listing management and distribution, reputation management, Google and Facebook integration, social posting, and notification alerts.
---
Previously a web design agency, Whitespark offers a suite of ala-carte free and paid local search tools and services.
Examples include a local rank tracker, a local SEO checklist, a review and reputation builder tool, citation and GMB research tools, and listing management services.
Whitespark Features
With the listing service, business citations are manually submitted to listing sites and any existing citations found as well as duplicate citations are cleaned up on some sites depending on the package.
You own your listings and they are not removed if you decide to end listing services.
Get your business citations submitted to top data aggregator networks.
Tools to find local citation opportunities and research GMB listing competitors.
The reputation builder tool provides a number of features including review monitoring and reports, managing and responding to reviews, a review widget to market your reviews, and automated email and texting features to aid in getting reviews.
Local rank tracker tool for tracking keywords in organic and local search results.
Pros
Track unlimited domains and locations with the local rank tracker.
Side-by-side rank tracker visuals of local competitors.
Unique comparison views for local keyword rankings.
Local listing service is more affordable than Yext.
Useful citation finder and brand mention tools.
Cons
Gets expensive if you require more than one tool.
Not as many local citation sources as Yext.
Pricing
Whitespark's GMB management service is $497/month per listing.
The local listings service starts at $199 per location.
The Yext replacement service starts at $349 per month.
Local data aggregator cleanup is $99 per location.
Custom enterprise pricing and packages are also available.
---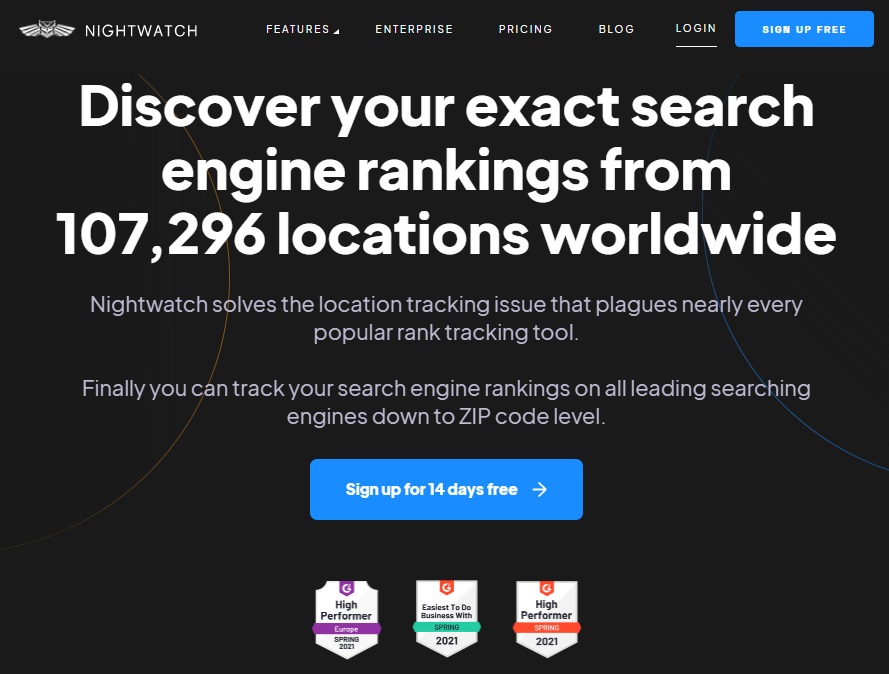 Nightwatch is a powerful rank tracker tool that provides accurate daily ranking updates for tracking many local keywords across different locations, including other websites, as well as site auditing and reporting features.
Nightwatch Features
Best SEO rank tracking tool for local businesses and service-area businesses that want to accurately track many keyword rankings for multiple locations.
Track and compare local rankings for competitor sites against your site.
Group keyword rankings and create custom views based on filtering options such as keyword tags, search engine, location, device, ranking position, and more.
Perform a site audit to discover SEO issues and opportunities.
Monitor your website's backlinks and create automated ranking reports.
Integration with Google Analytics and Google Search Console lets you analyze your web traffic and additional Google together in a visually appealing interface.
Accurately track, segment, and analyze many keywords in the local SERPs for the locations that matter to your business and get daily rank updates. This includes tracking keywords on Google, Google Maps, YouTube, Bing, Yahoo, and DuckDuckGo.
Check out my Nightwatch review for an in-depth look at its key features.
Pros
Affordably track many local keywords for multiple websites.
One of the most accurate rank tracker tools on the market.
Advanced keyword and dashboard view segmentation.
Build attractive and automated local ranking reports.
Daily rank updates are included in all plan tiers.
Cons
Not as feature-rich as other all-in-one SEO software.
Keyword search volume data could be improved.
Pricing
Monthly plans start at $39/mo. Save up to 40% with an annual subscription.
Nightwatch offers a 14-day free trial.
---
Mangools provides a set of beginner-friendly tools helpful for local SEO including rank tracking, keyword research, backlink analysis, and competitor analysis tools.
Mangools Features
Intuitive keyword research tools for finding low competition and local keywords.
Visually appealing rank tracking tool with simple reporting options.
Monitor the SEO authority of your site including top content, backlinks, and competitors.
Inspect off-site domain authority metrics for competing websites.
Analyze local SERPs and see the strengths and weaknesses of local competition.
Mangools keyword research tool called KWFinder provides a really enjoyable and easy experience for finding new keywords with low competition and ranking difficulty.
Mangool's SERPWatcher tool is also great for those who prefer a simple but visually appealing keyword position tracker with daily rank tracking updates.
Pros
Beginner-friendly SEO toolset.
Modern interface design that's easy to use.
Find low-difficulty local keywords to target.
Analyze the strength of competitor domains.
Monitor local SEO rankings daily with all plans.
Cons
Research data is not as in-depth as other tools.
Lacks competitor tracking and reporting features.
Pricing
Monthly plans start at $49 per month. Save up to 40% with annual plans.
Mangools offers a 10-day free trial. No credit card is required.
---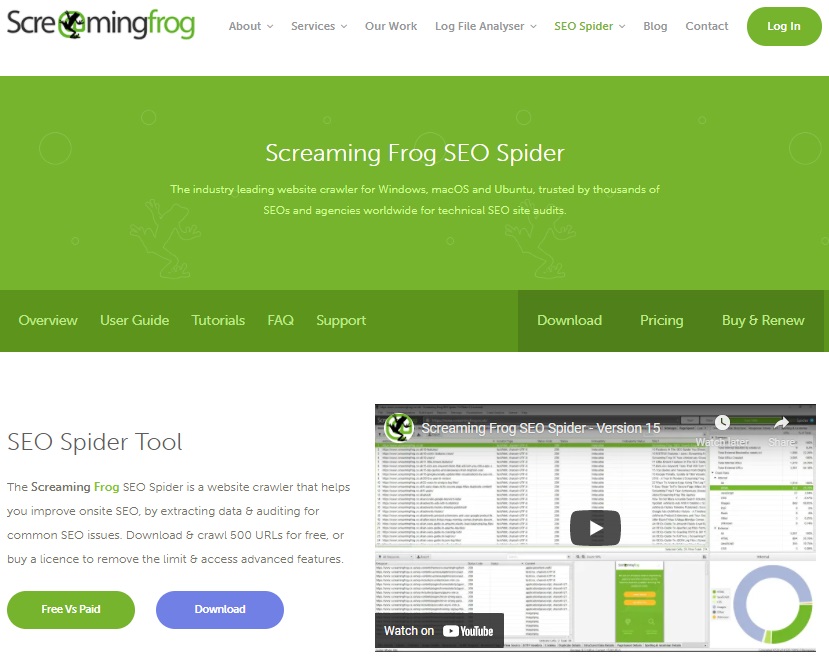 Screaming Frog SEO Spider is a download required software for quickly crawling and auditing many website URLs for insight into site structure, page elements, crawl issues, and opportunities to improve your site's local SEO performance.
Screaming Frog SEO Spider Features
Crawl a website instantly including your site and competitor sites.
Analyze page titles, meta descriptions, page subheaders, word count, inbound links, and more.
Discover any redirects, page URLs blocked from search engines, and duplicate content.
Visualize site architecture such as how your local pages are linked together.
Connect your Google Analytics, Google Search Console, and PageSpeed Insights to fetch data for all page URLs in a single crawl.
Schedule audits and compare crawls to track the progress of fixing SEO issues and finding opportunities.
The free version of Screaming Frog is very useful for auditing small local business sites and finding potential on-site SEO improvements.
The tool quickly identifies broken links, redirecting links, missing meta descriptions, titles, headers, and other SEO-related tags, internal links between pages, and external links to other sites.
Pros
Crawl a website quickly to analyze metadata.
Diagnose technical SEO errors and redirect chains.
Analyze internal anchor text to each page.
Visualize site structure and build sitemaps.
The free version lets you crawl up to 500 URLs.
Cons
The UX/UI is dense and could be modernized.
Can run out of memory when crawling a large site.
Pricing
Free up to crawling 500 URLs. The paid plan price is £149.00 per year.
---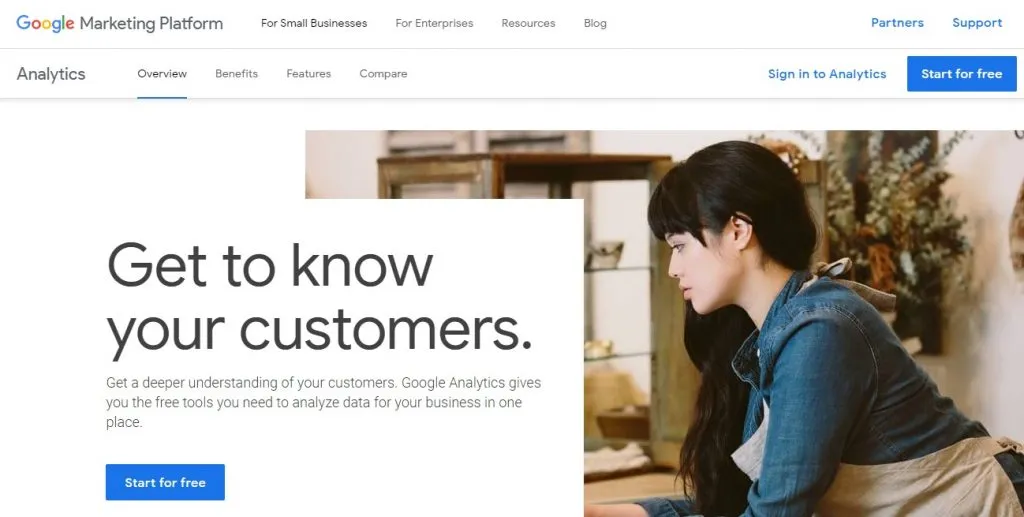 Google Analytics (GA) is a free website analytics tool for understanding how visitors explore your website, including insights into organic traffic from local SEO work.
Google Analytics can help guide your content and online marketing strategy based on the visitor engagement and demographic data it provides.
Google Analytics Features
Discover the sources of your website visitors such as major search engines, social media, and other referring sites.
Find out where visitors are from such as country, state, region, or city, to help you understand if your local SEO strategy and efforts are driving relevant local visitors to your site.
See which pages are visited, including for how long, and how many pages a visitor views, to determine popular pages and which pages could potentially be improved.
Track custom conversion events you determine such as website form submits, phone calls (call tracking software required), visitors from specific locations, page views, and more to better understand the customer journey.
Pros
Quick setup for tracking website visitor sessions.
Get detailed insights into user demographics.
Auto-tagging capabilities for Google properties.
See where your website traffic comes from.
Segment data and save custom reports.
Cons
Semi-technical setup required for custom event tracking.
The learning curve for understanding interface and features.
Pricing
Google Analytics is a freemium service. The free version is perfect for individuals and small to medium-sized companies.
The paid version, called Analytics 360, is suitable for large enterprises and provides features for tracking large sets of data and metrics.
---
Other SEO Tools
Here are some other tools that can be helpful for local SEO campaigns.
Manage your website presence on Google's search engine.
Manage your site presence on Microsoft's Bing search engine.
Check the popularity of search terms used on Google and YouTube.
A low-cost local SEO tool and Chrome extension with features for performing keyword research, competitive analysis, and tracking web rankings.
GeoRanker is a local SEO platform with rank tracking, competitive intelligence, keyword research, citation sources, and data mining features. Geo Ranker provides a powerful API (application programming interface) for SERP and keyword data extraction.
Yext is a brand management platform with AI-powered marketing solutions such as:
Listing Management: Submit business data to Yext's Knowledge Graph to have your data synced, formatted, and published across each publisher in the network.
Competitive Intelligence & Search Tracker: See how you stack up against competitors based on share of search and how you perform for branded and unbranded search.
Reputation Management: Tools to monitor, analyze, respond to, and collect reviews. Create intelligent responses using pre-built text assets and dynamic templates.
Site Search: Add AI-powered search functionality to your website. Yext site search understands natural language questions and returns relevant answers to users.
Synup is a local business citation management platform with features like:
Listings Management: List your business on Google, Facebook, Bing, Yelp, and around 35 other websites.
Location Management: List every individual business outlet or store location to increase share-of-voice on search. Publish updates across listings in one click.
Voice Search Optimizer: Upload details about your business and services for each location and optimize your listings to potentially surface on top for voice searches.
Mobile App: Manage listings and customize store pages from your phone with Synup's mobile app for Android or iOS.
Reputation Management: Monitor inbound reviews across partner sites such as Google, Facebook, and Yelp. Respond to incoming reviews from Synup.
Review Highlights: Synup uses natural language processing to analyze the customer sentiment of reviews to help you understand customer likes and dislikes.
Review Acquisition: Gather feedback directly from customers via email and SMS. Create and save frequently used responses as templates.
Automation: Synup can automatically respond to reviews based on sentiment, star rating, location, or keyword. Set up automated filters, alerts, and messages.
BiQ is an ai-powered SEO suite that contains four main products:
Keyword Intelligence: Find related keywords to target including data on keyword demand trends, volume, cost-per-click (CPC), competition, and search intent.
Content Intelligence: Optimize content with the help of data-driven insights. Identify problems that may be hindering your content from ranking high on the SERPs.
Rank Intelligence: Submit a site or URL to instantly check keyword positions, view performance by ranking distribution, and identify SERP feature opportunities.
Rank Tracking: Get precise local ranking updates, view position history, and use advanced tagging and filter systems to organize and make sense of data.
BiQ also offers a mobile app for on-the-go monitoring.
Local SEO Tools Comparison Table
Comparing Top Local SEO Tools
Frequently Asked Questions
What is Local SEO?
Local SEO is the practice of optimizing website content, links, and business listings for one or several local areas with the goal being to increase brand visibility in locally searched results and generate local traffic.
Is SEO and Local SEO the Same?
While SEO and local SEO share many of the same tactics and strategies, local SEO focuses more on creating localized content and links to improve visibility for locally searched keywords.
What are Local SEO Tools?
Local SEO tools are used for a variety of activities related to local search engine optimization. Examples include local rank tracking, website audits, keyword research, link analysis, and reporting.
Are Local SEO Tools Free?
There are both free and paid local search engine optimization tools available. Free tools often provide limited features while paid tools are more advanced.
Paid local search tools often include features for local rank tracking, auditing sites, conducting keyword research, analyzing nearby competition, and building reports.
Which is the Best Tool for Local SEO?
The best local SEO tool depends on your needs.
All-in-one SEO software is great for most tasks in conjunction with other tools for more specific tasks like checking page speed or managing local listings.
See the local SEO software recommendations below.
What Are the Benefits of Local SEO Software?
Here are the 7 benefits of using local SEO software:
Uncover your rivals' strengths and weaknesses
Better understand local search intent and terms to use
Get found by more "near me" and "close by" searches
Know how often relevant local search queries are searched
Discover the type of backlinks pointing to competing pages
Monitor your site's and competitors' keyword rankings over time
Efficiently audit many web pages across multiple websites
Schedule and share automatically generated local SEO reports
Conclusion & Recommendations
Maintaining an online presence is essential for both local and global businesses. Give your business a competitive advantage by utilizing some of the local SEO software and services shared above.
These are some of the best local search engine optimization tools, with helpful features for managing, monitoring, and improving your location-based search marketing efforts.
Recommendations for Local Businesses
Local businesses should invest in an SEO platform or set of tools that give access to features covering the major aspects of local search marketing, such as keyword research, competitive insights, rank tracking, website auditing, and reporting.
Either SE Ranking or Semrush is your best bet for gaining access to valuable keyword and competitor research data, among other helpful digital marketing and SEO tools.
Complete SEO Software for Local SEO
For newer businesses, I recommend SE Ranking for a low-cost SEO platform that scales well as you grow with flexible plan options.
SE Ranking has everything you need for researching keywords and competitors, finding link opportunities, rank tracking, website auditing, and reporting. While the research data isn't as extensive as Semrush, it's pretty close.
If your local business is well established, I recommend investing in Semrush to gain access to leading keyword, competitor, and backlink data, daily rank tracking, local SEO audits, an easy-to-use interface, and great reporting features.
Semrush also provides a tool for managing local listings, updating your business data on prominent directories, monitoring reviews, and encouraging customer engagement.
Local Listing & Reputation Management Tools
Alongside one of the SEO platforms above, I recommend BrightLocal for an affordable complementary set of tools and services to track local rankings, monitor online listings, build new listing profiles and citations, and manage online reviews and reputation.
Best Free Local SEO Tools
Finally, Google Analytics, Google My Business, and Google Search Console are free SEO tools to better understand your website traffic, manage your Google business listing, and manage your local search presence in Google Search results.
Google Keyword Planner is another free tool you can use for basic keyword research. While this tool is built into Google Ads, the Keyword Planner Tool can be useful for checking keyword search demand and getting a sense of how competitive terms are based on PPC data.
My Favorite Local SEO Software Offers:
SE Ranking Free Trial – 14-day free trial with access to all features.
Semrush Free Trial – 7-day free trial with full access to toolkits.
BrightLocal Free Trial – 14-day free trial with access to the full toolset.
Here's an infographic of the 10 local SEO tools featured in this post:
Helpful Local SEO Resources
Here are some of the most helpful resources about local SEO on the web:
I hope this post helped you find the best local SEO solution for your needs.
Looking for SEO services? Check out these affordable SEO packages.
Related Posts About SEO Software Tools: