Updated on May 16th, 2022
Looking for Semrush alternatives? While Semrush has a large feature set and data that's hard to compete with, there are some good alternatives on the market.
Semrush can be expensive for new marketers, freelancers, and startups. Fortunately, there are other reputable SEO platforms that offer multi-purpose or all-in-one features.
In this article, we review the best Semrush alternatives for doing keyword research, rank tracking, competitor analysis, site audits, and creating reports.
Top Semrush Alternatives Overview
Here is an overview of the top Semrush alternatives (described in detail below):
Learn more about these Semrush competitors and their key features below.
About Semrush
Semrush is an all-in-one software platform with a robust set of tools for SEO & PPC, content marketing, competitive research, and social media marketing.
The cloud-based software includes 50+ tools related to improving online visibility, SEO strategy, market research, and competitor research.
In terms of customer support, Semrush provides chat, phone, and email support, as well as detailed documentation and blog posts for learning the platform.
Here's a quick overview of Semrush's feature categories, so you have a better understanding of how to compare Semrush to the alternative tools below.
Semrush platform includes tools for:
Keyword Research
Competitive Research
Content Research
Backlink Analysis
Keyword Rank Tracking
Website SEO Audits
Local Listing Management
Social Media Management
Building Marketing Reports
Learn the differences between Semrush and its competitor alternatives below, including key features of these SEO tools, pros and cons, and pricing.
What Are the Best Semrush Alternatives?
After reviewing all of these SEO tools, below is a breakdown of the best Semrush alternatives, including the key features each competitor is offering and pricing plans.
Here are the top Semrush alternatives with all-in-one features for 2022:
SE Ranking is one of the more affordable Semrush competitors on the market. The SEO software includes features for keyword research, competitor analysis, rank tracking, website audits, content optimization, and building reports.
Features
Accurate keyword rank tracker with the option for daily rank tracking depending on the plan. The keyword tracking tool includes features such as SERP position history, SERP features, website search impression share, and shareable guest links.
A large database of keyword and competitor data. Get average monthly searches, organic traffic keyword difficulty scores, and CPC data.
Comprehensive website audit tools for identifying technical SEO issues and opportunities. Perform a content and link analysis, check meta descriptions, keyword density, page loading speeds, and more.
Analyze and monitor backlinks including new and lost links, anchor text, organic search traffic estimates, and domain linking activity over time.
Easy to use drag and drop report builder. Create and schedule customized and automated SEO reports for your sites or clients.
Check out this SE Ranking review for a detailed look at its features and pricing plans.
SE Ranking vs. Semrush
SE Ranking is one of the best Semrush alternatives for the feature set and price point.
Similar to Semrush, the SEO platform provides an accurate rank tracker, insights on the top pages of competitors, organic traffic trends, backlink metrics, site audit tools, and a report builder. You also get more user seats with each plan compared to Semrush.
While pricier, Semrush provides a bit more data with its keyword magic tool, as well as extensive backlink data. You also get more in-depth page-level optimization features with the on-page SEO checker, SEO writing assistant, and content template tools.
Pros
Affordable all-in-one SEO software compared to Semrush.
Flexible pricing model to adjust features and cost.
Large database of keyword metrics and backlink data.
Reliable rank tracker with solid tagging capabilities.
A unique feature for monitoring page changes.
Marketing plan feature for planning SEO efforts.
Cons
Takes some time to learn and master the feature set.
Data for low-volume, long-tail, or local keywords can be limited.
Pricing
SE ranking pricing starts as low as $18.70 per month with a yearly subscription.
SE Ranking Offer: 14-Day Free Trial
---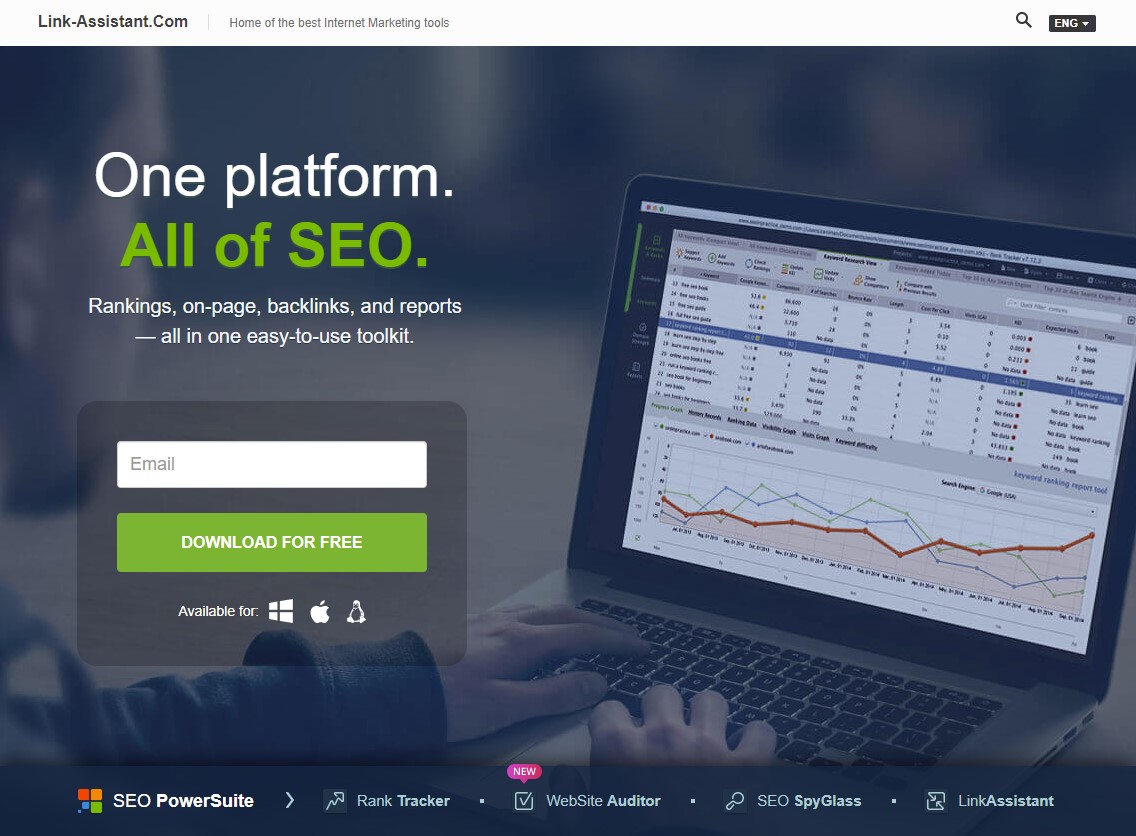 SEO PowerSuite is a suite of desktop SEO software offered as a bundle or separately. The software suite includes tools for performing website audits, keyword research, rank tracking, link building, and competitor analysis.
Downloading is required to use the software. SEO PowerSuite is compatible with Windows, Mac, and Linux.
Features
Perform a complete SEO audit based on dozens of errors related to website structure and technical considerations. Check for broken links, HTML code issues, duplicate content, page indexability, and content optimization factors.
Conduct in-depth analysis of competitors and backlinks with one of the largest backlink indexes on the web. Inspect backlink profiles and link quality based on more than 50 different factors.
Track unlimited keyword rankings across major search engines with the rank tracker tool. Schedule automatic ranking checks, compare positions alongside competitors' sites, see SERP features, and view organic traffic data.
In-depth keyword data based on 19 different keyword suggestion tools. Analyze metrics such as keyword difficulty, search traffic, and word usage factors.
Create customizable reports with audits, rankings, links, and traffic insights.
SEO PowerSuite vs. Semrush
SEO PowerSuite is a downloadable desktop software whereas Semrush is a cloud-based platform.
Where Semrush provides more in-depth competitor analysis features like keyword research, traffic analysis, and PPC tools, SEO PowerSuite has an edge with website page audit checks and data-based recommendations.
While an annual license is required for SEO PowerSuite, this Semrush alternative is less expensive than a comparable Semrush plan over the course of a year.
Pros
Very customizable all-in-one SEO software suite.
Track unlimited keyword rankings across search engines.
Comprehensive site audit and on-page optimization tools.
Able to use some features and view saved data offline.
The free version lets you try many of the major features.
Cons
Complex user interface and feature learning curve.
Have to pay for ongoing search algorithm updates.
Desktop software that requires downloading to use.
Pricing
SEO PowerSuite starts at $299 per year for full access to the software suite.
While the bundle offers savings, you can purchase the four SEO tools separately.
SEO PowerSuite Offer: Free Version with Limited Features
---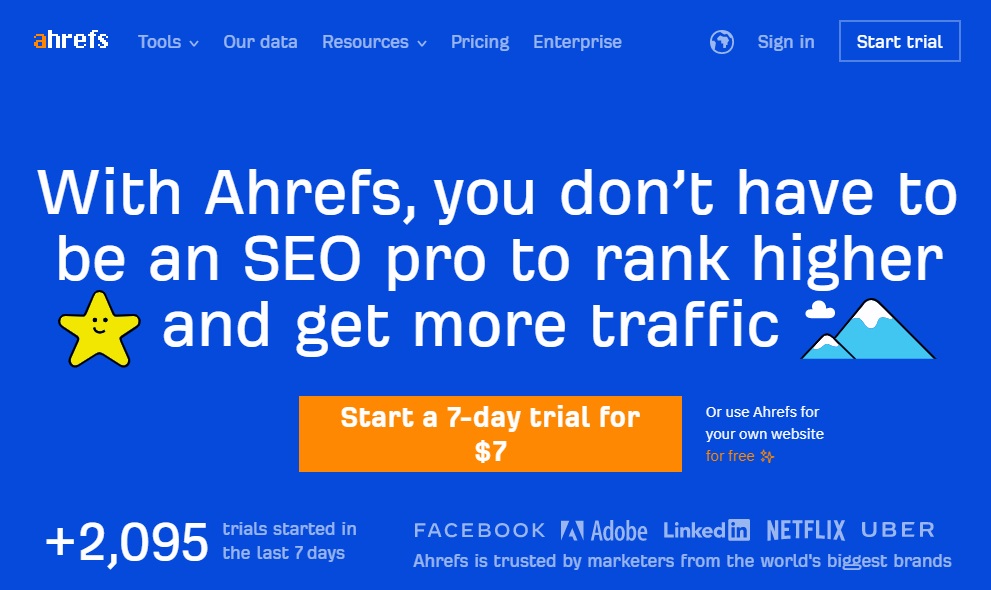 Ahrefs is a top all-in-one SEO toolkit for competitive analysis insights. The SEO software includes a keyword explorer, website and backlink analysis tools, site audits, and a rank tracker.
Features
One of the largest databases for keyword and backlink research. Explore metrics like keyword difficulty and organic traffic estimates across Google and other search engines like YouTube, Bing, Amazon, and Baidu.
Gain insight into a website's off-page and competitor-related metrics such as referring domains and backlinks, internal and external links, link anchor text distribution, estimated organic traffic to pages, and organic search rankings.
Solid technical SEO audit tool that checks your website for 100+ pre-defined SEO issues. Get a site health score with recommendations on how to fix issues.
Reliable rank tracker tool with the option to upgrade for daily rank updates. See position history, compare competitors' rankings side-by-side, view SERP features, and organize keywords with tags and filtering options.
Export data as CSV or Excel files for SEO reports.
Ahrefs vs. Semrush
Like Semrush, Ahrefs is a leading all-in-one SEO platform with a rank tracker, a site explorer for competitive analysis, keyword research tools, and technical SEO audits.
Ahrefs is a top Semrush alternative for extensive domain insights related to organic traffic, backlink exploring, researching profitable keywords, and content topic ideas.
Ahrefs also provides research data for a variety of search engines, whereas Semrush only provides data for Google.
However, Semrush offers daily rank tracking as part of all plans (this is an add-on upgrade with Ahrefs), detailed data for both SEO and PPC advertising, and includes tools for writing SEO content and building custom white-label reports.
Pros
Largest database of competitor domain research metrics.
Extensive backlink, keyword analysis, and organic traffic data.
Great for finding backlinks opportunities and keyword research.
See search traffic estimates for your competitors' pages and key phrases.
Detailed site audit to check for technical issues and opportunities.
Free account to audit your site and see its backlinks and ranking trends.
Cons
Higher starting price than some other SEO tools.
Additional cost to upgrade rank tracker for daily updates.
No report builder or templates, only export options.
Lack of on-page content optimization features.
Pricing
Ahrefs starts at $99/mo or $82/mo with annual billing (a savings of 2 months free).
Ahrefs Offer: 7-Day Trial for $7
---
Moz Pro is a reputable all-in-one SEO toolset with features to perform keyword research, competitor analysis, link metrics, website audits, and reporting.
Features
Intuitive interface for researching new keywords, relevant questions being asked online, and backlink opportunities.
Save keyword lists to organize your keyword and content strategy.
Track local and national searches and get a high-level picture of how you rank with Moz's Search Visibility score.
Crawl and audit websites for potential issues and get suggestions for fixes. Keep track of new and recurring issues and receive alerts for any new issues.
Customizable reports and templates with drag-and-drop modules.
Moz Pro vs. Semrush
Moz Pro is a reputable Semrush competitor offering many similar SEO features. Moz includes position tracking, competitor insights, keyword research tools, site audits, and reports, as well as more generous crawl limits for auditing large websites.
You also get data from Google, Bing, and Yahoo, whereas Semrush only provides data from Google Search.
On the flip side, Semrush includes more extensive data for both SEO and PPC, more accurate backlink metrics, many unique data visuals, and more in-depth audit tools.
Pros
User-friendly interface for finding SEO opportunities.
Solid feature for comparing website link profiles.
Reliable SEO site audit software with convenient alerts.
Nice high-level reporting for marketing executives.
Visually appealing and customizable report templates.
Cons
Lack of keyword data for lower search volume terms.
Not as in-depth as other all-in-one software.
A bit expensive for the current feature set.
Pricing
Moz Pro plans start at $99/mo or $79/mo with yearly billing.
Moz Pro Offer: 30-Day Free Trial
---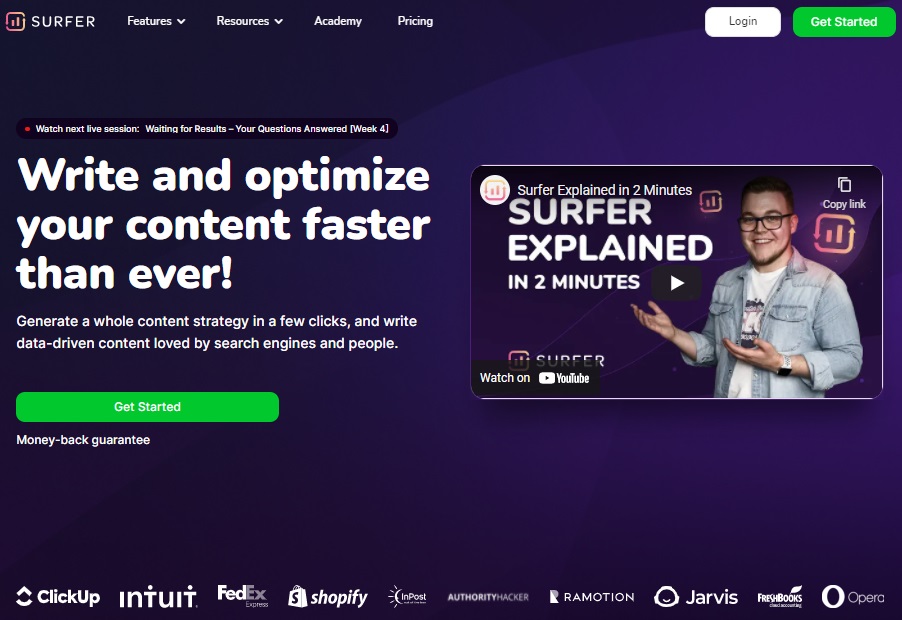 Surfer is a powerful on-page SEO software that analyzes competitor pages for 500+ factors and provides guidelines to optimize your content targeted keywords. Other tools include keyword research, a content planner, a SERP analyzer, and site audits.
Features
Enter a target keyword and Surfer SEO will reverse-engineer Google's SERP results for related terms, questions, headings, word count, images, and more that are being used. Based on the results, Surfer provides a page score and content guidelines to rank better.
Based on your target keyword, the content planner surfaces the most relevant topic ideas and related terms for your content and SEO strategies. Create an organized set of content for your site that is aligned with your niche and what's being searched for.
Find new keyword opportunities and get estimated monthly search volumes.
You can copy-paste content seamlessly between the Surfer content editor, Google Docs, and WordPress for a seamless content editing experience.
The optimized web articles and landing pages you can create based on Surfer SEO's NLP (natural language processing) technology and suggestions will put you ahead of most of your competitors' progress when it comes to SEO-optimizing your content.
Check out my full Surfer SEO review to learn more about its features and pricing.
Surfer vs. Semrush
While I use both tools for different reasons, I believe Surfer is the best Semrush alternative for data-driven content optimization and ranking higher on Google.
Compared to Semrush, Surfer is more advanced when it comes to optimizing individual web pages and understanding related phrases to use based on top-ranking sites.
Surfer is an invaluable tool for content marketers, bloggers, and SEO professionals. The on-page optimization software also includes tools for content planning, keyword research, page audits, and a Google SERP analyzer.
On the other hand, Semrush offers more complete keyword analysis tools, along with a rank tracker, more competitor insights in terms of backlink metrics, and richer reporting.
Both SEO platforms include features that complement each other well. I tend to use Semrush for competitor research and rank tracking, and Surfer for optimizing content.
Pros
One of the best tools for SEO-optimizing content.
Evaluates content based on 500+ factors.
A range of useful content auditing features.
The user interface is clean and easy to use.
Optimize content written in a variety of languages.
Doc editor offers smooth copy paste with WordPress.
Cons
The keyword research tool is pretty basic.
Surfer does not provide much backlink data.
Takes time to learn and understand all features.
Pricing
Surfer plans start at $59/month or $49/month with yearly billing and savings of 17% off.
The Pro plan is recommended for access to Surfer's NLP (natural language processing) keyword suggestions and capabilities for optimizing your content.
Surfer Offer: 7-Day Money-Back Guarantee
---
Mangools is a beginner-friendly SEO toolkit with keyword research, search engine results page (SERP) analysis, backlink insights, rank tracking, and basic reporting.
Features
While not the biggest database of keywords, Mangools provides a keyword research tool that is intuitive and useful for quickly finding low-difficulty long-tail keyword opportunities and related metrics like search volume estimates, a unique metric for keyword difficulty calls LPS, backlink profile strength, and CPC numbers.
Basic rank position tracking tool with daily ranking updates, a clean user interface for quickly checking ranking increases and decreases, filtering options, and simple reporting, link sharing, and alert capabilities.
A SERP analysis tool for analyzing competitor sites in the search results, their domain and backlink strength for a specific search query result, and the SERP features such as rich snippets being displayed for the chosen keyword and search location.
Backlinks analysis and site profiler tools you can use to scan your website and the sites of competitors for discovering backlinks, basic related metrics like citation flow and trust flow, and top traffic generating content.
Mangools vs. Semrush
Mangools is a nice entry-level suite of SEO tools for beginners, while Semrush is a more complete platform of digital marketing tools.
The bundle of tools includes an appealing, easy-to-use interface design and a popular keyword tool called KWFinder for researching low-competition keywords. You also get a daily keyword tracker with simple reporting and high-level competitor insights.
Mangools is a popular Semrush competitor for smaller projects or campaigns but lacks a variety of features that Semrush offers, such as on-page SEO tools, content analysis features, website audits, backlink research, and report building.
Pros
A beginner-friendly SEO tool suite.
Simple and straightforward interface design.
Quickly find low-difficulty keywords to target.
Keyword search volumes with historical data.
Feature for saving keyword lists during research.
Insight into domain authority metrics of websites.
Cons
Lacks features to track many competitors.
Keyword database is not as large as leading tools.
Pricing
Mangools plans start at $49/mo with options to save up to 40% with annual subscriptions.
Mangools Offer: 10-Day Free Trial
---
Serpstat is an all-in-one SEM platform that includes over 30 tools for marketing, SEO, and Google Ads PPC. Example features include site auditing, competition analysis, a backlink checker, keyword research, rank tracking, and more.
Features
Comprehensive keyword data including key terms and their search volume estimates, competition strength, find keywords opportunities by searching competitor web pages, and check out related terms and questions in an easy-to-scan interface.
Dependable rank tracker tool that includes daily ranking updates, keyword SERP features, historical position data, insights into traffic distribution among website domains, market share fluctuations, and keyword grouping by tags.
The helpful site audit tool detects and categorizes website issues based on low, middle, and high priority, provides a website optimization score, and tracks site changes over time.
Competitor research features include robust backlink data, insight into the top sites in a niche, data on top-performing pages of competitors including their keyword rankings and estimated search traffic, and monitoring of their progress over time.
Schedule automatic daily, weekly, or monthly reports and create notifications about changes in projects.
Serpstat vs. Semrush
As a Semrush competitor, Serpstat offers SEO research tools and keyword tracking at a lower price but includes fewer features, research data, and visuals than Semrush.
However, Serpstat is a reliable Semrush alternative with all-in-one SEO features and unique visuals for comparing competitor domains and keyword ranking analysis.
Currently, Semrush offers a larger backlink database, backlink gap analysis features, and a more advanced interface with filtering options.
Pros
Complete SEO software with many tools for the price.
Large database for researching long-tail, low-volume keywords.
Convenient side-by-side visuals for analyzing competitors.
Competitor analysis for finding keyword ranking opportunities.
See traffic share of tracked phrases for your competitors' sites.
Good price-per-keyword for tracking a high volume of words.
Cons
Can be slow to process large amounts of data.
Takes some time to understand all the options.
Pricing
Serpstat monthly plans begin at $69/mo with longer-term plan discounts available.
Serpstat Offer: Free Account with Basic Tool Access
---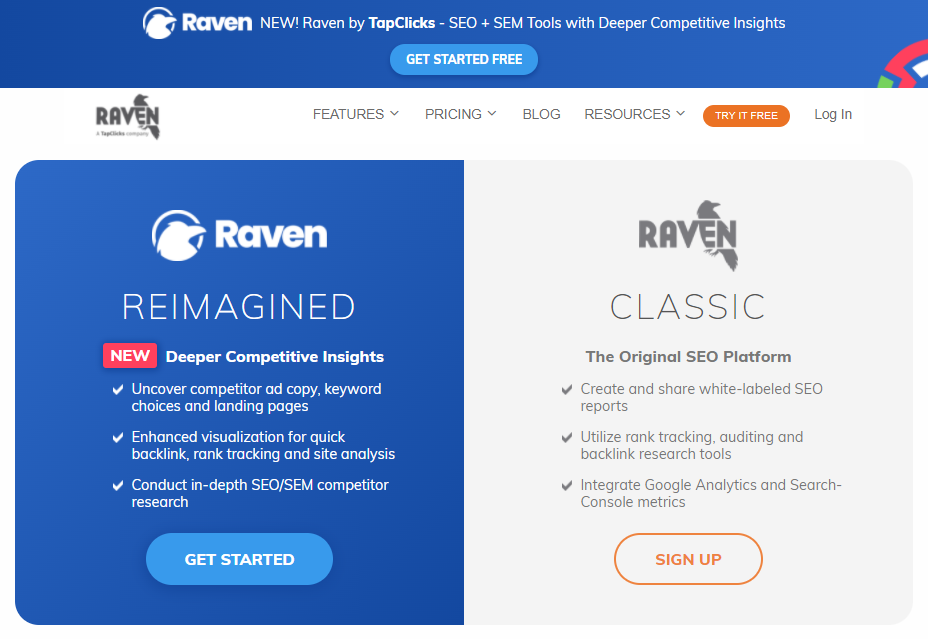 Raven Tools is an SEM & SEO reporting platform with features and tools for competitor research, rank tracking, backlink analysis, site audits, and reporting.
Features
Manage tasks related to SEO, PPC, social, email, and call tracking.
Compare competitors' SEO and social metrics side-by-side.
Track rankings flexibly and choose how frequently to check rankings.
Integrate with 30+ platforms for more marketing data to report on.
User-friendly report builder and good-looking white-label reports.
Raven Tools vs. Semrush
While Semrush has an advantage over Raven Tools in the number of features and data when analyzing competitors, Raven Tools is a popular Semrush alternative for an SEO platform with SEO reporting software, marketing reports, and dashboards.
Raven Tools also provides an intuitive drag-and-drop builder for creating marketing reports with more integrations than Semrush, with more than 30 platform integrations.
Pros
Clean user interface with simple navigation.
Appealing automated white-label marketing reports.
User-friendly report builder with custom widgets.
A high number of optional platform integrations for more data.
Manage most of your digital marketing efforts in one place.
Cons
Data and rankings are sometimes inaccurate.
Lacks some of the more in-depth SEO data.
Pricing
Raven Tools monthly plans begin at $49/mo or $39/mo with yearly billing.
Raven Tools Offer: 7-Day Free Trial
---
SpyFu is a set of competitor insight tools for SEO and Google Ads. Conduct keyword research, spy on the sites of your competitors as the name suggests, check backlinks, track ranking positions, and create reports.
Features
Find new keyword opportunities to target with SEO and PPC ads for a seed keyword or by checking competitor sites.
Gain insight with keyword metrics such as ranking difficulty, monthly searches, cost per click estimates, related words, and keyword SERP analysis.
Track rankings with position history, weekly ranking updates, and keyword grouping options for organizing data.
Analyze competitors' ranking history, top pages, keywords, and backlinks, and monitor competing domains for keyword ranking changes.
Create detailed custom SEO and PPC reports.
SpyFu vs. Semrush
SpyFu offers affordable keyword and competitor research tools but lacks the amount of complete data and features that Semrush provides.
However, if you're running Google Ad campaigns, you might find SpyFu to be an effective Semrush alternative to analyze paid keyword data and competitors combined with a rank tracker for the price.
Pros
User-friendly software for researching SEO & PPC keywords.
An affordable way to get search engine marketing (SEM) data.
Helpful competitive intelligence tools and visuals for the cost.
The free account includes unlimited searches but limits search results.
Cons
Data estimates are sometimes inaccurate.
Lack of website data for specific areas.
Pricing
SpyFu monthly plans begin at $39/mo or $33/mo with yearly billing.
SpyFu Offer: Free Account with Limited Tool Access
---
Top Semrush Alternative Comparison Table
Comparing Top Semrush Alternatives
---
Frequently Asked Questions
Are There Free Semrush Alternatives?
While not as extensive as paid tools, these free tools from Google can be used as Semrush alternatives for keyword research, traffic analysis, and identifying rankings on Google.
Google Keyword Planner is a free keyword research tool you can use to find profitable keyword ideas based on a primary keyword or website URL.
Google Keyword Planner gives estimated search volume ranges for suggested keywords, historical search data, and PPC bid estimates for Google Adwords.
Google Analytics is a free web and SEO analytics tool for uncovering website traffic sources and how visitors engage with your site. Use this tool to better understand your site's content performance.
However, this is only for tracking traffic data for the site you apply the Google Analytics tracking code.
Google Search Console is another free SEO tool you can use to manage your Google search presence and analyze keyword trends and metrics identified by Google.
While Google Search Console gives you insight into keyword positions detected by Google, SEO platforms like Semrush offer extra capabilities for tracking keyword rankings, such as location-specific tracking, daily updates, and reporting tools.
How Much Does Semrush Cost?
Semrush offers three paid plans. This includes the Pro, Guru, and Business plans. Monthly and annual plans are available. Pay annually to get a discount of up to 17% off.
Learn more about Semrush pricing plans here.
The Pro plan starts at $119.95 per month or $99.5 per month with annual billing and is best for freelancers, startups, and in-house marketers.
The Guru plan starts at $229.95 per month or $191.62 per month with annual billing and is best for SMBs and growing digital marketing agencies.
The Business plan starts at $449.95 per month or $374.95 per month with annual billing and is best for growing marketing agencies, e-commerce projects, and large enterprise businesses.
You can also contact Semrush support to request a custom plan if you require more than the fixed plans provide.
Does Semrush Offer a Free Trial?
---
Conclusion & Recommendations
In terms of complete SEO features and data, Semrush is the clear winner.
Check out my full Semrush Review for a breakdown of features and pricing.
However, the SEO software tools featured above are all great Semrush alternatives.
In my opinion, Ahrefs provides a slight edge for researching backlink data.
For planning and optimizing content to rank better, Surfer takes the top spot.
For an affordable Semrush alternative with similar tools, SE Ranking is a top choice.
I hope this post helped you find the best Semrush alternative for your needs.
Looking for SEO services? Check out these leading low-cost SEO packages.
More Posts About SEO Software Tools: