Looking for SEO software for your small business?
Here's a list of the best SEO software to manage and improve business SEO strategy.
The right SEO tools can help improve your strategy to rank your business higher up the search results pages (SERPs) on Google and drive more traffic, leads, and sales.
However, there are many search engine optimization tools on the market. This can make it difficult to determine which tools are right for your business.
This post aims to shed light on the best SEO tools for small businesses. These software tools can help you manage and improve your SEO in a variety of ways.
BoostPlanner is reader-supported. If you buy through a link on my site, I may earn an affiliate commission.
What to Look For in Small Business SEO Software?
Consider these factors when choosing the best SEO software for your business:
Capabilities for researching and tracking keywords based on the locations you serve.
Tools for auditing and analyzing competitor site rankings and backlink profiles.
Features for managing and updating business listings and local citations.
Features for monitoring online reputation and reviews.
Ability to analyze website traffic and content performance.
Ability to create reports to track your SEO performance.
Note: There are many SEO tools on the market that are useful for small businesses. Some are more specialized niche tools, while others are more complete software platforms. You might need to use more than one tool depending on your SEO needs.
What Are the Best SEO Tools for Small Businesses?
Based on testing and reviewing these software tools for managing small business SEO, here are the 20 best SEO tools for small businesses:
SE Ranking is a powerful all-in-one SEO platform with a daily rank tracker, detailed site audits, AI-driven content optimization, keyword & competitor traffic insights, and more.
SE Ranking is a popular Semrush alternative due to providing many similar SEO tools at a low price point while continuing to upgrade the toolset based on user feedback.
SE Ranking Features
In-depth keyword research tools, competitor analysis, backlink sources, and search traffic estimates for individual keywords and pages.
Detailed sitewide audit tool with hundreds of recommendations, on-page audits, and an AI-driven content editor with suggested terms to use to improve rankings.
SE Ranking includes a unique page changes monitoring tool, where you can set up alerts about any changes that happen to your website or competitor sites.
Data-rich SEO report generator that lets you create custom-branded SEO reports. You can create unlimited reports and send out scheduled automatic reports.
Social media tools to plan, schedule, and post updates to Facebook or Twitter from one area. Gain insight into the best times to engage and top-performing content.
SE Ranking provides low-cost plan options starting with up to 10 projects, 5 competitors per project, and tracking 250 keywords with daily position updates.
SE Ranking is one of the best SEO software for small businesses. The software is packed with helpful SEO tools, data-driven content suggestions, solid Google keyword & competitor data, a report generator, and more at a low price.
Related: SE Ranking Review & SE Ranking Pricing
Pricing
SE Ranking provides 3 plans with monthly or annual subscription options. The annual subscription gives you 20% off and free data migration from a previous SEO platform.
Monthly Pricing:
Essential: $49.00/mo – Best for freelancers and small projects (no historical data).
Pro: $109.00/mo – Best for small businesses, agencies, and teams.
Business: $239.00/mo – Best for mid-sized agencies and businesses.
Custom: Plans with higher usage limits for more demanding needs.increased feature limits for larger needs.
SE Ranking offers a 14-day free trial.
---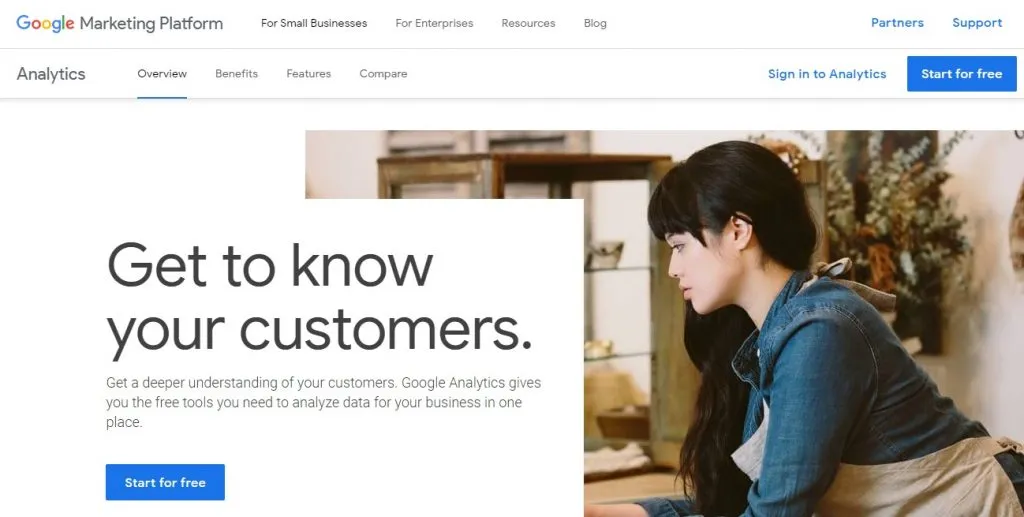 Google Analytics (GA) is a free website tool to analyze site traffic and usage. Every small business owner should ensure a GA tag is applied to their website.
GA is an essential free tool for better understanding your website visitors. Find out where your visitors come from, how they're navigating your site, the most popular pages, how long an average session lasts, and more.
You can create up to 100 Analytics accounts and add 1 to 50 properties to each account. In GA, a property is a website, mobile application, or device.
Google Analytics Features
See which channels visitors come from, such as organic traffic from Google and other major search engines, social media platforms, and other sites.
View physical location data like city and state, which can help assess traffic quality and relevance for local or service-area businesses.
GA makes it easy to explore how visitors are using your site, including which web pages are viewed, in what order, and how long they're on your site.
You can connect Google Search Console (GSC) to Google Analytics, which lets you conveniently view insights for pages and keywords from GSC inside GA.
You can set up Goals in Google Analytics to track your desired conversion actions, such as website form submissions, and if a certain page or set of landing pages was viewed, a link was clicked, or a phone call occurred (call tracking software required).
Pricing
Google Analytics is a freemium service. For most businesses, a free GA account is all you need. However, Google also provides a premium version called Analytics 360 with more advanced features like unlimited data and reporting for large enterprises.
---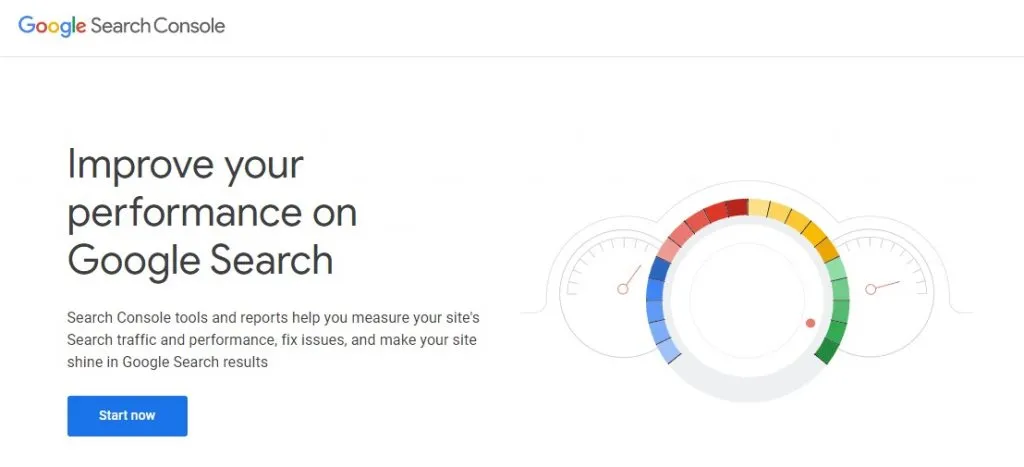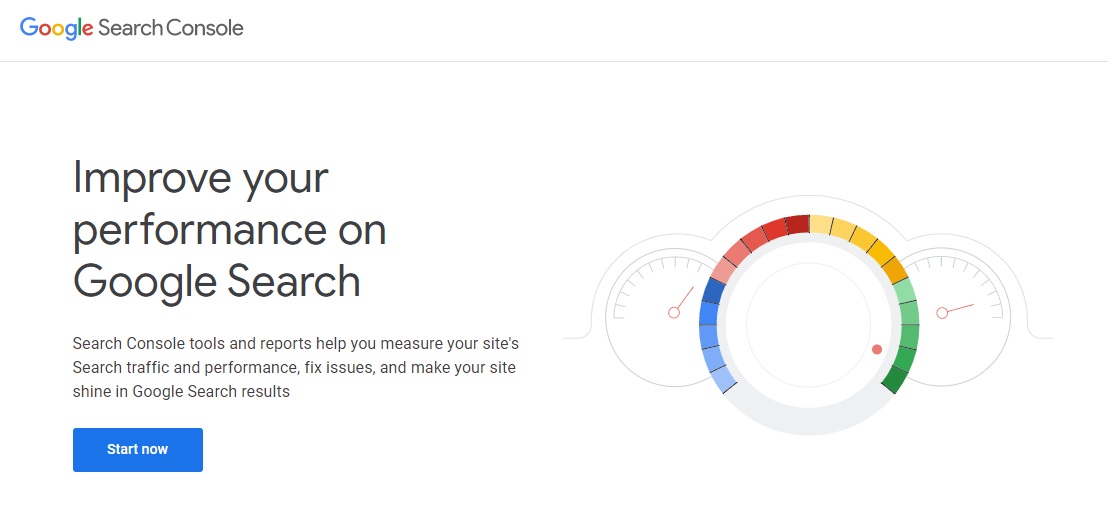 Google Search Console (GSC) formerly Google Webmaster Tools is one of the best free SEO tools for small businesses to monitor and troubleshoot sites in Google Search.
Google Search Console helps you manage your website presence in Google Search and detect potential issues. To use Search Console, just sign in to your Google account, create a new website property, and verify your site with one of the provided methods.
Use GSC to submit sitemaps, submit updated pages to Google, see which of your pages are correctly indexed in Google Search, ensure pages are mobile-friendly, analyze keyword positions, clicks, and impressions identified by Google, and more.
You can add up to 1,000 properties to a Google account. Google recommends creating separate Search Console properties for each site domain you wish to track separately.
Google Search Console Features
You can submit your website's XML sitemap file (usually auto-generated by your website platform or a plugin like RankMath or Yoast if using WordPress) and new site pages to request quick indexing of your site content into Google Search.
Use Search Console to identify pages that are indexed and visible in the Google SERPs, and which search queries or Google searches are generating search impressions for your site pages and driving clicks to your website.
Search Console detects pages that might be blocked from being indexed in Google, and any website penalties based on issues like link spam or low-quality content stuffed with keywords.
Google Search Console identifies if your site pages are mobile-friendly and includes features to help you detect loading or performance issues.
Use Search Console to check external links (backlinks) pointing to your site that Google has detected, as well as internal links between your pages.
Pricing
Google Search Console is a free service.
---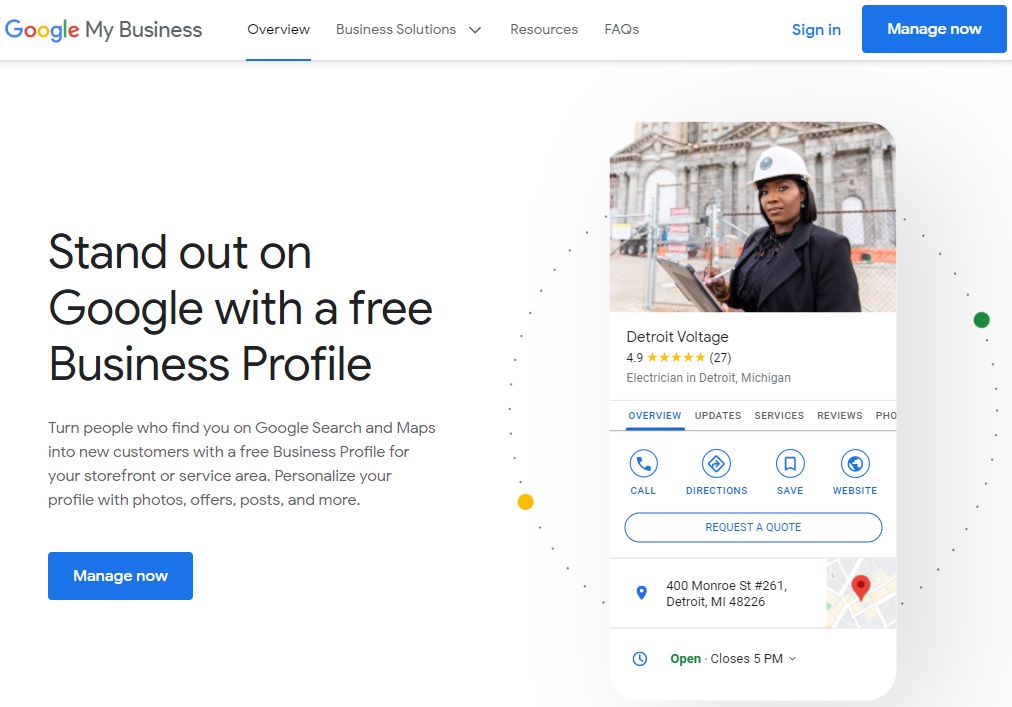 For local businesses with physical locations and service-area businesses, creating a free Google Business Profile profile is recommended to increase your visibility on Google Search and Maps for the locations you serve.
Note: Google Business Profile was previously known as Google My Business (GMB).
Create a Google Business Profile to ensure more people find your business when using Google Search and Google Maps. This could be when people search your company name or search locally for products or services you offer.
Google Business Profile Features
Having a GMB profile lets customers leave reviews of your business on Google, which can help improve your local search presence versus competitors, build trust and reputation, and gain new leads and sales.
A GMB profile is an effective way to display public business info for local searchers and potential customers, including a business description, business hours, photos, a link back to your website, and other useful features depending on your type of business.
GMB provides insights such as how often your business listing is shown in local search and Google Maps results and for which search queries, as well as business direction requests, phone calls (when the profile call button is clicked), photo views, and other visitor actions.
Pricing
Creating a Business Profile on Google is free.
---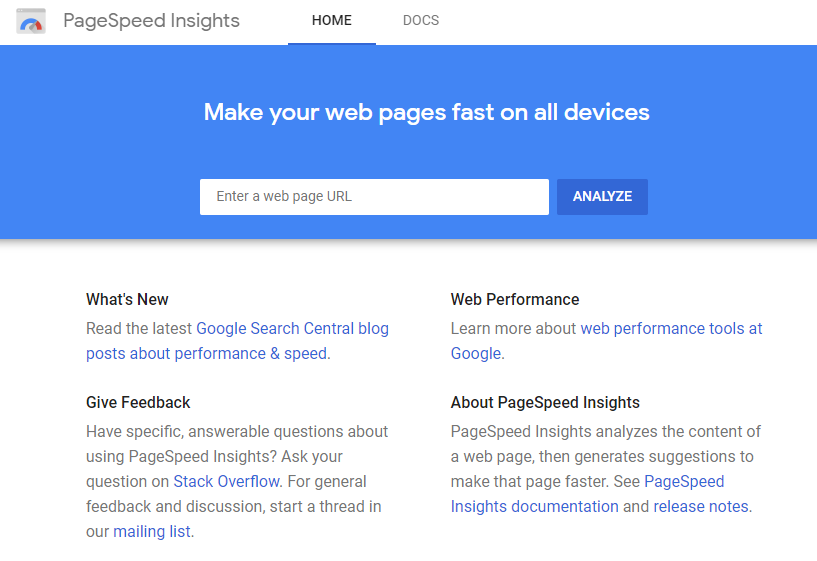 PageSpeed Insights provides a quick way to check the page load speed of individual site pages and any performance issues.
Since page speed affects user experience and is a direct ranking factor for both Google Search and Ads, it's important to check how Google views your page performance.
Google PageSpeed Insights Features
Get suggestions for ways to help your site pages load faster, such as resizing or compressing images found on the page, page caching recommendations, and other suggestions for optimizing CSS or Javascript code.
See any third-party code that's processed as your page loads, such as WordPress plugins, which can slow down site speed.
Pricing
Google PageSpeed Insights is free to use.
---
Google Trends is a free tool website owners can use to do simple keyword trend research and check out trends of search queries in their local areas.
Use Google Trends to get an idea of search demand trends and interest for a particular search query in a given location. You can check keyword trends in Google Web Search, Image Search, News Search, Google Shopping, and YouTube Search.
For more advanced keyword research with monthly search volumes and other helpful metrics, check out complete SEO software like Semrush or SE Ranking.
Google Trends Features
Compare multiple search queries and see a chart of their interest (usage) over time.
Gain insight into seasonal demand for search queries related to your business and locations served.
Discover related topics and search queries that are most used and rising in popularity, which can help you plan out keywords and topics to analyze further and create content for.
Pricing
Google Trends is free to use.
---
SEOquake is a free Google Chrome browser extension by Semrush, a leading all-in-one SEO software platform.
SEOquake provides free tools for checking website SEO metrics on the fly.
While not nearly as deep and feature-rich as the full Semrush platform, SEOquake is a useful free way to get high-level domain insights for sites that appear in Google's search results and perform basic web page audits.
SEOquake Features
SEO quake provides a free basic SEO audit to diagnose any website page including some brief tips next to the completed page analysis, which can help you make sure there are no critical issues on your business's website.
Get an idea of the size and prominence of a website based on the number of pages indexed and estimates on the number of backlinks pointing to the site.
Check the keyword density of a website page to analyze keyword phrases you are using on your site pages and the words used by competitors that you might want to include.
You can use the SEO quake browser extension to scan competitor pages for all the above SEO insights.
Pricing
SEOquake is a free plugin for your browser.
---
Semrush is one of the best SEO software with keyword research tools, backlink analysis, competitor analysis, site auditing, keyword rank tracking, and more.
Semrush is currently the market leader in all-in-one SEO tools in regard to the number of features and the amount of SEM, SEO, and PPC data provided.
Semrush Features
Semrush provides an excellent database for researching new keywords related to your business and industry, including local estimated search volumes and how competitive keywords are to rank.
Detailed on-page website audit to make sure your pages are optimized for ranking.
Search, analyze, and compare competing sites in your niche or industry in regard to keyword rankings, backlinks, and estimated site traffic to uncover new opportunities.
Gap analysis features can help you discover the topics and keywords you can improve upon or add content about on your site based on competing sites.
Create automatically scheduled SEO reports for yourself and/or employees.
Semrush provides a unique listing management add-on feature that distributes your public business information to directory sites. lets you
Manage your Google Business Profile & Facebook listings from inside the software and monitor reviews and customer suggestions received.
Semrush is recommended for small businesses looking for a more complete online marketing tool for SEO, social media, paid ads, topic research, and market insights.
Related: Semrush Review & Semrush Pricing
Pricing
Semrush provides 3 fixed monthly or annual plans. Save up to 17% with annual billing.
Pro: $119.95 per month – For new marketers and small in-house teams.
Guru: $229.95 per month – For businesses and marketing consultants.
Business: $449.95 per month – For large agencies and enterprises.
Semrush Offer: 7-Day Free Trial
---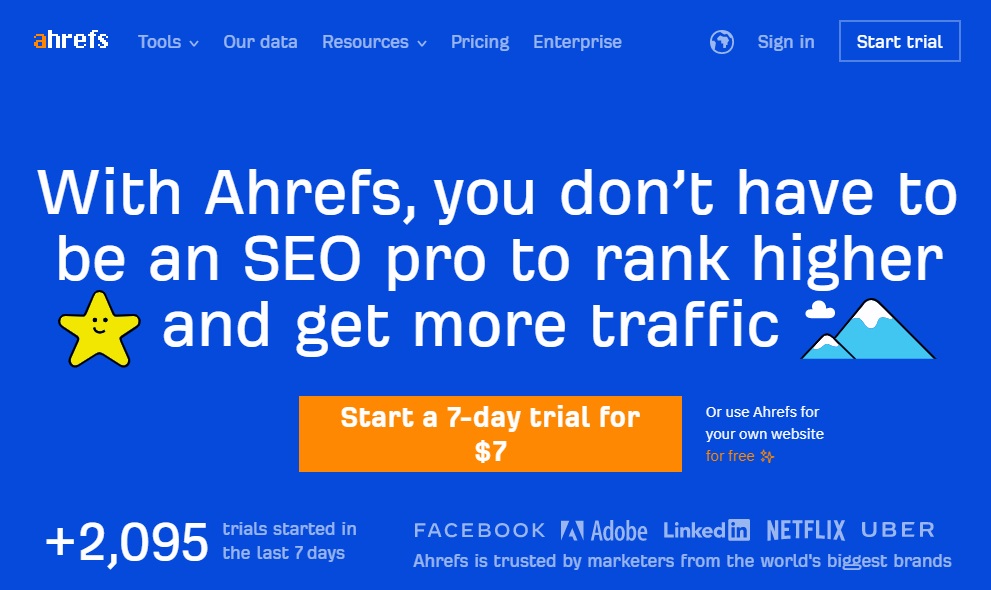 Ahrefs is an all-in-one SEO tool that provides a strong site explorer tool for competitor website analysis, backlink research, keyword research, rank tracking, and site audit features.
Ahrefs Features
Ahrefs is a top tool for gaining insights into where competitors are getting backlinks from and seeing estimated organic search traffic for sites and individual pages using their site explorer tool.
The keywords explorer tool offers a large updated database of search terms to explore based on your business or competitors, with estimated monthly search volumes, keyword difficulty levels for ranking, search demand trends, and more.
The rank tracking tool provides a nice interface for tracking keywords and comparing keyword positions with competing websites over time.
You can analyze the top-performing content in your niche with the Ahrefs content explorer tool to find link building opportunities and low-competition topics.
Ahrefs provides a free version that lets you use their site explorer tool on your website, while the paid plans unlock exploring competitor sites.
Ahrefs is worth checking to analyze competitor backlinks, search rankings, and estimated search traffic competitor pages are generating.
If you have the budget, I recommend using Ahrefs for competition analysis alongside other local SEO and rank tracker tools.
Pricing
Ahrefs provides 4 fixed monthly or annual plans. Get 2 months free with annual billing.
Lite: $99 per month – For new digital marketers and freelancers.
Standard: $179 per month – For small businesses and marketing teams.
Advanced: $399 per month – For growing businesses and marketing teams.
Agency: $999 per month – For large agencies and enterprises.
Ahrefs Offer: 7-Day Trial for $7
---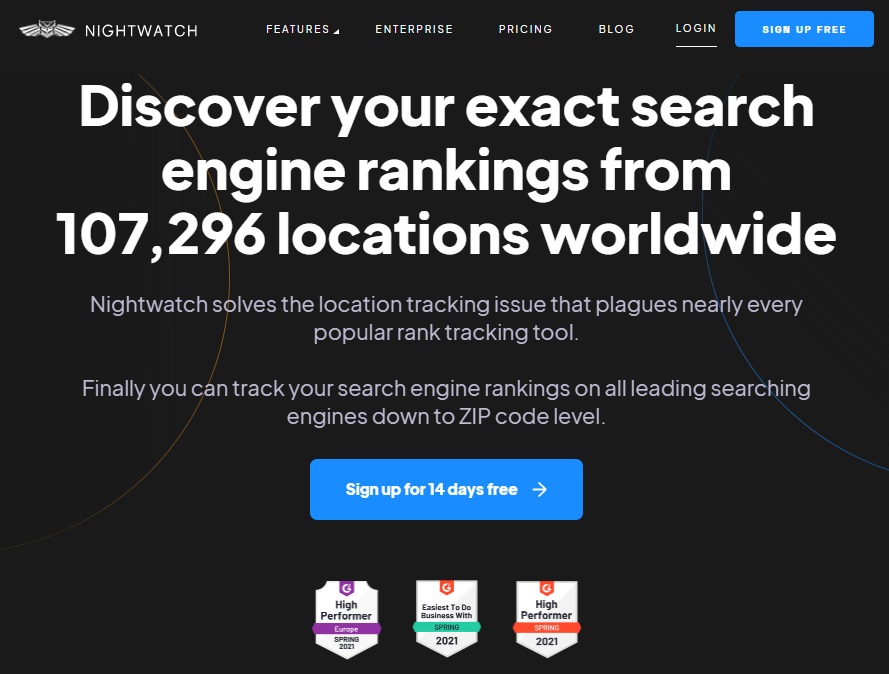 Nightwatch is an affordable yet powerful keyword rank tracker tool that provides accurate rank tracking down to the zip code level and other features including backlink monitoring, site audits, and scheduled reports.
Nightwatch Features
Nightwatch provides daily updates for tracked keyword positions across a variety of search engines like Google, Bing, Yahoo!, and DuckDuckGo, and convenient ways to tag, organize, and filter keywords.
The rank tracker tool lets you access any Google Data Center in the world, resulting in super-accurate keyword ranking data down to state, city, town, and zip code levels.
Solid rank tracker for multi-location and service-area businesses, since you can track keywords across many local areas and competitor sites to compare rankings.
You can integrate Google Analytics and Google Search Console for unique visually appealing ways to see your website data in one place.
Nightwatch provides up to 500 daily keywords tracked, 50 websites tracked, and 5,000 pages for site auditing in their $39/mo starter plan.
Nightwatch is recommended for affordably and accurately tracking many keywords for your business site and optionally for competitor sites with daily rank updates. Track keywords for more than one business location or service area.
Powerful segmenting options make it easy to view ranking performance for groups of keywords, individual pages, locations, devices, and search engines.
Pricing
Nightwatch provides 3 fixed monthly or annual plans. Save up to 20% with annual billing.
Starter: $39 per month – For freelancers, SMBs, and marketers with a limited budget.
Optimize: $99 per month – For growing SMBs and marketing agencies.
Agency: $369 per month – For large agencies and enterprise businesses.
Nightwatch Offer: 14-Day Free Trial
---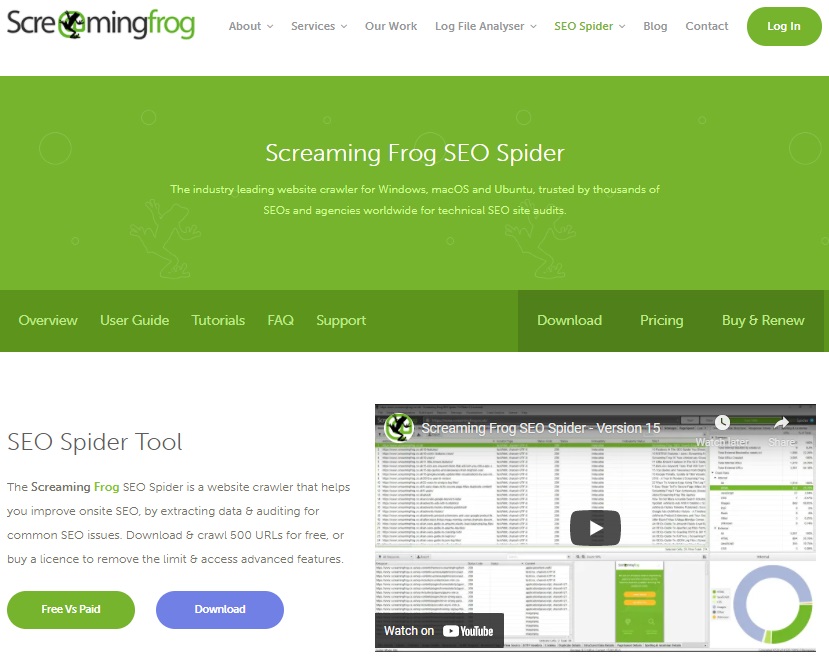 Screaming Frog SEO Spider is a website crawler tool that can help you quickly scan your website pages and competitor pages to check for on-site issues and opportunities.
Screaming Frog SEO software requires downloading to Windows, macOS, or Ubuntu to use.
Screaming Frog Features
Quickly scan hundreds of site pages to check page titles, headers used, meta tags like the meta description, image tags, word count, and more.
Screaming Frog provides a fast way to detect page URL issues such as broken links (404s), unnecessary page redirects, redirect chains and loops, and potential server errors.
The site web crawler is useful for checking internal links pointing to pages including anchor text, which can help you see if these internal links can be improved or which pages could use more or less internal links.
Visualize your website's architecture and evaluate internal linking and page URL structure with tree graph site visualizations.
The free version of the software tool lets you crawl up to 500 URLs for free, while the premium version provides unlimited crawls and additional features.
Use Screaming Frog to quickly scan your entire business site for issues and opportunities.
You can also use this web crawler tool to scan competitor websites for insights such as how many words on average a page includes, their titles and meta tags, and internal links between pages.
Pricing
Screaming Frog provides a free version (crawl up to 500 URLs) and paid version.
The paid license, priced in Euros, costs £149 per year.
Screaming Frog Offer: Free Version
---
Keyword Tool provides a quick way to find unique keywords.
The tool uses Google Autocomplete behind the scenes on your submitted keyword to return a list of long-tail keyword phrases from related searches that include your entered keyword.
Keyword Tool Features
Discover thousands of new long-tail keywords related to any topic such as your business niche, product, and service-related keywords.
Find a ton of keyword ideas based on search engine results pages from Google, YouTube, Bing, Amazon, eBay, Play Store, Instagram, and Twitter.
You can generate up to 750+ long-tail keyword suggestions for every search term you enter with the free version of Keyword Tool.
You can filter the keyword results based on specific words or block certain words.
The free version of Keyword Tool is great for the initial stages of SEO keyword research and doesn't require an account to use.
Keyword Tool can help your business's initial keyword research process by quickly giving you keyword and topic ideas to incorporate into your website content.
Pricing
Keyword Tool offers a paid and free version.
---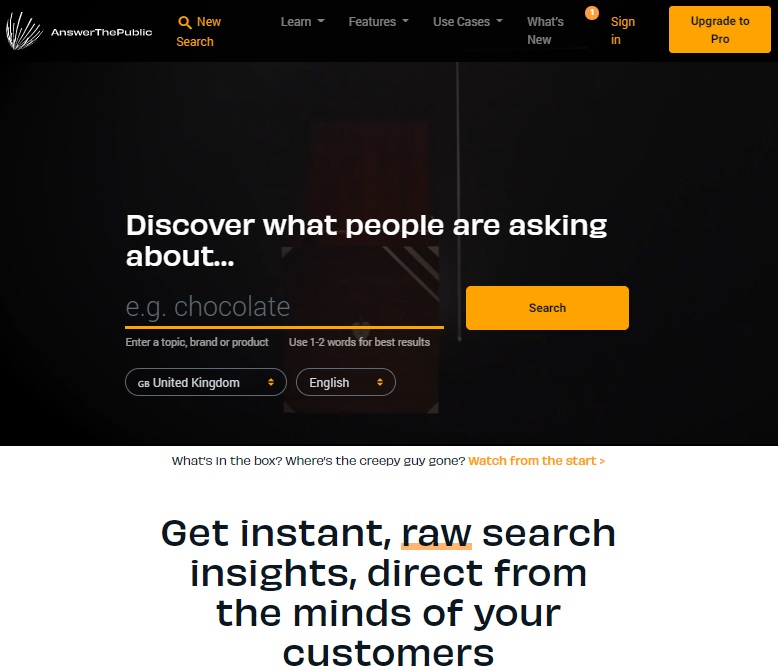 AnswerThePublic is a keyword research tool that uses autocomplete data from sources like Google and returns all the useful phrases and questions people are asking about your keyword.
AnswerThePublic Features
The search listening tool can help you save time finding initial keyword ideas based on all the related phrases and questions provided.
Gain a deeper level of understanding of how your prospects and customers are searching and the questions they're asking related to your business.
Being able to explore the questions and problems your prospects or customers are having makes it easy to create helpful website content.
The tool is very useful for improving new and existing content for on-page SEO and organic search traffic opportunities.
The paid version lets you compare data over time, and set up multiple search listening alerts for faster insights, and unlimited keyword searches.
AnswerThePublic can help you discover the type of questions your customers and prospects are searching on Google and improve your website content strategy.
Pricing
AnswerThePublic offers a free and paid version.
---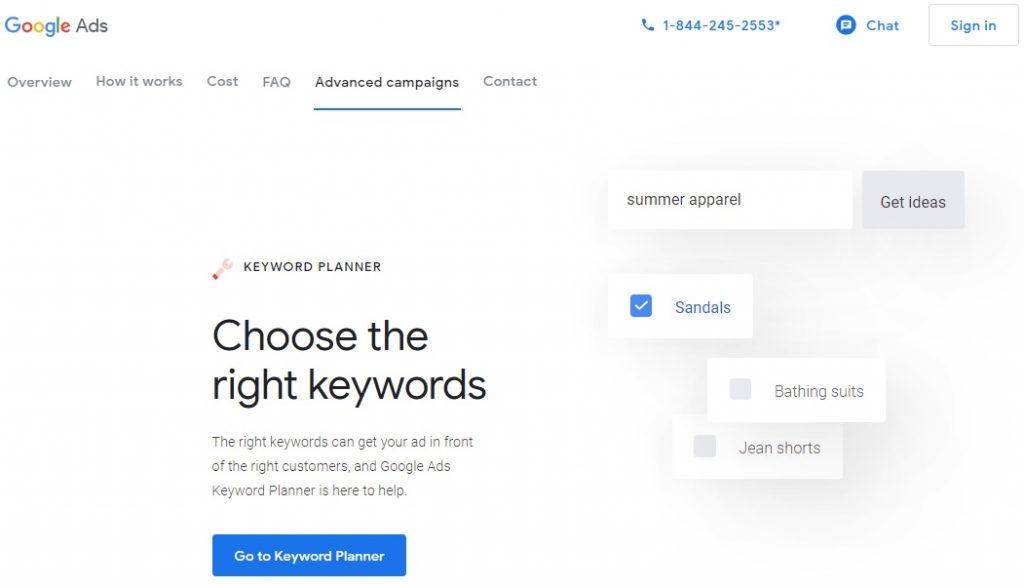 Google Keyword Planner is a keyword research tool by Google for discovering keyword searches related to your business.
While Keyword Planner is housed under Google Ads and is often used to conduct keyword research for search ads and see pay-per-click (PPC) bidding data, it can still be useful for SEO and you can create a Google Ads account and use the tool for free.
Google Keyword Planner Features
With Keyword Planner, you can discover new and related search terms that people are using and bidding on in Google Ads, which can help reveal search demand and competition levels for choosing topics to write about.
Instead of searching by keyword, you can also enter your website URL or a competitor's website for additional ways to find new keywords to target.
While this tool provides average monthly search numbers, you can only see ranges such as 1k-10k, unless you are running an active Google Ads campaign, which would reveal exact search volume data.
Keyword Planner is a great initial research tool to find search terms before analyzing them further in an SEO tool that provides additional data like Semrush, SE Ranking, or Ahrefs.
This free tool is something your business should take advantage of to get a basic idea of search demand and competition for terms related to your business.
Pricing
Google Keyword Planner is a free tool built into Google Ads.
---
BrightLocal offers local SEO tools for small businesses including a rank tracker, local grid view rank tracker, local search audit, Google My Business audit, online reputation, and review management, citation building service, and local data aggregator service.
BrightLocal Features
BrightLocal provides one of the most affordable citation building and data aggregator services on the market to get your local business information and website link across a large number of websites to improve local search rankings.
The reputation management tool makes it easy to create review request campaigns through SMS, email, and links, upload customer details in bulk to quickly request reviews, create automated follow-up messages, and choose from 80+ sites for customers to leave reviews on.
Track local Google Maps rankings in a unique grid view and track keyword positions in search results with simple ranking table reports.
BrightLocal's SEO tools are perfect for multi-location local businesses that are looking for easier management of citations and NAP consistency (name, address, phone number), reviews, business listings, and local search visibility across all business locations.
You can create a 14-day free trial account with no card needed to see if the local SEO features are useful for your business.
BrightLocal's affordable set of local search tools and services can help your business track local rankings, manage and expand listings for multiple locations, and generate more reviews to improve your local SEO.
Pricing
BrightLocal provides 4 monthly or annual plans. Get 2 months free with annual billing.
Monthly Pricing:
Single Business: $35 per month – For small businesses and marketing agencies managing up to 3 locations.
Multi Business: $60 per month – For mid-sized businesses and growing agencies managing up to 6 locations.
SEO Pro: $90 per month – A complete plan for businesses and marketing agencies managing up to 100 locations.
Just Reviews: $8 per month per location – A dedicated plan to monitor, generate, and showcase reviews.
The citation-building service starts at $2 per citation.
BrightLocal Offer: 14-Day Free Trial
---
Whitespark provides a bundle of local SEO tools and services including a local rank tracker, reputation builder, local citation finder, Google My Business (GMB) management service, Yext replacement service, local listings citation building service, and local data aggregation service.
Whitespark Features
Whitespark's local citation finder and listing service is a great way to find and track citations, including competitor citations, and get your business information syndicated out to sites to help improve business visibility in local search results.
Data aggregator service enhances your business's online presence further by ensuring accurate and up-to-date business info is in the U.S. local search ecosystem made up of InfoGroup, Acxiom, Neustar, Localeze, and Factual.
Reputation builder includes features for connecting, getting, and sharing reviews through your website, email, or SMS text, monitoring reviews online across review sites, responding directly to Google reviews and Facebook recommendations, and getting email notifications for new feedback and reviews.
The GMB service provides managed updating and optimizing of your Google business listing to improve conversions, site visits, and local rankings.
Whitespark's local rank tracking tool gives insight into the top 100 positions in local SERP results for tracked keywords, including competitor ranking comparisons and custom filtering options.
Whitespark's set of small business local SEO tools and services can help you expand your local listings, citations, and reviews to improve your local search visibility.
Pricing
Whitespark pricing varies depending on the tool or service.
---
Moz Pro is a reputable all-in-one toolset for site audits, rank tracking, and local SEO reporting.
Moz Pro Features
Moz Pro features reliable keyword research, a backlink analysis tool called Link Explorer, and a position-tracking tool for keywords in your target location/s.
Research keywords and questions people are searching for and save keyword lists.
Track local and national searches and get an overall picture of how you rank with Moz's Search Visibility score.
Crawl and audit your sites for issues and errors and receive alerts.
Customizable reports and templates with drag-and-drop modules.
Pricing
Moz Pro provides 4 fixed monthly or annual plans. Save up to 20% with annual billing.
Standard: $99 per month – For new SEOs and digital marketers.
Medium: $179 per month – For small businesses and teams.
Large: $299 per month – For growing businesses and agencies.
Premium: $599 per month – For large agencies and marketing teams.
Moz Pro Offer: 30-Day Free Trial
---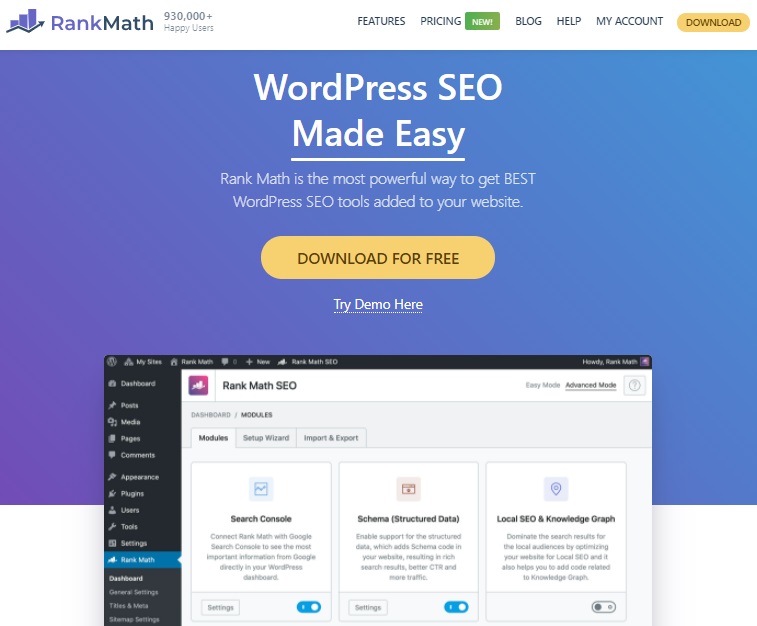 Rank Math is an SEO plugin for WordPress that provides a ton of features for configuring and optimizing a WordPress site and page content for search engines.
Rank Math Features
A simple setup wizard makes it easy to set up and configure your site's SEO foundation. The free version is packed with helpful SEO settings for WordPress.
Rank Math provides an SEO analysis of your pages as you create content based on 30 known factors including suggestions built into the WordPress editor.
Useful features for detecting broken links (404s) and managing link redirects.
Preview how your page or post will appear in the SERPs (search engine result pages), preview rich snippets, and preview how your post will look on social media.
Automatically create and generate XML sitemaps for your site and add Schema structured data markup to your page code (gives Google more context about a page).
The paid plans let you integrate Google Analytics, Google Search Console, enable keyword tracking right in the WordPress dashboard, performance reports, and more.
Rank Math is a recommended SEO solution for small businesses with a WordPress site. The WordPress SEO plugin is loaded with useful features that will help optimize your site.
Pricing
Rank Math offers a free and paid version.
---
Yoast SEO is a WordPress SEO plugin that provides a host of features for optimizing a WordPress site and content for search engines, similar to Rank Math.
Yoast SEO Features
Provides a simple setup wizard to configure the technical foundation of your site for SEO.
Built-in on-page SEO suggestions for your content built into the WordPress editor.
Get previews of how your pages or posts will appear in search results.
Yoast SEO automatically generates an XML sitemap file for your site and applies basic Schema markup code to your pages and posts.
The premium edition of Yoast SEO provides enhanced features, such as readability analysis, page redirect capabilities, automatic redirection for removed pages, and internal linking suggestions.
Yoast is a useful plugin for foundationally optimizing your WordPress site. If your business uses WordPress, it's worth checking out as a Rank Math alternative.
Pricing
Yoast SEO offers a free and paid version.
---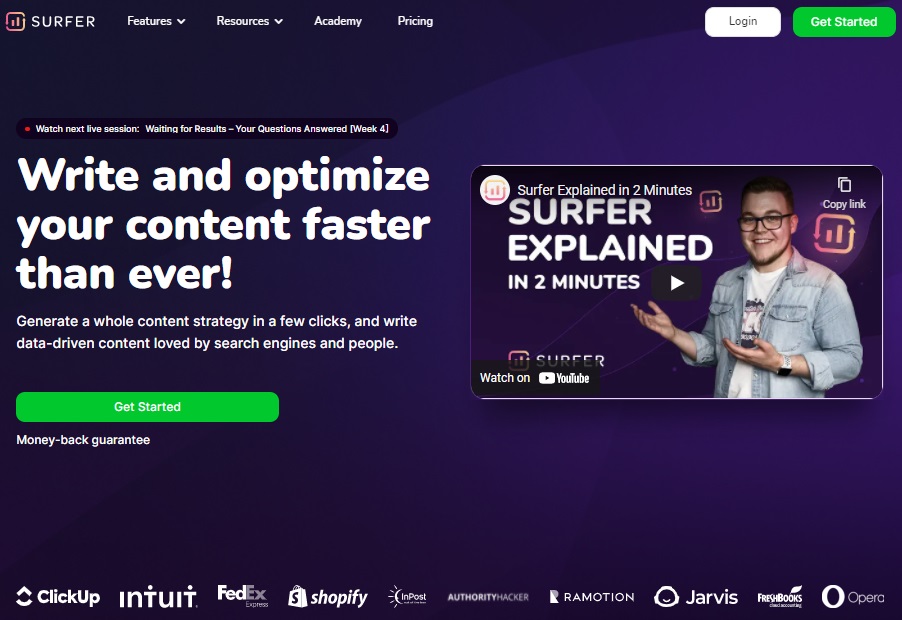 Surfer is a powerful SEO software with data-driven features for keyword research, content planning, content auditing, SERP analyzing, and SEO-optimizing content.
Write content with on-page SEO suggestions based on algorithms that analyze 500+ factors and the top 50 competitor pages on Google for your target keyword phrase.
Surfer Features
You can enter a target keyword and Surfer SEO will reverse-engineer Google's SERP results for related terms, questions, headings, word count, images, and more that are being used, and provide you with a page score based on including the suggestions in your content.
Based on your focus keyword, the content planner uses multiple layers of data to show you the most relevant topic ideas and related terms to help you create an organized set of content for your website that is aligned with your niche and what's being searched for.
Find new keyword opportunities and get estimated monthly search volumes.
You can copy-paste content seamlessly between the Surfer content editor, Google Docs, and WordPress for a seamless content editing experience.
The hyper-relevant articles and landing pages you can create based on Surfer SEO's NLP (natural language processing) technology and suggestions will put you ahead of most small businesses' progress when it comes to optimizing your content for search engines and users.
Surfer's data-driven content suggestions and page-level audits can help you fine-tune your site content to rank high and stay competitive online while saving hours of time.
Without Surfer, you would have to manually look up competitor pages and decipher the many elements and words that could potentially help your content rank higher.
Surfer lets you know where your content stands compared to your competition for a given keyword and guides you toward writing the most optimized content to rank.
Related: Surfer SEO Review
Pricing
Surfer offers 3 fixed monthly or annual plans. Save up to 17% with annual billing.
Basic: $59 per month – 10 content editors and 20 content audits each month.
Pro: $119 per month – 30 content editors and 60 audits enhanced with NLP.
Business: $239 per month – 70 content editors, 140 audits, NLP, white labeling, and API access.
Surfer SEO Offer: 7-Day Money-Back Guarantee
---
Small Business SEO Tools Comparison Table
| SEO Tool: | Description: |
| --- | --- |
| SE Ranking | All-in-one SEO platform with tools for competitor insights, site audits, daily rank tracking, content optimization, and more. |
| Semrush | SEO & marketing tools with features for competitor research, site auditing, topic research, daily rank tracking, and more. |
| SEO PowerSuite | Desktop SEO tool suite with tools for keyword research, rank tracking, site audits, competitive analysis, and more. |
| Google Business Profile | Manage business presence in Google Search & Maps, accept Google reviews, publish Google Posts, and more. |
| Google Search Console | Check and optimize site presence for Google Search, submit sitemap files, and check for site and page indexing issues. |
| Google Analytics | Understand website visitor sources and behavior. |
| Google Trends | Analyze interest trends for search queries on Google. |
| Google PageSpeed Insights | Check page loading speed and related performance. |
| Google Keyword Planner | Find keyword ideas with estimated search volumes and trends from the keyword tool inside Google Ads. |
| Ahrefs | SEO software with features for competitor research, keyword research, topic research, site auditing, and rank tracking. |
| Screaming Frog SEO Spider | Analyze many site pages quickly for issues, and opportunities, and understand a website's linking structure. |
| Ubersuggest | Popular keyword research tool with features for domain analysis, backlink data, site audits, and rank tracking. |
| BrightLocal | SEO tools and services for low-cost citation building, review monitoring, and basic keyword tracking. |
| Whitespark | SEO software and services for citation-building, reputation-building, managing reviews, and keyword tracking. |
| Moz Pro | Reputable all-in-one toolset for keyword research, site audits, backlink insights, rank tracking, and local SEO reporting. |
| Rank Math | Plugin to configure WordPress SEO, get page optimization suggestions, and track rankings in the dashboard. |
| Yoast SEO | Plugin to configure SEO settings for WordPress, adjust technical settings, and get page optimization suggestions. |
| Surfer SEO | Content optimization tool with data-driven page audits and content suggestions based on 500 ranking factors. |
Comparing the Best SEO Tools for Small Businesses
Small Business SEO Tool FAQS
What is Small Business SEO?
Small business SEO is the practice of improving your business and website presence in local search results on Google for keywords that are searched by potential new customers.
What is Small Business SEO Software?
Small business SEO software is a type of software tool or platform used to research, analyze, and monitor data related to business and website visibility in search engines like Google.
Why Use SEO Software for Small Businesses?
The best SEO software for small businesses makes search engine optimization efforts more effective and efficient with actionable insights and data for improving SEO strategies.
Are SEO Tools Required for Successful SEO?
SEO tools, while not essential, significantly benefit small businesses by streamlining the optimization process and offering valuable insights.
These tools simplify tasks such as keyword research, on-page SEO analysis, backlink monitoring, competitor analysis, and performance measurement.
By saving time and improving accuracy, businesses can focus on other crucial aspects of their operations. With the right tools, small businesses can remain competitive in the digital landscape and effectively connect with their target audience.
Can I Use Multiple SEO Tools Together?
Yes, using multiple SEO tools together can provide a comprehensive approach to SEO tasks like optimizing your website, monitoring rankings, and conducting competitive research.
Different tools often specialize in specific aspects of SEO, so combining them can help cover various aspects of your optimization strategy.
This approach allows you to leverage the strengths of each SEO tool, ensuring that you have a well-rounded understanding of your website's SEO performance and areas for improvement.
However, it's essential to strike a balance and avoid tool overload, as this can be time-consuming and may lead to overlapping functionality.
How Often Should I Use SEO Tools?
The frequency of using SEO tools depends on your business needs and the specific tools you choose.
Regularly monitoring your website's performance, at least monthly or weekly, is recommended to keep track of SEO progress and identify areas for improvement.
For tasks like keyword research and competitor analysis, it's advisable to perform updates on at least a monthly basis or when making significant content changes.
Ultimately, staying consistent with your SEO efforts and adapting your strategy based on the insights provided by your tools will help you maintain and improve your search engine rankings.
Are There Free SEO Tools for Small Businesses?
Yes, there are a variety of paid and free SEO tools available, many of which are shared above.
Free SEO tools are often simpler in function compared to paid tools, which tend to provide multiple features such as rank tracking or the ability to research in-depth data and save reports.
What is the Best SEO Software for Small Businesses?
The best SEO tool depends on your needs. You can get most research, auditing, tracking, and reporting done with an all-in-one SEO platform like SE Ranking or Semrush.
To check page speed, there are several free tools shared above. For managing online listings & reviews, check out BrightLocal.
Benefits of SEO Software for Small Businesses
Here are 11 benefits of using SEO software for small businesses:
Find keywords and topics to target – SEO software helps identify relevant keywords and topics that resonate with your target audience, increasing your website's visibility and attracting potential customers.
Manage business listings – Maintain accurate and consistent business information across various online directories to ensure a professional online presence and improve local search rankings.
Monitor online reputation – Keep track of customer reviews and feedback on various platforms, enabling you to address concerns promptly and maintain a positive online reputation.
Track keyword rankings – Monitor your website's search engine rankings for targeted keywords, helping you assess the effectiveness of your SEO efforts and make informed decisions for future optimizations.
Analyze competitor rankings – Gain insights into your competitors' SEO strategies, allowing you to identify their strengths and weaknesses and capitalize on opportunities for growth.
Check website backlinks – Evaluate your website's backlink profile to ensure a healthy mix of high-quality, diverse links that contribute to better search engine rankings.
Scan a site for SEO issues – Identify and fix technical issues that may hinder your website's performance in search engines, such as broken links, duplicate content, or poor site structure.
Optimize on-page elements – Improve your website's on-page SEO elements, such as meta tags, headings, and content, to increase its relevance and appeal to both search engines and users.
Improve site performance – Enhance your website's loading speed and overall user experience, which is crucial for retaining visitors and boosting search engine rankings.
Organize SEO strategy – Streamline your SEO efforts by setting clear goals, prioritizing tasks, and tracking progress, resulting in a more efficient and effective approach to optimization.
Save time and money – Automate and simplify time-consuming SEO tasks, allowing small business owners to focus on other essential aspects of their operations and maximize their marketing budget.
My Top Picks for Small Business SEO Tools:
Final Thoughts: Best SEO Tools for Small Businesses
SEO software tools assist small business owners in saving time and resources while enhancing their visibility in local search results, outperforming competitors, and generating increased leads and sales.
This extensive list of the top SEO tools for small businesses should be all you need to help you set up a solid SEO strategy and foundation, track progress, and ultimately achieve great digital marketing results for your business.
I hope this post helped you find the best SEO tools for your business needs.
More Posts About SEO Software Tools: