Looking for the best daily rank tracker for SEO? Here's a list of the best daily rank tracking tools for monitoring keyword positions in search engine results pages (SERPs).
Daily rank tracking software offers much quicker insight into your SEO efforts and keyword ranking trends on search engines than traditional weekly rank tracking tools.
Which daily rank tracking tool is best? Learn more about the best daily rank tracker tools for search engine optimization below including their key features and pricing.
BoostPlanner is reader-supported. If you buy through a link on my site, I may earn an affiliate commission.
Top Daily Rank Tracker Overview
Here is an overview of the top daily rank trackers (described in detail below):
Learn more about these daily rank tracking tools and their key features below.
Why Track Rankings Daily?
Daily rank tracking offers a number of benefits to improve SEO performance:
Identify ranking drops more quickly so you can work to resolve them.
See which rank positions are volatile or stable for tracked keywords.
Gain insight into how quickly newly published pages start ranking.
Better understand how content or link changes impact rankings.
Monitor changes in competitor rankings more frequently.
What to Look For in a Daily Rank Tracker
Here are some factors to consider for choosing the best daily rank tracker:
The number of rankings you can track daily based on the given plan.
The number of sites, search engines, devices, and locations you can track.
Keyword organization features such as tags and filtering options.
The rank tracking software gives you the ability to create ranking reports.
If you prefer all-in-one SEO tools that include daily rank tracking.
What Are the Best Daily Rank Tracking Tools?
Based on experience testing these SEO rank tracking tools over the years, here is a detailed list of the best daily rank tracking software for 2023:
SE Ranking is a popular SEO software platform with a rank tracker that offers weekly and daily rank checking as plan options.
The all-in-one SEO platform also includes features for keyword research, competitor research, backlink analysis, site audits, social media management, and reporting.
Rank Tracking Features
With SE Ranking, you can track keyword rankings for your preferred country, region, city, and postcode, and analyze search results for both desktop and mobile devices.
SE Ranking lets you optionally organize your target keywords into folders and tags and includes a convenient keyword interface with metrics like keyword search volume.
Search Engines
At the time of writing, SE Ranking offers the following search engines:
Google
Bing
Yahoo
YouTube
Yandex
You can also choose to include Google Maps results and track Google Ads rankings.
Keyword Metrics
Get updated on the following daily keyword metrics:
Monthly search volume
Traffic forecast
Search visibility
SERP features (snippets, images, videos, etc.)
Number of keywords
Google Maps search results
Positions of Google Ads
Estimated ad CPC (cost-per-click)
In addition, you can connect your Google Analytics and Google Search Console accounts for a more complete analysis of search queries and website traffic.
Competitor Features
Add up to 20 competitors (depending on the plan) to a project and track their ranking position changes against your keywords.
Add competitors manually or use SE Ranking's competitor suggestions.
Get a visibility score based on your tracked keywords and search competitors.
Other Features
SE Ranking also includes a helpful notification system for website position alerts and a powerful report builder for creating search engine ranking reports, among others.
The mid-tier Guru plan provides white-label rank tracking reports.
The Business plan includes an API for integrating keyword data in other apps.
Pros
Affordable all-in-one tools with keyword rank tracker.
Accurate keyword position tracking and organization options.
Large database of keyword research and competitor data.
Flexible options for adjusting the cost of plans.
Daily SERP tracking updates with all plans.
Cons
User interface design and organization could be improved.
The learning curve for understanding the feature set.
Pricing
SE Ranking's pricing plans offer a lot of flexibility for adjusting features and costs. For example, you can adjust the number of keywords to track and other various limits for analyzing keywords, backlinks, on-page SEO, and more.
You can get a plan with daily ranking data and up to 250 keywords for $49/month. Annual subscriptions give you a 20% discount. The plan lets you track up to 5 search engines or locations per keyword.
Enterprise plans with custom pricing are available if you need to track more keywords or require additional usage limits beyond the three primary plans.
SE Ranking Offer: 14-Day Free Trial
---
Nightwatch provides an accurate national and local rank tracking tool down to the zip code level for major search engines with powerful rank position segmenting options.
Rank Tracking Features
Nightwatch offers rank tracking for 107,296 locations worldwide and has access to the largest number of Google Data Centers in the rank tracker market.
The daily rank tracker tool also includes technical SEO audits and a report builder to create in-depth automated keyword position reports for one or more locations.
Nightwatch also includes powerful keyword segmenting options to analyze various sets and types of keyword data side-by-side.
For example, you can use these custom keyword segments and views to analyze your ranking progress side-by-side based on devices, locations, and other keyword metrics.
Search Engines
Nightwatch lets you track rankings for the following search engines:
Google
Google Maps
YouTube
Bing
Yahoo
DuckDuckGo
Keyword Metrics
Gain insight with the following metrics for each keyword:
Monthly search volume
Evolution graph showing the weekly ranking trend
Day, week, and month ranking changes
When the keyword was last updated or the ranking changed
Number of SERP results for the keyword
SERP features available
Google Ad CPC estimates
Nightwatch also connects with Google Analytics and Google Search Console to provide new keyword ideas and traffic insights and help you optimize for the best keywords.
Competitor Features
Add up to 5 competitors to monitor their ranking changes for your tracked keywords.
The Start plan lets you track up to 50 websites with their own set of keywords, locations, and search engines, whether they're yours, client sites, or competitor sites.
Other Features
Nightwatch provides some of the best options for creating custom segments to view and analyze. You can pin saved segments/views to a dashboard for side-by-side analysis.
The mid-tier Optimize plan includes API access for programmatic use of ranking data.
You can also create and schedule automated SEO rank tracking reports for clients in PDF, CSV, or HTML format.
You can start a report from either a Basic or Progress report template, select one of your keyword lists, and adjust or change the report columns to suit your needs.
Pros
Affordably track many keywords for multiple websites.
One of the more accurate rank tracker tools available.
Advanced keyword segmenting and viewing features.
Create appealing automated keyword ranking reports.
Daily keyword ranking updates are included in all plans.
Cons
Not a complete platform like Semrush or SE Ranking.
Lacks search volume data for low-volume keywords.
A bit pricey for small teams beyond the Starter plan.
Pricing
With the Starter plan, you can get 500 daily keywords tracked daily across up to 50 websites for only $39/month or $32/month if you subscribe to a yearly plan.
The Optimize plan starts at $99 per month or $79 per month annually for 1,000 daily keywords tracked, 200 websites tracked, 10,000 site audit pages, Google Analytics & Google Search Console integration, 15 white label reports, and API access.
The Agency plan lets you track 5,000 daily keywords, 1,000 sites, 5 competitors, and includes unlimited user seats and white-label reports.
Custom enterprise plans or higher volume pricing options are available.
The daily rank tracker is excellent for monitoring many keywords across multiple search engines, locations, and/or websites such as competitors or client sites.
Annual subscriptions offer discounts of up to 20% off.
Nightwatch Offer: 14-Day Free Trial
---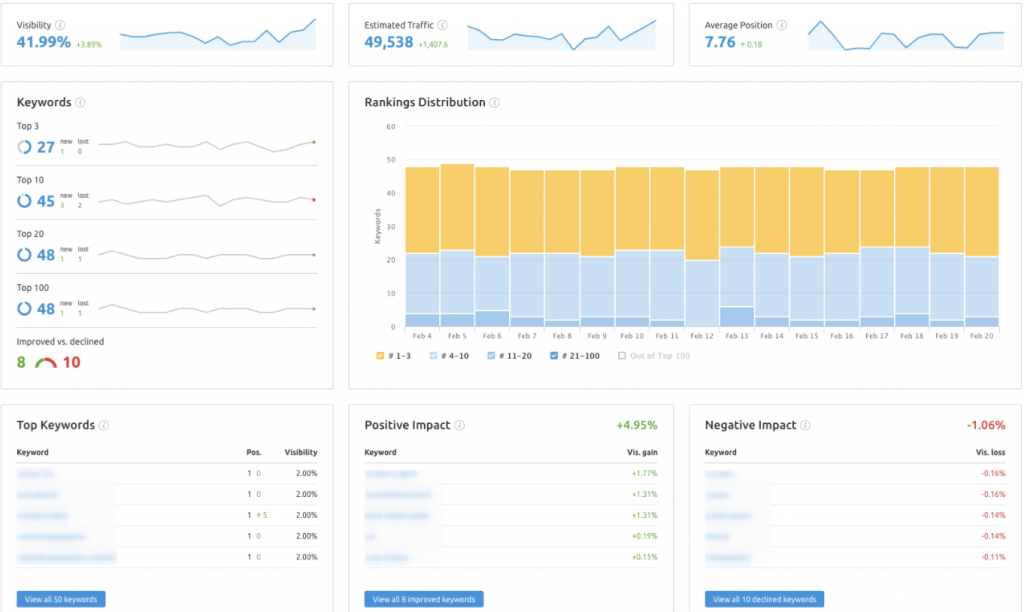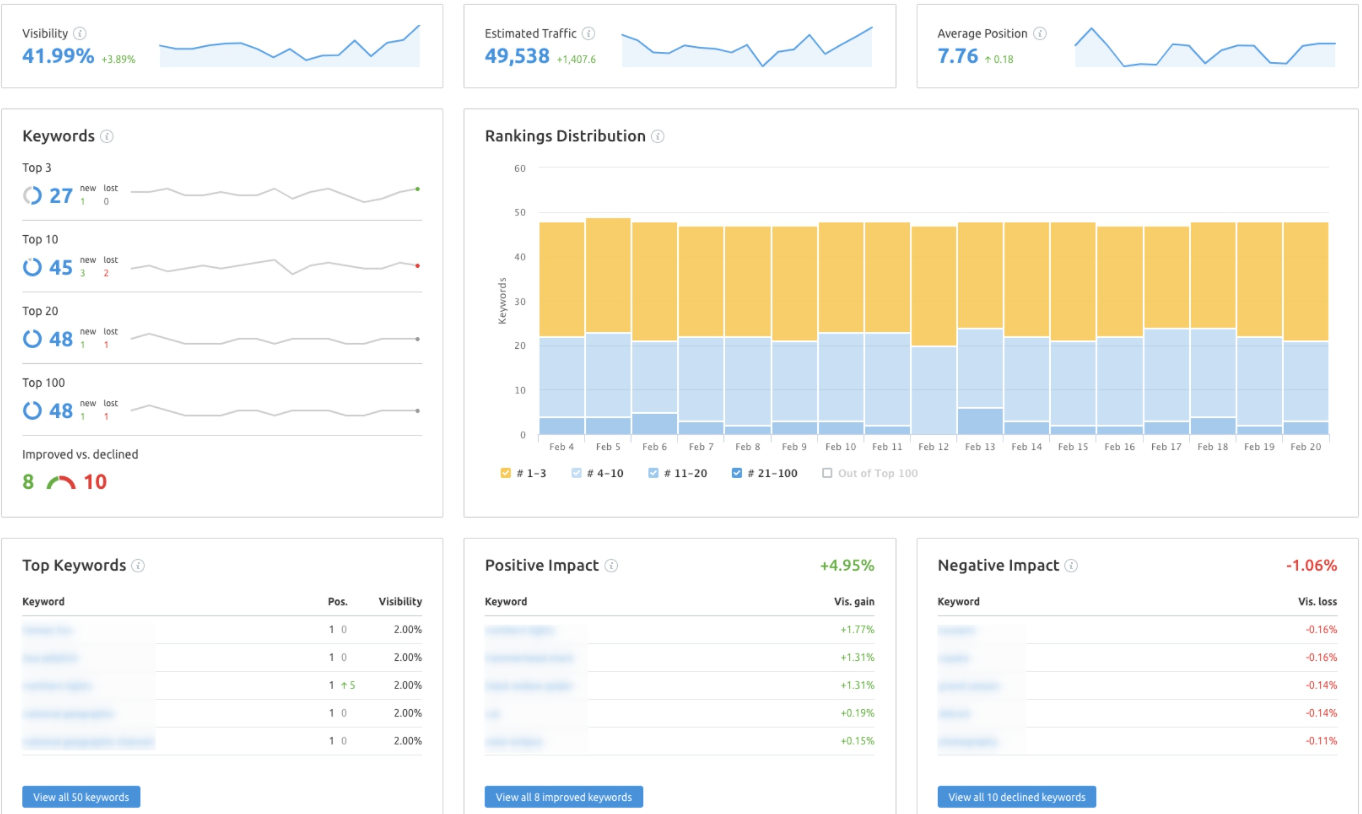 Semrush is an industry-leading SEO platform with a large set of digital marketing and all-in-one SEO tools including a keyword rank checker tool with daily updates.
Rank Tracking Features
Track daily ranking changes on Google for desktop or mobile devices. Get insight on Google algorithm updates and monitor daily competitor rankings.
Organize your keywords with tags, monitor keyword position history, see search engine results page (SERP) features that appear in organic search results pages for your chosen keywords, and view estimated monthly search volume for your keywords.
Semrush offers a large number of features including a huge database of backlinks and keyword data that you can combine with the daily rank checker and automated reports.
Search Engines
Semrush provides daily ranking trends and keyword data for:
Google Search
Google Maps
Keyword Metrics
Analyze your keyword performance with the following metrics:
Monthly search volume
Position trend graph for the last 12 months
Keyword difficulty % or how difficult the keyword is to rank for
Estimated CPC (cost-per-click) based on Google Ads
Competitive density or the level of PPC competition
The number of SERP features that appear for the keyword
Unique click potential metric to help estimate traffic
Top competitors ranking on the 1st page for your keywords
Date when keywords and metrics were last updated
The larger Guru and Business plans include a Google Data Studio connector integration for the option to pull your Semrush daily ranking data into custom Data Studio reports.
Competitor Features
You can add up to 20 competitors to a single Position Tracking campaign to compare ranking performance and gain more insight into what's working for each site.
Note: You can only view up to 5 domains at a time in the Visibility Trend graph, for a side-by-side chart comparison of each competitor's visibility.
Other Features
Semrush offers a large feature-set and leading backlink and keyword data you can combine with the daily rank checker and in automated reports.
The platform includes a comprehensive report builder and templates for creating automated reports on SEO efforts, including dedicated keyword ranking reports.
Semrush also offers a listing management add-on with a heatmap feature that shows the rankings of local business listings on Google Maps for nearby locations.
Pros
Best daily rank tracker software with all-in-one SEO tools.
Massive database of keyword and competitor data.
Easy to use interface with many helpful resources.
Report on over 50 metrics from scratch or with templates.
Monitor keyword rankings daily as part of all Semrush plans.
Cons
The feature set may be overwhelming for beginners.
Add-on pricing and plan costs for small operations.
Pricing
Track up to 500 keywords with updates per day across up to 5 website projects with the Semrush Pro plan for $119.95/month or $99.05/month with an annual plan.
Save up to 17% on annual subscription plans.
While Ahrefs and Moz Pro offer reliable toolsets with daily position checking as well, Semrush provides the most value in terms of its feature-rich set of digital marketing tools, content marketing tools, and a Google ranking checker with daily data.
Semrush Offer: 7-Day Free Trial
---
Ranktracker is a versatile rank tracker tool with daily keyword updates in all plans and extra features for keyword research, website audits, and completing SEO tasks.
Rank Tracking Features
Monitor search engine rankings in a clean and intuitive dashboard with keyword tagging and convenient filtering options.
Compare competitor search rankings, identify search volumes with the keyword tool, and uncover SERP features that appear for your keywords.
Search Engines
Ranktracker offers rank tracking for the following search engines:
Google
Google Maps
Bing
Yahoo!
Yandex
The daily rank tracker makes it easy to switch between mobile and desktop rankings.
Google My Business (GMB) local search rankings are also tracked.
Keyword Metrics
Receive data for the following keyword metrics:
Monthly search volume
Search visibility
Keyword difficulty
Traffic estimates
SERP features
Average position
CPC estimates
Pros
Nice combination of ranking tools with keyword research data.
Clean, intuitive, and well-organized interface design.
One of the lowest-priced daily rank trackers on the market.
White label rank tracker reports are included in all plans.
Daily Google SERP checker included in all plans.
Cons
The software could load quicker for some data views.
Limited research data compared to other all-in-one software.
Pricing
The Starter plan offers 100 daily tracked keywords for only $18 per month.
The next plan called Double Data offers 500 keywords, unlimited user accounts for team members, and unlimited domains for $59 per month.
All plans include daily rank tracking and automated reporting with white-label options.
Save up to 60% off with an annual subscription.
Ranktracker Offer: 7-Day Free Trial
---
SERPWatcher provides a beginner-friendly keyword SERP tracking tool bundled with additional tools for keyword analysis and basic competitor analysis.
Rank Tracking Features
Mangools SERPWatcher rank tracker includes a visually appealing user interface that shows top keyword gainers and losers over time. Track desired keywords for your preferred location and monitor both desktop and mobile rankings.
The daily rank tracking tool provides a unique performance index score, position history for your keywords, search demand trends, and estimated keyword search volume. You can also create simple yet attractive rank reports and alerts.
Mangools offers a solid toolkit for smaller SEO projects with its keyword research software for finding low keyword difficulty terms and an easy-to-use rank tracker.
Pros
An affordable and beginner-friendly SEO toolset.
Simple all-in-one features combined with a SERP tracker.
Useful KWFinder tool for finding low-competition keywords.
Simple, straightforward, and modern interface design.
Daily keyword rank tracker software with all plans.
Cons
The keyword database is not as extensive as other software.
Lacks features for tracking competitor rankings.
Pricing
The Mangools Basic plan is $49/month or $29.90/month when paying annually and includes up to 200 tracked keywords checked daily. Save up to 40% with annual plans.
Mangools offers a 10-day free trial. You can also save up to 40% if you subscribe to an annual plan.
---
AccuRanker is an enterprise rank tracker with the ability to update rankings on-demand and useful features for growing SEO professionals and agencies.
Rank Tracking Features
Track keywords for multiple locations on Google and Bing for desktop, mobile, and local search results. You can also track competitor ranking positions and SERP features alongside organic search results for your primary keywords.
Keyword SERP positions are naturally updated every 24-hours. However, the on-demand ranking option lets you refresh your important keywords every second hour.
You can also create customized white-label ranking reports and automate report scheduling.
While a little pricier than some rank checking tools to start, all plans come with an unlimited number of domains, users, and reporting options which are helpful for scaling agencies.
Pros
Clean user interface for analyzing many keyword rankings.
Track unlimited domains and integrate with a range of software.
Unlimited user accounts are a nice feature included with the software.
You can manually refresh keywords for on-demand updates.
Provides accurate daily keyword tracking and SERP history.
Cons
Refreshing data for batches of tracked keywords can be slow.
Pricing starts high compared to other SEO tracker tools.
Pricing
AccuRanker plans start at $109 per month or $99 per month with yearly billing for up to 1,000 keywords tracked daily including on-demand updates for unlimited domains.
AccuRanker provides a 14-day free trial. You can also save up to 10% by subscribing to an annual plan. The rank tracker software is geared towards larger businesses and agencies.
---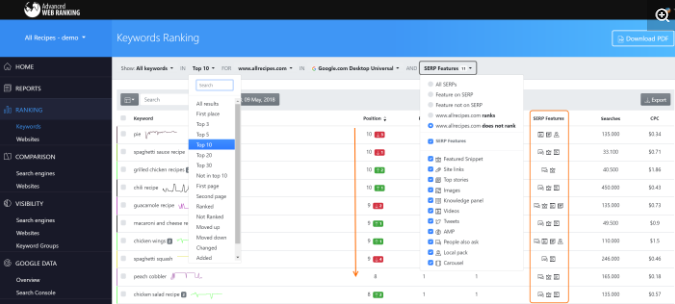 Advanced Web Ranking is a dedicated keyword rank checker tool with daily and on-demand ranking updates for enterprise-level tracking needs.
Features
With Advanced Web Ranking, you can track rankings for over 4,000 search engines and more than 170 countries. Track and compare SERP rankings with your competitors for your target locations across different devices.
As an enterprise rank tracking software, rankings can be updated on-demand for hourly rank updates or at set intervals such as daily, weekly, every two weeks, or monthly.
Uniquely identify rankings that are above and below the fold in desktop search results and see SERP features showing for your keywords.
Advanced Web Ranking integrates with Google Analytics, Google Search Console, and Google Ads to gain additional insight next to rankings. You can also report on multiple data analytics sources in white-label reports.
Pros
Daily keyword ranking checks with all plans.
White-label reports are included in all plans.
Unlimited projects and users are provided.
Ability to view a cached version of the SERPs.
Flexible rank reports with drag-and-drop widgets.
Cons
Ease of use for navigating the software and customizing reporting.
Costs more than other SERP trackers per daily tracked keyword.
Pricing
The Starter plan costs $49/month or $44/month with annual billing. The plan includes 2,000 units with unlimited projects, unlimited users, and white-label reporting.
With 2,000 units, you can update up to 2,000 keywords weekly or 286 keywords daily.
Advanced Web Ranking offers a 30-day free trial and up to 10% off when subscribing to an annual plan.
---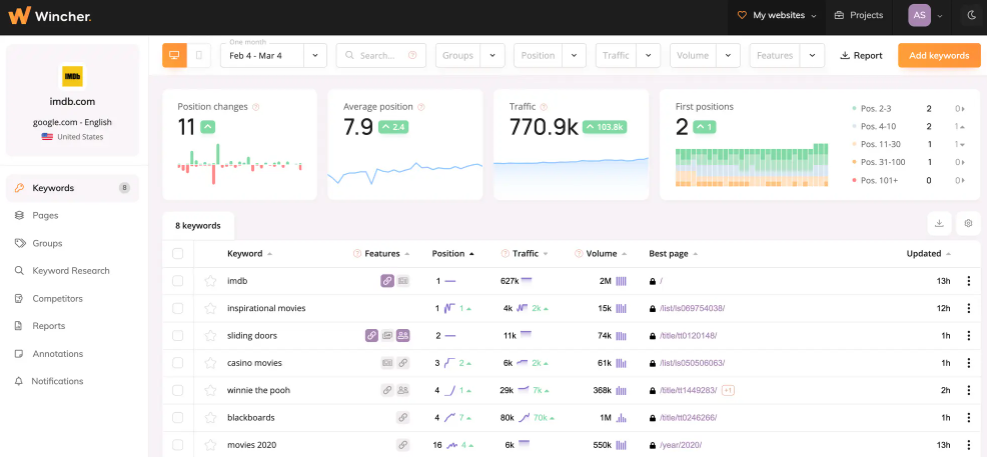 Wincher is an affordable keyword tracking tool that offers daily data updates combined with convenient keyword research tools and website SEO audit features.
Features
Wincher's rank tracker allows you to track search positions on Google for specific locations including a country, region, or city.
Wincher offers on-demand ranking updates in their tier 2 and 3 plans, which provides the ability to refresh keyword rank data earlier than the next day.
Track competitor site rankings alongside your site and inspect unique features in the SERPs such as featured snippets.
Get estimated keyword search volumes and a rough estimation of how much search traffic a keyword could potentially generate per month.
The keyword rank tracker software includes keyword tagging, sorting, and filtering options. You can also download PDF rank reports, export Excel & CSV files, automated email notifications, and ranking alerts.
Pros
Simple, intuitive interface for analyzing keyword positions.
Easy to add, tag, and organize tracked keywords.
Good pricing for daily and on-demand keyword rank updates.
One of the most affordable daily SEO rank trackers.
Helpful features for finding new keywords to track.
Cons
Unable to group mobile and desktop rankings in one project.
Lack of keyword research SEO metrics like difficulty scores.
Pricing
The Starter plan costs 29 euros/month or 24 euros/month with yearly billing and includes up to 500 keyword phrases tracked with daily ranking updates.
The plan also includes up to 10 websites and account access for multiple users. Wincher's definition of a website is one combination of a domain/URL, a search engine, and a location.
Wincher offers a 14-day free trial and 2 months free if you subscribe to a yearly plan.
---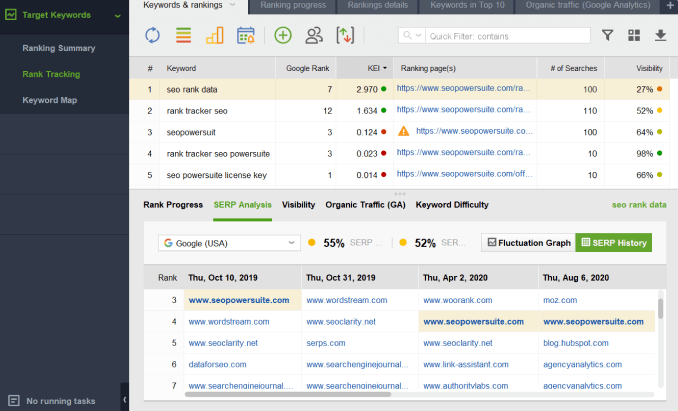 SEO PowerSuite provides a desktop keyword tracking software called Rank Tracker that requires downloading to use.
The daily rank tracker software is bundled with a suite of SEO tools including a website audit tool, a competitor analysis tool, and a link-building tool.
Rank Tracking Features
Track positions in universal and map listings across multiple search engines such as Google, Bing, and Yahoo. You can also set geo-specific rankings and check if multiple landing pages are ranking for the same keyword.
Search Engines
Track daily rankings on major search engines including:
Google
Google Maps
Bing
Yahoo!
300+ other search engines
Keyword Metrics
Gain insight into keyword metrics such as:
Estimated organic traffic potential of keywords
Keyword competition levels
The SERP features showing for keywords
Ability to view Google autocomplete data
View related questions and search data for keywords
Competitor Features
Analyze and compare up to 10 competitor websites alongside yours.
Other Features
Monitor rankings in vertical search results (positions of images, videos, etc.).
The Free plan lets you track an unlimited number of keywords and sites, competitor tracking for 1 competing site, Google Analytics and Google Search Console integrations, customizable SEO reports, and 6 ready-made report templates.
However, with the free version, you're unable to save rankings history, store projects in the cloud, copy data to spreadsheets, and save or send reports by email.
Pros
Ability to track hundreds of different search engines.
Track accurate geo-specific rankings for different locations.
Monitor rankings for vertical search engines such as images, videos, news, etc.
Track rankings automatically for predefined times and dates.
Robust keyword research data from 16 different sources.
Cons
A yearly license is required; no monthly plans are available.
Less convenient than web software due to the download requirement.
Pricing
SEO PowerSuite Professional costs $299/year for access to the full toolkit and gives you the ability to track unlimited keywords, sites, and backlinks.
Get two months free when you purchase an annual license.
SEO PowerSuite Offer: Free Version with Limited Features
---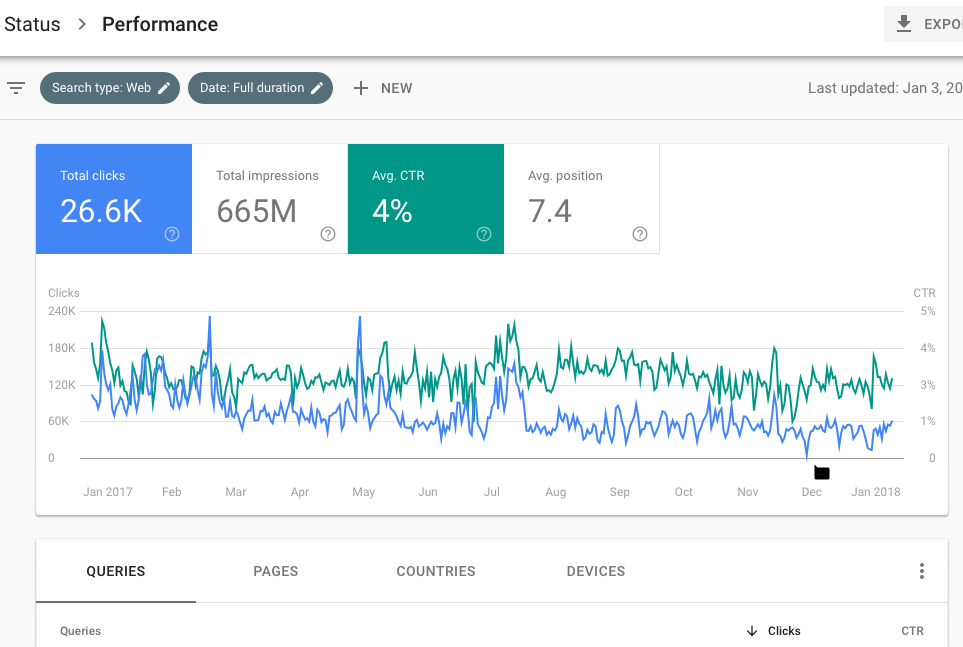 Google Search Console (GSC) is a free software tool for tracking keyword visibility detected by Google and managing your website's presence on Google's search engine.
Rank Tracking Features
GSC is a useful free rank tracking software for monitoring the number of keywords your pages are ranking for in Google Search.
Analyze essential keyword metrics like clicks, impressions, clickthrough rate (CTR), and average position for individual pages in Google's index.
Search Console isn't like paid keyword rank checker tools where you can choose specific keywords to track regardless of if you rank for them yet or not.
However, the keyword data is straight from Google and the data is usually updated on a daily basis. I use GSC alongside a dedicated rank tracking tool for additional insight.
Other Features
Additional rank checker features include sorting data by keywords, pages, countries, devices, search appearance, and dates.
You can also filter results based on keywords, pages, countries, and devices, and export data to Google Sheets, Excel, or a CSV file.
Pros
A free tool for analyzing Google ranking trends.
Ensure web pages are indexing correctly in Google.
Keyword impressions and click data direct from Google.
Check for mobile-friendliness and user experience issues.
Slow and cumbersome when used for large sites.
Cons
Rankings aren't always up-to-date or accurate.
Unable to add specific keywords to track.
Lacks competitor analysis and reporting features.
Pricing
Google Search Console is free to use. It's a helpful tool but lacks many useful features other tools provide.
I recommend using it alongside a more complete SEO software for access to a daily position tracking service, website SEO audits, competitor analysis, and reporting.
---
FAQs About Keyword Rank Tracking
What is Rank Tracking?
Rank tracking is when you use an SEO tool to monitor the position of your website page URLs in the SERPs for specific keywords.
You can also efficiently track competitor rankings daily alongside your site's keyword positions with the right rank tracker tool.
Why is Rank Tracking Important?
Rank tracking allows you to track SEO performance over time, detect trends that impact SEO, and uncover opportunities.
Discover opportunities to optimize your content, improve SERP positions and search visibility, and increase website traffic.
What is Daily Rank Checking?
Daily rank checking is the practice of tracking changes in search engine keyword rankings on a daily basis.
This includes monitoring and getting updated on your site's search engine rankings and your competitors' keyword rankings each day.
What is Rank Tracking Software?
Rank tracking software is a type of software tool used to track the position of web pages for specific search queries (keywords) that people search on search engines like Google.
The features of rank tracking software commonly include the ability to track ranking positions based on different potential searcher locations, devices, and search engines.
Is Rank Tracking Free?
Tracking keyword rankings using software is not free. However, rank tracking tools generally offer low-cost starter plans.
How Do I Increase Search Engine Rankings?
Google uses over 200 rankings factors in its algorithm to determine search engine rankings for web pages.
The best way to improve search rankings is by publishing, updating, and optimizing quality content on a regular basis.
Also, ensure your pages load fast, incorporate keywords in your content, add helpful internal links, and aim to earn backlinks.
Which is the Best Rank Checking Tool?
The best rank tracking tool depends on your needs.
You can't go wrong with SE Ranking or Semrush for solid all-in-one SEO software that includes a reliable daily rank tracker.
Or, Accuranker is a popular enterprise rank tracker for large businesses who want to track many keywords with the ability to update keywords on-demand every second hour.
---
Key Benefits of Daily Rank Tracking
Using a daily rank tracker provides a number of valuable benefits:
Daily data provides more accurate trends for reporting.
Identify and improve upon drops in rankings much sooner.
Better understand which keyword rankings are more stable.
Discover which changes potentially impact rankings quicker.
Get these same benefits when monitoring competitor rankings.
---
Conclusion & Recommendations
Daily rank tracking is an essential activity for monitoring SEO performance and guiding your SEO strategy to achieve better rankings and increase organic traffic to your site.
You can't go wrong with any of the daily rank tracking tools for SEO above.
Daily Rank Tracker Recommendations
I recommend Semrush for a best-in-class SEO platform with daily rank tracking.
The all-in-one SEO software includes a daily rank tracker that's fast, easy to use, visually appealing, and integrated with leading keyword and competitor research.
Here's a detailed Semrush review including key features and pricing plans.
SE Ranking is also a solid choice if you prefer a lower-cost Semrush alternative. While not as extensive in terms of keyword and competitor data, you can track rankings daily depending on the plan alongside all-in-one SEO features and white-label reports.
Here's a detailed SE Ranking review covering core features and pricing plans.
My Favorite Daily Rank Tracker Offers:
Semrush Free Trial – 7-day free trial of the Pro or Guru plan.
SE Ranking Free Trial – 14-day free trial of the Essential plan.
I hope this post helped you find the best daily rank tracking solution for your needs.
Looking for SEO services? Check out these top affordable SEO packages here.
More Posts About SEO Software Tools: