Is Jasper AI the best choice to speed up your blogging or copywriting output?
In this Jasper AI review for 2023, we explore the powerful AI copywriting tool designed to help you generate and save time producing original human-like content.
Jasper.ai (previously Jarvis AI & Conversion.ai) is an AI writing tool that generates 99% original content in real-time. Jasper uses artificial intelligence to output written content.
BoostPlanner is reader-supported. If you buy through a link on my site, I may earn an affiliate commission.
Jasper AI Overview
Here is a quick overview of the Jasper AI software:
| | |
| --- | --- |
| Software Category | AI Copywriting Software |
| AI Technology Used | Modified Version of OpenAI's GPT-3 AI Model |
| Unique Features | 50+ Writing Templates, Jasper Recipes, Boss Mode |
| Useability | Easy to Use Beginner-Friendly Design |
| Support Options | Live Chat, Help Documents, Facebook Group |
| Monthly Pricing | Starts at $29/mo |
| Guarantees | 5-Day Money-Back Guarantee |
| Languages Supported | 26 Languages |
| Promotions | 5-Day Free Trial |
Jasper AI is an impressive solution for any blogger, copywriter, business, or entrepreneur who needs to write marketing material such as SEO-optimized blog posts, social media posts, email subject lines, ad copy, and much more. Jasper provides more than 50+ content templates to generate this type of content with ease.
Since Jasper AI generates 99% original content, it's easy to create high-quality SEO-optimized content fast while avoiding blank documents and removing writer's block.
Before we explore Jasper AI in more detail below, let's define AI copywriting software.
What is AI Copywriting Software?
AI copywriting software is either a downloadable program or an online application that automatically creates copy for you with the help of smart technologies and complex algorithms behind the scenes.
This type of "robotic" application generates content by using artificial intelligence and machine learning technologies. These cutting-edge technologies can create engaging and human-like copy, detect plagiarism, fix grammar mistakes, and improve readability.
For example, Jasper AI uses a well-trained modified version of GPT-3 AI technology to generate relevant copy that is 99% original and near error-free.
Why Use a Tool Like Jasper AI?
A growing number of bloggers, writers, and businesses are starting to use AI writing applications like Jasper to increase the quality and output of their writing efforts.
Based on reviewing Jasper AI, the AI copywriting tool is one of the most productive tools for writing that I've ever experienced. Many customer reviews consider Jasper the best AI copywriting tool on the market. Jasper transforms you into a copywriting machine.
The Jasper AI software has helped me write in-depth blog posts and website content more than twice as quickly as writing everything manually.
I know, sounds too good to be true, but check it out for yourself. The team at Jasper is offering a 5-day free trial for those who prefer to jump right in and try it out.
Continue reading for a full review of Jasper AI and its key features.
Jasper AI Pros & Cons
Gain a quick understanding of Jasper AI with these pros and cons:
Pros
Best AI copywriting tool for creating high-quality content fast.
50+ content templates for producing different types of content.
Generate 99% original content free of plagiarism.
The AI-written copy prevents writer's block and saves time.
AI's writing quality and relevancy improve based on existing copy.
Ability to adjust the content tone of voice or match existing style and tone.
Long-form blog assistant creates in-depth copy for blog posts.
GPT-3 technology used is well-trained compared to other AI tools.
Document editor provides easy copy-paste with WordPress.
Live chat support, training resources, and help documents to learn Jasper quickly.
Active Facebook community of AI copywriters for networking and sharing ideas.
Jasper can read, write, and translate over 25 languages.
Flexible and affordable pricing options.
A 7-day money-back guarantee is currently offered.
Cons
There's a learning curve to making full use of Jasper AI.
Takes some time to get used to the commands and options.
The content generated is sometimes irrelevant but can quickly be re-generated or edited to your liking.
What is Jasper AI?
Jasper AI (also referred to as Jasper.ai) is a powerful AI copywriting tool that uses artificial intelligence and machine learning technologies to automatically output high-quality copy in seconds.
Jasper is the name of the helpful AI copywriting robot assistant created by the talented Jasper AI team.
You can use Jasper's AI-generated content to create entire pieces of content from scratch, generate ideas, and enhance existing copy.
Using Jasper, you can create high converting copy for most types of content, including website content, blog posts, SEO descriptions, meta descriptions, alt image tags, headers, lists, email subject lines, social media snippets, and more.
Creating copy for specific types of content can be achieved quickly by using content templates (also called skills) provided by the copywriting tool.
Jasper templates are copywriting tasks designed to create different types of content. (More about templates below).
The Jasper AI Team
Here's the brilliant team behind the Jasper AI copywriting tool.
The Jasper AI team includes:
Dave Rogenmoser – CEO
John Phillip Morgan – CTO
Chris Hull – COO
Austin Distel – CMO
Megan Johnson – Client Success
James Morgan – The Script Master
Formerly Conversion AI, Jasper AI was founded by a group of friends living in Austin, Texas. The Jasper team's mission is to help you break through writer's block with the help of artificial intelligence.
The Jasper.ai team is also the team that created Proof, a business that provides software for turning prospects and customers into leads and sales with social proof technology. The software includes features for showing real-time social proof notifications on websites.
Jasper AI Reviews
While Jasper AI is a relatively new AI writing software, Jasper continues to maintain a high rating in the AI writing assistant category, earning great reviews on the leading product review sites.
Jasper AI Features
The Jasper AI copywriting tool offers a lot of useful features for copywriters, marketers, and entrepreneurs. Here's a review of the main features that make up the software.
Natural Language Technology (GPT-3)
Jasper uses a modified version of GPT-3 (Generative Pre-trained Transformer 3), a language prediction model created by OpenAI, an AI research company.
Through the use of complex neural networks and deep learning, GPT-3 has been pre-trained to understand and output millions of words. The model also learns based on previous AI content that's generated and improves even more with human input.
Why Use AI Copywriting?
Being able to generate content with AI in just seconds AI is an extreme productivity booster.
What's great about Jasper AI is that further work has been done by the Jasper AI team members to improve the use of the GPT-3 model for AI copywriting, which makes up the powerful content generator that Jasper AI is today.
Jasper is constantly learning from millions of lines of copy in order to create endless variations of diverse, smart, and flexible copy output.
Based on my experience, Jasper AI is the best AI copywriting tool available as of right now. I haven't found an alternative AI content writing tool that provides the high-quality content output that Jasper provides.
Jasper Templates
The power of Jasper for digital marketers, content creators, and writers is easy to notice with Jasper templates. Jasper AI offers over 50 content templates for creating many different types of copywriting.
With the help of expert copywriters, the Jasper AI robot continues to learn and improve his AI writing skills for templates, long-form copy, and more.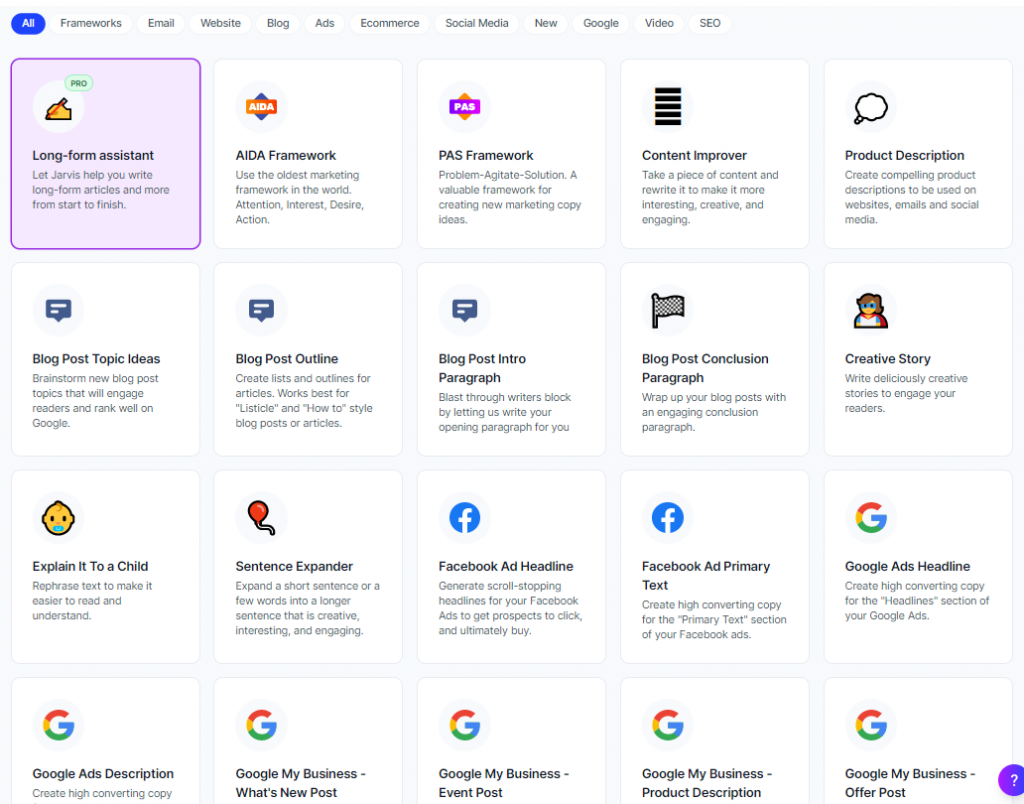 What are the Jasper AI Templates?
Here's a list of the 50+ Jasper AI templates to choose from and their descriptions:
Long-form assistant – Let Jasper help you write long-form articles and more from start to finish.
AIDA Framework – Use the oldest marketing framework in the world. Attention, interest, desire, and action.
PAS Framework – Problem-Agitate-Solution. A valuable framework for creating new marketing copy ideas.
Content Improver – Take a piece of content and rewrite it to make it more interesting, creative, and engaging.
Product Description – Create compelling product descriptions to be used on websites, emails, and social media.
Blog Post Topic Ideas – Brainstorm new blog post topics that will engage readers and rank well on Google.
Blog Post Outline – Create lists and outlines for articles. Works best for "Listicle" and "How to" style blog posts or articles.
Blog Post Intro Paragraph – Blast through writer's block by letting us write your opening paragraph for you.
Blog Post Conclusion Paragraph – Wrap up your blog posts with an engaging conclusion paragraph.
Creative Story – Write deliciously creative stories to engage your readers.
Explain It To a Child – Rephrase text to make it easier to read and understand.
Sentence Expander – Expand a short sentence or a few words into a longer sentence that is creative, interesting, and engaging.
Facebook Ad Headline – Generate scroll-stopping headlines for your Facebook Ads to get prospects to click, and ultimately buy.
Facebook Ad Primary Text – Create high converting copy for the "Primary Text" section of your Facebook ads.
Google Ads Headline – Create high converting copy for the "Headlines" section of your Google Ads.
Google Ads Description – Create high converting copy for the "Description" section of your Google Ads.
Google My Business – What's New Post – Generate What's New post updates for Google My Business.
Google My Business – Event Post – Generate event details for your Google My Business event posts.
Google My Business – Product Description – Generate product descriptions for your Google My Business.
Google My Business – Offer Post – Generate offer details for your Google My Business offer posts.
Amazon Product Features (bullets) – Create key feature and benefit bullet points for Amazon listings under the "about this item" section.
Amazon Product Description (paragraph) – Create compelling product descriptions for Amazon listings. The output is typically paragraph form, but the style will vary.
Perfect Headline – Trained with formulas from the world's best copywriters, this template is sure to create high-converting headlines for your business.
Website Sub-headline – Create delightfully informative sub-headlines (H2) for your websites and landing pages.
Photo Post Captions – Write catchy captions for your Instagram posts.
Jasper.ai Testimonial Helper – Use this template to generate reviews for Jasper.ai.
Marketing Angles – Brainstorm different angles to add vibrancy to your marketing.
Persuasive Bullet Points – Generate persuasive bullet points to insert into landing pages, emails, and more.
Video Topic Ideas – Brainstorm new video topics that will engage viewers and rank well on YouTube.
Video Script Outline – Create script outlines for your videos. Works best for "Listicle" and "How to" style videos.
Video Titles – Create engaging, click-worthy titles for your videos that will rank on YouTube.
Video Script Hook and Introduction – Create a video intro that will capture your viewers' attention and compel them to watch all the way through.
Video Description – YouTube – Create unique descriptions for YouTube videos that rank well in search.
Review Responder – Write responses to public customer reviews that are winsome, professional, and delightful.
Personalized Cold Emails – Write cold emails that actually work and get responses.
Email Subject Lines – Write compelling email subject lines that get readers to open.
SEO – Blog Posts – Title and Meta Descriptions – Write SEO-optimized title tags and meta descriptions for blog posts that will rank well on Google.
SEO – Homepage – Title and Meta Descriptions – Write SEO-optimized title tags and meta descriptions for homepages that will rank well on Google.
SEO – Product Page – Title and Meta Descriptions – Write SEO-optimized title tags and meta descriptions that will rank well on Google for product pages.
SEO – Services Pages – Title and Meta Descriptions – Write SEO-optimized title tags and meta descriptions that will rank well on Google for company services pages.
Company Bio – Tell your company's story with a captivating bio.
Personal Bio – Write a creative personal bio that captures attention.
Feature to Benefit – Turn your product features into benefits that compel action.
Before-After-Bridge Framework – Create marketing copy using the BAB framework. Before, After, Bridge.
Unique Value Propositions – Create a clear statement that describes the benefit of your offer in a powerful way.
Real Estate Listing – Residential – Creative captivating real estate listings that sell homes quickly.
Pinterest Pin Title & Description – Create great Pinterest pin titles and descriptions that drive engagement, traffic, and reach.
Press Release Title & Intro – Write the opening paragraph of a press release that people will actually want to read.
Engaging Questions – Ask your audience creative questions to increase engagement.
Quora Answers – Intelligent answers for tough questions.
Text Summarizer – Get the key point from a piece of text.
Business or Product Name – Generate a winning name for your business or product.
Poll Questions & Multiple Choice Answers – Engage your community and get to know them on a deeper level. Create questions with multiple choice answers.
As you can see, there are so many valuable templates provided by Jasper AI that you can use to create very specific kinds of content. And we still have to review Jasper's recipes and commands!
Jasper Recipes
Jasper recipes are pre-built workflows or sequences that contain a series of specific Jasper commands.
With recipes, it's easy to generate high converting content for your needs very quickly. You can also create your own Jasper AI recipes or try out community-created Jasper recipes.
Here's an example of a Jasper recipe for writing blog posts.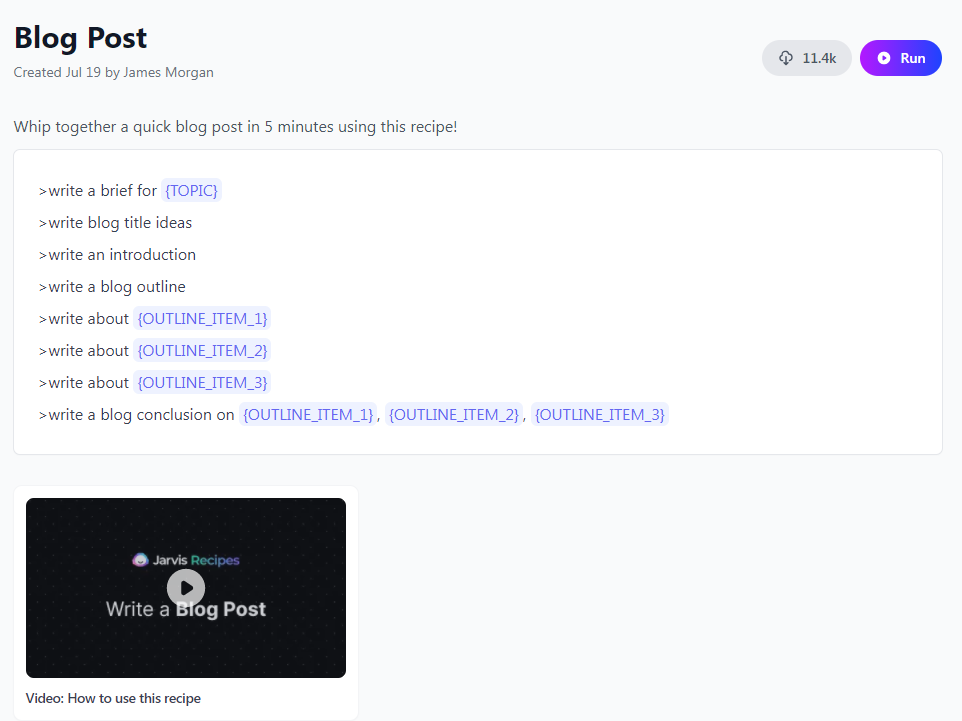 Jasper AI recipes are incredible for writing productivity once you get the hang of what's possible with Jasper commands.
Jasper Boss Mode
Jasper Boss Mode supercharges the Jasper AI copywriting assistant. Instead of clicking the Compose button for generating AI content, Boss Mode unlocks the ability to give Jasper specific commands by typing CMD + Enter on Mac or CTRL + Enter on PC.
You can use Jasper Boss Mode commands to quickly create a blog post outline, snippets for social media posts, landing pages, ad copy for Google Ads, Facebook ad primary text, a video description, and much more.
Check out my post on how to use Boss Mode in Jasper AI for more details.
Example Boss Mode Jasper Writing Commands:
Write some blog posts titles about [insert topic]. (i.e. copywriting tips)
Make a list of [topic].
Write a blog post intro for the above (above meaning any content in the document before your mouse cursor)
Write a blog outline for [topic].
Write a conclusion about the above content.
Answer the question "[insert question]"?
Write some ad headlines for the product description above.
Write some ad copy about the product description above.
Write some YouTube titles about [topic].
Write a video script outline for a video titled .
Rewrite the above to explain it to a 5th grader.
Run content improver on the content above. (this is a Jasper template)
Write some persuasive bullet points for the content above.
Write a listicle outline for [topic].
Jasper is learning more commands every day and is improving copy output abilities for existing commands.
Note: the brackets above are placeholders for the examples and are not used in real commands.
When activated, Jasper will read 2000-3000 characters above where your mouse is in the document. This feature requires the $119/mo Boss Mode plan to use.
I highly recommend the Boss Mode plan, since it's only $10 more than the Pro plan for unlocking the ability to use specific Jasper commands and achieve higher-quality and more relevant copy output (due to the 2000-3000 word look back).
Check out the Jasper free trial to try out the Boss Mode plan free for 5 days. Once I became familiar with the Jasper Boss Mode commands to generate different types of AI content within a document, I was hooked!
Jasper Example: Creating a Blog Post
In this example, I use the Long Form Assistant and provide the Jasper document editor with the title "7 Helpful Copywriting Tips", a simple description, and the keyword "copywriting tips".
Here's the result:
The generated copy isn't always perfect in regards to grammar and context (such as if you don't have a copywriter like the third sentence above implies), but it's pretty dang good for only providing Jasper with a brief title, content description, and no initial body content!
Jasper provides you with headlines, copy, and phrasing ideas that are 99.9% original in a matter of seconds.
You can also continue to click the "Compose" button to have Jasper write out more copywriting tips until you like what you see. Note: the Pro and Boss Mode plans offer unlimited words, so you don't have to worry about word limits!
Keep in mind, that the example above isn't using a template, recipe, or Boss Mode commands, which can all further refine and align the copy generated towards your needs.
In addition, giving Jasper more details before clicking the "Compose" button, including some initial copy in the body of the document, can help improve the quality and relevancy of the copy generated.
Here's an example of copy generated about copywriting tips after giving Jasper a bit more detail and clicking the "Compose" button twice with output length set to L (long):
In my opinion, after giving Jasper a bit more context (i.e. "how-to", "writing copy") and a couple more keywords, I'd say the resulting copy is much higher quality and more relevant.
The headlines are also great potential topics for other pieces of writing. For example, you could write a separate blog article all about using colorful language.
Create AI Content in Other Languages
While Jasper is currently best at English, Jasper can speak in over 25 languages, and the AI copywriting software continues to learn and improve its output every day.
You can toggle on language options under your account settings page. This includes setting a global default input language and output language.
Jasper AI also gives you the ability to set a different input and output language under the "Language Options" box inside each template.
Helpful Jasper AI Resources
I recommend briefly running through the Jasper training resources and help center materials.
Under "Learn" in the jasper.ai website header navigation, there are training videos, insightful blog articles, and a FAQ & help center filled with everything you need to know about the Jasper AI copywriter.
Taking some time to review these resources will give you a better understanding of which Jasper features and commands align with your writing goals, and improve your use of time and the copy you generate.
You can further educate yourself and connect with fellow copywriters, marketers, and entrepreneurs by joining the AI Copywriter's Community, the official Jasper Facebook Group.
The group is made up of over 30,000 experts in the AI copywriting and content creation space, including experts from top companies like Google, Shopify, Canva, and more.
Surfer SEO Integration with Jasper
In April 2021, Conversion AI (now Jasper) announced a partnership with Surfer SEO, which is a powerful on-page software for optimizing content to rank better on Google.
Surfer provides a variety of unique features related to content strategy, planning, analyzing keywords, and creating SEO-optimized content.
Surfer SEO compliments Jasper nicely to save time on generating and optimizing content that ranks on the Google SERPs.
Check out my detailed Surfer SEO review for an in-depth look at Surfer's features.
Users with a Jasper plan can try a one-dollar 30-day trial of Surfer by going into their Jasper dashboard's Workspace settings and clicking on the trial link. One thing to note is that the Jasper Pro plan or Boss most plan is required to integrate with Surfer SEO.
How Jasper.ai Integrates with Surfer SEO:
To integrate with Surfer as a Jasper user, you would first navigate to your Account settings and turn on the SEO Mode toggle button in the Customizations panel.
Next, you would open up the Long Form Assistant and create or open up an existing document. The next step is clicking on the SEO mode icon, which opens up the Surfer dashboard.
The last step is making sure you're logged into your Surfer account. Once logged in, you would refresh the Jasper document page to see Surfer's features side-by-side with your Jasper document editor.
The integration gives you the ability to quickly check for the most relevant keywords and content ideas to use within your copy, and then use Jasper to create copy related to these keywords. The result is faster SEO-optimized content with higher ranking potential.
What Can You Use Jasper AI Written Copy For?
The copy generated by the Jasper AI assistant is extremely versatile, as seen in the number of Jasper content templates available (and probably more in the future). Here's a list of the many ways you can use Jasper AI-generated copy:
Improving existing content
Expanding sentences
Changing tone of voice
Structuring content based on frameworks such as AIDA (attention, interest, desire, action); some common frameworks are included as Jasper templates.
Product descriptions
Blog post topic ideas and outlines
Intro paragraphs
Conclusion paragraphs
Headlines and sub-headlines (H1s, H2s, etc.)
Persuasive lists and bullet points
Facebook Ad headline
Facebook Ad primary text
Google Ad headline
Ad descriptions
Google My Business posts
YouTube video titles and descriptions
YouTube video script outlines
Pinterest Pin titles and descriptions
Amazon product features (bullets)
Amazon product descriptions
Rephrase text for child's reading level
Post and image captions
Testimonials and review responses
Email subject lines
Personalized cold emails
SEO titles and meta descriptions
Product page titles and descriptions
Service page titles and descriptions
Company bios
Personal bios
Unique value propositions
Turning feature copy into benefits
Real estate listings
Press release titles and intros
Engaging questions
Answers for Quora questions
Summarizing chunks of text
Business or product names
Poll or survey questions
Multiple choice answers
So far, I've been using Jasper for writing blog post outlines and content, including intros, conclusions, headers, subheaders, and lists of content.
I find the AI copy output really helps reduce writer's block. I will likely be using Jasper for support in creating social media-related descriptions in the near future.
How Jasper Can Save Time on Blog Writing
Jasper AI helps reduce the time it takes to create content in a variety of ways. Jasper is able to create large chunks of content fast and helps to avoid writer's block.
Oftentimes, Jasper-generated content will give you additional ideas to expand upon, which you can use to create further content with Jasper or manually.
Power Editor
The Power Editor mode in the Jasper document is handy to quickly try out content templates or skills for generating new content.
Alongside the Power Editor, the Jasper Long Form Assistant and character lookback features of the Jasper AI robot go to town on writing relevant, high-quality content for you.
Content Improver
Once you have the meat of your blog post generated, you can then go in and fine-tune elements of your blog post like your headers, spacing, keyword phrases, etc.
You can use the Jasper Content Improver template to rewrite any existing piece of content. Finally, it's a good idea to paste your blog content into a spelling and grammar checking tool like Grammarly.
Who Can Benefit From Using Jasper AI?
In today's highly digital world, I would say most people can benefit from this type of AI writing tool. For example, even if you're in sales or a communications role and mainly write emails, there's usually some form of digital marketing or messaging involved.
Jasper writes creative copy you can use in your email messages such as clever email subject lines, help you fix periods of writer's block, and reduce repetitive messaging.
Using Jasper AI is a game-changer for big and small business owners alike who need to write high-quality content.
Examples of the type of people and companies who can benefit from using Jasper for AI writing:
Marketer
Copywriter
SEO specialist
Advertiser
Entrepreneur
Business owner
Website designer
Author
Publisher
Digital marketing agency
Website design agency
The Jasper.ai website also features major brand names using the tool to increase copy output and productivity, such as Canva, Shopify, Airbnb, Google, Zillow, Verizon, The Home Depot, AT&T, and IBM.
Jasper AI Alternatives
There are several Jasper AI alternatives on the market, such as Writesonic and Ryte. These are also useful copywriting tools for generating original copy. However, after looking into these alternatives, I've decided to stick with Jasper.
Based on my experience, I really like Jasper's user interface design, ease of use, and overall quality of output, features, and support resources compared to competing AI copywriting tools.
Since I plan to use Jasper to support writing high-converting content including blog post outlines and long-form blog posts, the user interface and workflow experience are super important to me.
Jasper Pricing
Jasper AI offers two monthly or annual plans: Starter and Boss Mode.
Choosing yearly billing gives you 2 months free (save 16%).
(Previously, Jasper offered three plans, including a mid-tier Pro Unlimited plan.)
The Starter plan starts at $29/month and is a good choice if you primarily generate simple, short-form copy and plan to output under 20,000 words a month.
The Boss Mode plan starts at $59/month and is the most popular Jasper plan, as it offers all of the features that make Jarvis worth investing in. This includes the Blog Post Creator, Long-Form Documents, Jasper Commands, Recipes, Plagiarism Checker, and Grammarly Basic built-in, revision history, and priority customer service.
You can also adjust the maximum monthly words in each plan, which alters plan costs.
While there's currently no lifetime guarantee, there's a 5-day money-back guarantee with all plans, so I recommend exploring the AI writing tool as soon as you try the free trial to make sure it's a good fit for your needs.
I recommend the Boss Mode plan for most writing activities. The Boss Mode plan gives you all the best features with smarter Jasper AI writing capabilities.
View more details on Jasper AI pricing here.
Get Started with a Free Trial of Jasper
If you're ready to give Jasper AI a shot, check out the Jasper 5-day free trial here.
Jasper AI FAQs
Answers to frequently asked questions about Jasper AI.
What is Jasper AI?
Jasper AI is an AI-powered writing software designed to generate high-quality content for blog posts, landing pages, ad copy, product descriptions, meta descriptions, social media posts, ebooks, and more.
What is Jasper AI used for?
You can use Jasper AI for nearly any type of content creation. Example uses include generating original content for blog posts, landing pages, Facebook ads, Google ads, social media posts, Youtube videos, Instagram descriptions, Pinterest descriptions, email subject lines, ebooks, and more.
Does Jasper AI write original content?
Yes, Jasper AI writes 100% original content for you that is free of plagiarism. Jasper AI is trained to detect pattern recognition in order to avoid previously written sentences and phrases.
Does Jasper AI write original content?
Yes, Jasper AI writes 100% original content for you that is free of plagiarism. Jasper AI is trained to detect pattern recognition in order to avoid previously written sentences and phrases.
What languages does Jasper AI support?
The Jasper AI assistant can currently write copy in over 25 languages including English, Spanish, French, German, Italian, Polish, Portuguese, Dutch, Japanese, Russian, and Chinese. To provide accurate language translation support, Jasper integrates with DeepL, an advanced neural machine translation service.
How much does Jasper AI cost?
Updated for 2023, Jasper AI provides a Starter plan that starts at $29/mo, and a Boss Mode plan that starts at $59/mo.
Annual plans offer 2 months free (saving 16%).
Jasper AI Review Conclusion
To conclude, is Jasper AI worth using?
Based on my experience using Jasper, I recommend trying the AI copy tool out if you write a lot or need to increase output. I give Jasper AI 4.8 out of 5 stars.
Jasper AI is now a primary tool that I use for blog writing and creating original content.
If you want to spend less time writing while increasing your copy output for client work, your team, or yourself, check out the Jasper free trial here. It's completely free and you'll get an extra 10,000 words added to your account when you sign up.
I hope this Jasper AI review helped you better understand its features.
What do you think of Jasper? Leave a comment below!
If you have any questions about Jasper AI or the information in this review, please feel free to leave a comment or reach out via email at [email protected].
SEO Software Guides: