In this post, Jasper AI pricing plans are compared in detail to help you determine which plan of the popular AI writing tool is right for your needs in 2023.
Note: Jarvis AI has been rebranded to Jasper (or Jasper.ai).
BoostPlanner is reader-supported. If you buy through a link on my site, I may earn an affiliate commission.
Jasper AI Overview
Jasper (originally known as Jarvis) is a cloud-based AI copywriting tool that gives you the ability to automatically generate 99.99% original content.
At the time of this writing, Jasper AI is now being used by over 70,000 people to end writer's block, publish content up to 10 times faster, and boost sales with better copy.
The AI-powered writing tool has become extremely popular for improving the speed of content production for blog posts, landing pages, social media, ads, email, and more.
The underlying AI model that powers Jasper was trained by reading about 10% of the published content on the internet and continues to learn more as the tool is used.
Jasper uses OpenAI's GPT 3.5 AI as one of the language models in their platform. It's one of the best AI writing tools on the market for creating AI text and images.
Jasper is trained specifically to help creators and companies quickly generate content that is unique, human-like, and SEO-friendly.
The AI writing platform is used by content marketers from many reputable companies, including IBM, HubSpot, Airbnb, Autodesk, HarperCollins, and more.
Jasper AI Features
Depending on the pricing plan, Jasper AI includes many powerful writing features:
50+ Templates – Useful templates for writing headlines, ads, descriptions, and more.
Blog Post Creator – Write original blog posts up to five times faster.
Documents – A powerful document editor to write with AI, edit, and format content.
Jasper Commands – Tell the AI what to write with specific commands.
Jasper Recipes – Save and run repeatable instructions for Jasper to follow.
Jasper Chat – Interact with AI in a natural dialog and quickly generate content.
SEO Mode – Integrate Surfer SEO into Jasper for keyword suggestions.
Plagiarism Checker – Avoid writing duplicate content with Copyscape.
Grammarly – Detect spelling mistakes and improve grammar in Jasper.
30+ Languages – Jasper.ai can read and write in over 30 languages.
Multiple User Logins – Up to 10 users can log in and collaborate on content.
Jasper Community – Access to a Facebook group with over 50,000 members.
Training Bootcamp – A 45-minute free course to learn Jasper's best practices.
Jasper Certified – Prove your Jasper skills and get a certification and badge.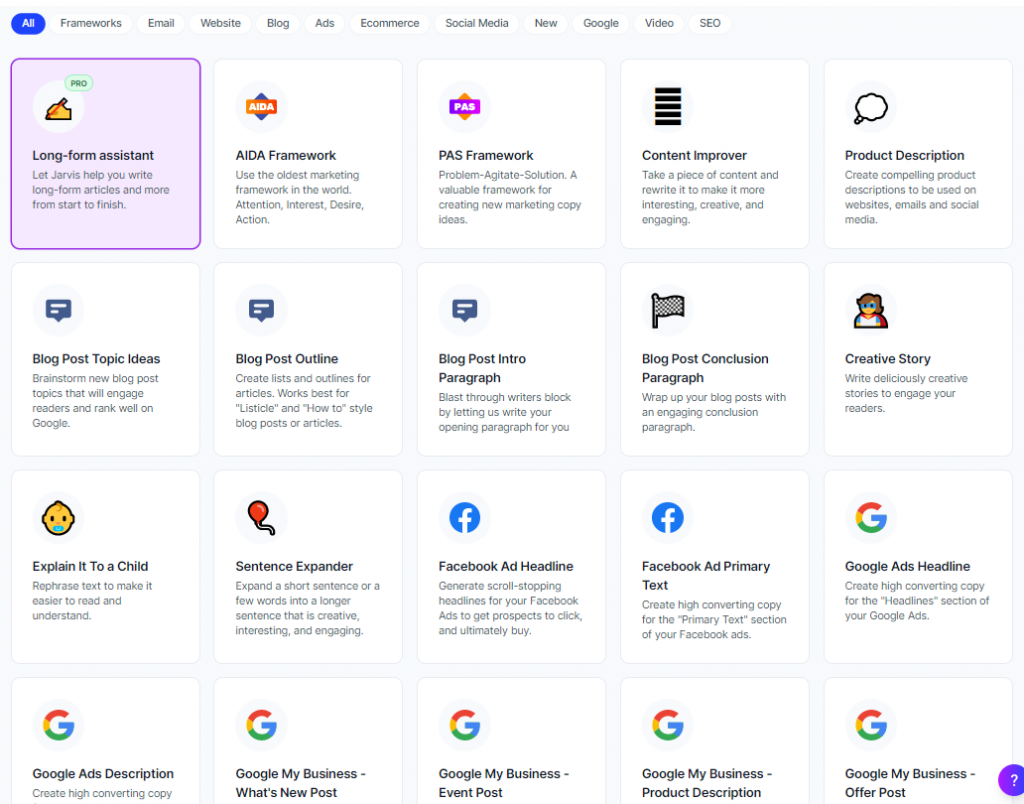 What's awesome about Jasper are the templates you can use to quickly generate high-quality copy for over 50 different use cases. All Jasper plans include the AI templates.
While you can use Jasper commands in the content editor with the Boss Mode plan for full control & flexibility, templates are a great starting point for various types of content.
Jasper AI Pricing
Jasper offers 2 main plans in its pricing model. The Boss Mode and Business plans.
The Boss Mode plan starts at $59 per month for up to 50,000 words or a rate of $49 per month with a yearly subscription.
The Business plan is a custom plan that requires contacting Jasper's team for details.
The cost of Jasper AI pricing plans increases if you choose a higher limit to the number of words you can generate each month.
The company offers a 5-day free trial and a 100% 5 day money back guarantee if you're not satisfied with the AI writing tool. To request a refund, you can email [email protected].
Learn more about the Jasper AI pricing plans and money-back guarantee
How Much Does Jasper AI Cost?
Jasper AI Monthly Plan Prices
While subject to change, here are the JasperAI monthly plan costs.
Update: Prior to January 24th, 2023, Jasper's plan options were Starter & Boss Mode. Now, Jasper offers Boss Mode and Business (custom) plans.
Jasper AI Boss Mode Plan – Starts at $59/month (or rate of $49/mo with annual plan):
Words Per Month – The Boss Mode plan starts at a limit of 50,000 words per month
50+ Templates – AI templates to quickly write various forms of short-form content
30+ Languages – Jasper can read inputs and write content in over 30 languages
Jasper Commands – Tell the AI what to write based on your specific input
SEO Mode – Integrate with Surfer and see keywords to use (Surfer not included)
Recipes – Run automated sequences of predefined commands for Jasper to follow
Plagiarism Checker – Powered by Copyscape's plagiarism detection system
Grammarly – Integrated into documents to prevent grammar and spelling mistakes
Project Folders – Unlimited project folders to organize your AI outputs
History Search – Use the content search to find past content generated or written
Revision History – View and restore past versions of documents going back 7 days
Support – Email and live chat support from Jasper's team based in Austin, Texas
Get Jasper Certified – Prove your Jasper competence and get a certificate & badge
Learn more about Jasper's Boss Mode Plan
Jasper AI Business Plan – Custom Pricing:
All Jasper Boss Mode Plan features plus:
Custom words per month
Custom words/user packages
Tailored AI brand voice
Assign user usage limits
Document sharing controls
Premium technical support
Dedicated account manager
Onboarding & training sessions
Flexible billing options
Learn more about Jasper's Business Plan
Jasper AI Annual Plan Prices
Jasper AI annual plans let you pay once a year and get a discount of 17%.
While subject to change, here are the annual Jasper.ai pricing plan costs:
Boss Mode Annual Plan – Starts at a rate of $49 per month or $588 per year.
At the $49/mo rate, you save $10/mo or $120/year versus monthly billing at $59/mo.
Which Jasper AI Plan is Right For You?
The Boss Mode Plan is best if:
You want to generate long-form copy with the best AI context & highest quality output.
You want to write blogs, articles, landing pages, emails, books, and stories.
You want access to every software feature including Jasper Commands.
The Custom Business Plan is best if:
You're running a large team of writers or content markets who require a higher volume of words generated per month.
You want access to managing limits per user along with flexible billing options.
You want access to onboarding & training sessions and premium technical support.
Ultimately, Jasper Boss Mode gives you access to all main platform capabilities except for adding 5+ users, document sharing, assigning user limits, and dedicated support.
Jasper AI FAQs
What is Jasper AI?
Jasper AI is an AI-powered copywriting tool that uses artificial intelligence and machine learning technology to automatically generate 99.99% original content.
What is Jasper good for?
Jasper is used by marketers, bloggers, and business owners to help write SEO-friendly blog posts, website landing pages, social media posts, email subject lines, ad copy, and more.
You can also give Jasper commands for brainstorming ideas and specific sections to use in your final content piece.
Is Jasper worth it?
Yes, Jasper AI is worth your money if you value the ability to quickly generate original, high-quality content in just a couple of minutes. The AI writing tools can help you save hours of time producing initial draft content for a variety of marketing channels.
The AI writing software also enables your business to create a higher volume of relevant content in a fraction of the time it would take you to produce similar content manually.
How much does the Jasper Boss Mode plan cost?
The Boss Mode plan from Jasper starts at $59/month with the ability to generate up to 50,000 words per month.
Jasper Boss Mode plan pricing goes up to $600 per month for up to 700,000 monthly words.
If you require more words per month with the Boss Mode plan, you can contact the Jasper AI sales team for custom pricing.
What if I hit my Jasper plan's word limit?
If you happen to hit your Jasper plan's monthly word limit, you can upgrade to a higher monthly limit or wait until your credits renew at the beginning of the next billing cycle.
Does Jasper offer a free trial?
Yes, Jasper offers a free trial for 5 days.
The Jasper Free Trial lets you claim 10,000 credits to test the AI-writing tool and generate up to 10,000 words for free.
Final Thoughts on Jasper AI Pricing
Overall, Jasper is an impressive AI copywriting tool worth checking out if you want to greatly increase your quality content output while saving many hours of your time.
Once you're able to command the AI output, Jasper can greatly improve your research, brainstorming, and writing productivity.
You can generate smart AI content to quickly whip up sections for landing pages, blog posts, social posts, ads, email – really any form of content marketing you can think of!
While subject to change, Jasper AI offers a 5-Day Free Trial and a 100% money-back guarantee, so there's no risk to try Jasper out!
If you choose to try Jasper and decide it isn't for you, you can contact their support team via email at [email protected] to request a full refund.
To sign up and get more information about Jasper AI pricing including the free trial, features, and refund policy, visit the official Jasper website.
Related: Jasper AI Review (2023) – A detailed review of Jasper AI's features.
SEO Software Guides: