SE Ranking's new content marketing platform is a set of content research, planning, editing, and AI writing tools recently built into the popular all-in-one SEO platform.
In this post, we take a look at the platform's currently released features and how they can help you create content that ranks higher and drives more targeted traffic.
BoostPlanner is reader-supported. If you buy through a link on my site, I may earn an affiliate commission.
SE Ranking Content Editor
The Content Editor is the primary tool in the new SE Ranking content marketing toolkit and has been created to help you write content that ranks high on Google's SERPs.
At its core, the tool uses an independent AI algorithm and integrates with Google's NLP (natural language processing) API to perform an in-depth analysis of ranking content on Google for a target keyword.
With the Content Editor, you can:
Automate your content research process for a target keyword with instant insights.
Create AI-powered SEO briefs for yourself or copywriters and write optimized content.
Evaluate your content quality based on the top-ranking competitor pages on Google.
Get valuable suggestions for how to improve your content score and rank higher.
Save time by not having to cross-examine differences between competing pages.
Recommendations provided by SE Ranking's Content Editor include word count, relevant terms, content structure, headlines, number of images, and text readability.
There's also an AI Rewriter feature, which lets you rephrase a piece of text derived from a competitor page (up to 600 characters at a time or 2000 characters per article).
In addition, there's a shareable link to the content editor tool, making it easy for you to give access to your team or other copywriters to edit written content inside the editor.
Content Editor Setup
When starting a new Content Editor, you can have the tool analyze search results for up to 5 related keywords. I recommend starting with 1 primary keyword to get a feel for the editor's insights and make sure your content is optimized for the primary keyword first.
On the setup page where you choose your keyword/s for the editor, there are several additional settings to consider. You can select either Google or Google Mobile as the search engine to analyze, the country to target, an optional region in the country, the Google interface language, the article name, and the folder to store the created editor.
After choosing settings and clicking "Create Article", you'll land on the Brief settings page. This page lets you adjust a variety of settings that will affect the analysis and the content score given to you as the article in the editor is written and optimized.
For example, you can adjust which organic competitors to analyze, content parameters (word count, headings, paragraphs, images, and how these affect the content score), terms to use, content structure, and optional notes related to the article and/or editor.
Organic Competitors
Here's an example of the "Organic competitors" section of the Brief settings, where you can toggle detected competitor pages on or off to optionally adjust the analysis.
Content Parameters
Next is the "Content parameters" section. By default, SE Ranking has determined the recommended parameters based on the above-shown competitors for the analysis. However, like the other settings, you can adjust these ranges if you so choose.
You can choose to accept the Content Editor's recommended parameter values, set your own, or ignore certain parameters you find irrelevant to your situation.

Terms to Use
Following the content parameters settings are the "Terms to Use". SE Ranking has auto-selected what it deems as the most relevant terms to use and how often to use them in your article based on analyzing the organic competitor web pages.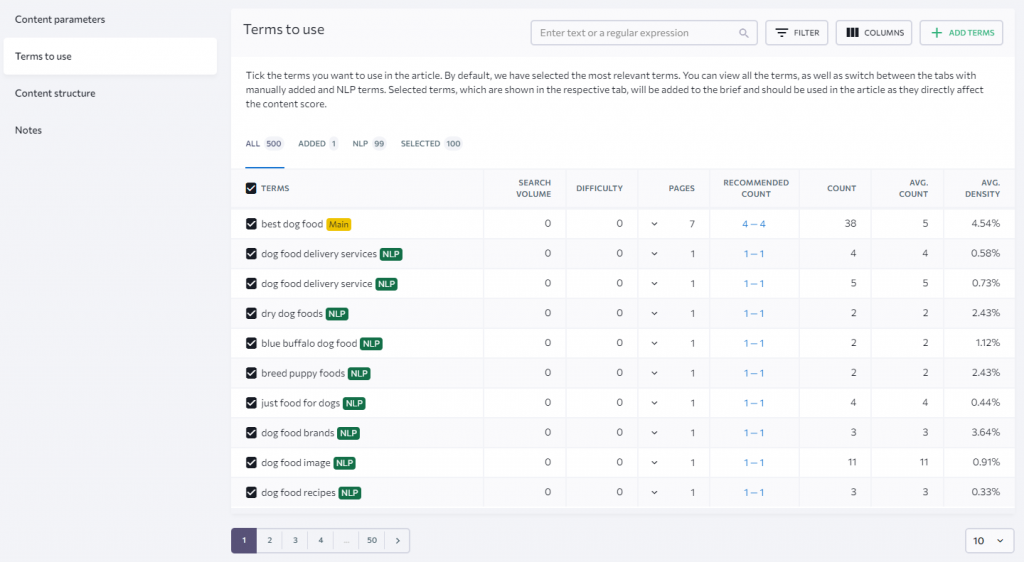 Content Structure
Lastly, you can check out the content structure of each competitor's web page based on how they use header tags, such as H1, H2, H3, etc.
You can also add custom headings to create your own content structure to follow before heading over to writing inside the content editor.
Notes
The last section of this Brief settings page is the "Notes" section, which is an optional text box to save notes for yourself or other copywriters about the article and/or settings.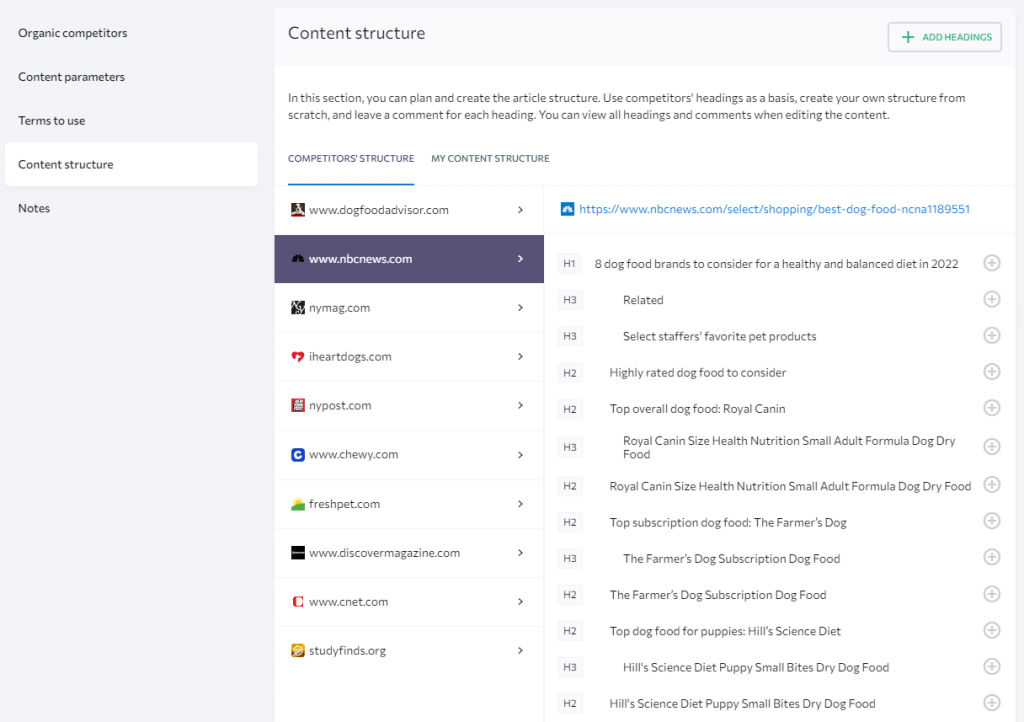 Finally, you can click on the "Content Editor" button near the bottom of the Brief Settings page to head over to the editor and begin writing a super-optimized web page!
Inside the editor is where you get a content and quality score that updates in real time as you add new content. Here's an example of pasting this article into the editor:
Looks like I have quite a bit of work to do if I want to optimize this article for the keyword "content marketing platform"!
Let's take a closer look at the right-hand panel where all the insights are displayed.
Under the "Optimization" tab is where you'll see your "Content Score". This score reflects how well the content inside the editor meets the requirements of the SEO brief settings that were set up before creating the editor and the keyword you're targeting.
This score will improve as you meet the word count, headings, paragraphs, images, and keyword requirements.
Below the Content Score are all the terms including NLP terms that SE Ranking suggests you incorporate into your article to maximize optimization against competitors.
With the colors, you can quickly see which relevant terms to prioritize.
For example, a term with a red background means you could be overusing this word or phrase compared to the top-ranking pages. Green means you're good to go.
Yellow means you should try using the term more often.
Next, under the "Quality" tab, is a "Quality Score" that reflects how optimized your content is based on any grammatical mistakes, punctuation mistakes, and stop words.
You can click on the rows under the score to open up a view of what SE Ranking considers a mistake as well as a suggested fix. A pretty useful feature!
Other than a few more features like the ability to share the content editor, revisit the brief settings, or export the article or brief, this about sums up the content editor tool.
Next up is the second major tool that has been released as part of SE Ranking's content marketing platform, the Content Idea Finder.
SE Ranking Content Idea Finder
The Content Idea Finder tool is used to generate content ideas for your site quickly.
This is a convenient research tool that can help you get started with choosing topics and related keywords to incorporate into your content written inside the Content Editor.
With the Content Idea Finder, you can:
Generate content ideas by uncovering keywords closely related to a target topic.
View keyword cluster ideas in the list view shown above or mind map view.
Improve how quickly you're able to prioritize sets of subtopics to write about.
Get search volume data at the topic cluster and individual keyword levels.
Quickly see the highest volume clusters and lowest difficulty to rank clusters.
See the estimated difficulty to rank across a topic cluster and individual keywords.
View titles of the top 10 ranking pages for the highest volume keyword in a cluster.
You might have noticed the small red icon next to the clusters shown above.
Clusters with this icon are high-potential clusters, where the total search volume for all the keywords that make up the cluster is over 10,000 searches per month.
If you want to identify keyword clusters with the lowest difficulty to rank, you can quickly spot these as blue clusters within the mind map view.
Here's an example of what the Content Idea Finder's mind map view looks like:
Both the overview and mind map views have their uses when it comes to exploring related sets of keywords.
I prefer to explore the individual keywords within each cluster to scan their search volumes and keyword difficulty numbers.
On the other hand, I like using the mind map view to get a high-level glimpse of all clusters related to the seed keyword and to identify the lowest-competition keywords.
SE Ranking Content Marketing Pricing
How much do these content marketing tools cost?
The cost of SE Ranking's content marketing platform depends on how many articles you plan on creating each month, as shown below:
This cost is in addition to the base SE Ranking pricing for access to the SEO platform.
Frequently Asked Questions
What is SE Ranking?
SE Ranking is a popular all-in-one SEO software for business owners, marketing agencies, SEO specialists, copywriters, and bloggers.
The SEO software includes tools for rank tracking, keyword research, site audits, SEO reporting, content writing, competitor analysis, and social media management.
How Much Does SE Ranking Cost?
SE Ranking offers three pricing plans. The Essential plan starts at $23.52 per month.
You can get up to 20% off with an annual plan and up to another 40% with weekly ranking updates instead of more frequent updates.
You can check out the plans here.
Does SE Ranking Offer a Free Trial?
Yes, SE Ranking currently offers a 14-day free trial with access to all service features. You can sign up for the free trial here.
What is a Content Marketing Platform?
A content marketing platform or toolkit is software that enables your company to research, plan, create, collaborate, and share different types of content in one place.
How Much is SE Ranking's Content Marketing Platform?
SE Ranking's content marketing platform starts at $29 per month to create up to 15 articles per month, $49 per month for 30 articles, or $99 per month for 120 articles.
The Content Idea Finder tool is included in all the subscription plans.
What Languages Does SE Ranking's Content Editor Support?
Currently, SE Ranking's Content Editor supports English, French, German, Dutch (NLP not supported), Italian, Russian, Portuguese, and Spanish.
Is SE Ranking's Content Marketing Platform Worth It?
SE Ranking's content marketing platform is a great way to give yourself and any writers on your team a greater set of competitive insights to make sure your content is structured and optimized to rank higher and generate more traffic from Google Search.
More Posts About SE Ranking: