Find out how you can use Semrush to perform deep competitor analysis and improve your digital marketing strategy below.
Semrush is one of the most extensive competitor analysis tools for SEO & PPC with a database of 20 billion keywords, 20 million ideas for a single keyword, 142 geographic databases, and around 808 million domain profiles.

Used by freelance digital marketers and small businesses to large enterprise agencies, the Semrush competitor analysis tools offer invaluable data on your competitors' websites, including their top keyword rankings, backlinks, traffic levels, and more.
This post covers how to do Semrush competitor analysis and how you can use its tools and features to improve your SEO & online marketing strategy.
What is Semrush?
Semrush is a popular SaaS platform for managing online visibility, content marketing, SEO & PPC efforts. Key features include keyword research, rank tracking, competitive analysis, backlink monitoring, website audits, and a report builder.
The platform provides a range of tools useful for performing competitor research to better understand your competitors' websites on Google Search and Google Ads.
See my complete Semrush review to learn more about its features and pricing plans.
What is Competitor Analysis?
Competitor analysis is the process of identifying competitors in your industry and researching their marketing strategies.
By understanding the strategy of your competitors, you can use this information to assess your company's strengths and weaknesses relative to each competitor.
10 Ways to Analyze Your Competition with Semrush
Here are 10 ways you can perform competitor analysis using the Semrush platform:
1. How to Identify Your Competitors
Let's look at how you can identify your top competitors in Google Search using Semrush's Domain Overview feature under Competitive Research in the sidebar.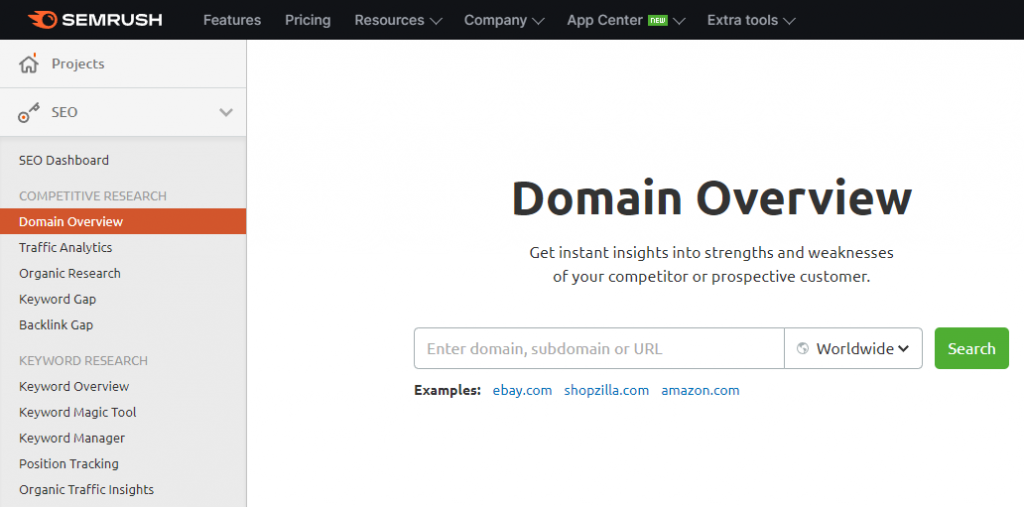 To get started, enter your website URL into the Domain Overview search bar.
The following Domain Overview Page surfaces insights about your website, such as:
A domain Authority Score based on a variety of link and traffic metrics.
The monthly trend of Organic Traffic generated by the website.
The monthly trend of Paid Search Traffic generated by the website.
The total number of Referring Domains and Backlinks acquired.
The monthly trend of Organic Keywords over time.
The website's Top Organic Rankings based on traffic estimates.
The website's Main Organic Competitors sorted by keyword competition.
Note: Data might be missing if the site is new and lacks content and links.
The widget labeled Main Organic Competitors is where you can find your top competitors and the ability to dive deeper into competitor analysis with Semrush.
Scroll down a bit to find this widget next to the Competitive Positioning Map widget.
If you scroll down a bit more, you can see your Main Paid Competitors based on Google's paid search results (Google Ads).
Clicking on View details leads you to an in-depth table of all identified competitors.
This competitor list is based on the number of keywords competitors rank for and the number of common keywords of the competitor domain in relation to your domain.
Here, you can also get an idea of the organic traffic each competitor site generates per month, and check their organic and paid keyword rankings identified by Semrush.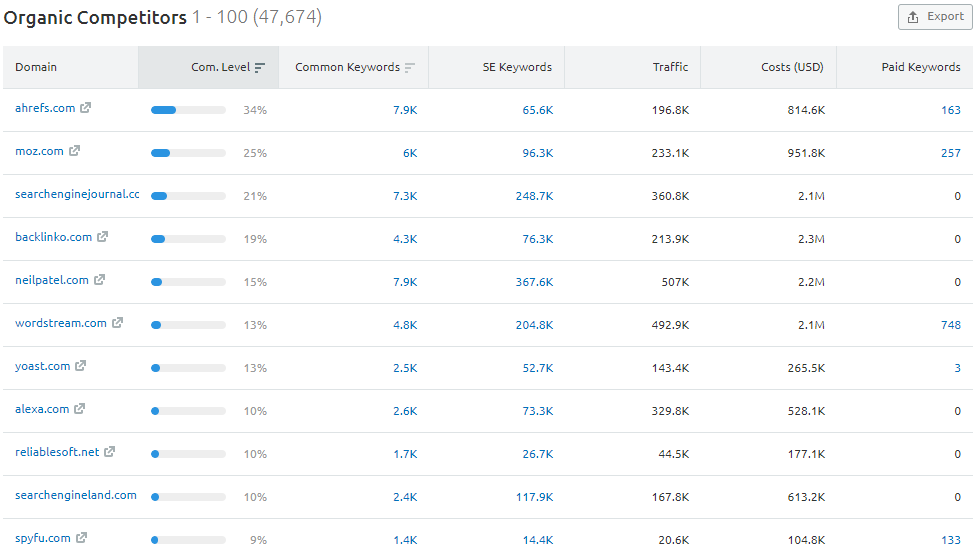 Now that you know your primary competitors in Google Search, let's look at how you can analyze one of your competitor's keyword rankings and top traffic-driving pages.
2. How to Check a Competitor's Top Keyword Rankings
Continuing from the list of Organic Competitors above, click on the Domain of one of your competitors. For this example, I've clicked on ahrefs.com.
This will take you to the Organic Research competitors report for your selected site.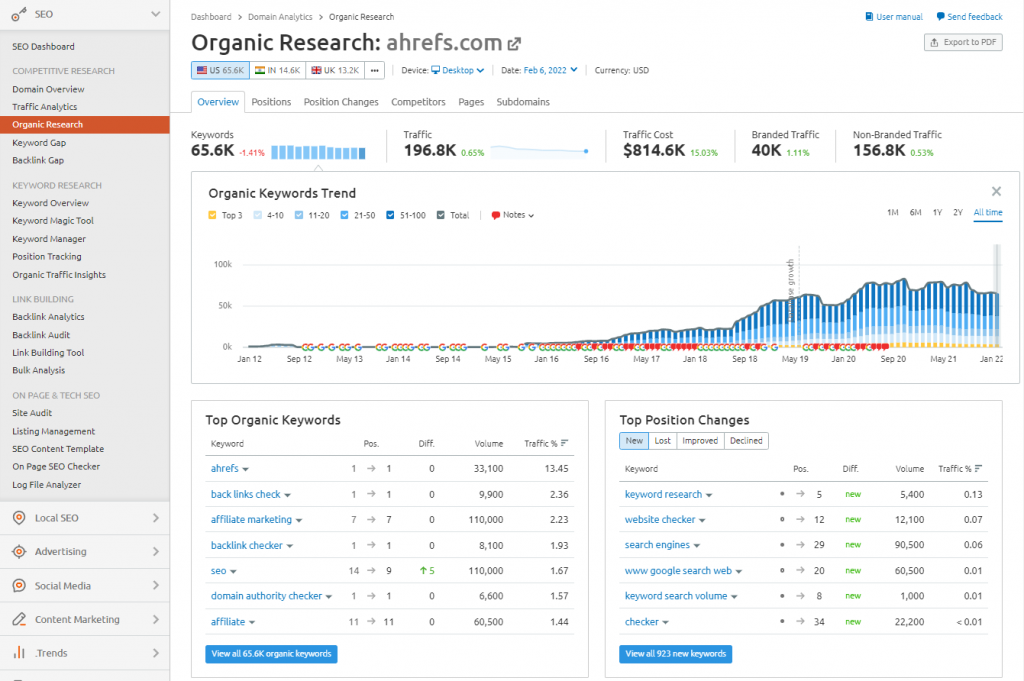 Right away, you get insight into the domain's Organic Keywords Trend, as well as its Top Organic Keywords, Top Position Changes, and Top Pages further down.
To see all keywords, click on the View all organic keywords button or click on the Positions tab located above the keywords chart to see all Organic Search Positions.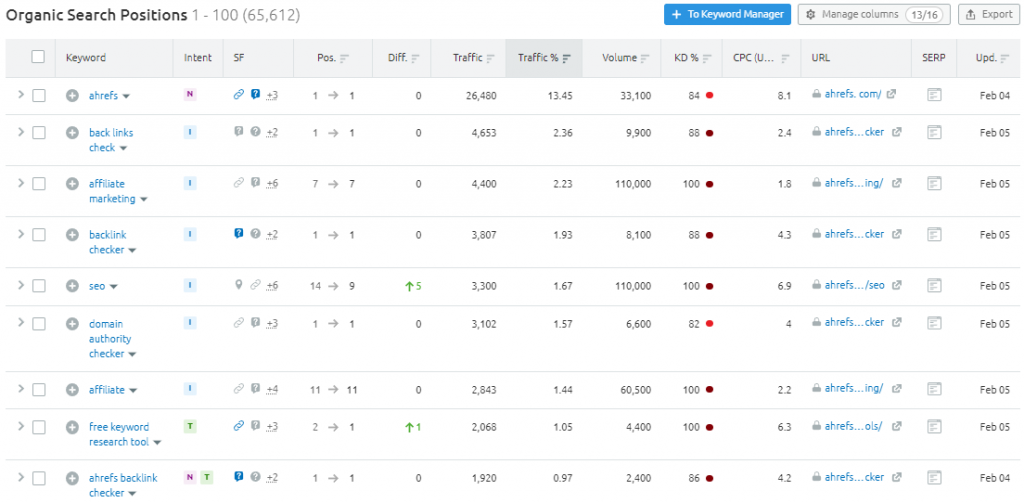 This table lists all your competitor's keyword rankings identified by Semrush and related metrics for each keyword including:
The keyword's search intent, such as informational, transactional, or navigational.
Unique SERP features on Google such as reviews and site links.
The current ranking position of the keyword in Google's search results.
The estimated traffic generated by each keyword to the ranking page.
An estimate of how often the keyword is searched each month on Google.
A keyword difficulty score to find out how competitive the keyword is to rank for.
The keyword's average cost-per-click paid by advertisers using Google Ads.
The current ranking page URL for each keyword the website is ranking for.
You can add or remove metrics from the table by clicking Manage columns to the upper-right of the table. I like to add the Traffic column, which isn't shown by default.
Keyword filter options are provided above the table to modify the keyword results.

For example, you can filter keywords based on the following criteria:
Keyword rankings can be filtered by location, device, and date.
Include or exclude specific words or phrases.
Ranking in a specific position range such as #1-#10.
Show keywords that fall into a specific search volume range.
Keywords within a specific keyword difficulty range.
Filter keywords by intent (informational, navigational, commercial, or transactional).
Keywords that show specific features in Google's search engine results pages.
Advanced filter conditions based on one or several keyword metrics.
Clicking on a keyword in the table opens up the Keyword Overview page for insights on related keywords, questions, and the top-ranking pages on Google.
You can also create keyword lists saved to Semrush's Keyword Manager Tool.
To do so, click on either the To Keyword Manager above the table or hover over the plus icon next to a keyword and click on the menu icon that appears to create a list. Then, click on the plus icon to add a keyword to a list.
That sums up how to check a competitor's keyword rankings and related metrics. Next up is how you can check a competitor's top-performing pages in Semrush.
3. How to Check a Competitor's Top Organic Pages
To check your competitor's top organic pages with Semrush competitor analysis tools, click on the Pages tab above the keyword filtering options on the Organic Research report for your competitor's domain.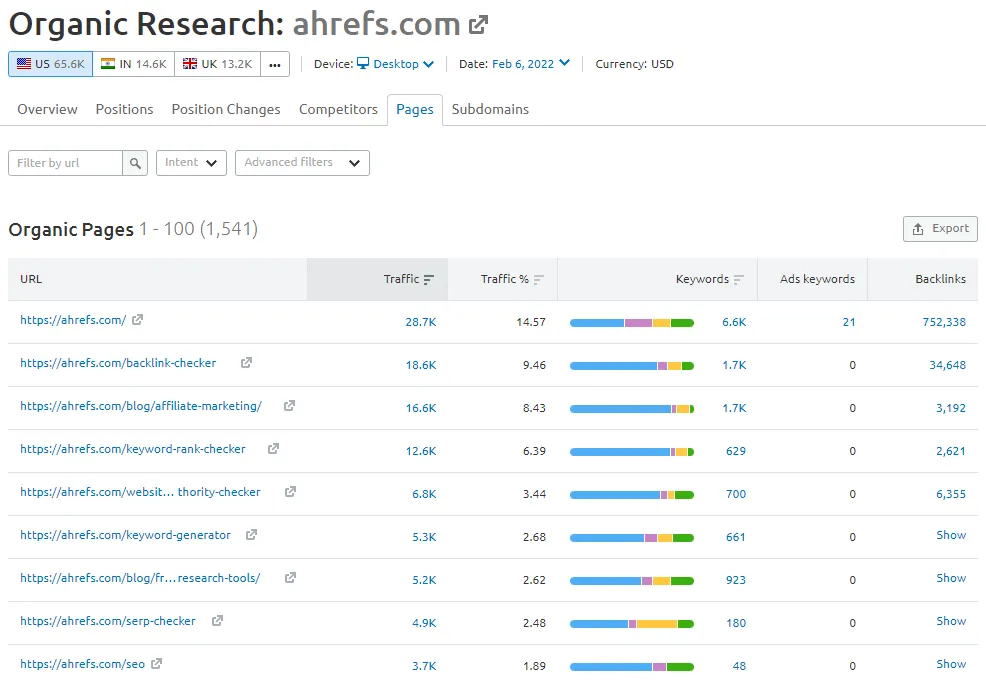 Pages are initially sorted by how much estimated organic traffic they generate.
You might be wondering, how does Semrush estimate traffic percentages?
To get a traffic estimate for each page, Semrush looks at a page's keyword rankings to determine a probable CTR (click-through rate) based on each keyword's position on the Google SERPs, and then multiplies this by the keyword's search volume and divides by 30 (the number of days in a month).
Other page insights shown alongside traffic include:
The total number of organic keywords each page is ranking for.
A visual showing the search intent for keywords ranking in Google's top 20.
The total number of paid keywords bringing users to the page via Google Ads.
The total number of backlinks pointing to the page URL.
The option to Filter by URL is useful for checking if your competitor has pages on a specific topic and how many, based on the keywords found in the page URLs.
For example, if you were focusing on SEO as a topic, you could check to see how many pages include SEO in the page URL to get a sense of the domain's topical strength.
To check a page's keyword rankings and traffic, click on either the Traffic or Keywords value shown in the table for the specific page.
Similarly, clicking on a page's Backlinks value takes you to the Backlink Analytics Tool to analyze the page's links in more detail.
4. How to Compare Your Keywords With Competitors
You can use Semrush's Keyword Gap Tool to analyze up to five domains and generate a list of all common and unique keywords.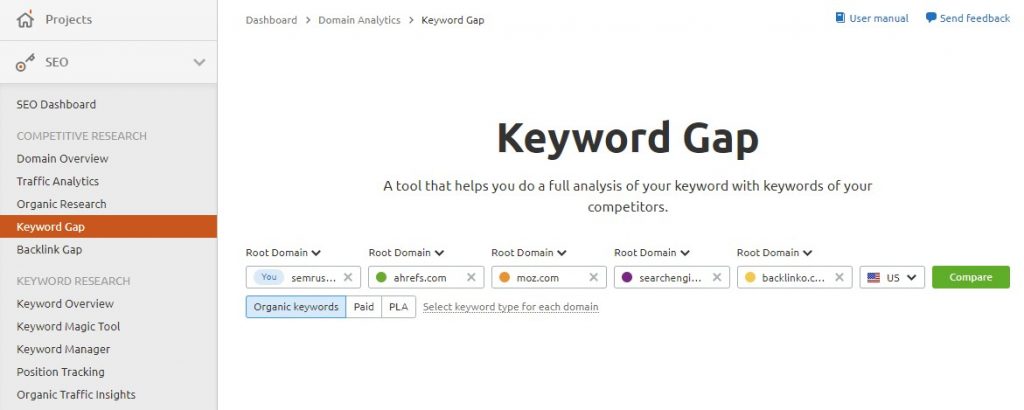 Compare keywords based on keyword type, which are either organic, paid search, or product listing ads (PLA) on Google Search.
You can mix and match keyword types for different analyses of SEO & PPC efforts.
5. How to Check Competitor Rankings for Tracked Keywords
Semrush's Position Tracking Tool lets you add up to 20 competitors to your position tracking campaign to compare your tracked keyword rankings with these competitors.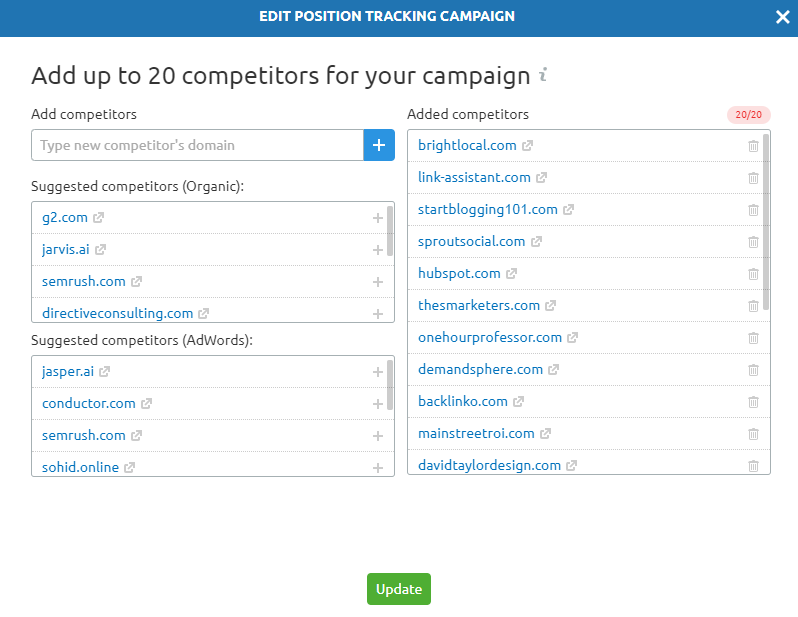 Once your competitors are added, you'll be able to compare daily ranking fluctuations between you and your competitors under the Rankings Distribution tab.
The Rankings Distribution report is useful for evaluating if you or your competitors are trending up or down for your target keywords and are gaining or losing any rankings.
The Position Tracking Tool also provides another way to discover multiple competitors and related sites under the Competitors Discovery tab.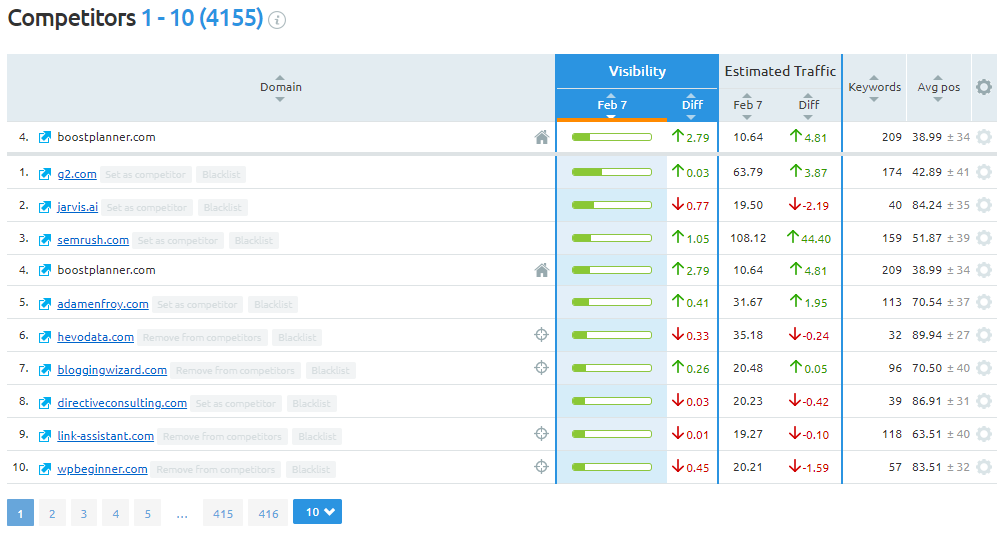 The last competitor analysis report we'll look at in Semrush's Position Tracking Tool is under the Featured Snippets tab.
Use this report to find featured snippet opportunities.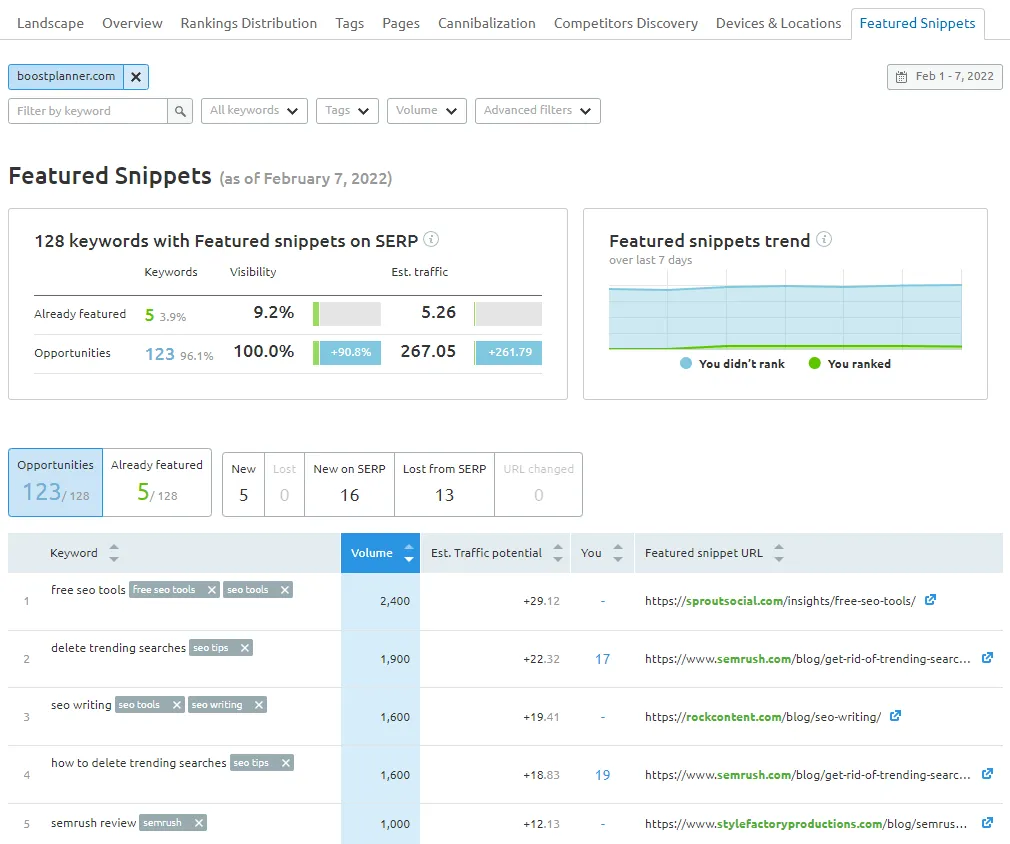 This is a pretty cool report that enables you to quickly scan keywords that are showing a featured snippet alongside keyword search volume, estimated traffic potential of acquiring the snippet, and the page URL currently featured in the snippet.
That concludes Semrush competitor analysis of competitor keywords and top pages. Next, we explore how to check your competitors' backlinks with Semrush.
6. Check a Competitor's Backlink Profile
To analyze a competitor's backlinks, click on Backlink Analytics in the left-hand sidebar of Semrush under the Link Building category.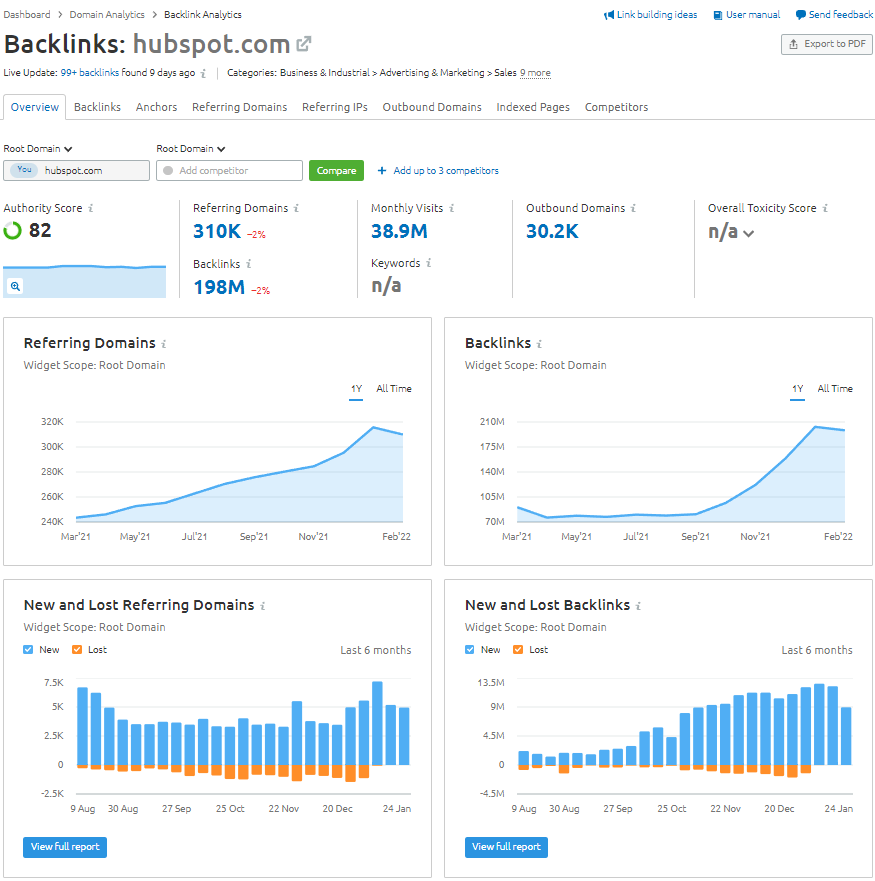 The Backlink Analytics Tool provides a ton of data relevant to the backlinks of the analyzed domain including:
The total number of referring domains pointing to the site.
The total number of backlinks pointing to the site.
Outbound domains the analyzed site is linking out to.
Trends for new and lost referring domains and links.
The anchor text that is used in backlinks.
The authority score of referring domains and backlinks.
Top pages based on the number of referring domains pointing to them.
A list of domains with a similar backlink profile to the analyzed domain.
Clicking on many of the blue widget buttons found on the overview page or clicking on the tabs will lead you to more detailed reports on the links identified by Semrush.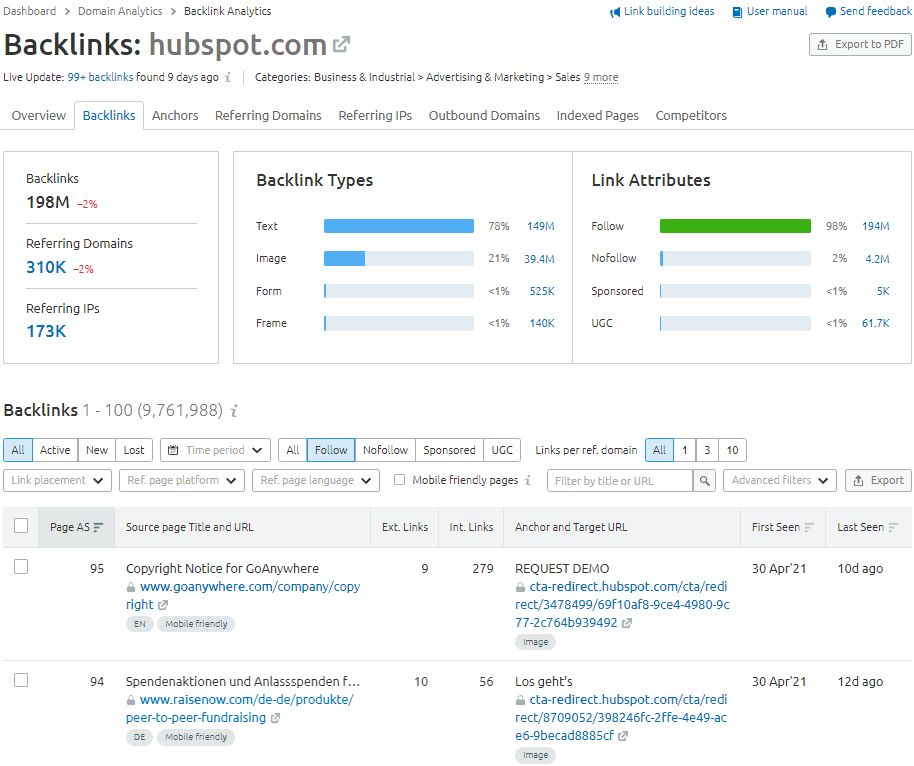 To analyze individual backlinks of your competitor's domain, click on the Backlinks tab.
With this report, you can sort links by page authority score and filter down to Follow links to quickly view the best opportunities to acquire backlinks for your site.
Similarly, you can click on the Referring Domains tab to check out and sort referring domains by domain authority score to check out the strongest domain opportunities rather than page-specific link-building opportunities.
Next, the Anchors tab is useful for getting a sense of your competitor's strength for certain keyword phrases and topics, based on the most frequent keyword phrases used in the backlinks pointing to the competitor domain you're analyzing.
Another helpful backlink analysis report is under the Outbound Domains tab. Use this report to discover related sites based on the sites your competitor is linking out to.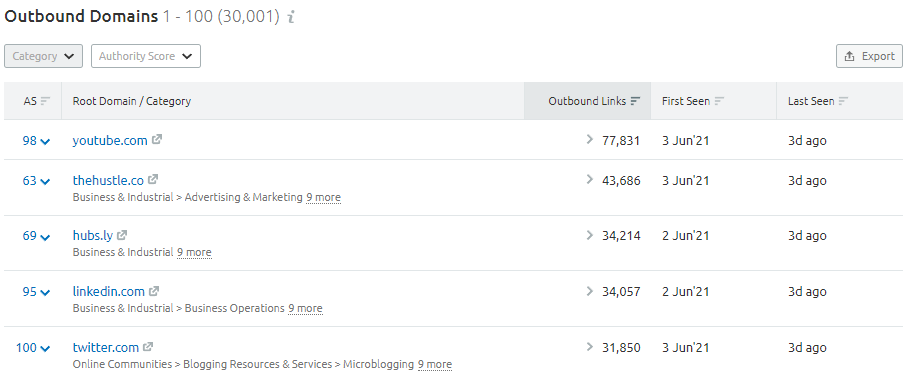 Finally, clicking on the Competitors tab gives you a list of the top 100 domain competitors of your analyzed competitor, based on common backlinks.
7. Compare Your Backlinks With Competitors
Similar to the Keyword Gap Tool, you can use Semrush's Backlink Gap Tool to analyze up to five domains and generate a list of all common and unique backlinks.

Use the Backlink Gap Tool to find some of the most relevant backlink opportunities for your site, based on the common backlinks of the analyzed domains.
Get a snapshot of the authority score and referring domains trends of you and your competitors side-by-side and a table of the best backlink opportunities further down.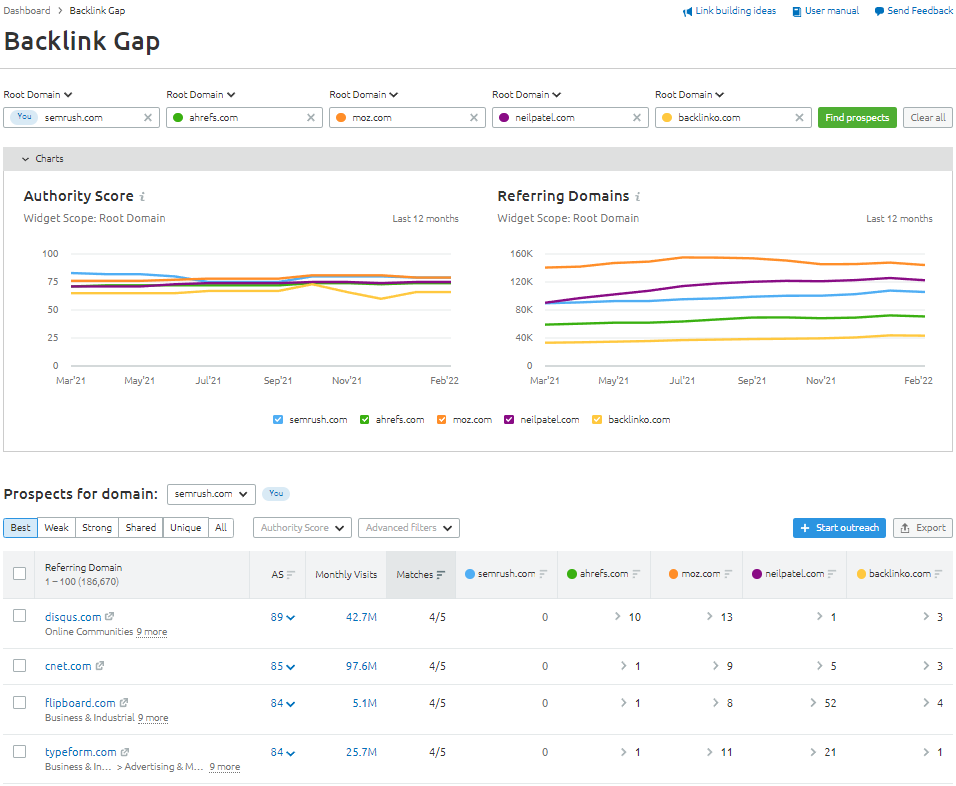 Optionally, you can select a set of potential sites to reach out to for backlink opportunities and then click on the Start outreach button to send your selected link prospects directly to the Link Building Tool to manage outreach in Semrush.
The remaining tool to check out for Semrush competitor analysis of backlinks is the powerful Bulk Backlink Analysis tool.
Use this tool to analyze up to 200 URLs at once.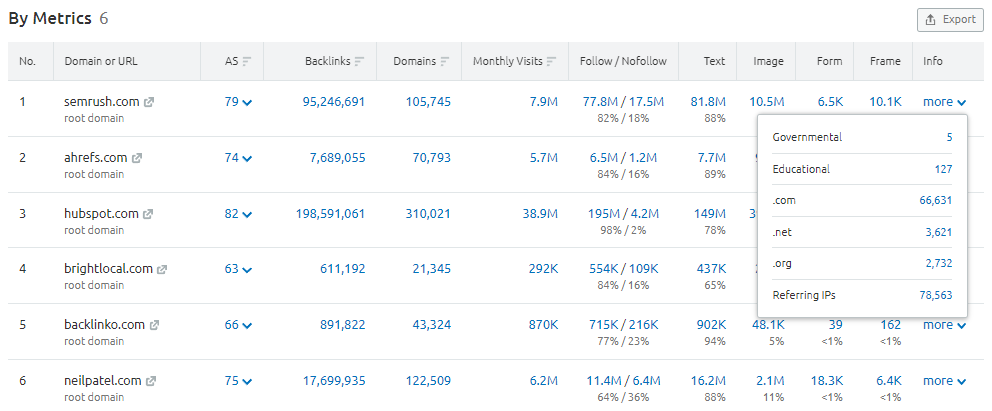 Compare and analyze metrics such as authority score, backlinks, referring domains, unique monthly visits for the last month, and link types.
8. Get Insights on a Competitor's Traffic & Audience
Semrush offers a competitive research toolkit called Semrush Trends.
The add-on toolkit includes 3 tools – Traffic Analytics, Market Explorer, and EyeOn, to dig deeper into your competitors' marketing strategies and tactics.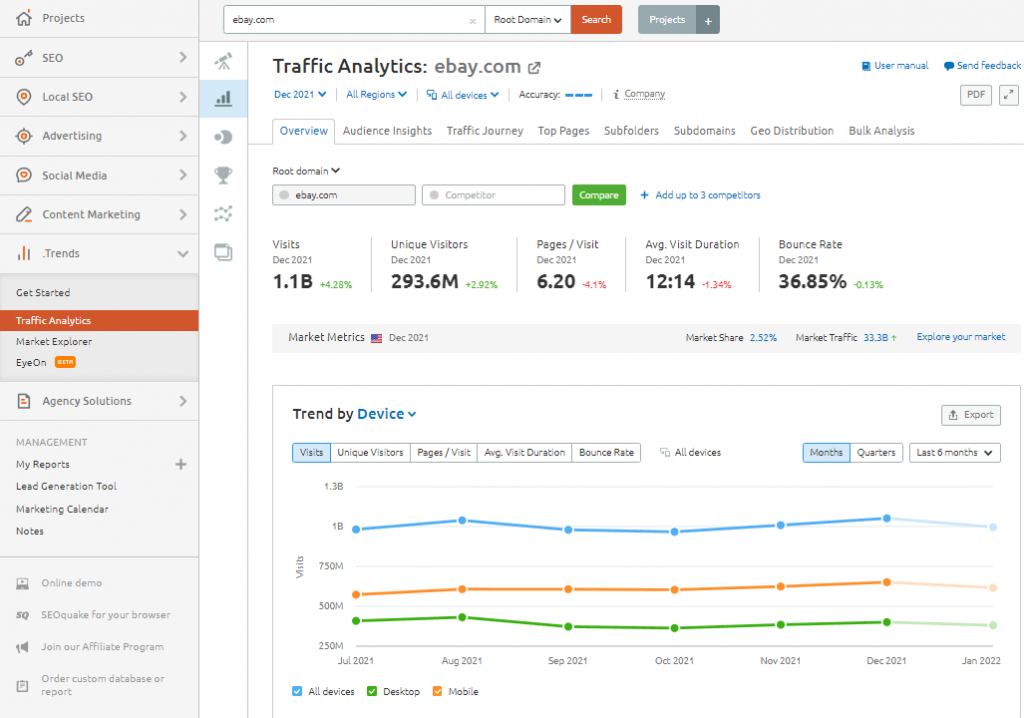 Competitor analysis insights provided by the Traffic Analytics tool include:
Estimations of any website's desktop & mobile traffic and their sources.
Compare audiences, overlaps, and see the sites they've visited for up to 5 domains.
Google Analytics-like metrics such as unique visits, pages per visit, average visit duration, and bounce rate.
Geolocation-based web traffic analysis of your biggest competitors.
The top destination sites that users visit through links on the analyzed domain.
The Traffic Analytics tool is useful for uncovering your competitors' marketing mix, understanding web traffic sources, audience insights, and web traffic journeys.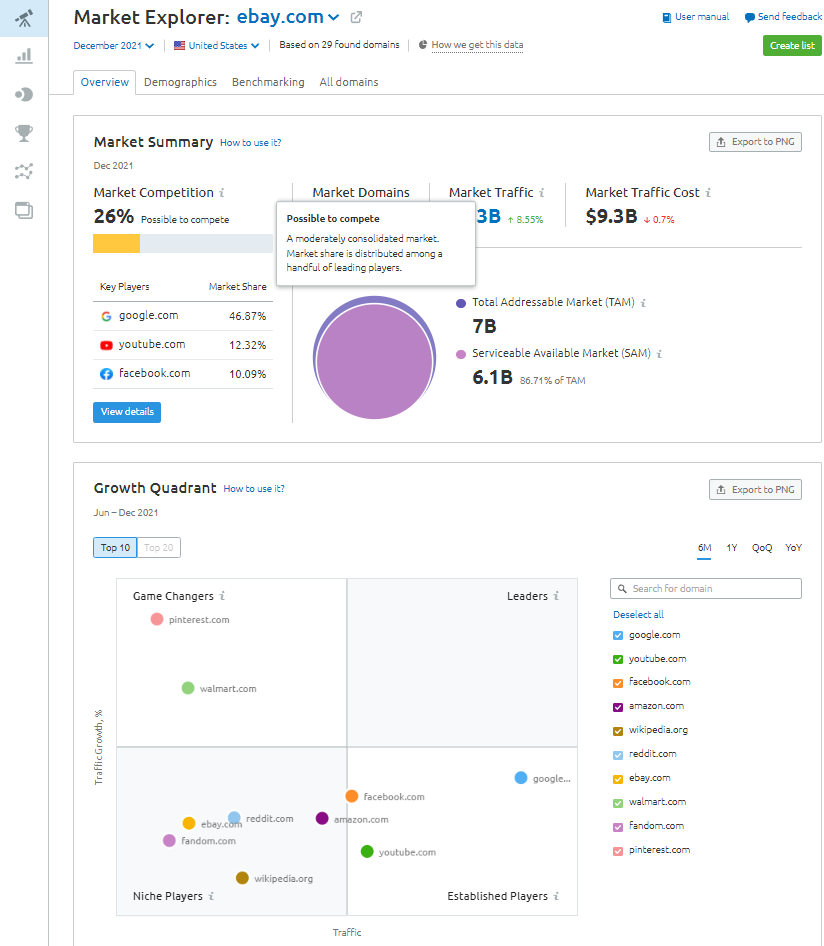 Market intelligence insights provided by the Market Explorer tool include:
Uncover the main channels sending site traffic to competitors in your market.
Evaluate the market size and benchmark top competitors and industry sites.
Analyze the demographics & psychographics of your audiences such as age, gender, and audience interests.
Filter results based on region and historical data.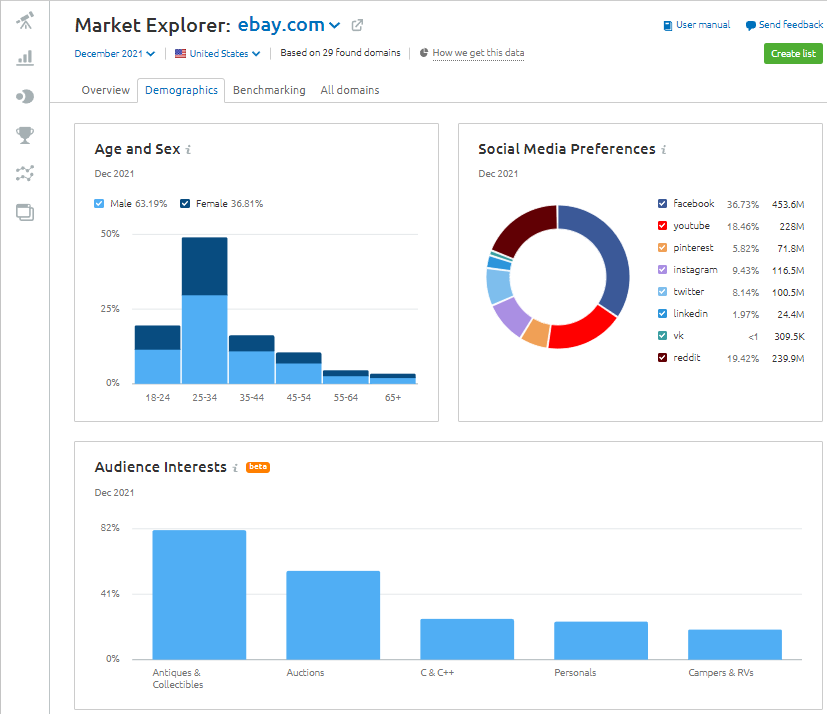 The Market Explorer tool is super helpful for understanding the market you're in online, industry leaders, and the market share of competing sites.
The 3rd tool in the Semrush Trends add-on package is called EyeOn, a new 24/7 competitor monitoring tool that's currently in beta as of February 2022.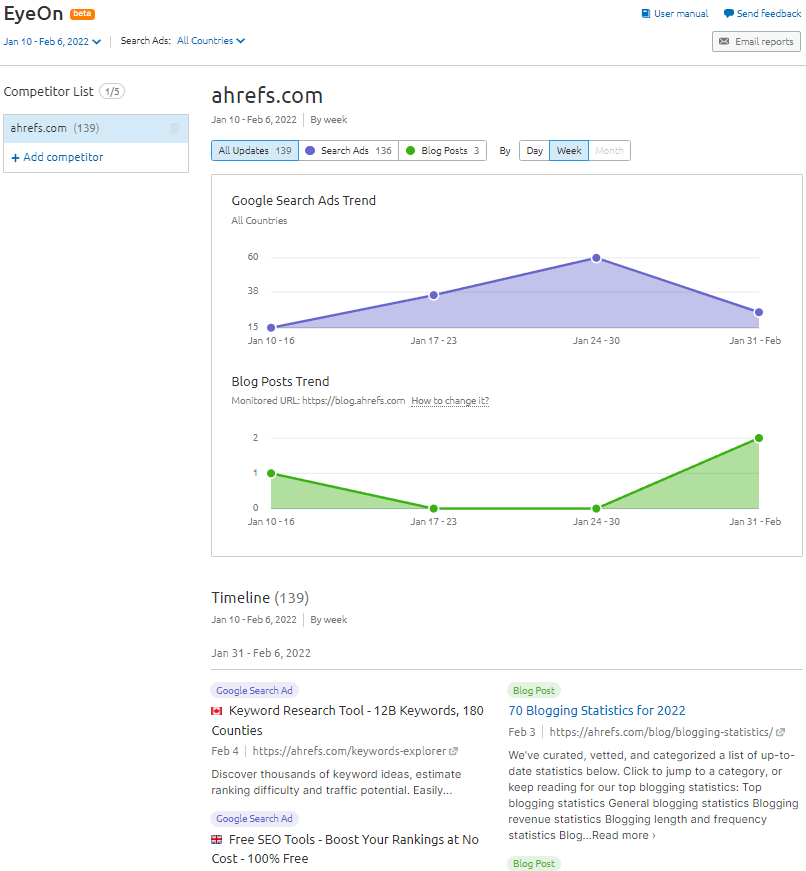 The tool lets you monitor up to five competitors for newly published posts and ads on Google, set up email alerts, and view your competitors' historical publishing trends.
9. Check Your Competitors' Social Media Activity
You can use Semrush's Social Media Tool to track your competitors' social media activities including top content, audience, and engagement insights.
With the Social Media Tool, you can conduct competitor analysis of the Facebook, Instagram, LinkedIn, Twitter, YouTube, and Pinterest profiles of your competitors.
You can also analyze post frequency, the details of posted content, and view your competitors' follower growth, post reactions, comments, shares, and hashtags.
10. Analyze Local Competitors in Google Maps
While Semrush's Position Tracking Tool identified keyword rankings found in the Google 3-pack (or local pack) for the location/s you're tracking, businesses can analyze local competitors on Google Maps with Semrush's Listing Management add-on.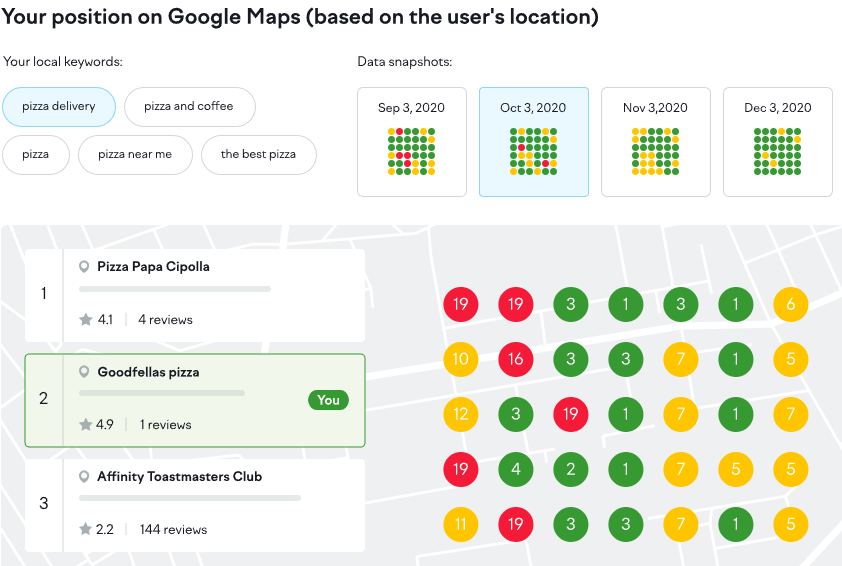 For $40 per month per business location, you get access to a Local Heatmap tool to track your positions in Google Maps, listing submissions across 70+ directories, online review monitoring, and the ability to respond to reviews directly in Semrush.
Final Thoughts on Competitor Analysis with Semrush
Semrush offers invaluable competitor analysis tools and reports to better understand your own site and your competition on Google to boost your digital marketing efforts.
The digital marketing platform offers one of the largest backlink databases on the market along with historic traffic insights, a daily rank tracker, website audit software, SEO reporting software, social media management, and local listing management.
Don't have a Semrush subscription? Get a free trial here.
Looking for SEO services? Check out these affordable SEO packages.
More SEO-Related Resource