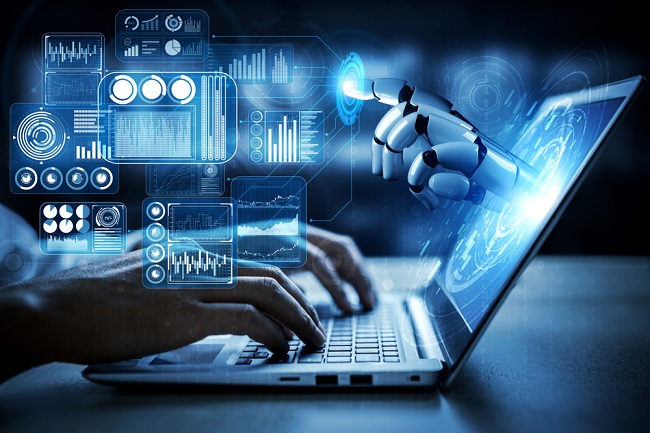 Want to create more quality marketing content in less time? Here are 10 great ways you can use AI copywriting to enhance your marketing and content creation efforts.
If you perform any sort of marketing activity that involves typing, writing, or messaging, there's a good chance that AI copywriting can help you improve your marketing efforts and spend less time on marketing tasks.
First of all, what is AI copywriting? AI copywriting is computer-generated writing created with the help of machine learning and natural language processing tools.
Many AI writing tools use GPT-3 or GPT-4, which are powerful autoregressive and generative language models that use deep learning to produce human-like text.
Boy, what a mouth full!
AI Copywriting for Marketing
Copywriting with the help of artificial intelligence (AI) is seriously game-changing. Check out the following 10 effective ways you can use AI copywriting for marketing:
1. Generate Copy for Blog Posts & Articles
The beauty of AI-generated text from an AI copywriting tool is that the AI can create unique content that people will want to read.
If you've been tired of writing blog posts or articles that don't get much engagement, check out a reputable AI copywriting tool like Jasper (formerly Jarvis AI).
If you're interested, get a free trial of Jasper here.
AI writing tools are designed to produce interesting, relevant, and original content your audience will enjoy.
Whether you're writing blog outlines or intros, bullet points, an in-depth blog post, or just looking for ideas, AI copywriting software improves blogging in a variety of ways.
2. Answer FAQs & Questions Across Marketing Channels
If you answer a lot of questions online such as on your site in FAQ sections, during customer service, or through email, you can use an AI copywriting tool to help you answer questions quickly in any of these formats.
AI copywriting also helps avoid sounding repetitive in your copy.
3. Enhance Your E-commerce Store or Site
Artificial intelligence copywriting is a great way to enhance your digital e-commerce store's digital presence or any site for that matter.
You can use AI-powered content for product descriptions, product reviews, and other types of written content that you have on your online store.
AI copy can help you diversify the wording in snippets of content and sentence fragments across your store, resulting in more ways to segment data, test visitor engagement, and determine what kind of copy resonates better with your audience.
4. Increase Clickthrough Rates & Conversions
Ideally, once you get the hang of it, AI copywriting should be able to help you improve click-through rates and conversions.
AI can help you test variations in brand voice, writing flow, and phrasing across any piece of marketing content.
While you may not always use every piece of copy an AI copywriting tool generates, there's a lot of value in seeing the copy that's generated for potential inspiration, including re-wording and re-phrasing your existing content.
5. Create Content for Landing Pages, Lead Gen Forms, and More
If you're involved in the marketing world, then you know that marketers and business owners need to create a lot of digital content.
When writing about a topic across many pieces of content, it can be easy to end up using the same words, sentences, and even paragraphs.
Artificial intelligence improves copywriting in many ways and is quickly becoming the best way for marketers to consistently write unique and high-quality content.
An AI copywriting tool is like having your own personal content improviser, expander, and editor that writes original marketing copy for you in literally seconds.
In just a few clicks, with the help of sophisticated natural language generation, you can create original content for lead gen forms, landing pages, email subject lines, and more.
6. Use AI Copywriting Tools to Create Micro-Content
Micro-content refers to small pieces of content that are easily consumed within 10-30 seconds and shareable on various social media platforms like Facebook, Twitter, Instagram, and other online channels. AI copywriting software is incredibly useful for writing content in chunks and combining the AI text output with a human touch.
These small chunks of text can also be used as digital ad copy for Google Ads, Facebook Ads, and other marketing activities where you need to write succinctly and grab attention quickly.
We're talking 250-character tweets, social media posts under 160 characters, Google My Business posts, Pinterest descriptions, and website meta descriptions for SEO purposes, to name a few.
7. Tailored Messages & User-Generated Content
Another great way to use AI copywriting is for creating tailored messages that encourage user-generated content (UGC).
As a business owner or marketer, you might be thinking it's impossible to get people to contribute UGC to your site. However, some AI tools are making it easier for marketers to create user-generated content.
For example, with the right AI tool, an AI-generated message could be displayed to a website visitor (based on what the user previously viewed) that encourages the user to post some type of content such as a review or answer to a question.
Another example is showing auto-generated pop-up messages that share recent sales activity for products on an e-commerce site.
8. Write Newsletters and Invitations
There are many types of messages that you might need to send out as a marketer.
For example, you might need to write copy for a welcome email as well as newsletters and other types of automated messages. These can be great opportunities to use AI copywriting.
Instead of spending hours writing the copy for each automated message, you can simply let an AI tool generate a few variations of copy and choose which one makes the most sense to use.
9. Create a More Personalized Experience
Customers are getting used to seeing the same old automated messages and content, often in the form of tips, product recommendations, and site suggestions.
If you want your marketing and business to stand out from the competition, then it's worth considering using AI copywriting for generating unique content.
Using AI copywriting to create custom messages and content can help you better engage with your customers and potential customers.
It's like having a virtual assistant at your fingertips that generates the exact type of content and personalization for each customer, group of customers, and prospects.
10. Improve Search Engine Optimization (SEO)
When writing for a blog or site, AI copywriting can help improve SEO in several ways. Search engines like Google and Bing love seeing published pages, posts, and articles that are original and cover topics in detail.
AI copywriting is perfect for optimizing copy and making sure you're content is original and comprehensive. In addition, AI writing is useful for quickly writing up SEO meta descriptions and meta tags. AI-written text can also help you with these aspects of SEO by providing endless content ideas.
You can also search for your topic on Google and look at the questions people are asking. Then, hop into an AI copywriting tool and have it answer these questions. By doing this, you can make extensive and detailed pieces of content in a flash.
As a daily blogger user of SEO writing tools, I use and recommend Jasper AI for SEO copywriting since the tool's AI-generated copy is original and results in increasingly relevant copy as you continue writing in the tool's document editor.
Check out my Jasper AI review here for more details about the AI writing software.
Conclusion
In this post, we've outlined how using AI copywriting for marketing can be a powerful way for any business to improve its marketing strategy. This technology has the potential to help you create unique, original content faster and more efficiently than ever before, while also improving SEO efforts in the process.
The examples of ways that AI copywriting can benefit your marketing are endless – from website descriptions and micro-content to full blog posts, landing pages, email marketing, and newsletters.
If you want an edge over your competitors, don't have time to keep up with all of these writing tasks yourself, or want to produce more quality content in less time while avoiding writer's block, it's worth considering AI copywriting to enhance your marketing.
Related Posts: