Modified date: January 22nd, 2023
Which SEO tool is better, SE Ranking or Semrush?
Find out in this detailed SE Ranking vs SE Ranking comparison review.
In this product comparison review, I aim to be as honest and unbiased as possible based on my experience testing and using both SEO tools for multiple years.
See the table below to compare the key features between Semrush & SE Ranking.
BoostPlanner is reader-supported. If you buy through a link on my site, I may earn an affiliate commission.
What Are Semrush & SE Ranking?
SE Ranking and Semrush are popular cloud-based all-in-one SEO software platforms with impressive features for SEO and digital marketing.
Introduced in 2008, Semrush is the more established of the two SEO tools, making it over a decade old. SE Ranking is a newer SEO platform that was founded in 2013.
Both SEO tools have amassed 300,000+ users since their inception. Both software tools are used by freelance digital marketers, small businesses, marketing agencies, and large enterprise companies to understand and improve visibility in search results.
In addition, both tools have earned excellent average ratings of 4.5+ stars and many satisfied customer reviews in the SEO category on well-known and reputable product review sites like Capterra and G2.
Comparing Semrush vs SE Ranking
Both SE Ranking and Semrush offer features that cover several major aspects of SEO. Examples include keyword research, rank tracking, competitor insights, site audits, and social media management tools.
In comparing SE Ranking vs Semrush, the key differences between the SEO tools come down to their feature sets and plan affordability.
Based on extensively using and reviewing both tools for SEO, here's how the key features of Semrush and SE Ranking compare:
| Features | Semrush | SE Ranking |
| --- | --- | --- |
| Keyword Research | The Keyword Magic Tool offers the largest database of keyword data such as search volume and keyword difficulty for SEO and PPC campaigns. | The keyword research tool offers a large database of keyword data like search volume and keyword difficulty for an SEO or PPC project. |
| Rank Tracking | Rank tracker with daily keyword ranking updates. Track keywords in Google's search engine. | Rank tracker with daily, three days, or weekly updates. Track keywords in Google, YouTube, Bing, and Yahoo. |
| Competitor Research | Competitor organic traffic analytics and trends, top pages, and keyword rankings. | Competitor organic traffic trends and analytics, top pages, and keyword rankings. |
| Backlink Analysis | Largest backlink checker database with backlink audit tools. Monitor backlinks for changes such as new and lost links. Audit link toxicity. | Large backlink checker database. Monitor and audit backlinks for changes such as new and lost links. |
| Site Auditing | Run site audits to identify technical errors, issues, and opportunities. | Audit your site for technical errors, issues, and opportunities. |
| On-Page SEO | Most detailed on-page SEO analysis tool for auditing pages. | Detailed on-page SEO checker tool for auditing web pages. |
| Content Marketing | Content marketing tools are included in the Guru plan (content templates, topic research, page audits, post tracking, and marketing calendars). | Content marketing tool & editor (released in October 2022) are offered as new add-on features. |
| Reporting | White-label report builder | White-label report builder |
| Support | Chat, email, and phone | Chat, email, and phone |
| API Access | Requires API-specific subscription | Requires the Business plan |
| Fixed Plans | Starter, Guru, and Business | Essential, Pro, and Business |
| Pricing | Starts at $119.95 per month | Starts at $29.40 per month |
| Free Trial | 7-Day Free Trial | 14-Day Free Trial |
Comparing Semrush vs SE Ranking
While Semrush offers more total features and data, SE Ranking offers more flexible and lower-cost plans with similar core features to help you improve your SEO efforts.
Feature Breakdown
Here is a breakdown of the core features offered by SE Ranking vs Semrush, how they compare, and the key differences to consider.
Keyword Research
First, let's compare SE Ranking and Semrush in terms of keyword research features.
The ability to research keyword ideas is a crucial feature of all-in-one SEO software.
While the UIs differ, each toolset provides the most important keyword insights such as:
Monthly search volume estimates for each search query
Keyword difficulty scores (SE Ranking calls this KEI or keyword effectiveness index)
Cost-per-click (CPC) bidding estimates for Google Advertising
Pay-per-click (PPC) ad competition levels for Google Ads
Total URL results on the SERPs for each keyword phrase
Unique features found on the SERPs for keyword phrases
Keyword grouper tools to save segments of relevant keywords
Semrush vs SE Ranking Keyword Research
Both SEO toolkits offer two of the most comprehensive keyword research tools on the market for finding and analyzing search terms used on Google. This includes stats for both organic search and paid keywords related to Google Ads pay-per-click advertising.
However, Semrush has the larger keyword database, exceeding 20 billion keywords, while SE Ranking has so far grown to include more than 7 billion keywords.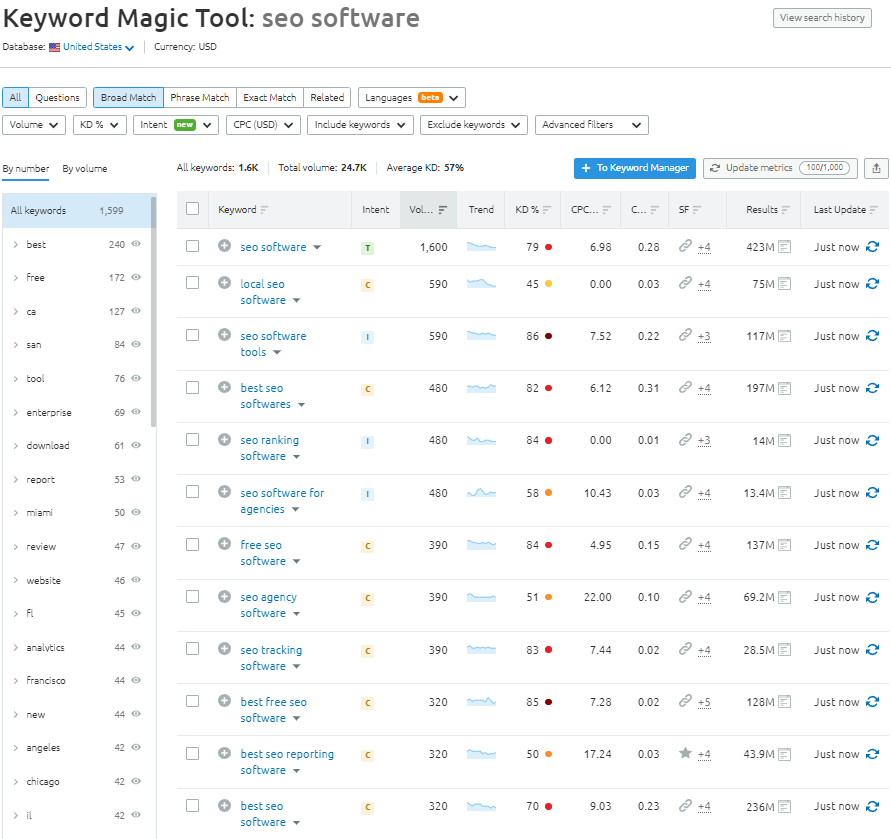 The Semrush keyword research interface is clean and straight to the point.
With Semrush, you can conveniently see a small trend visual for each keyword next to the search volume. This can help you understand search demand and which broad and long-tail keywords to prioritize in your SEO campaign.
Also, clicking on the arrow next to a keyword brings up a pop-up window that shares global volume data, related keywords and questions, and the top 10 SERP results.
With SE Ranking's keyword research interface, you're able to see a lot of helpful data in one view.
The keyword suggestions interface shows the top Organic SERP listings with their traffic estimates and total keyword rankings on the right side of the keyword table.
The design is intuitive and easy to use. The metrics in the keyword difficulty column stand out nicely so you can quickly get a sense of how competitive each keyword is.
Verdict on Semrush vs SE Ranking for Keyword Research
In terms of keyword research features, the winner is Semrush. Although, personally, I think SE Ranking offers the best low-cost keyword suggestion tool on the market.
If budget is not an issue, consider Semrush for a bit more Google keyword research data. For a solo site owner, SE Ranking is nearly as good for similar keyword research.
Rank Tracking
Both SEO platforms provide reliable keyword rank tracker tools.
Each of the rank tracker software tools offers similar features:
Track mobile and desktop devices
View ranking changes side-by-side
Daily rank tracking options
Competitor rank tracking
Keyword SERP history
Tagging and filtering
Traffic and visibility
Search volumes
SERP features
Semrush offers a daily rank tracker by default as part of each plan. SE Ranking offers rank updates daily, every 3 days, or weekly (the least expensive option).
SE Ranking vs Semrush Rank Tracking
The main difference between the two rank trackers is the supported search engines.
Semrush only provides rank tracking for Google and Baidu, while SE Ranking offers the ability to track keywords for Google, YouTube, Bing, Yahoo, and Yandex.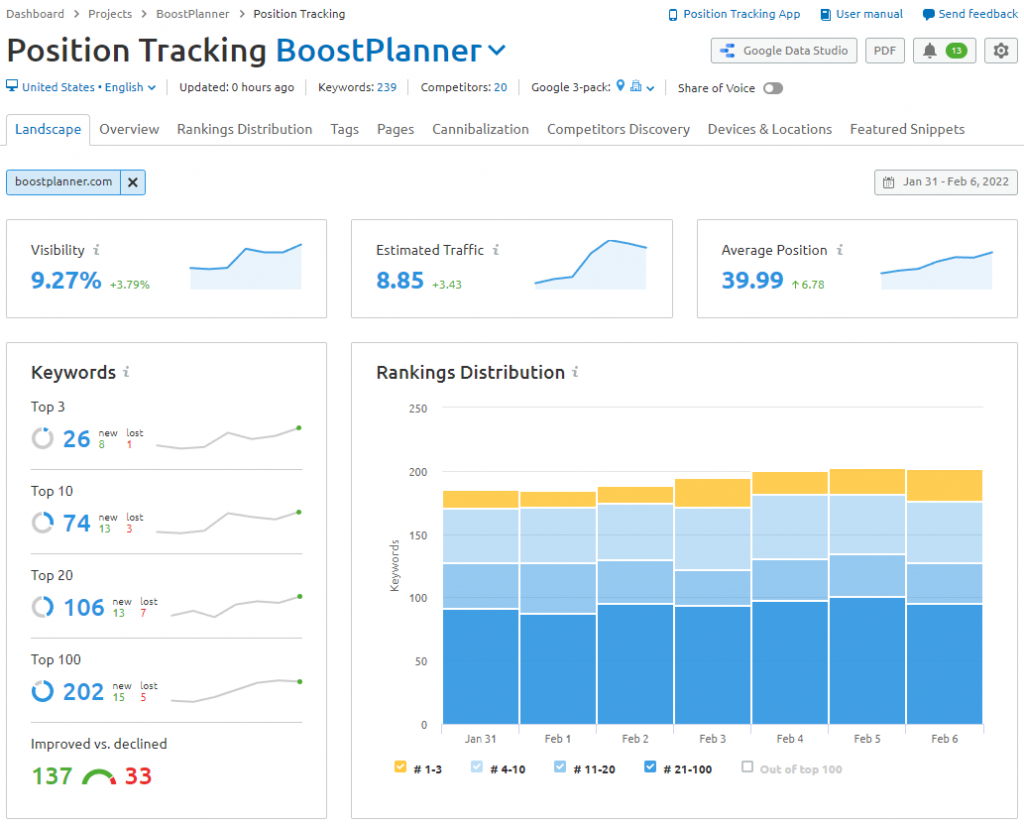 The Semrush position tracker interface makes it easy to understand keyword trends and how keywords you're targeting are distributed across different position ranges.
There's something about the tool's interface that encourages me to continue optimizing compared to other rank tracker dashboards.
The SE Ranking rank tracker offers both an overview dashboard and the ability to separate and organize keywords by folders and view similar data versus Semrush.
The color highlighting and "dynamics" column makes it quick to assess up and down changes across your monitored keyword positions.
Verdict on SE Ranking vs Semrush for Tracking Rankings
While I like and currently use SE Ranking for its keyword setup, tagging, and folder organization, I do like the position overview interface provided by Semrush for quickly scanning ranking trends and understanding changes in search visibility.
Keep in mind that you can only track rankings on Google or Baidu with Semrush, while SE Ranking includes tracking for Google, Bing, Yahoo, and Yandex.
However, with Google having over 90 percent of the search engine market share, you can't go wrong with either keyword rank tracking tool.
I wouldn't say there's a clear winner when it comes to rank position tracking. Both are considerably accurate rank trackers for monitoring site and competitor rankings.
Competitor Research
Competitive insights can make or break an SEO platform. Fortunately, SE Ranking and Semrush provide extensive competitive insights in their own ways.
Both SEO tools include competitor insights related to:
Domain authority scores
Organic search traffic
Organic keywords
Top-ranking keywords
Top-performing pages
Paid search traffic
Backlink insights
Historical data (depending on the plan edition)
Semrush vs SE Ranking Competitor Research
There are a couple of key differences between Semrush and SE Ranking when it comes to competitor analysis and research features.
Similar to the keyword research tools, Semrush provides more total data than SE Ranking. SE Ranking, on the other hand, offers historical data in starter plans for three previous months (the historical data range is uncapped in the mid-tier plan), while Semrush offers historical data collected since 2012 in their mid-tier Guru plan.
While both SEO toolsets include multiple interfaces for various off-page or off-site competitor statistics that would be a bit excessive to share in this comparison review, you can get a good idea of the type of data provided in the images below.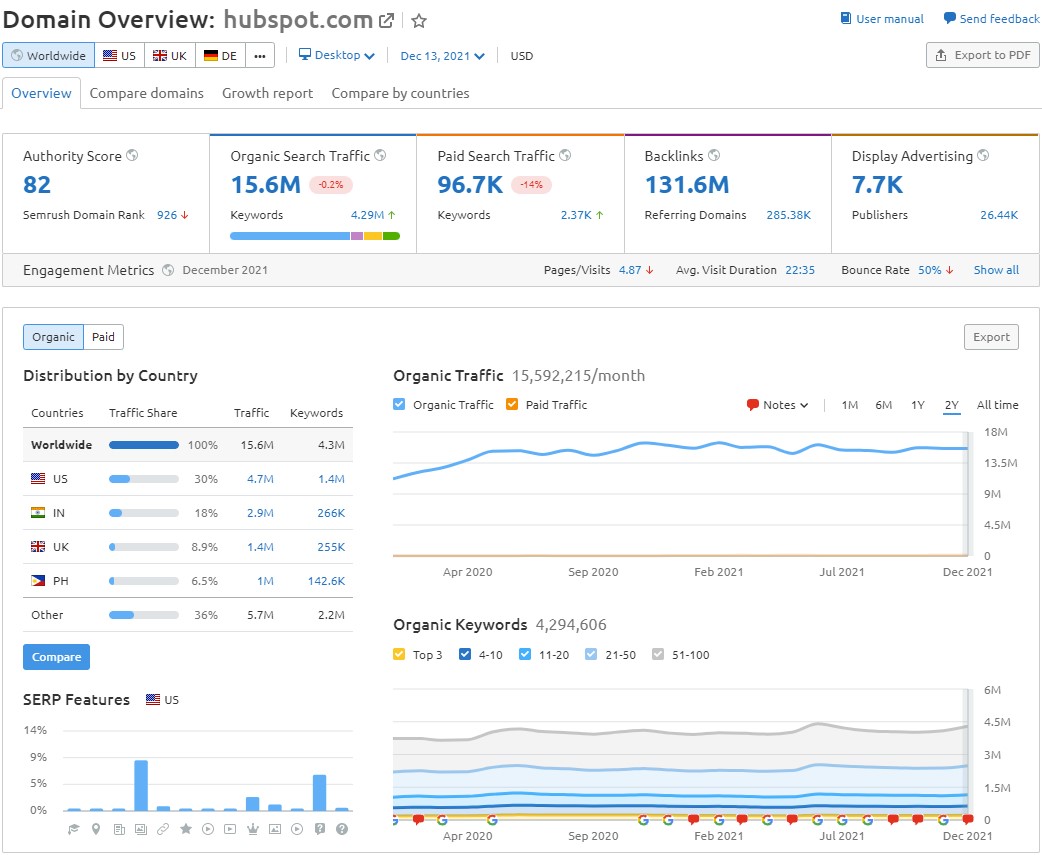 Semrush displays high-level domain metrics nicely for analyzing domains. Clicking on many of the metrics will lead you to more detailed reports for the given metrics.
Example reports include authority score, organic search traffic analysis, paid search traffic, backlinks, display advertising, keywords, and backlinks.
While some of Semrush's interfaces may seem cluttered or feel overwhelming for some, I found I didn't have a problem with them after getting used to the platform.
SE Ranking includes similar domain insights and sidebar navigation options for drilling down into the data for detailed competitor analysis.
The SEO platform provides a cleaner simplified approach to displaying data insights that you might prefer depending on your preferences.
Verdict on Semrush vs SE Ranking for Competitor Research
Both tools offer impressive features to help you better understand your organic SEO and Google Ad competition. However, Semrush has an edge due to more data.
You can extend competitor data further with Semrush's add-on offering that includes Traffic Analytics and Market Explorer tools for more insights into your rivals' marketing strategies. However, the add-on costs $200/mo on top of a Semrush plan.
Related: 10 Ways to Do Competitor Analysis with Semrush
Backlink Analysis
While backlink analysis is a key aspect of competitor research, Semrush and SE Ranking offer multiple tools for analyzing, monitoring, and managing backlinks.
Both SEO tools provide the following backlink insights:
Domain authority scores
Page authority scores
Individual backlinks
Referring domains
Referring IP addresses
Link anchor text
Dofollow and nofollow links
Link filtering options
New and lost domains
New and lost backlinks
SE Ranking vs Semrush Backlink Analysis
Semrush includes a larger backlink database with 22 trillion backlinks, while SE Ranking currently includes 2.7 billion backlinks processed.
Semrush also provides a backlink audit tool to check your backlink profile for toxic links and the ability to output a list of these links for the option to then upload a disavow file to Google (requests Google to ignore these links).
Additionally, Semrush includes a link-building tool that acts as a CRM to manage link prospects with the ability to integrate your mailbox and send outreach emails, create customized email templates, and track open and reply rates.
Here's what the overview of Semrush's backlink audit tool looks like:
Currently, SE Ranking only provides backlink research and monitoring tools.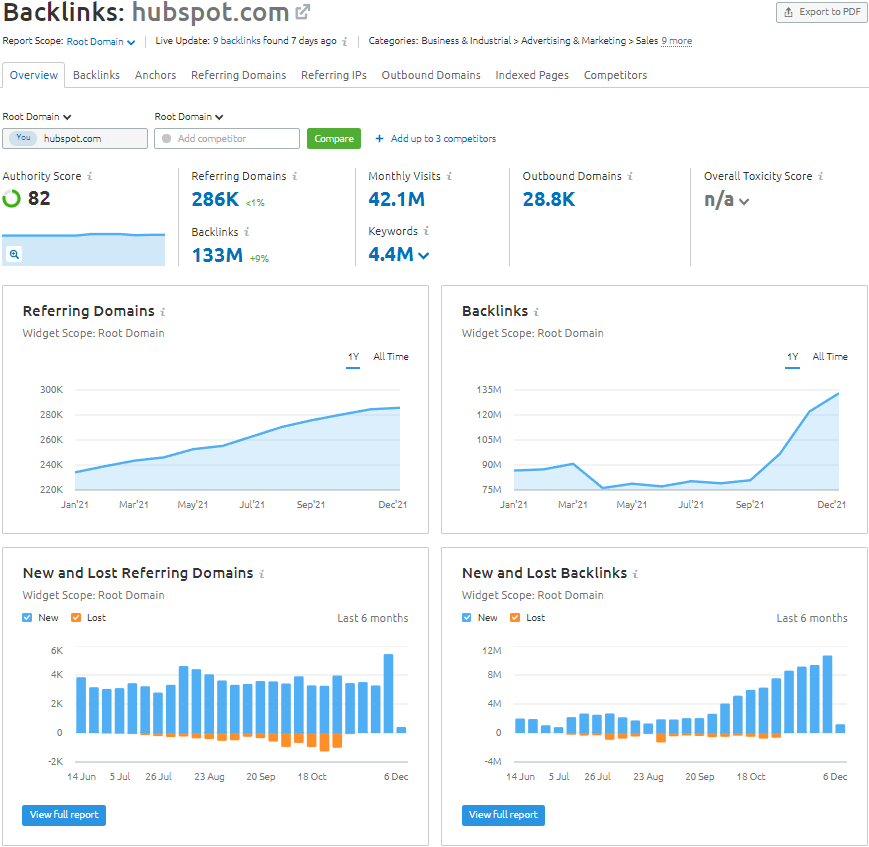 For me, SE Ranking detected almost as many referring domains as Semrush for the domains I analyzed, being under by only a couple of links.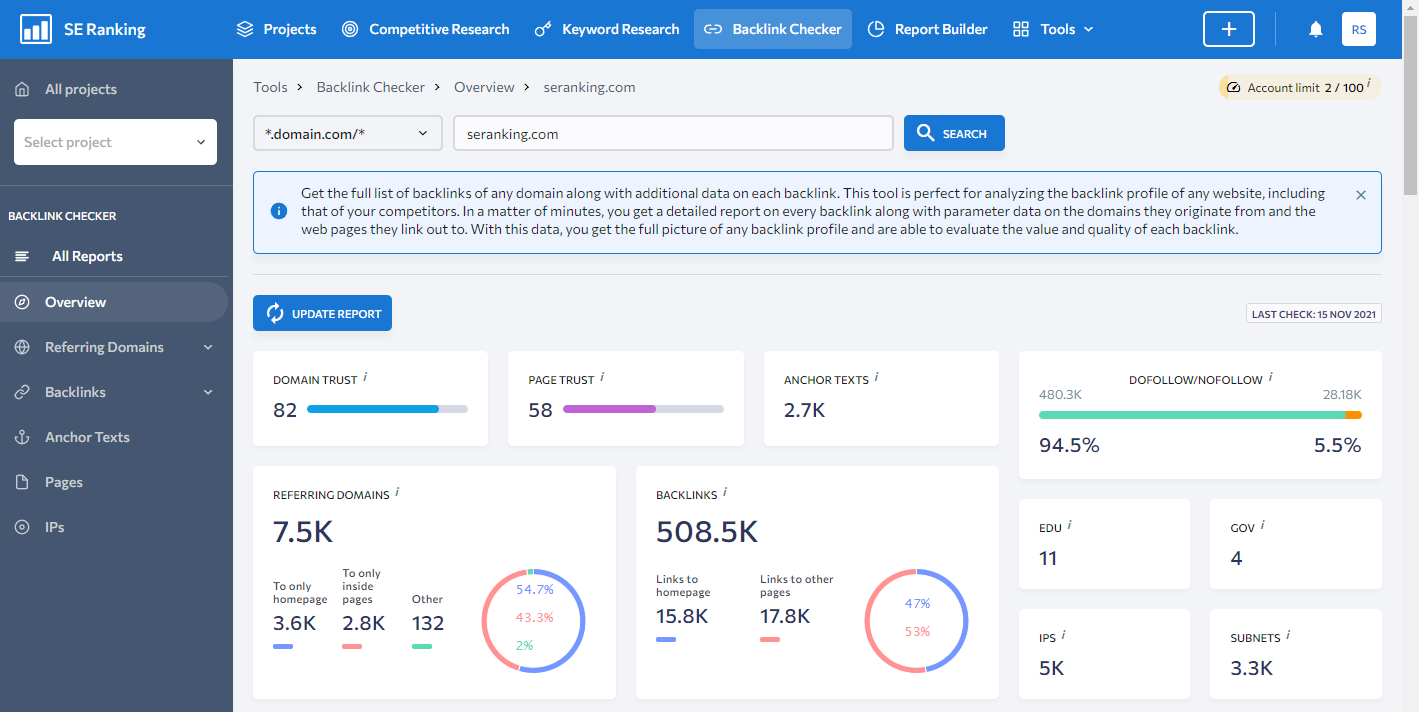 Verdict on SE Ranking vs Semrush for Backlink Analysis
Semrush is the winner in terms of total backlink features. However, SE Ranking offers extensive backlink research and monitoring capabilities at a lower price.
Site Auditing
When looking at both SEO platforms, each toolkit offers an SEO audit tool with checklists of potential problems to resolve sorted by severity.
You can evaluate site health for factors and signals related to site architecture, security, crawling, loading speed, usability, and localization.
Both SEO audit tools include the following potential problem scans and features:
Overall site health
Duplicate and thin content
Index status of crawled pages
Technical SEO issues like broken links
Internal and external link considerations
Use of anchor text within internal links
Missing metatags, alt tags, descriptions, etc.
Compare site audits and share reports
On-site issues categorized by type and severity
Page structure and HTML element usage
Analyze XML sitemaps and robots.txt files
Examine code scripts, CSS, and JavaScript
Descriptions of issues and how to fix them
Custom settings to adjust audit crawls
Scheduled and automated audits
Semrush vs SE Ranking Site Audit
While both SEO platforms give you the ability to audit the critical site-wide technical SEO errors and issues, Semrush offers a bit more insight across the platform in regards to the elements checked for technical and on-page SEO audits.
Verdict on Semrush vs SE Ranking for Site Auditing
In comparing SE Ranking vs Semrush, both SEO tools feature convenient website audit overview interfaces and detailed displays of site issues that have been identified.
While I prefer Semrush's overview interface for assessing site audits, both tools are excellent for conducting deep audits for critical site-wide errors and issues.
On-Page SEO
Semrush and SE Ranking include tools for checking your on-page SEO.
Semrush's on-page SEO tool groups potential optimizations based on categories:
Strategy Ideas
Backlinks Ideas
Technical SEO Ideas
User Experience Ideas
SERP Features Ideas
Semantic Ideas
Content Ideas
The idea tasks tab offers a nicely sorted list of possible optimizations, making it easy to prioritize and get started on-page optimization activities.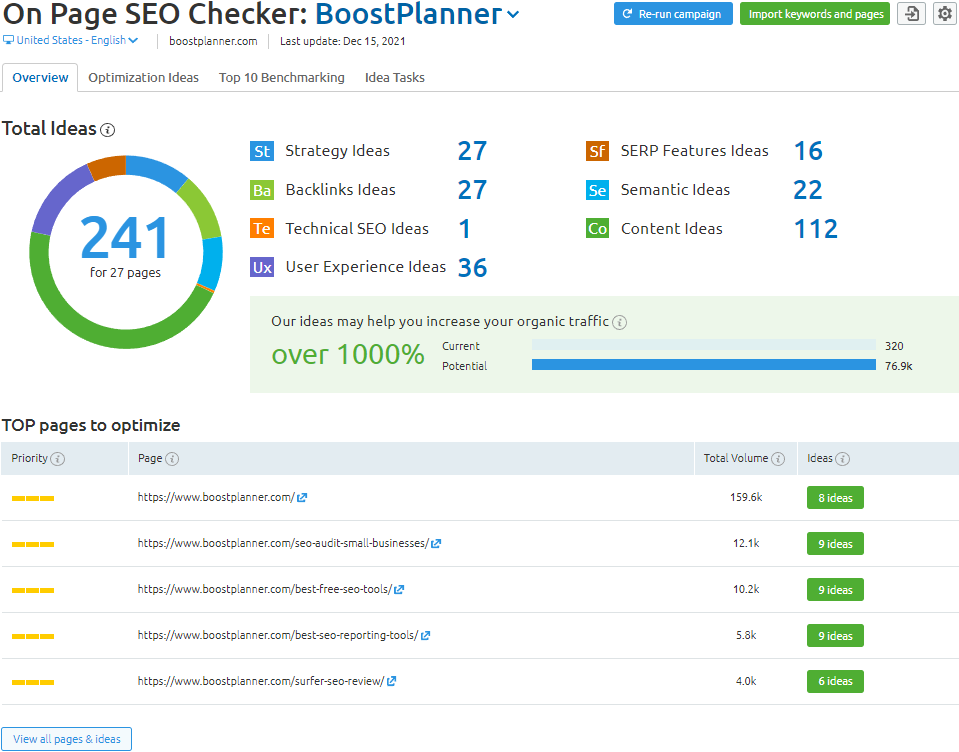 SE Ranking lays out a useful visual with an optimization score grouped by category for the analyzed keyword, warnings, and errors, to quickly get an idea of what to improve.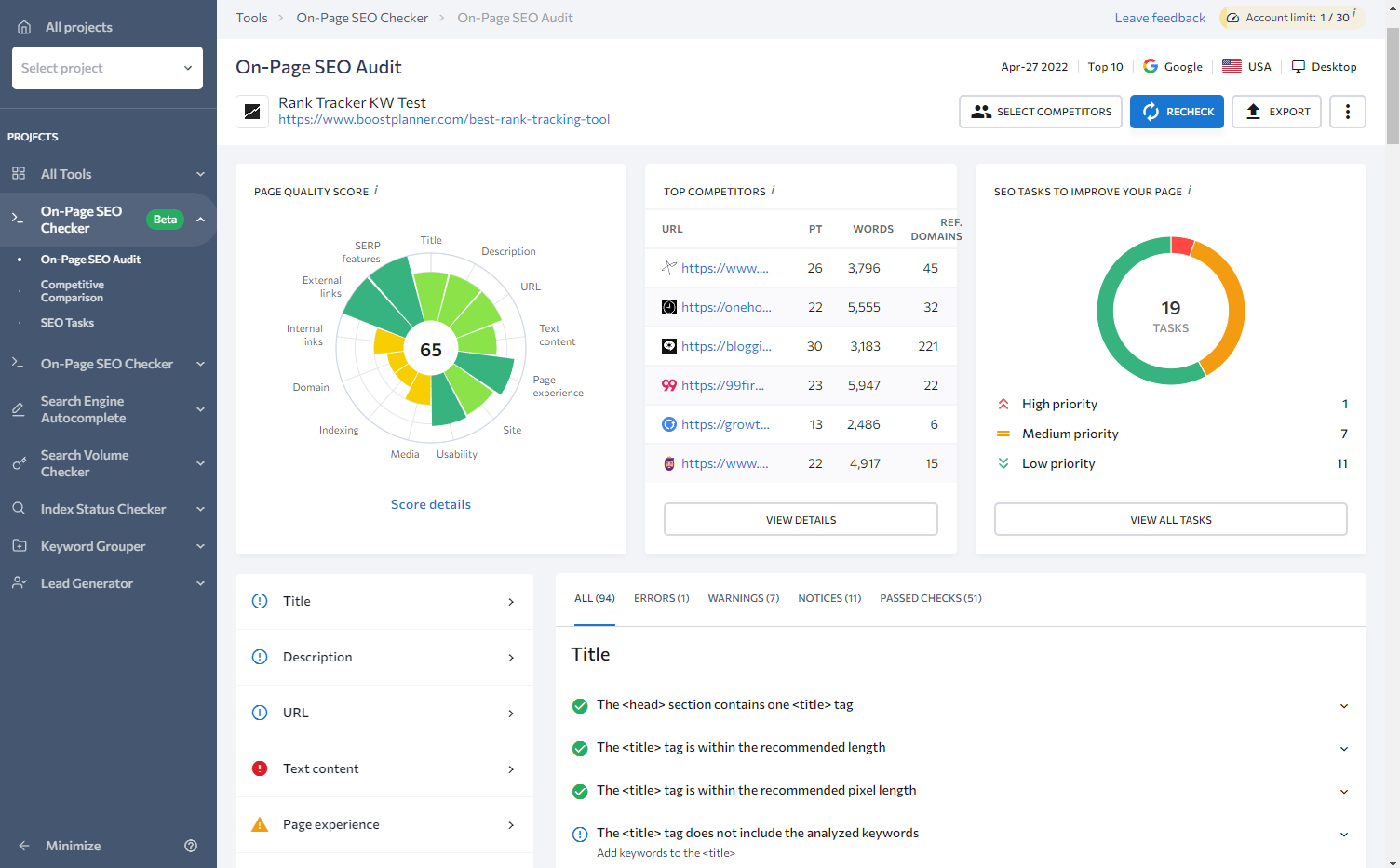 The image above shows you a glimpse of SE Ranking's new AI-driven content analyzer and on-page SEO checker tool.
The new tool includes over 80 new checks and informational blocks categorized by type and issue severity so you know what to fix as soon as possible.
This includes SEO issues related to titles, descriptions, URL structure, text usage, and much more.
The on-page checker uses an upgraded page analysis algorithm where audit results change based on rival site metrics displayed in the Google SERPs.
You can also use the new competitive comparison feature to compare on-page parameters side-by-side against competing pages to find optimization opportunities.
Verdict on Semrush vs SE Ranking for On-Page SEO
Based on using both tools, Semrush currently offers more in-depth on-page optimization than SE Ranking, especially if you enroll in the Guru plan.
While SE Ranking's on-page SEO tool will help you follow best practices for optimizing your content, Semrush offers more competitor-based insights and semantic term ideas.
Content Marketing
Semrush provides tools to help you perform research and write marketable and SEO-optimized content as part of its Content Marketing Platform, which is included in the mid-tier Guru plan or higher.
The Content Marketing Platform unlocks the following marketing tools:
Topic Research
SEO Content Template
Page Audits
Post Tracking
Brand Mentions
Marketing Calendars
Plagiarism Checks
Semrush vs SE Ranking Content Marketing
Content marketing and topical research are two features not provided by SE Ranking, however, the platform may add these types of features in the future.
I find the Topic Research feature super useful for discovering trending topics, subtopics, and clusters to write about that are aligned with what's being searched on Google.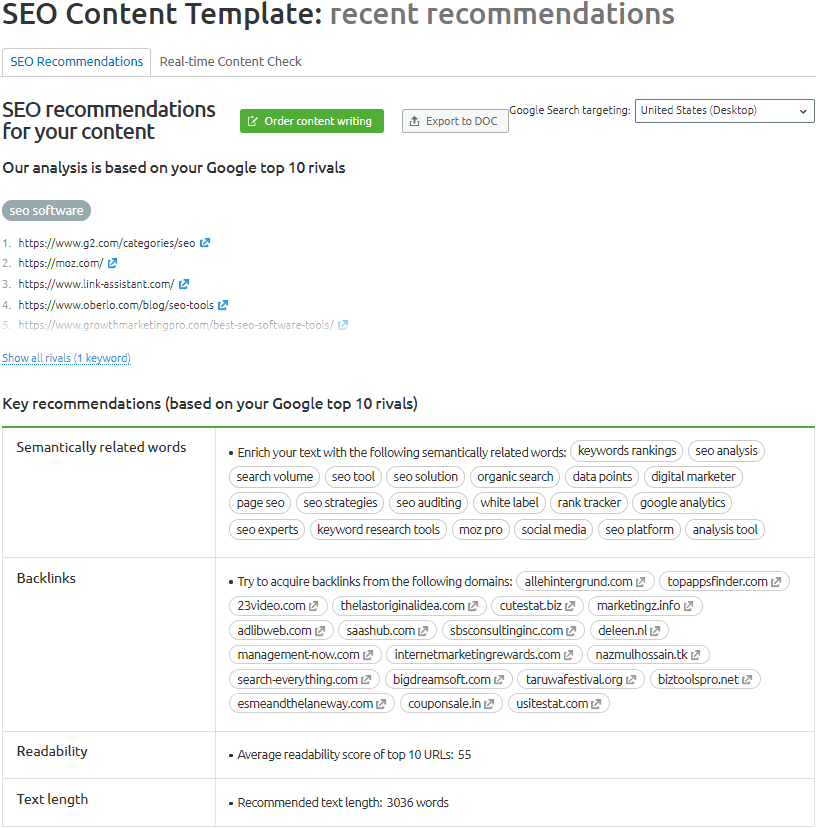 The SEO Content Template feature helps you optimize your content for things like semantically related keywords, readability, and backlinks based on the top 10 ranking web pages in the Google SERPs for your targeted keyword.
Semrush also includes a social media tracker, auto-post to social media profiles, and brand monitoring tools for insight into your social media marketing and brand presence.
Verdict on Semrush vs SE Ranking for Content Marketing
As of October 2022, SE Ranking has released a new content marketing toolkit as an add-on feature. This includes a content editor with recommendations for keywords to use, content structure, and quality, based on the top-ranking pages on Google.
Semrush is the current winner when it comes to content marketing research features. In terms of content writing and optimization features, SE Ranking now has the edge with its keyword suggestions feature powered by NLP (natural language processing).
Reporting
The ability to create flexible SEO reports is an important aspect of SEO platforms.
Both SEO software platforms include SEO reporting tools with:
Customizable report builders
Drag-and-drop report widgets
Convenient report templates
Automatic scheduling options
White-label PDF reports
SE Ranking vs Semrush Reporting
The main difference between Semrush and SE Ranking for reporting primarily comes down to the number and types of widgets and data you can report on.
Since Semrush provides more total data and features, there are more reporting options at your disposal. However, SE Ranking still provided great reporting when it comes to all the essential SEO aspects like rankings, competitors, audits, and backlinks.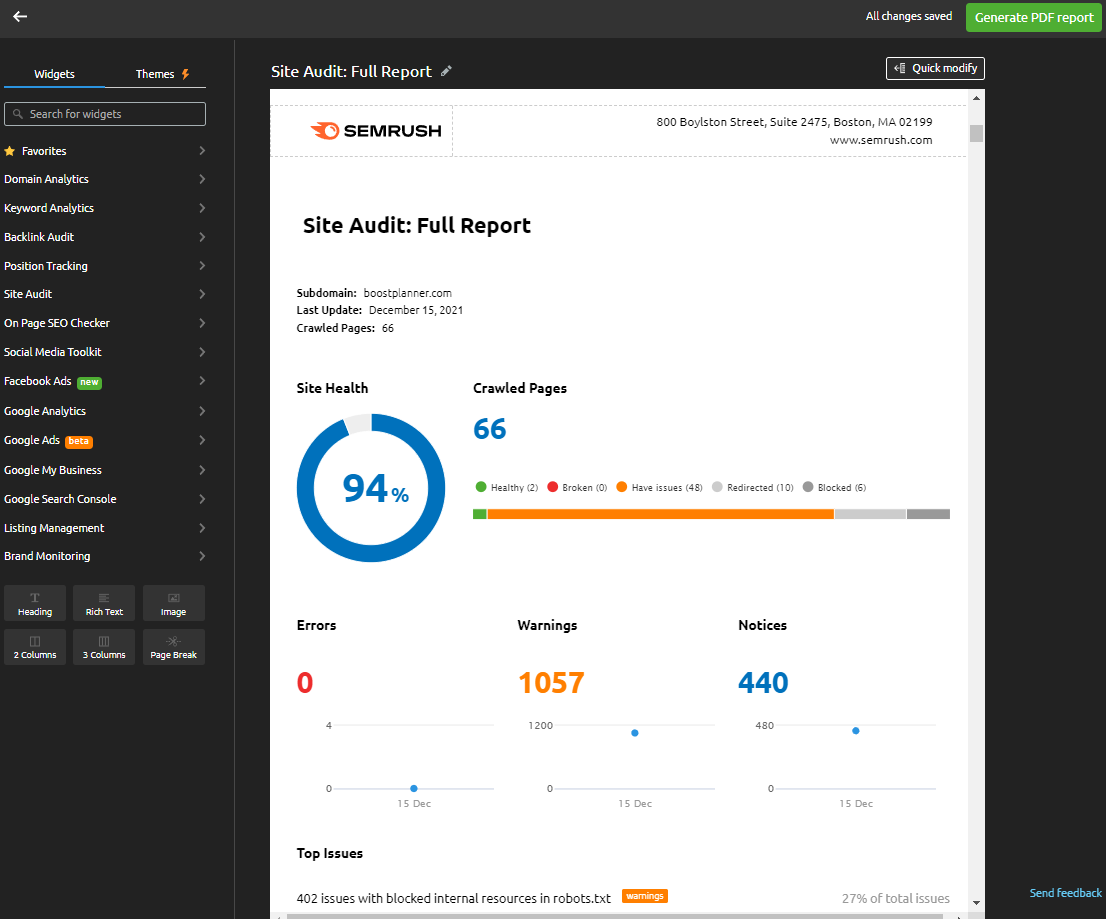 The Semrush report builder works by selecting specific widgets in the left-hand sidebar to create reports.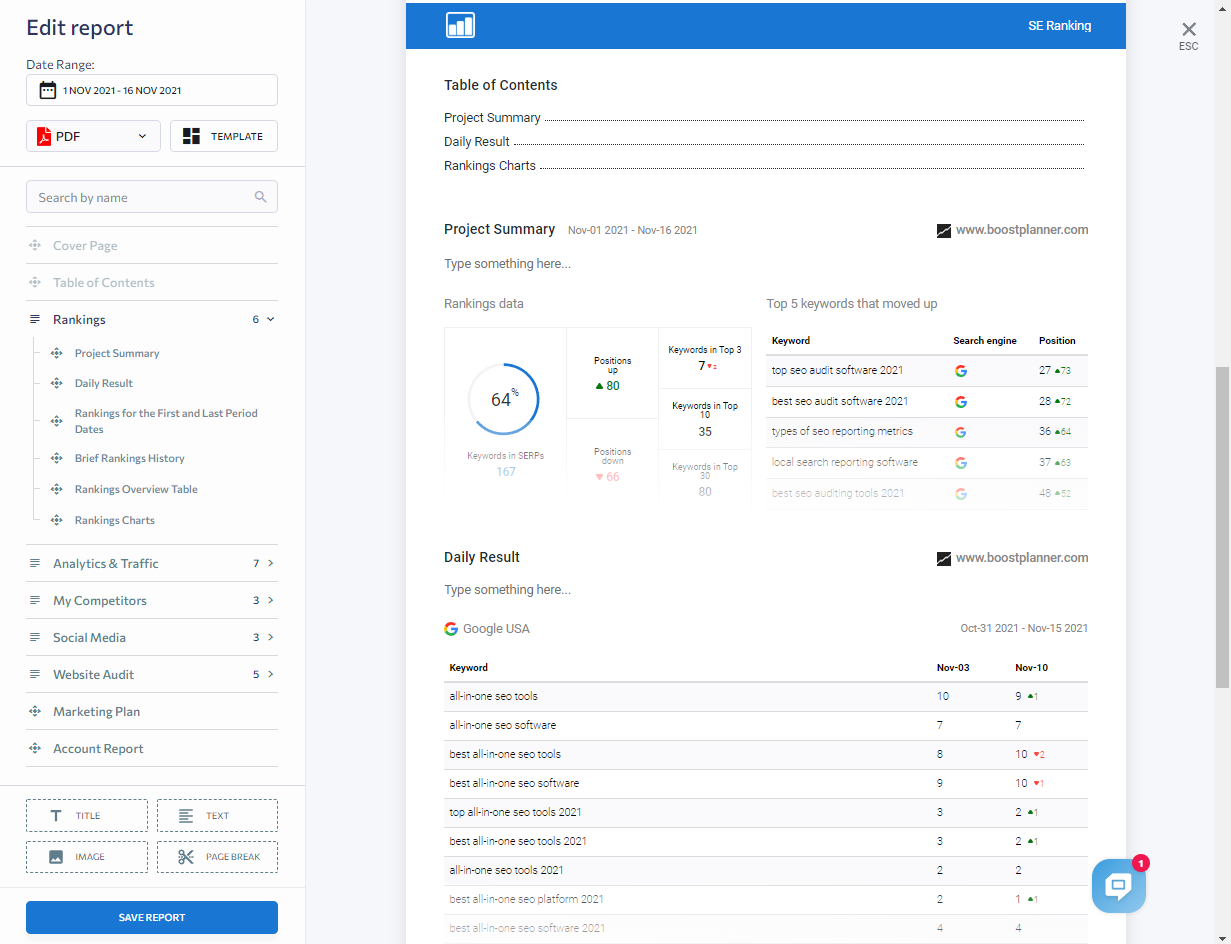 The SE Ranking report building uses widgets that you simply drag into the report from the left-hand display panel.
Each tool also offers integrations with third-party applications. Both tools allow you to connect to and pull data from Google Analytics and Google Search Console.
Further, you can connect each platform to Google Data Studio for another approach to SEO reporting. (Guru plan is required for Semrush's Data Studio integration).
Verdict on SE Ranking vs Semrush for Building Reports
In terms of SEO widgets and metrics, both reporting tools are effective choices for sharing performance and progress reports with an in-house team, clients, or yourself.
However, when it comes to digital marketing and reporting beyond SEO-specific metrics, Semrush offers more comprehensive reports than SE Ranking.
Support
Based on my experience with their support teams, both SE Ranking and Semrush offer friendly, knowledgeable support, including free demos and onboarding assistance.
Both SEO platforms offer three support channels: chat, email, and phone.
The contact info for each tool is pretty easy to find on their respective websites.
Semrush lists its phone number for support prominently in its website footer, alongside an email address and a link to the contact us page. There's also a chat option that appears in the lower-right corner.
The same goes for SERanking, except for a public email address. You can just send a message through their contact page to get in touch by email.
Both SEO platforms also share helpful guides and documentation online that are helpful for beginner-level digital marketers and SEOs. There's also the Semrush Academy, which provides free online digital marketing training courses to further your education.
Pricing & Value
While subject to change, next we take a look at the pricing of Semrush vs SE Ranking.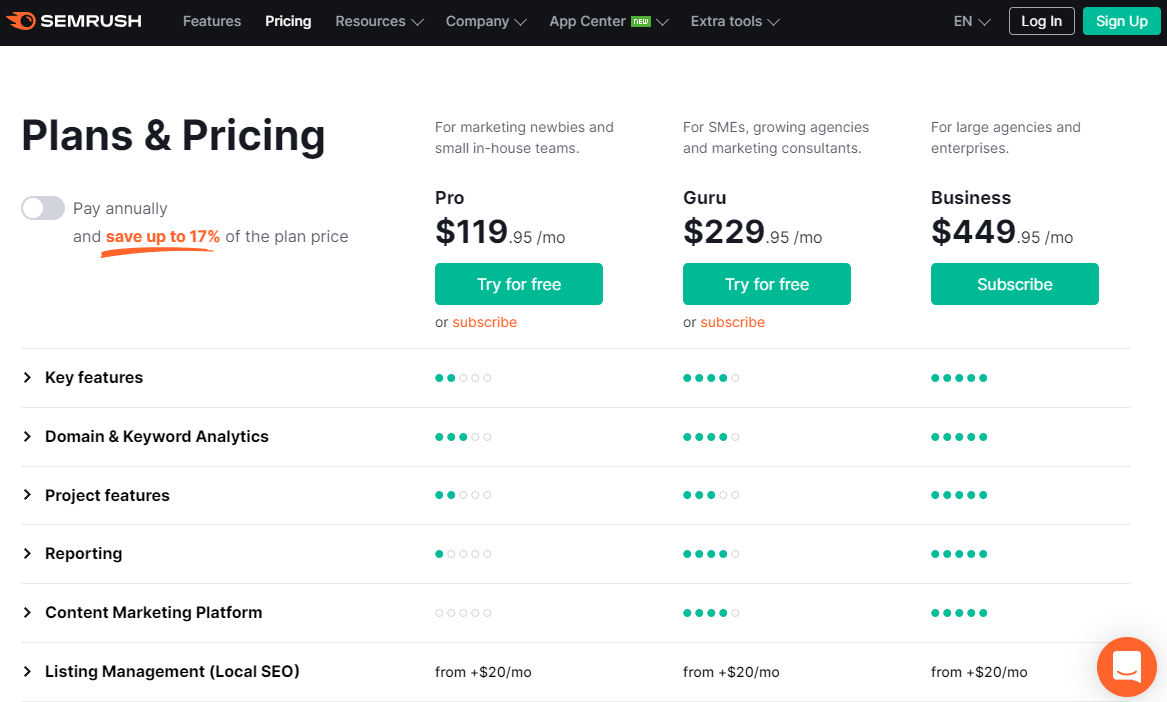 Semrush offers 3 main pricing plans:
Pro: $119.95 per month
Guru: $229.95 per month
Business: $449.95 per month
Custom enterprise plans are also available.
You can get a discount of up to 17% if you choose to be billed upfront yearly.
Understand the difference between Semrush pricing plans here.
Currently, Semrush offers a free trial of the Pro or Guru plan.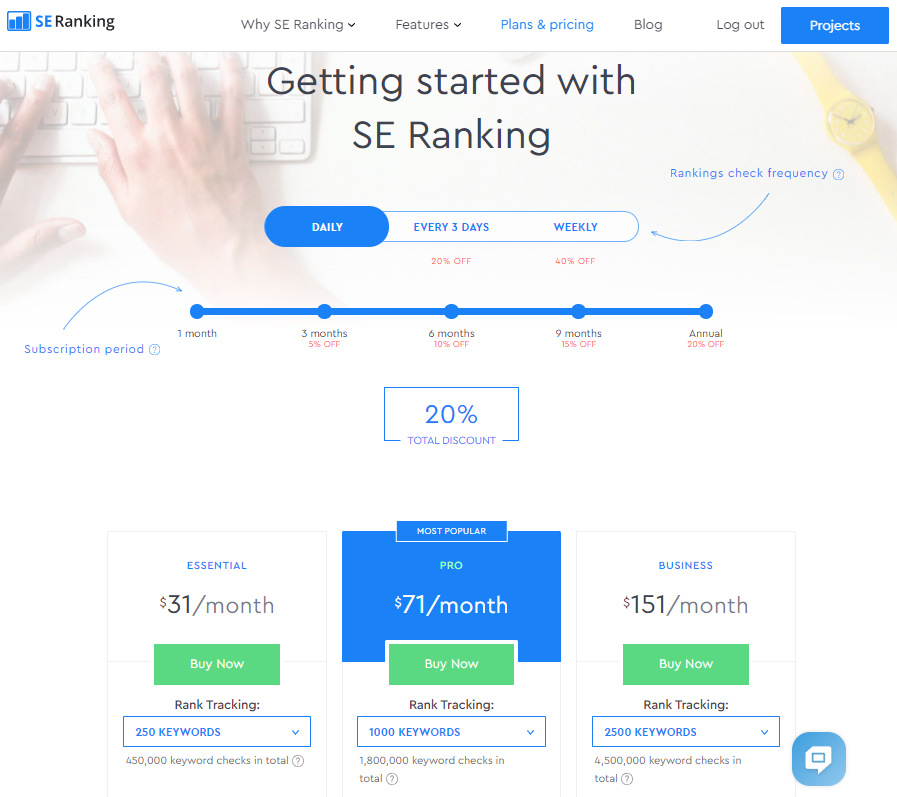 SE Ranking also offers 3 primary plans, but with extra feature adjustment options:
Essential: Starts at $23.40 per month
Pro: Starts at $53.40 per month
Business: Starts at $113.40 per month
These are the rates for a monthly subscription and weekly ranking check frequency. Selecting every 3 days or daily rank updates will increase package costs.
Custom enterprise quotes are available as well.
Enrolling in an annual subscription period offers savings of 20% off.
Understand the difference between SE Ranking pricing plans here.
SE Ranking offers a free trial of its Essential plan + white-labeling features.
Verdict on Semrush vs SE Ranking Pricing Plans
With Semrush, you're paying a premium for access to leading data with a slight edge on accuracy and a wider feature set.
On the other hand, SE Ranking is a much more initially affordable tool for similar essential search engine optimization features and a large amount of fresh data.
Both tools have a bit of a learning curve due to including so many different features.
Here are a few plan considerations between the two SEO platforms to keep in mind:
Both tools' mid-tier plans are required to be granted access to full historical data.
Semrush's middle-tier Guru plan is required for content marketing tools.
If you require more than 5 scheduled PDF reports per month or the Google Data Studio integration with Semrush, you'll need the Guru plan for up to 20 reports.
All SE Ranking plans let you create and export unlimited manual or scheduled PDF reports, but you'll need the middle Pro plan for branded white-label reports.
Semrush plans require an add-on fee for each additional unique user account.
SE Ranking's Essential plan grants access to 1 user, however, the Pro plan offers up to three user logins and a generous 10 user seats with the Business plan.
The third-tier plan for each tool is needed for API (application programming interface) access, which is used by developers to develop and feed data into custom apps.
Whether you decide on SE Ranking or Semrush, my recommendation is to go with the middle-ground plan for considerably more value, including complete tool access, history data, more reports, and larger use limits overall, especially for large or multiple projects.
Although, the starter plans are worth checking out for beginners or solo site owners just starting out with content creation or who only require tracking a small set of keywords for a single physical location.
Semrush is the premium offering, while SE Ranking is the lower-cost alternative. Both are considered swiss army knives for SEO with incredible functionality.
Should You Choose SE Ranking or Semrush?
In summary, Semrush is a more complete platform at a premium price. You get industry-leading data as part of all plans and content marketing tools with the Guru plan.
I recommend Semrush if you are serious about growing your business with SEO and require access to complete Google-based keyword, topic, and competitor data.
Learn more in this Semrush review covering features and pricing in detail.
That said, in my opinion, SE Ranking is the best budget alternative with many similar capabilities as Semrush's. New features are also added on a regular basis.
Learn more in this SE Ranking review covering features and pricing in detail.
All in all, both products are a top choice for an all-in-one SEO platform with keyword research, rank tracking, competitor intelligence, site auditing, and SEO reporting tools.
Alternatives to Semrush & SE Ranking
When it comes to all-in-one SEO software, Semrush & SE Ranking aren't the only options. Alternatives on the market include:
Ahrefs
Moz
SEO PowerSuite
Mangools
GrowthBar
Serpstat
Majestic
SpyFu
I hope you found this comparison review of SE Ranking vs Semrush useful and that you now better understand the key differences between these two leading SEO platforms.
SEO Software Guides: