Nightwatch is an advanced SEO rank tracker tool with daily keyword updates, keyword segmentation features, website audits, backlink monitoring, and automated reporting.
The cloud-based SEO tool provides highly accurate local rank tracking across major search engines down to the zip code level.
Below is a detailed Nightwatch SEO review exploring its key features and pricing plans.
BoostPlanner is reader-supported. If you buy through a link on my site, I may earn an affiliate commission.
Nightwatch Overview
What is Nightwatch?
Nightwatch is a rank tracker tool for SEO that offers the ability to track keyword rankings from 107,296 locations across the world.
The vast amount of Google Data Centers that Nightwatch has access to results in high ranking accuracy when tracking keywords for many locations.
With Nightwatch, you can track keyword rankings based on organic search results and local map results for both desktop and mobile devices.
Compared to other rank tracking tools, Nightwatch provides a sleek, organized user interface that makes its advanced functionality easy to use alongside appealing graphs and visualizations.
Nightwatch functionality includes extensive keyword filtering options, the ability to quickly organize and segment keywords into distinct groups, save custom views, and more shared below.
Nightwatch Reviews
While Nightwatch is a relatively new SEO rank tracking software and company, Nightwatch continues to maintain a high rating in the SEO tool category, earning top reviews on leading product review sites.
Customer Feedback
Reviews are written by both beginner SEO specialists and experienced SEO professionals, many of whom have tried other rank trackers and now prefer Nightwatch for its accuracy, filtering options, and visuals.
Nightwatch Pros & Cons
Pros
Track many keywords and websites affordably.
Consistently accurate keyword ranking data.
Daily keyword ranking update frequency.
Powerful filter, segment, and data viewing capabilities.
Flexible and attractive custom reporting options.
The Starter plan offers a nice price point for the features.
Cons
A bit pricey to upgrade beyond the base plan for small operations.
Lack of search volume data for some keywords.
Nightwatch Pricing
Nightwatch provides 3 fixed plans and custom enterprise plans for larger volume use.
Monthly and annual plans are available. Annual billing offers savings of up to 40%.
| Nightwatch Plan | Starter | Optimize | Agency |
| --- | --- | --- | --- |
| Suitability | Freelancers, SMBs, Marketers | Growing SMBs, Marketing Agencies | Larger Agencies, Enterprise Businesses |
| Price | $39/month | $99/month | $369/month |
| Keywords Tracked | 500 | 1,000 | 5,000 |
| Websites Tracked | 50 | 200 | 1,000 |
| Site Audit Pages | 5,000 | 10,000 | 50,000 |
| Google Analytics Integration | Yes | Yes | Yes |
| Google Search Console Integration | No | Yes | Yes |
| Google Data Studio Integration | No | Yes | Yes |
| Track Google, YouTube, and Bing | Yes | Yes | Yes |
| White-Label Reports | No | 15 | Unlimited |
| User Seats | 1 | Unlimited | Unlimited |
| API Access | No | Yes | Yes |
| 14-Day Free Trial | Yes | Yes | Yes |
Nightwatch Plans & Pricing
Nightwatch offers a 14-day free trial to try out the rank tracker tool.
Nightwatch Features
The Nightwatch SEO platform includes features for rank tracking, site auditing, backlink monitoring, and SEO reporting.
Key Features:
Rank Tracking
Site Auditing
Backlink Monitoring
Integrations
Reporting
Here are the key features of Nightwatch in more detail:
Rank Tracking
Keyword rank tracking functionality is the cornerstone of Nightwatch.
Let's take a look at the rank tracker features and related visuals.
Daily Rank Updates
Nightwatch updates ranking data daily for all plans. The Starter plan is one of the more affordable plans on the market that offers daily ranking updates for multiple search engines and locations at high accuracy, combined with Nightwatch's other rank tracking features.
Nightwatch Overview Panels
See your data at a glance with Nightwatch's overview panels. These panels reside above the keyword ranking table.
Keyword Average Position Overview Panel
Search Visibility Overview Panel
Keyword Distribution Overview Panel
Keywords Up/Down Overview Panel
Keyword Ranking Table
Multiple Search Engines
With Nightwatch, you can track keyword rankings on:
Google
Google Places
YouTube
Bing
Yahoo
DuckDuckGo
The ability to track both Bing and DuckDuckGo in a keyword tracking tool is a rare feature.
Desktop and mobile rank tracking are also supported. With both Google and Google Places offered, you can track both non-local organic rankings and local rankings where your Google business listing appears.
Track rankings for specific locations at the country, city, region, and even zip code levels. The ability to track keywords across many granular locations makes Nightwatch a valuable rank tracker tool for local businesses and to track competitors and their rankings in specific areas.
SERP Placements
In the keyword table, you can select a column to see a dropdown menu for possible metrics. Some of these metrics include tracking SERP (search engine results page) features, such as feature snippets, image carousel, and knowledge panel rankings.
There's also an Opportunities metric, which shows potential SERP features that are showing for a specific keyword, letting you know what features exist for a keyword.
Filtering Options
The dynamic filtering options are one of the strong points of Nightwatch. Keyword filtering options include quick filters and advanced filters. Quick filters are accessible above the keyword table to quickly filter by keyword tags, locations, and search engines.
You can also change the columns of the keyword ranking table to show stats such as search volume, ranking evolution, search engine, location, Google search console stats, and more for each keyword.
Custom Segments
Advanced filters let you create separate saveable views based on any metric on your keyword table. For example, you could create multiple views to separate keyword rankings by search engines, device, location, and more. Once saved, views appear in the left sidebar of your website's dashboard.
Competitor Tracking
You can take custom segments and views a step further by tracking competitor websites and keyword rankings. Nightwatch's ability to combine metrics across keyword groups and websites is unparalleled.
A+ feature: Pin views to your dashboard to track trends and competitors in a grid view.
Here are two examples of pinned items on the Nightwatch dashboard: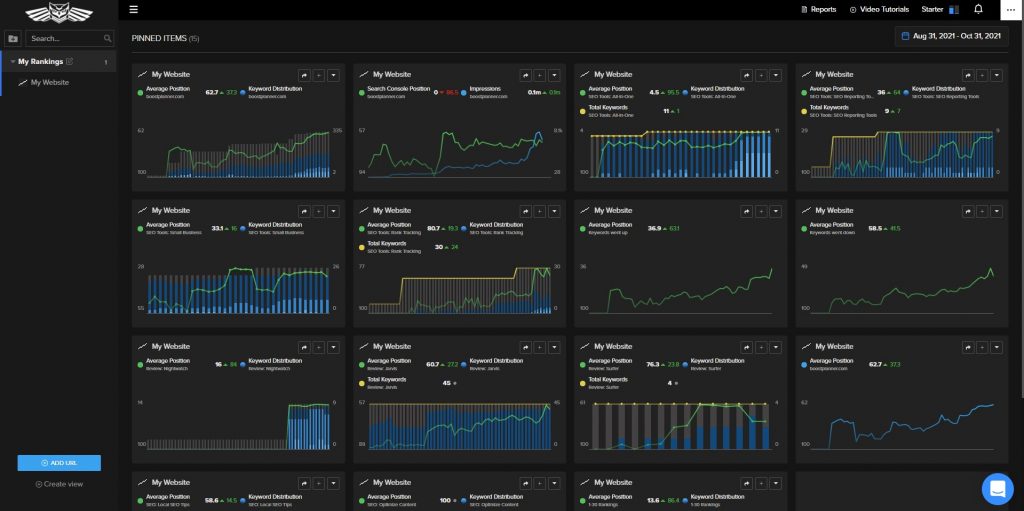 Keyword Discovery
Nightwatch provides notifications about new keyword discoveries to support keyword research efforts. Keywords suggested by Nightwatch are based on your website growth and competitors, market analysis, and Google Search Console when integrated.
Side Auditing
Perform a fast-loading audit on any of your tracked websites in Nightwatch and detect optimization issues across pages and the health of specific pages. As you make progress fixing issues, you can compare crawl snapshots to report on performance over time.
Like the keyword ranking table, you can customize the columns to filter and display a variety of site metrics. Examples include specific elements like H1 and H2 tags, page size, indexed pages, missing image alt tags, linking pages, broken links, and meta tags.
Audit Checks
The audit checks feature makes it easy to find specific errors with your website. After a site audit, you will see potential issues and warnings detected on the left side of the audit checks panel. You can also filter pages that match a specific attribute condition.
Automated Crawling
Set up recurring crawling under Site Audit Settings to run the crawler automatically on a weekly or monthly basis. Additional audit settings include specifying specific link paths to ignore during an audit, whether to crawl URL params, crawling nofollow links, limiting the number of pages to crawl, and setting a crawling concurrency level.
Backlink Monitoring
Nightwatch's backlink monitoring feature makes it easy to track incoming links. Identify which links are having a positive impact on page rankings as well as suspicious links.
When enabled, the backlink monitoring overview section will provide metrics like the number of active backlinks, backlink diversity, backlink quality, and new & lost links.
Other SEO metrics provided are page authority, domain authority, URL rating, domain rating, citation flow, and trust flow.
Backlink Segments
Like keyword groups, you can create custom segments and views for groups of backlinks. Then, you can save backlink views to the dashboard as pinned items.
Example backlink segments include links with specific anchor text like your brand name, links with relevant keywords in the anchor text, links from high authority domains, suspicious-looking links, and links that point to a specific page.
Integrations
Nightwatch provides three integration options depending on the plan:
Google Analytics
The Google Analytics (GA) integration is included in all Nightwatch plans. Create custom views that display your Google Analytics website metrics like user sessions and pageviews alongside Nightwatch ranking data.
Google Search Console
The Google Search Console (GSC) integration is included in the Optimize, Agency, and larger custom plans. This integration gives Nightwatch the ability to find and alert you with keyword suggestions and lets you display keyword performance and organic traffic data from Google Search Console including clicks, impressions, clickthrough rate (CTR), and average positions.
Google Data Studio
The Google Data Studio requires the Optimize, Agency, or larger custom plan and utilizes API access in Nightwatch to function. This integration gives you the ability to pull Nightwatch data into Google Data Studio, which lets you create highly custom reports, combine data from multiple sources, and display the data in unique ways.
Reporting
Nightwatch provides convenient and visually appealing reporting options to share rankings and site audit progress among other SEO insights. You can share customized reports based on specific page URLs, and views, or create account-wide reports covering multiple sites.
Nightwatch ranking reports can be created in three formats: PDF, CSV, and HTML.
Three report templates are available: Basic report, progress report, and competitor report.
After selecting a template, you can customize the data you want to report on by adding, removing, and modifying elements.
Elements, which are unique sections of a Nightwatch report, include keyword overview, keyword list, organic traffic overview, graph, site audit overview, and site audit pages. Each element contains a drop-down menu to select the metrics you want to display.
Automated Reporting
Create and schedule automated reports to one or multiple email addresses. Scheduling options include sending reports daily, weekly, or monthly at a specific hour. Another option is the ability to use a custom email subject line and body that's delivered with the report.
White-Label Reports
White-label reporting and branding are included in the Optimize, Agency, and larger custom plans. With white-label reports, you can use a custom logo in reports and use a custom domain name that masks the default app.nightwatch.io URL of the Nightwatch SEO tracker tool.
User Access
Along with created reports, the Optimize, Agency, and custom Enterprise plans let you add users to an account as another convenient way to share Nightwatch data.
Pin Sharing
You can share a link to any individual pin saved on your dashboard by clicking a button in the upper-right corner of the pin and copying the generated private link. This is a fast way to share snippets of progress based on any combination of website, competitor, keyword, and custom SEO metrics from saved views.
Frequently Asked Questions
What is Nightwatch for SEO?
Nightwatch is the most accurate global and local rank tracker tool on the market that lets you access any Google Data Center on the planet.
Is the Nightwatch Rank Tracker Free?
Nightwatch is not free. Plans start at $39 per month or at a rate of $32 per month with annual billing (save up to 20%). Custom plans are also available. No long-term commitment.
Does Nightwatch Offer a Free Trial?
Yes, Nightwatch offers a 14-day full-feature trial on all plans.
Nightwatch SEO Review Conclusion
While there are alternative rank tracking tools, I recommend Nightwatch to anyone looking for an affordable, accurate, and flexible rank tracker tool with advanced features for tracking many keywords or locations.
Nightwatch is an excellent SEO tool for local SEO campaigns. A great use case is tracking local keywords across different cities, towns, or zip codes for a chain, franchise, or local service area business.
The Starter plan offers a generous 500 keywords tracked with daily updates and up to 50 websites tracked. This is an excellent feature, as you can technically track 10 keywords across 50 sites if you wanted to for only $39/mo or $24/year. Most keyword tracking tools limit you to a lower keyword, website, or update frequency at this price.
I give Nightwatch 4.8/5 stars. Even if you don't need site audit or backlink monitoring features, I believe Nightwatch is worth investing in as a primary rank tracking tool to monitor keywords across multiple search engines with daily updates.
If you want to try Nightwatch out, get a 14-day free trial here.
Nightwatch is a solid addition alongside a more extensive SEO platform for keyword research, site auditing, and competitor analysis, such as Semrush or SE Ranking.
If you have any questions about Nightwatch, please feel free to leave a comment or reach out via email at [email protected].
SEO Software Guides: