In this post, Kinsta pricing and plan features are shared in detail to help you choose the best Kinsta plan for your WordPress hosting needs.
BoostPlanner is reader-supported. If you buy through a link on my site, I may earn an affiliate commission.
What is Kinsta?
Kinsta is a dedicated WordPress hosting company that offers performance-optimized hosting plans powered by the Google Cloud Platform (GCP) premium tier network.
The managed WordPress hosting provider has rapidly grown to become a top WordPress hosting platform used by over 25,000 companies.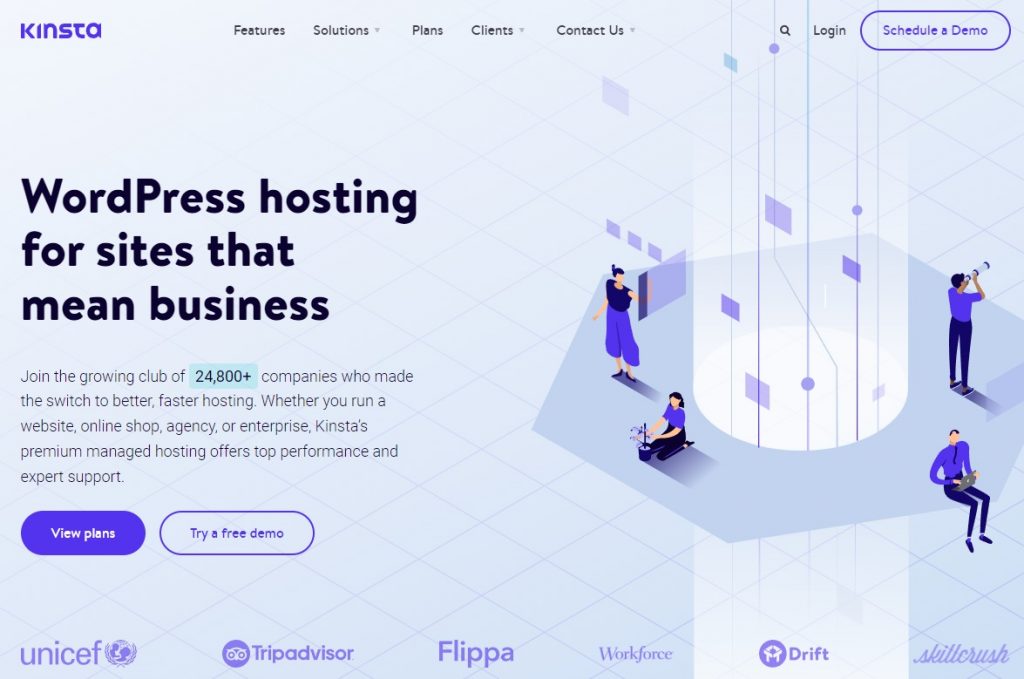 Some of the prominent companies that use Kinsta to host their websites include UNICEF, Tripadvisor, Flippa, Workforce, Drift, and Skillcrush.
The Kinsta platform provides companies with features including:
Google Cloud Platform's premium tier powers all hosting plans.
Scale WordPress websites to handle very high volumes of traffic.
Built-in application performance monitoring (APM) for WordPress sites.
Choose from 35 global data centers to serve your site closer to visitors.
Kinsta CDN utilizes CloudFlare Enterprise on all its plans for free.
Hosted sites get HTTP/3 support for improved performance and security.
Server technology uses Nginx, PHP 8.1, and isolated software containers.
Get 24/7 expert live chat support through the MyKinsta dashboard.
Based in Los Angeles & London, Kinsta was founded in 2013 by current CEO Mark Gavalda with the desire to create the best WordPress hosting platform in the world.
The WordPress web host has accumulated 400+ reviews with a rating of 4.8/5 stars on the product review site G2. Kinsta has also been recognized by G2 as one of the top 100 fastest-growing products in 2022.
The highest-rated features of Kinsta based on review sentiment include its fast website loading speeds, the custom user interface, and the site migration process. The hosting company also provides quick, knowledgeable customer support.
Kinsta Features
While plans differ, Kinsta includes an array of hosting features and tools including:
Fast Speeds: All WordPress hosting plans are powered by Google Cloud Platform's fastest compute-optimized (C2) virtual machines and premium tier network.
High Uptime: 99.9% uptime guarantee backed by Kinsta's service-level agreement (SLA).
Scalable Hosting: Flexible cloud host infrastructure and automatic database optimization designed to scale WordPress sites and handle high volumes of site traffic.
SSD Storage: Solid-state drives provide fast, stable storage for all Kinsta plans.
Free CDN: KinstaCDN is a custom content delivery network (CDN) powered by Cloudflare Enterprise and enabled by default on all new sites hosted at Kinsta.
Many Data Centers: Choose from 35 global Google Cloud data center locations.
Site Management: Custom dashboard with easy-to-use site management tools.
Lastest PHP: Support for the latest PHP versions including 7.4, 8.0, and 8.1.
Built-in Caching: Custom caching tools and server-side caching. You don't need to install external caching plugins.
Site Staging: Each WordPress website installation can have its own free staging environment alongside the live site. Kinsta also provides premium staging environments as add-ons which are ideal for resource-intensive site testing or development.
Daily Backups: A Kinsta account includes automatic daily backups and the ability to create manual backups on demand.
Free SSL: Free SSL certificates through Kinsta's Cloudflare integration.
Security Tools: An enterprise-level firewall, HTTP/3 support, DDoS protection, website monitoring, and hack & malware removal support.
Developer Tools: Helpful developer tools such as DevKinsta, a local WordPress development tool for creating one or multiple sites, themes, and WordPress plugins offline on your local machine.
Free Migrations: Unlimited free WordPress website migrations are included with all of Kinsta's web hosting plans.
24/7 Support: The Kinsta support team is made up of veteran WordPress developers who provide help through live chat or support tickets. Currently, Kinsta's support team doesn't offer phone support.
Who Uses Kinsta?
With 35 global data centers to choose from, Kinsta is a fast, secure, and reliable WordPress host for customers large and small across the world.
As of 2023, Kinsta supports 25,000+ companies from small business blogs to high-traffic sites for agencies, universities, and Fortune 500 companies.
Kinsta Pricing
Kinsta offers 10 plans in its pricing model.
Kinsta's cheapest plan rate is $35 per month or a rate of $29.17 per month with an annually billed plan. The annual plan offers a discount worth 2 months of free hosting.
Pricing information for Kinsta is retrieved from the hosting provider's publicly accessible pricing materials. Final costs from the seller are subject to change.
How Much Does Kinsta Cost?
Each plan provides different features, primarily a different number of WordPress installs, monthly site traffic limits, and the amount of disk space provided.
While subject to change, the table below shows the Kinsta monthly plan costs and the features that differ depending on the plan (primarily related to more resources):
Kinsta Plans
| Kinsta Plan | Monthly Pricing | WordPress Sites | Monthly Visits | Disk Space |
| --- | --- | --- | --- | --- |
| Starter | $35/mo | 1 | 25,000 | 10 GB |
| Pro | $70/mo | 2 | 50,000 | 20 GB |
| Business 1 | $115/mo | 5 | 100,000 | 30 GB |
| Business 2 | $225/mo | 10 | 250,000 | 40 GB |
| Business 3 | $340/mo | 20 | 400,000 | 50 GB |
| Business 4 | $450/mo | 40 | 600,000 | 60 GB |
| Enterprise 1 | $675/mo | 60 | 1,000,000 | 100 GB |
| Enterprise 2 | $1,000/mo | 80 | 1,500,000 | 150 GB |
| Enterprise 3 | $1,350/mo | 120 | 2,000,000 | 200 GB |
| Enterprise 4 | $1,650/mo | 150 | 2,500,000 | 250 GB |
| Custom Plan | Contact Sales | Varies | Varies | Varies |
Kinsta Hosting Plan Monthly Costs
Kinsta's Starter plan is suitable for hosting 1 WordPress site that can handle growing to around 25,000 unique visits per month. Plans can be upgraded to scale with traffic.
The Pro or Enterprise plans are required to install multiple WordPress sites, more PHP workers per site (related to how many simultaneous uncached requests your site can handle), site cloning features, and the ability to handle more website visits each month.
All hosting plans provided by Kinsta include:
30-day money-back guarantee
Instant prorated funds
No fixed-term contracts
Easy plan upgrade or downgrade
2 months free with an annual plan
View Kinsta plans here for more details on each hosting plan's features and pricing.
Frequently Asked Questions
Here are some commonly asked questions about Kinsta:
Is Kinsta a good choice for web hosting?
Kinsta is one of the best hosting providers for managed WordPress hosting if you want a platform optimized for useability, scalability, site speed, and server power.

As a managed WordPress host, Kinsta is known for its performance, reliability, and customer support. They utilize the Google Cloud Platform infrastructure, which allows them to offer scalable and secure hosting solutions.
What hosting plans does Kinsta offer?
Kinsta offers a variety of managed WordPress hosting plans to accommodate different website sizes, traffic levels, and budgets. Plans range from starter packages to enterprise-level options.
Why is Kinda priced higher than other web hosts?
Kinsta is one of the higher-priced WordPress hosting solutions on the market. This is due to paying for the infrastructure Kinsta uses for performance, custom site management tools, and a talented support team.

However, you might consider the price worth it to achieve faster load speeds for a better user experience and SEO benefits compared to other WordPress web hosts.
Does Kinsta offer a free trial or money-back guarantee?
Currently, Kinsta does not offer a free trial period or free tier. However, the hosting company offers a full refund if you cancel within 30 days of service.
Can I request a demo of Kinsta?
Yes, you can request a demo on the Kinsta demo page to access and explore the MyKinsta dashboard. The demo is 100% free to sign up for. No credit card is required.
Conclusion
I hope this post has helped you better understand Kinsta's pricing plans and features compared to other WordPress hosting providers.
If you're looking for WordPress hosting that is highly optimized for performance, secure, and gives you easy-to-use site management tools, Kinsta is worth checking out.
What Are Some Other Hosting Providers for WordPress?
Other WordPress hosting providers include SiteGround, WP Engine, Bluehost, Hostinger, Dreamhost, A2 Hosting, HostGator, InMotion, Flywheel, and GoDaddy.
More Posts About Web Hosting: